I love it when I am able to find restaurants helmed by passionate chefs and Italian restaurant Pepenero was one such gem I discovered. Born in Rome, Chef Daniel Singleton serves up classic Italian dishes with Roman flavours (as opposed to say Tuscan or Neapolitan). As I have never been to Italy, my unrefined palate isn't able to detect the nuances of Tuscan vs Roman, but for those of you who have the skill or yearn for traditional Roman Italian dishes in Singapore, Pepenero is the place to go. Be sure to tell the wait staff up front that you want the full unadulterated version!
I'll start off by blogging about the desserts because the desserts served at Pepereno are just so pretty and delicious!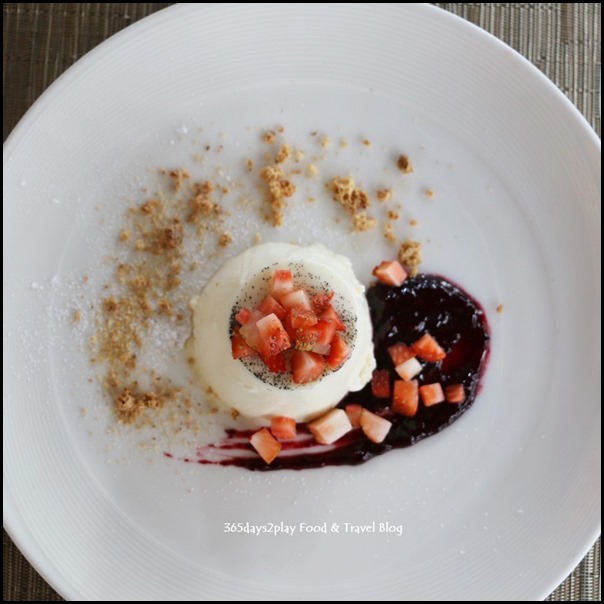 Traditional pannacotta with mix berry $12
It was a choice between the molten chocolate lava cake or the Pannacotta and in the end I ordered the Pannacotta because I wanted something creamy tasting. Pepenero's version is pretty mild, I wouldn't mind something sweeter and creamier tasting, but I loved the softness and wobble as the spoon sliced through the dessert.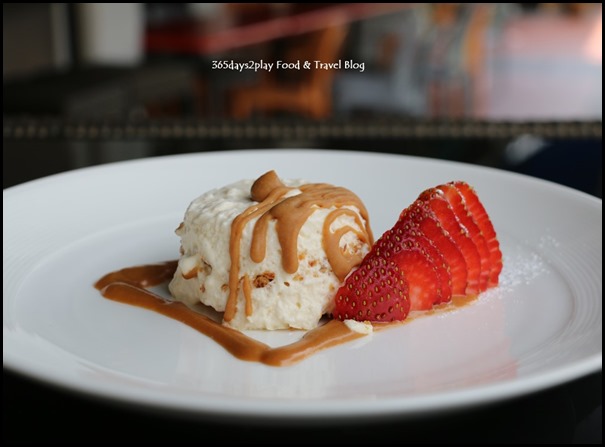 Semifreddo (Frozen zabaglione souffle served with amaretto sauce) $14
The Partner had the Semifreddo, which is kind of like an ice cream cake. This ice cream cake packed a punch thanks to the generous dose of alcohol in the amaretto sauce.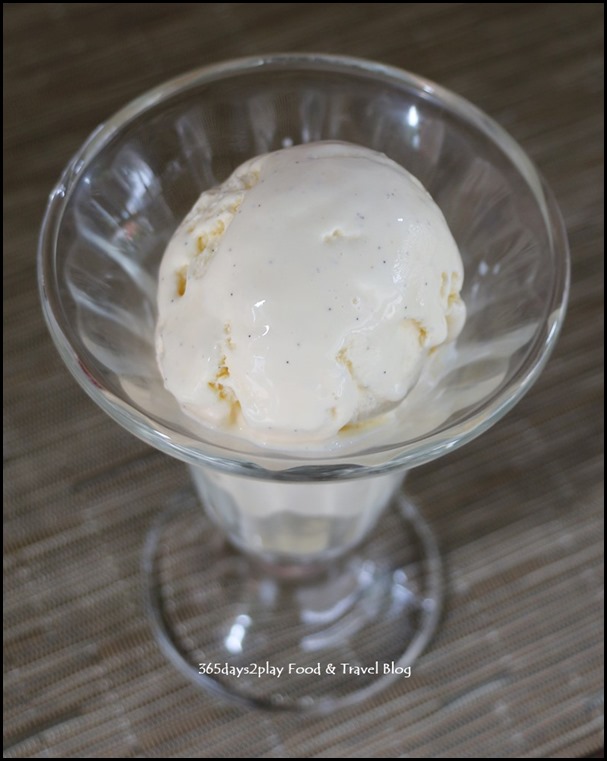 We both loved this homemade vanilla ice cream. We hadn't ordered this originally, but the chef told us that we simply had to try it, and he was right. One of the creamiest, most vanilla tasting vanilla ice creams I have eaten! He should make tons of this and sell it by the box!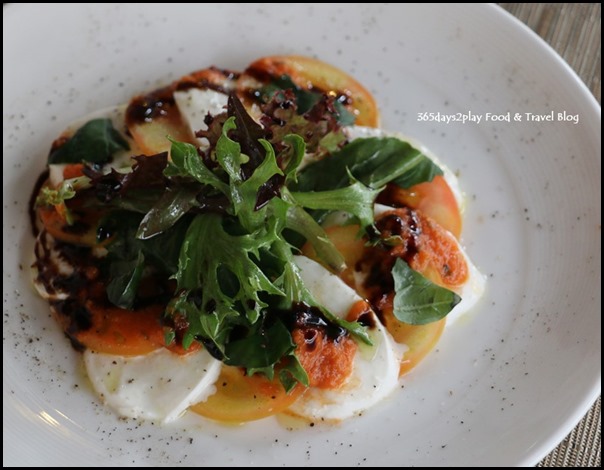 Caprese  – Milk buffalo mozzarella and ripe tomatoes served with tomato emulsion and fresh basil $20
Ordered my favourite Italian starter, the caprese. Technically speaking, I'm not supposed to eat raw stuff outside as I'm pregnant, but I couldn't resist because Pepenero uses buffalo mozzarella for the caprese, and buffalo mozzarella tastes far superior than mozzarella made with cow's milk. True to expectation, the dish was fantastic. So fresh and clean tasting, with the slices of tomato and mozzarella cut to a dainty slice. The tomato emulsion was an interesting touch which added extra sweetness to the dish.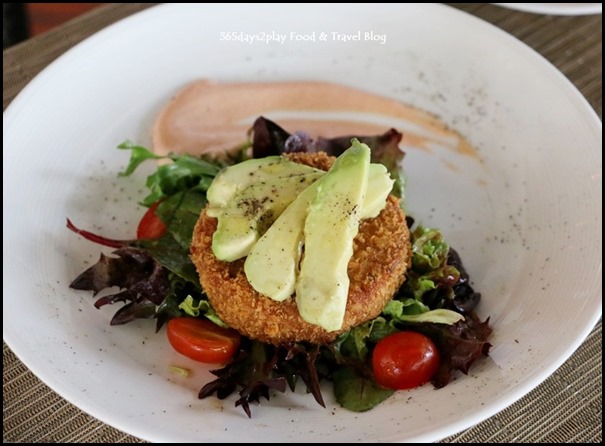 Crab meat cake served with avocado in garlic aioli $24
There's a reason why the call it "crab meat cake" rather than just simply "crab cake", because it was literally chock a block with crab meat, and just held together by the crunchy breadcrumbs on the exterior. Amazingly, the avocado and crab go really well together, with the avocado playing the role of a thick creamy sauce to the crab.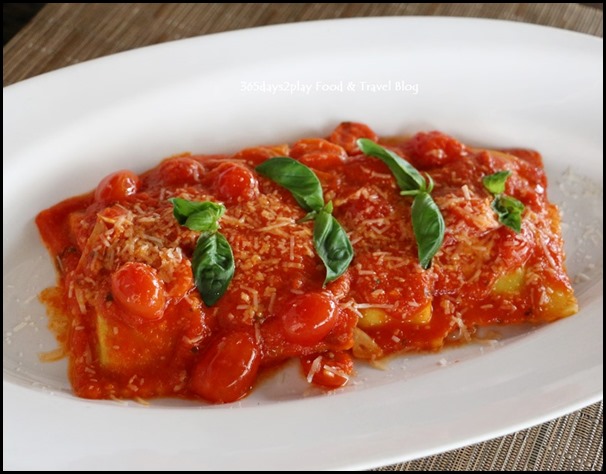 Homemade ravioli filled with ricotta cheese served in tomato sauce and basil $24
A dish to order if you love both cheese and tomatoes. It is as simple as it sounds and looks, but made delicious because of the fresh ingredients used. As it wasn't too rich, the Partner could finish the entire dish easily.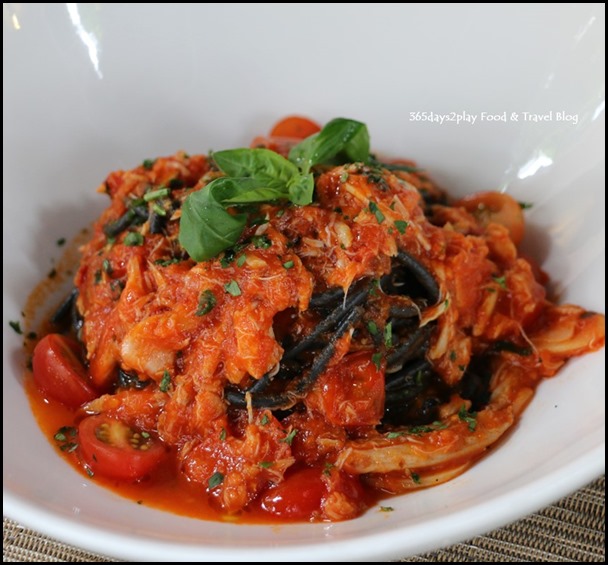 Black squid ink spaghetti pasta served with crab meat in spicy tomato and basil sauce $28
They really are generous with their crab at Pepenero and tomatoes. While the crab and tomato sauce tasted great, and really nothing to fault about, I did wish that that the squid ink flavour of the pasta could have stood out more. It kinda tasted like normal non squid ink pasta.
Here's a picture of the delicious pannacotta again.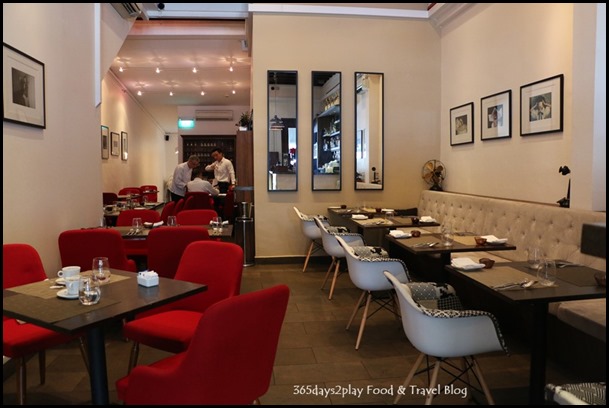 We were there on a Saturday afternoon so it was pretty quiet. I am told Pepenero is packed to the gills on weekday nights, when all the office workers are let loose from the office back into the real world.
---
Add me on Facebook, Instagram and Twitter if you want to be kept up to date with the latest happenings in the food and lifestyle scene in Singapore!
---
Pepenero
14 Stanley Street Singapore 068733
T: +65 6222 5808
E: info@pepenero.sg
Mondays to Saturdays
Lunch: 12:00pm – 02:30pm
Dinner: 06:00pm – 10:30pm
Sundays — Closed