A couple of months back, my father mentioned the opening of a new cafe at VivoCity. He'd heard about how good it was from his colleagues so he imparted the knowledge to me with much enthusiasm. I made sure to have it checked out during my next visit to VivoCity but I was not impressed by what I saw. There were quite a number of those fake plastic models of the ice creams and desserts they served, and this is something I do not associate with cafes serving good coffees and desserts! I must admit I had judged a book by its cover, but who doesn't when choices are aplenty but money isn't?
Then it so happened that my colleagues and I were at VivoCity after an event so we just stopped at St Marc Cafe for a quick break. I ordered a Royal Milk Tea without too much expectations. The drink turned out to be a pleasant surprise! The milk tea was unlike any other milk tea I have ever drunk in my life! It was very thick, had a bit of a caramel flavour and was just extremely delicious in taste. Unfortunately, I don't have a picture of it as I didn't have my DSLR with me that day, but if you ever go to St Marc Cafe, you have to try the Royal Milk Tea! If I'm not wrong it costs $6!
Fast forward to 2 weeks ago, I was kindly invited by Sixth Sense Communications to join in a media tour of the latest highlight at Marina Square : The Dining Edition. The Dining Edition is Marina Square's new gourmet dining zone and was renovated to a tune of $15m. The 50,000 sq ft area boasts 16 exciting mid-to-upscale restaurants, bistros, café bakeries, patisseries and coffee joints and the eclectic mix is made up of both local and international brand names.
This was when I was reacquainted with St Marc Cafe again! We had the opportunity to try 2 of St Marc Cafe's best loved items, the Choco Cro as well as the Little Fuji.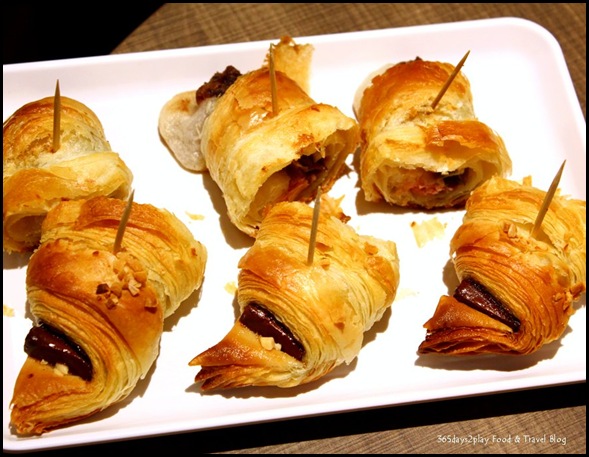 Choco Cro
I tell you, words cannot describe how delicious the Choco Cro was. It is probably one of the BEST croissants I have ever eaten in Singapore! Each Choco Cro is made up of almost 20 layers of rich, buttery yet delicate dough, resulting in a very light yet crisp croissant. As if that wasn't enough, encased within the Choco Cro was a square of chocolate made from a blend of Ghana and Ecuador cocoa beans. This was really decadence on a plate. Remember we had been to more than 10 restaurants before our last stop at St Marc Cafe, and yet it was still this good!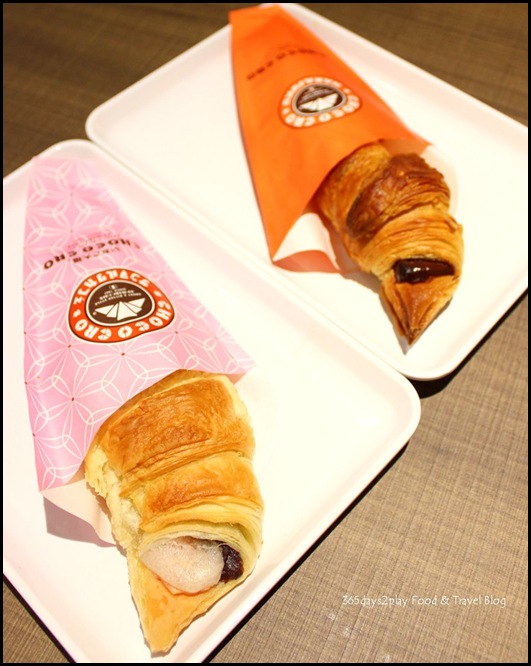 There is also a strawberry mochi croissant which I did not try. I was told that it was equally fantastic.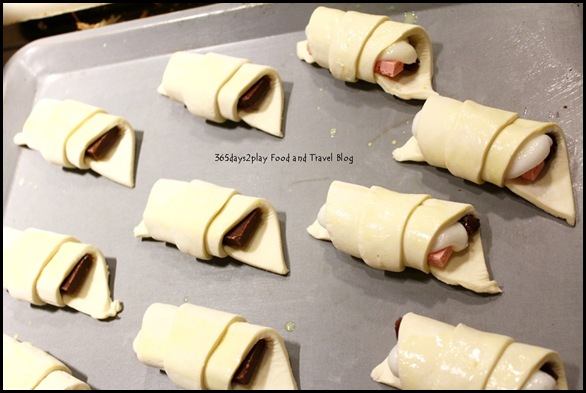 The croissants are baked at onsite at the St Marc Cafe!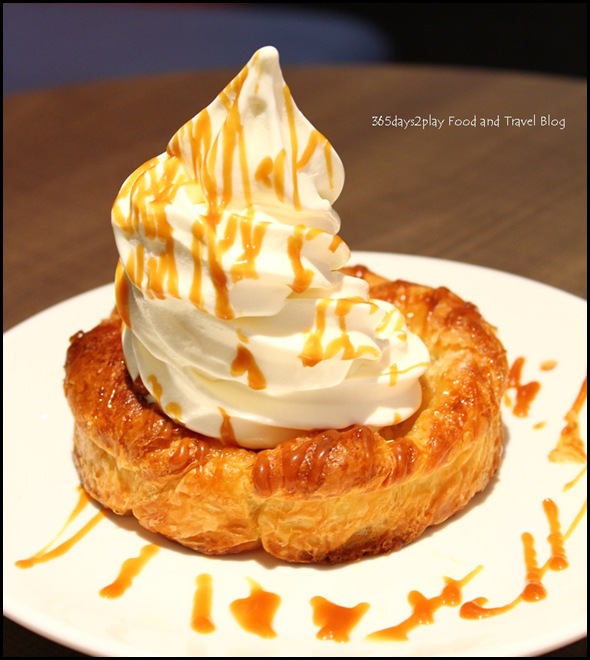 Little Fuji
I'm afraid I won't allow you to make such a simple decision of just ordering the fantastic Choco Cro, because the Little Fuji was also astounding! The freshly baked Danish pastry at the bottom was crisp and hot, and it was topped with a mountain of vanilla ice cream that just went superbly together! It's a must try as well!
It's not often that I think of going back to the same place again so soon, but more than once over the last few days I have been thinking of just how I should find another opportunity to try St Marc's delicious pastries again.
~~~~~
St Marc Cafe originates from Japan, with more than 300 St Marc Cafe outlets in Japan. This St Marc Cafe outlet in Marina Square The Dining Edition marks St Marc's 2nd outlet in Singapore, the 1st being located at VivoCity.
~~~~~
Add me on Facebook, Instagram and Twitter if you want to be kept up to date with the latest happenings in the food and lifestyle scene in Singapore!
~~~~~
St Marc Cafe
Marina Square #02-105/184/185
Seats : 100 indoors
Opening hours : 10am — 10pm daily
Owned by : SaintMarc Holdings Company Ltd
+65-6222-2309