We stayed at the Citadines St Georges Terrace Perth, a service apartment, when we returned from our grand 5 day holiday in Margaret River. There are lots of options for accommodations in Perth city. One of the options was the service apartment/business hotel Citadines St Georges Terrace Perth, which we eventually settled for for the following reasons.
Walking distance to Perth city centre — Where the shopping malls and car free zones are located (Hay Street / Murray Street). And also where the Perth Underground is located, for easy train access to numerous parts of Perth and beyond. There are also numerous eateries within 2 or 3 minutes walk from the apartment, as well as a supermarket about 5 minutes walk away.
Along the CAT transport zone — There are four CAT buses that ply the city centre for free, stopping at major places of interest. Interestingly, even if you board a normal bus, it's free as long as you get on and off within the city zone limits.
Service apartment amenities — It's always such a convenience to have cooking facilities within the apartment because it means you can buy up delicious and beautiful local produce at farmers markets and cook them yourself! Particularly useful for us after amassing lots of goodies from our 5 day stay in food and wine paradise Margaret River.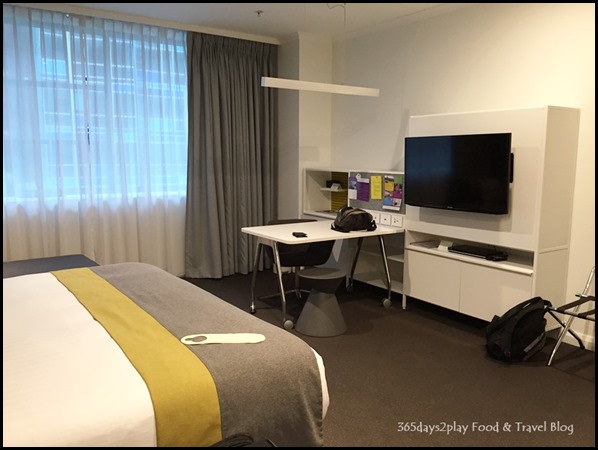 These are pictures of our Studio Premier apartment, which is 1 up from the basic level.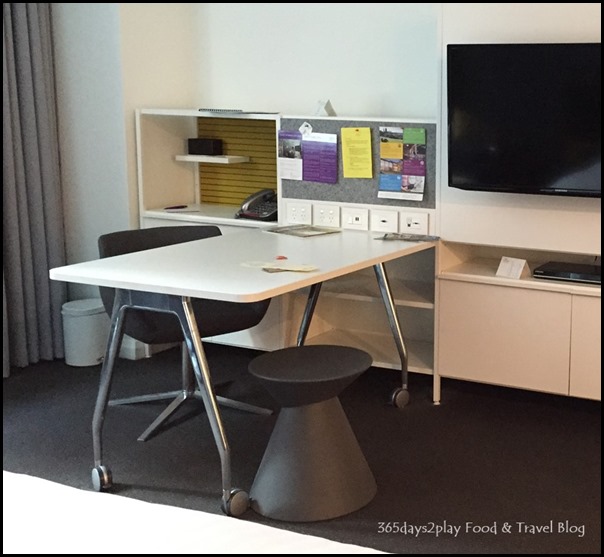 The decor is minimalistic and business like, with a table and USB/electrical sockets for the busy executives. You can even plug in your USB devices for direct charging at the wall.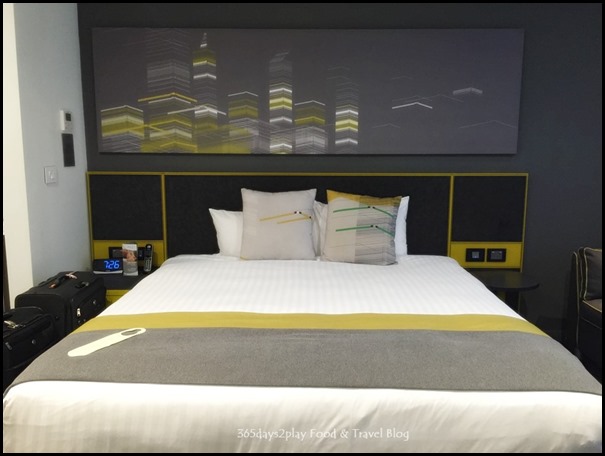 Huge king size bed to roll around in for a good night's sleep.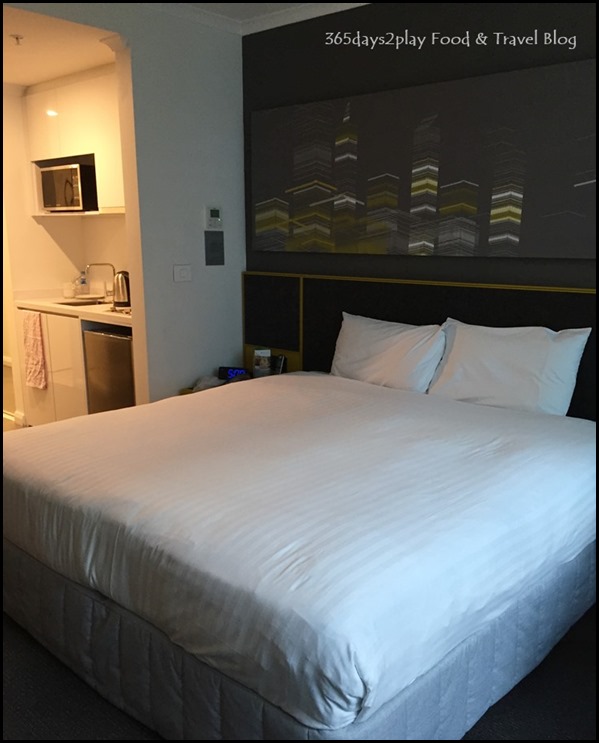 Another look at the king size bed. You can see the mini hob, microwave and washing area to prepare simple meals.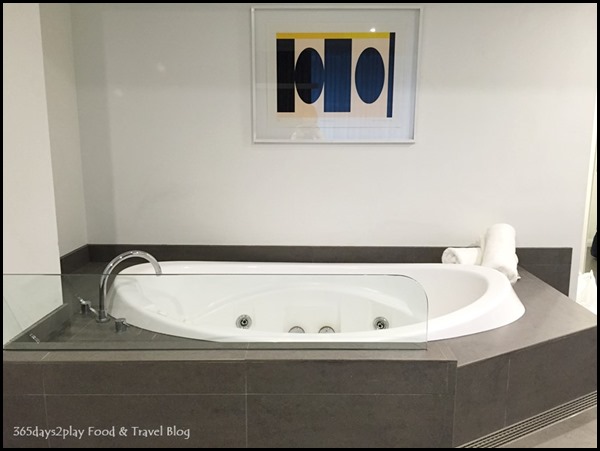 Interestingly, there is a spa bath located in the room, and it's not even inside the bathroom! I suppose if it's just you and your partner in the room, it doesn't matter where the spa bath is located…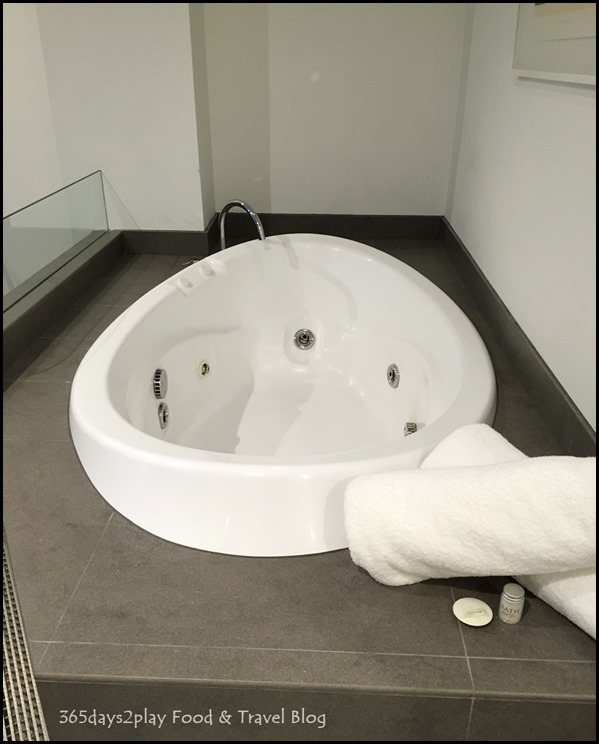 Another view of the spa bath, with bath salts and towels provided. I must say this would be quite tempting after a hard day's worth of business meetings or shopping nearby?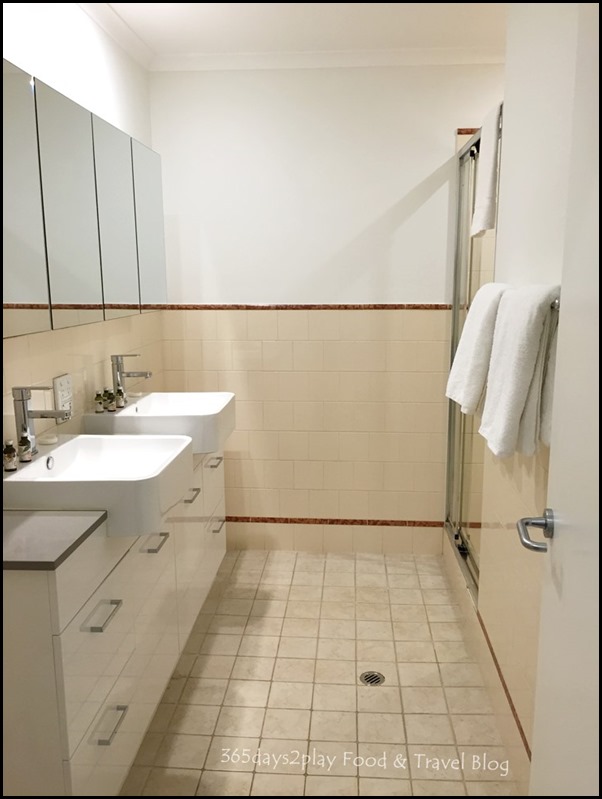 The luxurious spa bath makes up for the more basic looking bathroom. Well at least there are 2 wash basins so there's no need to take turns.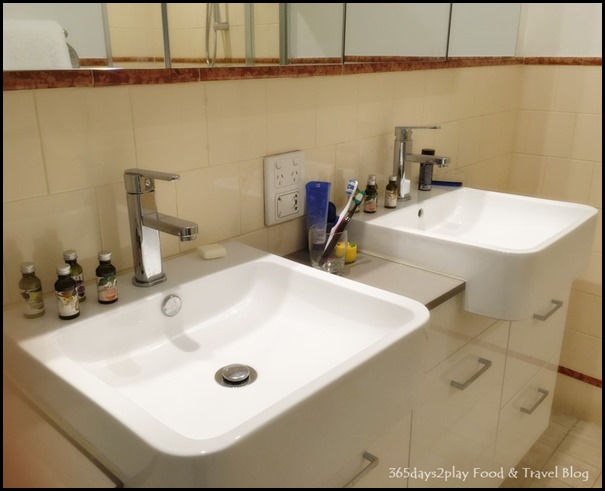 Nice toiletries provided…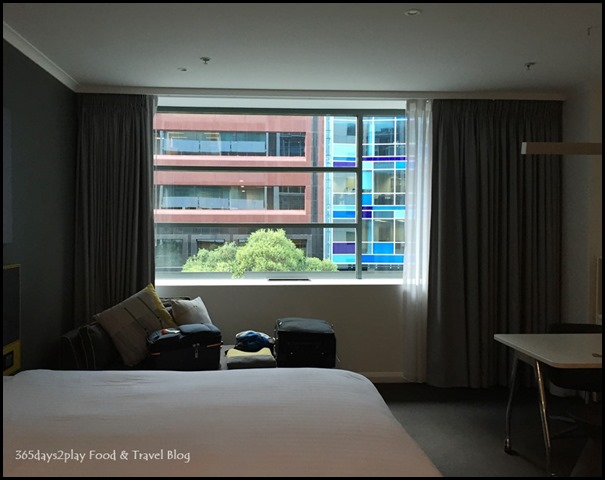 Not much of a view from our room on the 2nd floor. I did enjoy peering into the offices seeing people hard at work while I was on holiday.

The SIA office is just across the road, as are numerous other businesses, so this would be a really convenient location to stay at if you were on business.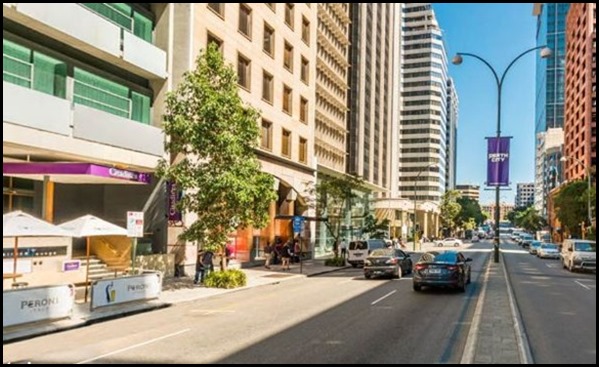 Citadines St Georges Terrace Perth is the purple thing on the left of the photo. It does not have its own drive way so do watch out for it when you are nearing the area. It's fine for taxis to drop you by the roadside, that's what we did. Take the bus (it's free!) from the bus stop directly outside Citadines to go to the Kings Park and Botanic Gardens just a few stops away for a great day out. As it's an elevated area, you will be able to get superb views of the entire Perth city centre!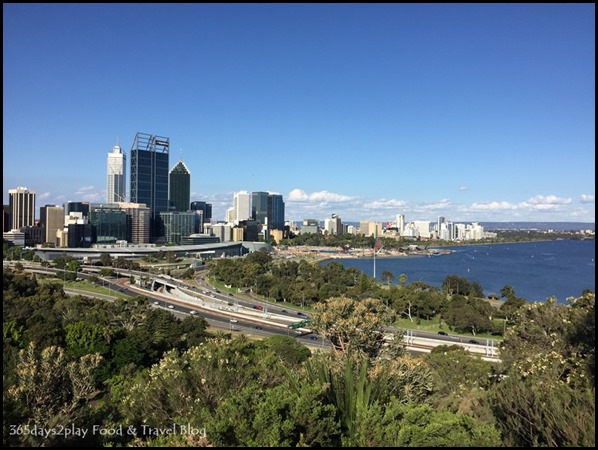 Amazing city, amazing blue sky day, amazing holiday

---
Add me on Facebook, Instagram and Twitter if you want to be kept up to date with the latest happenings in the food and lifestyle scene in Singapore!
Read about my amazing 6D5N trip to Margaret River
---
Citadines St Georges Terrace Perth
185 St Georges Terrace, Perth WA 6000, Australia
Tel : +61 8 9226 3355
http://www2.citadines.com/en/australia/perth/st_georges_terrace.html