The other day I had a most interesting meal! Will you believe it that the meal was served in a bus? For the first time ever, dining in a bus in Singapore without breaking the law! The Duck & Hippo peeps have outdone themselves by coming up with Asia's first Singapore Gourmet Bus where you can enjoy a luxurious sightseeing tour accompanied with food and drink!
Currently, you can opt for either a 2 hour 2 course lunch or 5 course dinner service (both fixed menu) at $57 or $97 per pax respectively. Lunch is a dim sum lunch supplied by the Soup Restaurant while dinner is an Indo-Chinese dinner supplied by IndoChine. Considering that it already cost $23 for the most basic sightseeing tour without food, it sounds like not too bad a deal. En route sights include the Singapore Flyer, Esplanade, Merlion Park, National Gallery Singapore and Marina Bay Sands.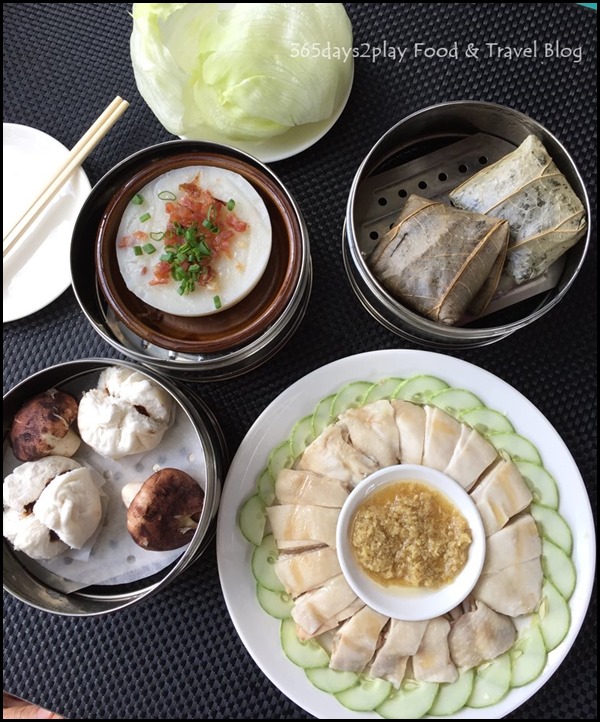 Lunch supplied by Soup Restaurant
Scroll down to read about the entire Singapore Gourmet Bus dining experience!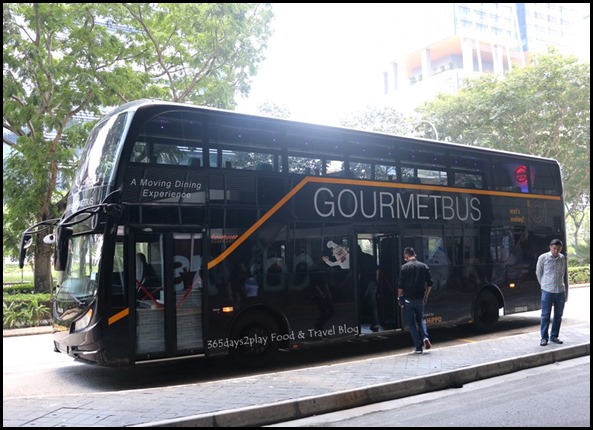 This is how the double decked bus looks on the exterior. Hard to miss it since the words Gourmet Bus are clearly indicated.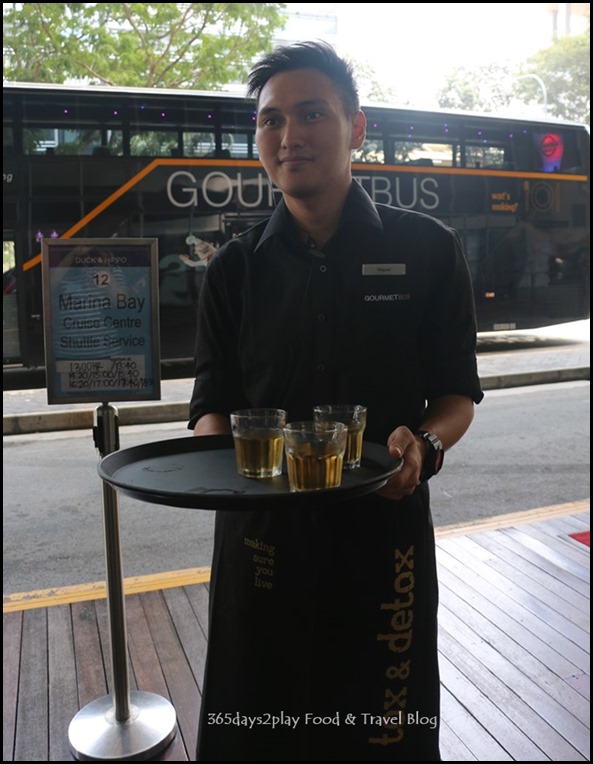 A welcome drink of apple juice greets all guests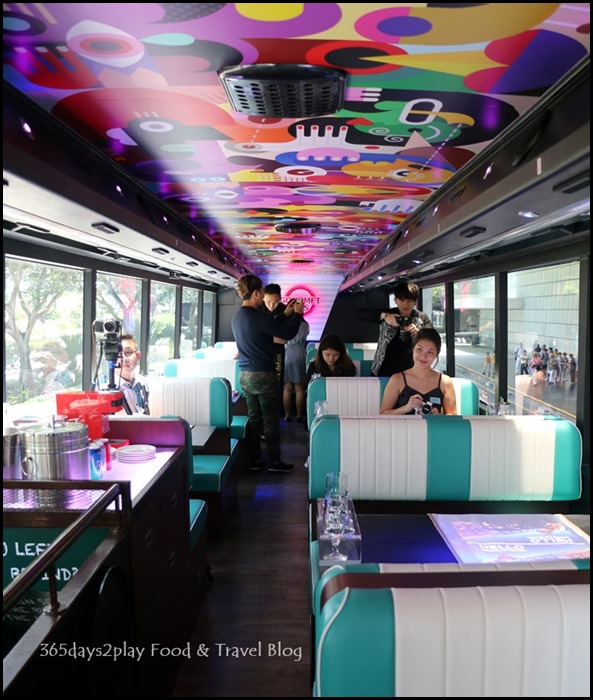 When we got to the upper deck, it was hard not to want to take many pictures. The experience was so unique!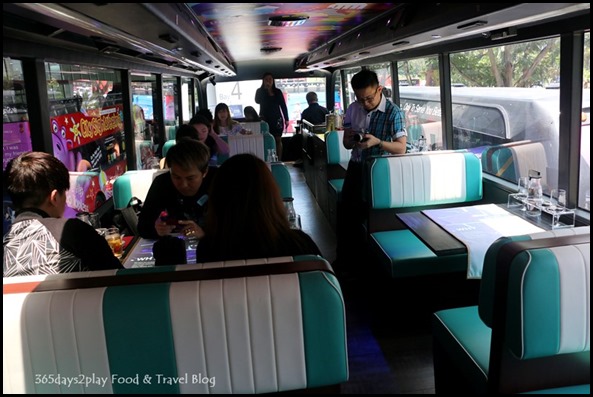 This is how it looks like facing forwards. The seating is pretty cosy and there is soothing background music which really makes you feel like you are in a restaurant, with a view.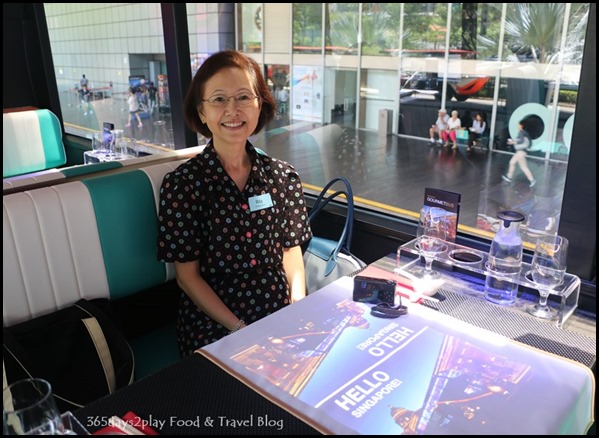 Here's a picture of my mother, all ready for the ride!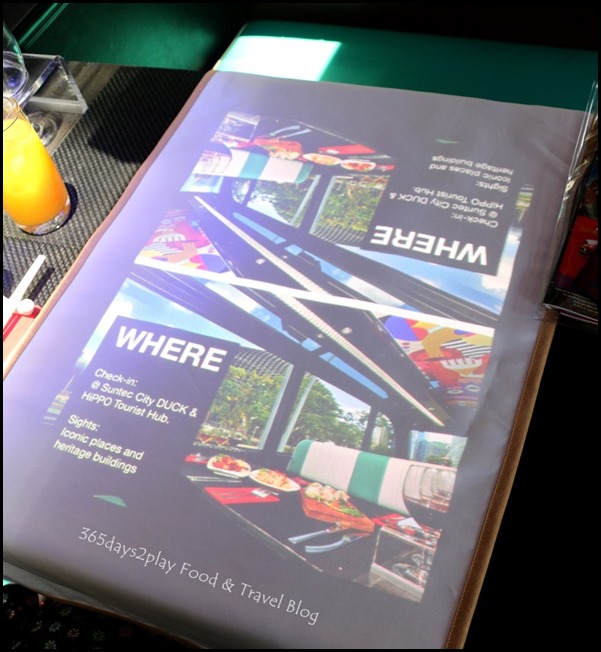 Did you notice the "tablecloth" on the table? It's actually a projection screen in which you can view presentations or videos, just like any normal projection screen! I thought this was pretty amazing. Definitely a useful amenity to have for corporate events don't you think?
So the sightseeing bus not only doubles up as a fine dining restaurant, it can be turned into a mobile conference room too as it is equipped with wireless speaker microphones, sound system and Wi-Fi access.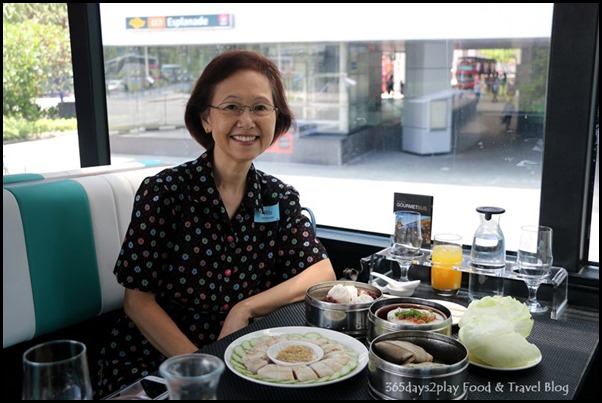 Here's my mother again, this time with all the food served. The main part of the meal will be served just before setting off, and desserts will be served after the 1/2 hour stop at Gardens by the Bay.
We were there for lunch so we were served Samsui Ginger Chicken, a selection of Dim Sum and Osmanthus Jelly with Wolfberry for dessert from Soup Restaurant. Samsui Ginger Chicken is a traditional dish created by the humble Samsui women of Singapore's Chinatown and to evoke nostalgia, this was chosen to be part of the menu. In case you're wondering, the food is prepared in Soup Restaurant's kitchen (or IndoChine Group's restaurant if you're referring to dinner) at Suntec City, and delivered to the bus as there are no cooking facilities on the bus.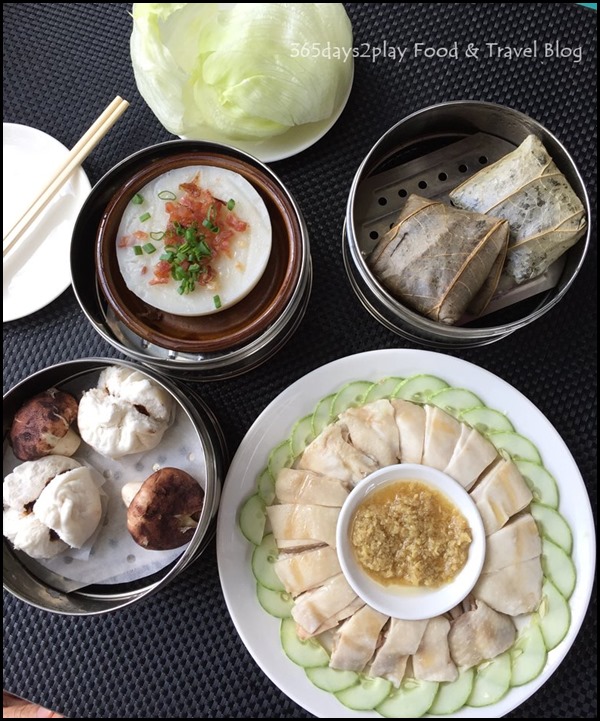 Flat lay shot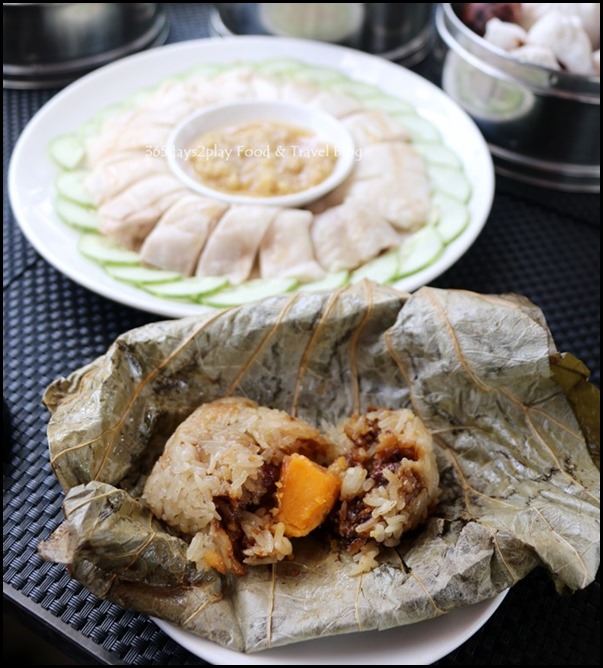 A closer look at the rice dumpling cut open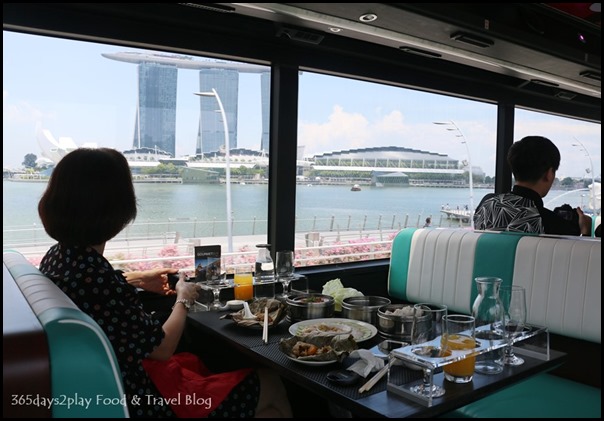 Passing by the Singapore River and looking out at Marina Bay Sands…
Contrary to what you might think, the food and drink stayed rooted to the table the entire journey thanks to the non stick mats and the bolted down glass holder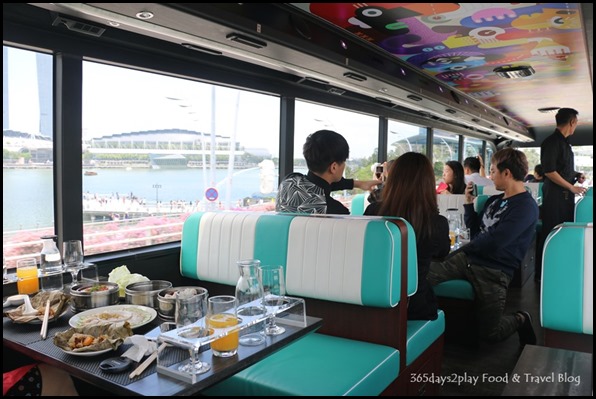 It was great fun and everybody was taking pictures throughout the entire journey! It was also great fun "toasting" to the office workers walking along the CBD area. They were so shocked to see people dining in a bus! Bet they wish they could come on board instead of having to return to the office.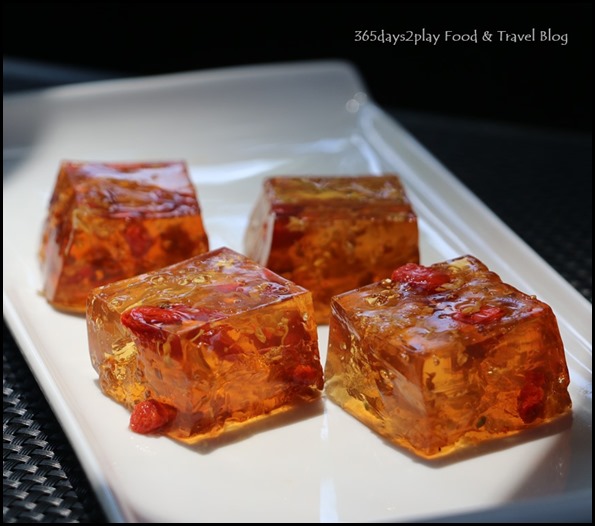 Osmanthus Jelly with wolfberry served for dessert after the 1/2 hour stop at Gardens by the Bay.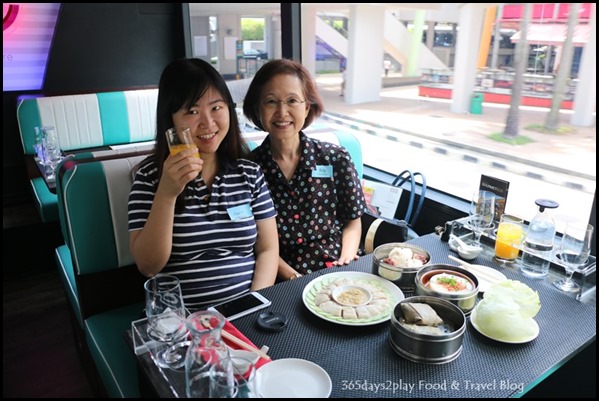 We really had great fun checking out the Singapore Gourmet Bus! Aside from a tourist must try, I would highly recommend this if you're lost for ideas on how to spend your weekend or if you want a good location for a birthday party, solemnizations or just a romantic night out. Now, I wonder if anyone would book The Singapore Gourmet Bus for a wedding?
---
Add me on Facebook, Instagram and Twitter if you want to be kept up to date with the latest happenings in the food and lifestyle scene in Singapore!
---
About Singapore GOURMETBus
Seating Capacity:

32 diners on upper deck
2 diners on lower deck
wheelchair accessibility for 1 pax
12 seater easy lounge at lower deck

Operation : Open daily except for Sunday
Dim Sum Lunch (Soup Restaurant): 1pm — 3pm  $57++ /pax
Indo-Chinese Dinner (IndoChine Group) : 7.30pm — 9.30pm  $97++/pax
Tel: +65 6338 6877 (1 day advanced booking before 12 noon)
Address: Duck & Hippo Hub, Suntec City Mall, 3 Temasek Boulevard, #01-330, Singapore 038983 (just outside Esplanade MRT's Suntec exit)
https://www.facebook.com/singaporegourmetbus/