If you're looking for a restaurant to try out good and authentic Shanghainese/Sze Chuan/ Cantonese food, you might just want to check out Avenue Joffre at Sentosa this month. Avenue Joffre will be hosting legendary Culinary Master Chef Zhou Yuan-Chang where he will present his award-winning signature dishes for a limited time only until 31 May 2016!
Chef Zhou is regarded as one of the most famous chefs in China. He has won awards including the China Golden Chef award, and the "Middle Age Cooking Elite" award of the first "Champion Cup" in Shanghai. His dishes have been praised by movers and shakers such as China National People's Congress Wu Bang Guo and former USA Vice-President Walter Mondale. Chef Zhou deploys authentic but rarely practiced Shanghainese cooking methods to create natural flavours and textures in the dishes that he serves. Just in case you find the name "Avenue Joffre" familiar, this is the former name of Huai Hai Road in Shanghai during the 1930s.
We had the pleasure of sampling a number of Chef Zhou's dishes. While the dishes may look like what you would find in many Chinese restaurants, we soon found out that there's more to it than meets the eye. Here are the dishes I enjoyed the most.
Deep-fried chicken wing stuffed with birds' nest $15
This might just be my first time eating stuffed chicken wing, much less one stuffed with birds' nest, although apparently this is a classic Cantonese dish. Love how the crispy skin complements the delicate bird's nest stuffing!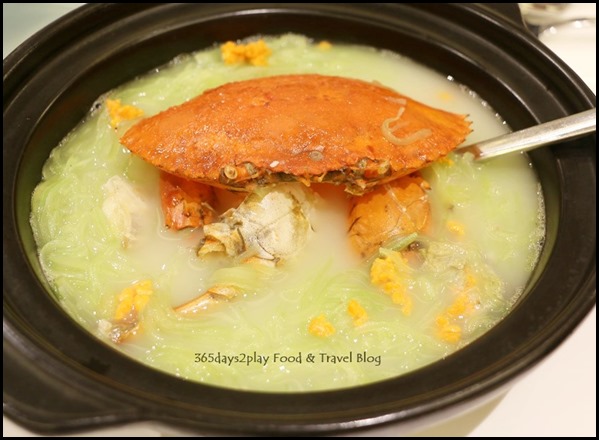 Simmered Mud Crab with Asparagus Lettuce in clay pot (market price)
Absolutely loved the taste of this soup that I had at least 3 servings. Those green strands are not noodles but asparagus lettuce shredded into thin strands to act as noodles. A lot of knife skills going on here. They were the perfect vehicle to soak up the aromatic mud crab broth. A must order!