If you're looking for a restaurant to try out good and authentic Shanghainese/Sze Chuan/ Cantonese food, you might just want to check out Avenue Joffre at Sentosa this month. Avenue Joffre will be hosting legendary Culinary Master Chef Zhou Yuan-Chang where he will present his award-winning signature dishes for a limited time only until 31 May 2016!
Chef Zhou is regarded as one of the most famous chefs in China. He has won awards including the China Golden Chef award, and the "Middle Age Cooking Elite" award of the first "Champion Cup" in Shanghai. His dishes have been praised by movers and shakers such as China National People's Congress Wu Bang Guo and former USA Vice-President Walter Mondale. Chef Zhou deploys authentic but rarely practiced Shanghainese cooking methods to create natural flavours and textures in the dishes that he serves. Just in case you find the name "Avenue Joffre" familiar, this is the former name of Huai Hai Road in Shanghai during the 1930s.
We had the pleasure of sampling a number of Chef Zhou's dishes. While the dishes may look like what you would find in many Chinese restaurants, we soon found out that there's more to it than meets the eye. Here are the dishes I enjoyed the most.
Deep-fried chicken wing stuffed with birds' nest $15
This might just be my first time eating stuffed chicken wing, much less one stuffed with birds' nest, although apparently this is a classic Cantonese dish. Love how the crispy skin complements the delicate bird's nest stuffing!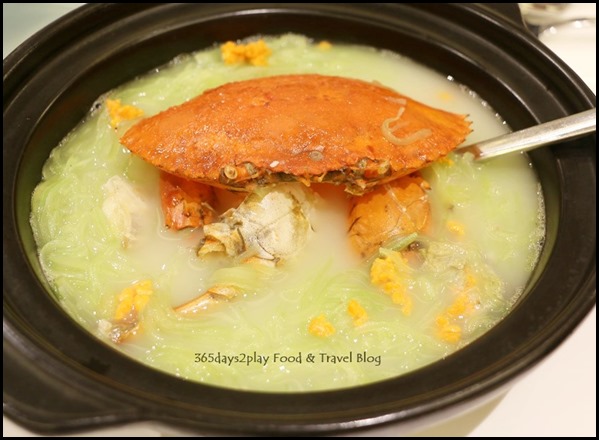 Simmered Mud Crab with Asparagus Lettuce in clay pot (market price)
Absolutely loved the taste of this soup that I had at least 3 servings. Those green strands are not noodles but asparagus lettuce shredded into thin strands to act as noodles. A lot of knife skills going on here. They were the perfect vehicle to soak up the aromatic mud crab broth. A must order!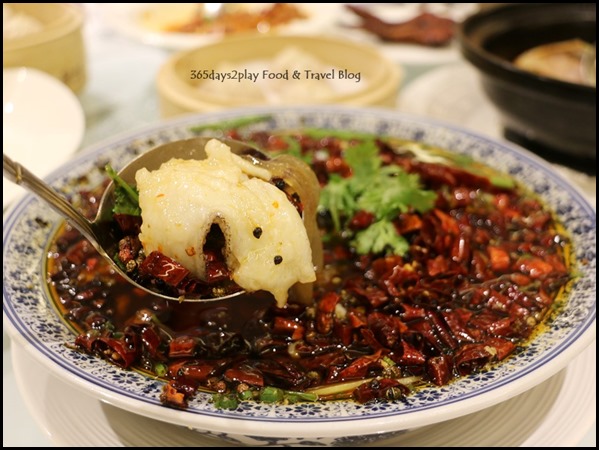 Szechuan Poached sliced fish in chilli oil $38
This looked deadly where the amount of chilli looked enough to drown out the poached sliced fish. Actually, if you are careful not to drink any of that spicy broth, the fish itself was not too spicy. The chillies were there to impart a peppery depth of flavour to the fish. We enjoyed the delicate fish amidst a tingling numbness from the chillies, which itself was also quite addictive.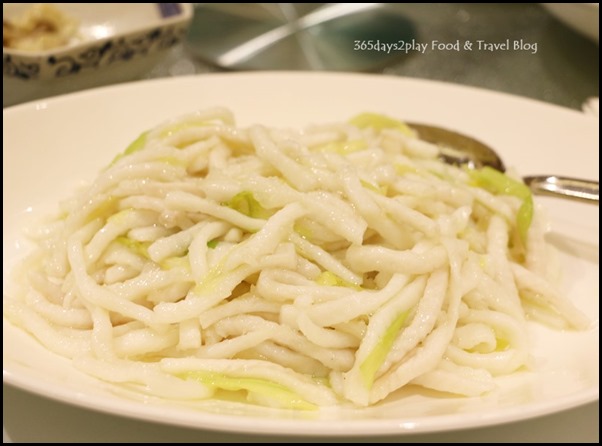 Stir-fried shredded blotched snakehead fish with Chinese chives $42
We were not sure what to make of this until we were told that these were slivers of snakehead fish sliced finely by hand, then stir-fried with Chinese chives. This dish requires meticulous knife skill to cut the fish into the same sizes and quick wok frying to ensure tenderness. The slivers were so smooth, they literally slid down the throat. One of Chef Zhou's award-winning dishes and it was not hard to see why.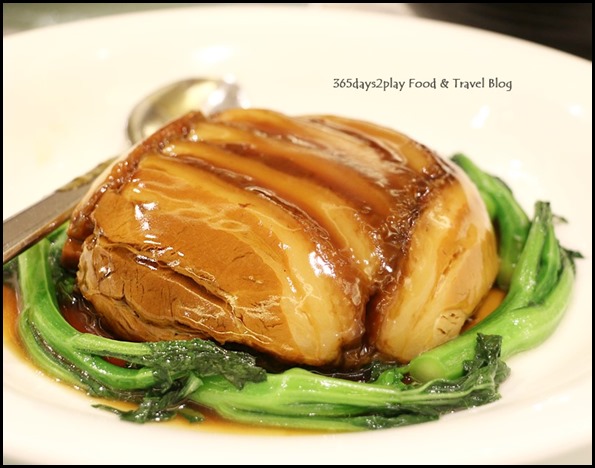 Braised pork belly with preserved vegetables $30
Similar to the more familiar "mei cai kou rou 梅菜扣肉", this pork belly had to undergo 5 cooking methods of boiling, frying, heating and then further cooking with Shaoxing preserve cabbage before arriving at our table.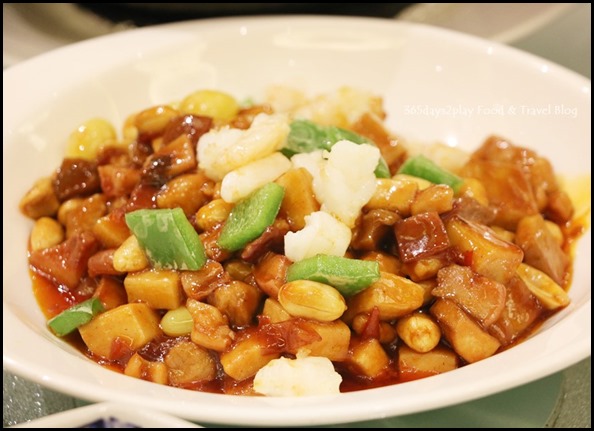 Stir-fried Shanghai 8 treasure with Chilli Paste $23
We all agreed that in terms of spiciness, this unassuming dish was more spicy than the Szechuan poached sliced fish in chilli oil! This Shanghainese fried dish including prawns, chicken, pork, pork tripe, bamboo shoots, peanuts, capsicums and prawns had a lovely crunchy texture. I can see myself having a bowl of steaming hot rice with just this dish.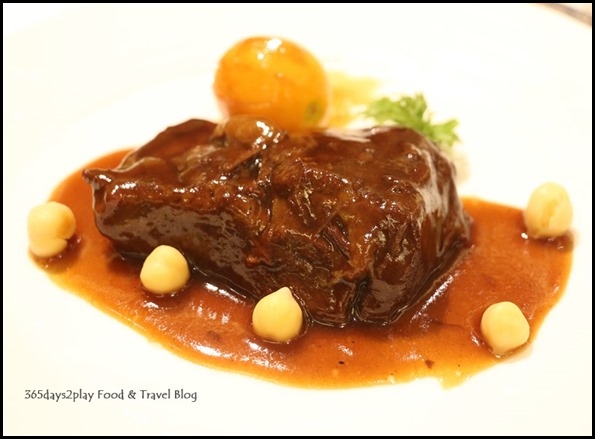 Stew fillet of beef with kumquat in claypot $30
Tender beef that has been stewed for hours is always a delight to eat, and this version had a rich citrus taste from the kumquats used, to set it apart from the versions from Western restaurants. It was soon finished in a jiffy. Another must order!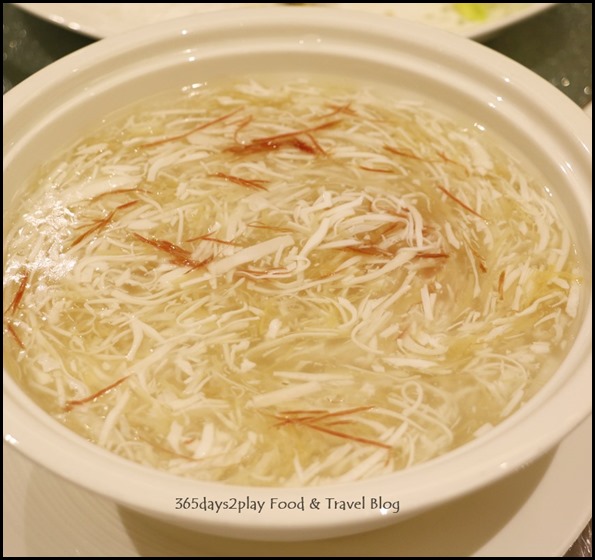 I forget the name of this soup, but can you believe the white shreds are egg white shreds and not tofu? Specifically hardboiled eggs, with their whites painstakingly shredded to what you see above! The result of such dedication was the opportunity to savour hard boiled egg whites as tender as tofu.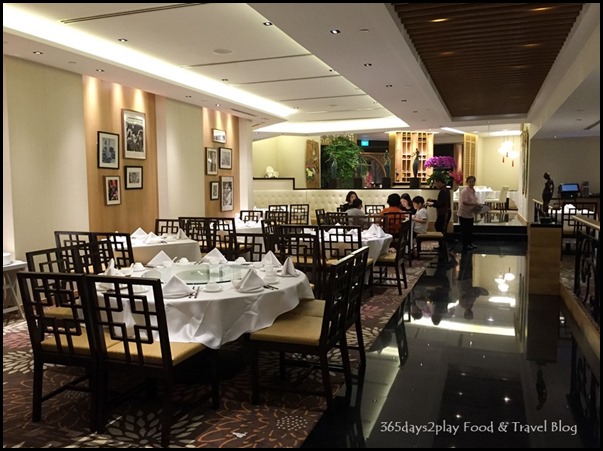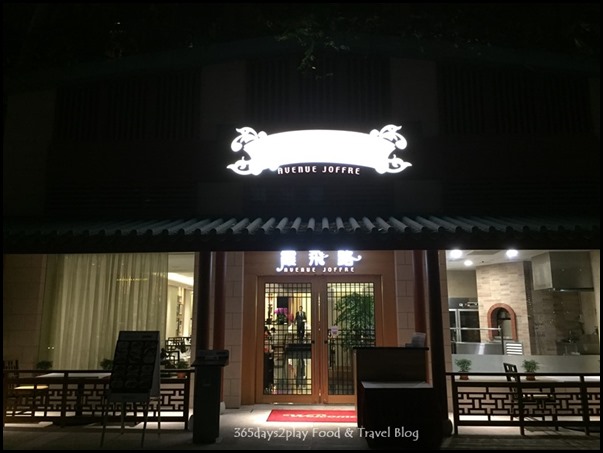 With such skill and dedication shown in the dishes above, it's not difficult to see why Chef Zhou is held in high regard in China. Do catch him in action at Avenue Joffre until 31 May 2016. As for myself, I can't wait to return again soon to try out Avenue Joffre's dim sum menu.
---
Add me on Facebook, Instagram and Twitter if you want to be kept up to date with the latest happenings in the food and lifestyle scene in Singapore!
Read about other places to eat at Sentosa
---
Avenue Joffre
26 Sentosa Gateway, #02-137/138/139, Resorts World Sentosa Singapore 098138 (Entry by Festival Walk and Crockfords Tower)
Tel : +65 6570 3213
Website: www.avenuejoffre.com
Facebook: https://www.facebook.com/avejoffre
Lunch: Monday to Sunday 12pm — 4pm (Last Order 3.30pm)
Dinner: Sunday to Thursday 6pm — 10pm (Last Order 9.30pm) Friday, Saturday and Public Holiday's Eve 6pm — 10.30pm (Last Order 10pm)