It's Spring in Europe, and that means white asparagus season is here! Check out specially curated white asparagus dishes available at the Pool Grill restaurant at Marriott Tang Plaza Hotel. Hurry, because they are only available until 31 May 2016!
What's the difference between white asparagus vs the more common green asparagus you may ask? Well apart from the colour, white asparagus has a more delicate flavour, with a nutty hint at times. It also tastes slightly sweeter and juicier to me. And the fascinating thing is that all asparagus start out the same, but those you want white are deprived of sunlight by completely covering them with earth when they are growing. This prevents them from producing chlorophyll, and hence they end up white instead of green. 
There are many ways to eat white asparagus, but the best is to leave them lightly cooked so that you can enjoy their natural taste. I prefer to pair them up with stronger tasting accompaniments such as with steak so that the contrasting flavours are more pronounced. Here are the 6 asparagus dishes you can enjoy at Marriott hotel during white asparagus season. Please note the pictures below are about 1/2 – 2/3 the original portion as this was sampled as part of media tasting session.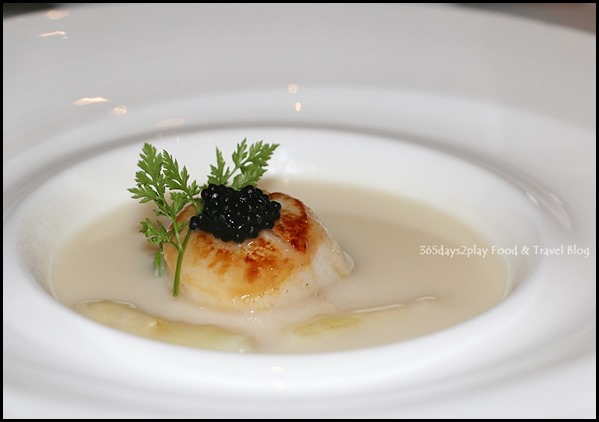 White asparagus soup, seared scallop, avruga caviar