It's Spring in Europe, and that means white asparagus season is here! Check out specially curated white asparagus dishes available at the Pool Grill restaurant at Marriott Tang Plaza Hotel. Hurry, because they are only available until 31 May 2016!
What's the difference between white asparagus vs the more common green asparagus you may ask? Well apart from the colour, white asparagus has a more delicate flavour, with a nutty hint at times. It also tastes slightly sweeter and juicier to me. And the fascinating thing is that all asparagus start out the same, but those you want white are deprived of sunlight by completely covering them with earth when they are growing. This prevents them from producing chlorophyll, and hence they end up white instead of green. 
There are many ways to eat white asparagus, but the best is to leave them lightly cooked so that you can enjoy their natural taste. I prefer to pair them up with stronger tasting accompaniments such as with steak so that the contrasting flavours are more pronounced. Here are the 6 asparagus dishes you can enjoy at Marriott hotel during white asparagus season. Please note the pictures below are about 1/2 — 2/3 the original portion as this was sampled as part of media tasting session.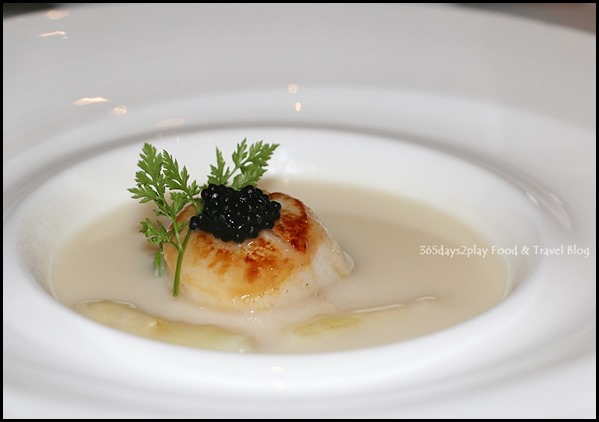 White asparagus soup, seared scallop, avruga caviar
With soup, the white asparagus almost seems like an extension of the soup as you bite into the spears to release their juices. The sweet seared scallop provides the needed contrast.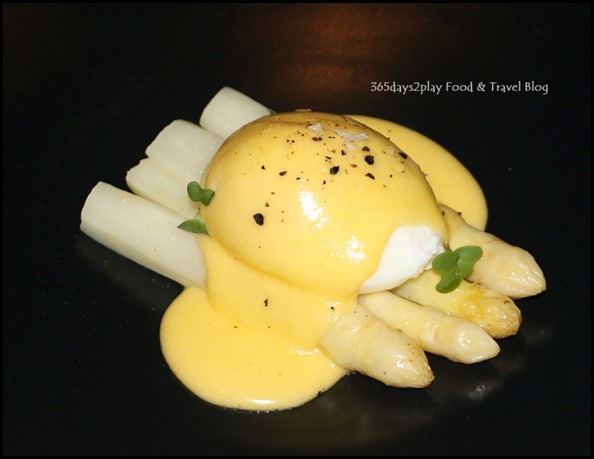 Buttered white asparagus, poached egg, hollandaise sauce
When with hollandaise sauce as well as a runny poached egg, the white asparagus provides the perfect vehicle to mop up the liquids. If you're not much of a vegetable fan, this might be a good way to eat your "greens" as the savoury hollandaise sauce masks any bitterness in the vegetable.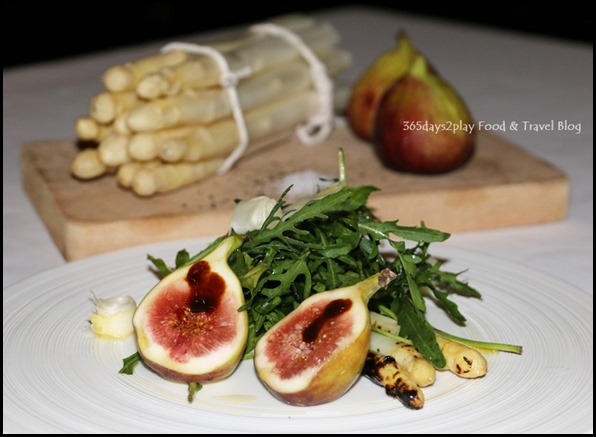 Grilled white asaparagus salad, figs, arugula
And if you want to taste the white asparagus in its full glory, go for this salad. I have a love hate affair with arugula because I sometimes find it too bitter for me. There's no running away from the bitterness of the arugula when paired with the demure white asparagus. If you like arugula, go for this.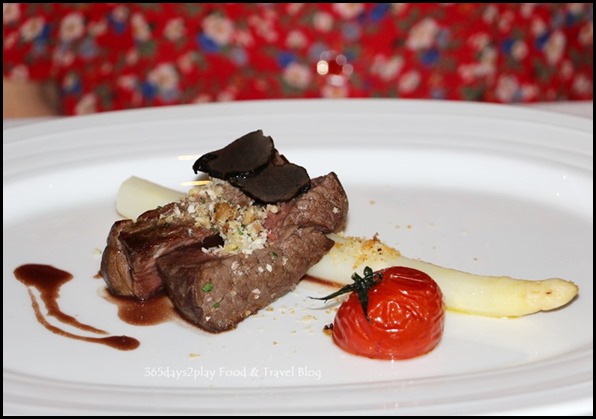 Gratinated beef tenderloin, buttered white asparagus, porcini crust, truffle sauce
Probably my favourite way to eat white asparagus. The meaty flavours of the beef contrast really well with the asparagus.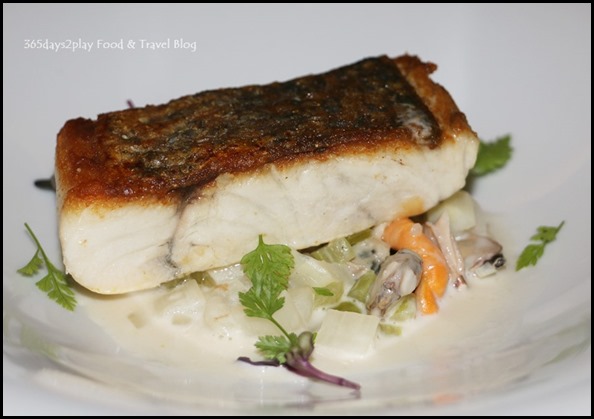 Pan-fried sea bass, white asparagus, clams, mussel chowder
Instead of eating them in stalks, diced white asparagus is really good too. I absolutely loved the clam and mussel chowder, and biting into the white asparagus bits gives delightful bursts of sweet flavour.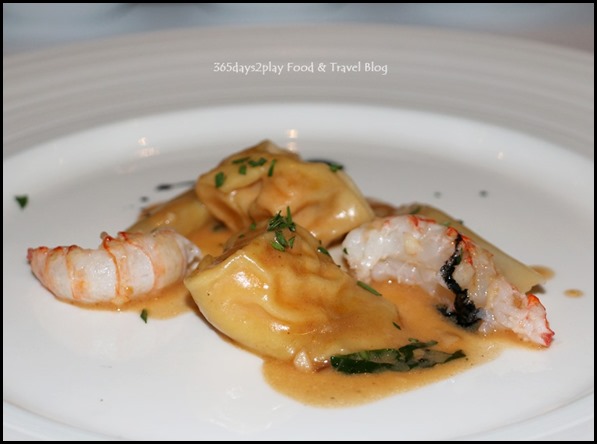 Lobster ravioli, langoustine, white asparagus, squid ink sauce
Another sauce based dish, where the white asparagus provides contrast, although it seems a little like an afterthought. The lobster ravioli and langoustine are perfectly capable of completing the dish without the asparagus.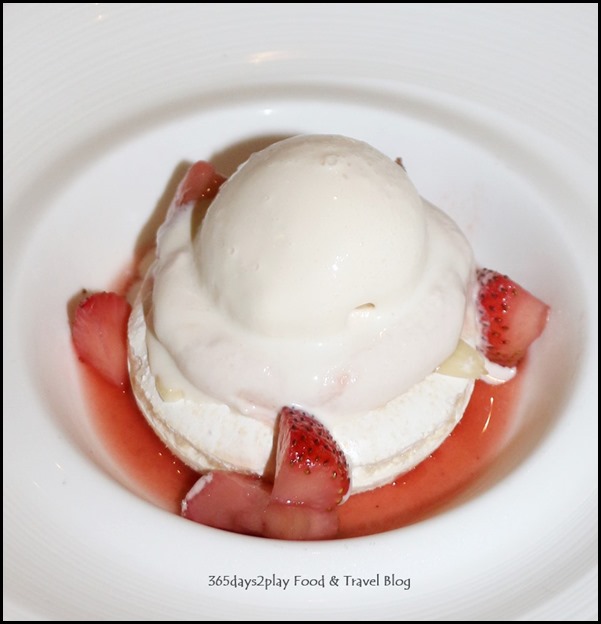 Strawberry Romanoff
Executive Chef for Singapore Marriott Tang Plaza Hotel Matthew Van De Zwan decided to draw the line at incorporating white asparagus into a dessert dish, so this strawberry Romanoff is thankfully asparagus-less. Nevertheless, this was a wonderful dessert crisp meringue topped with a beautiful dollop of vanilla ice cream, soaking in liquor laced strawberry juice. A heavenly way to end the meal!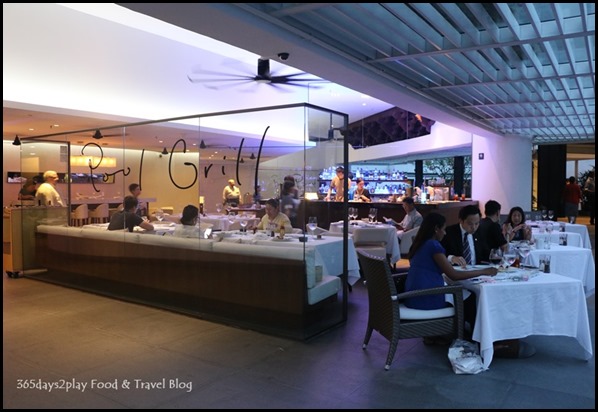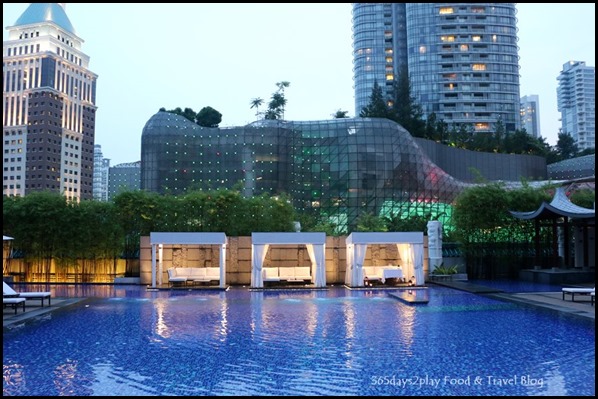 If you're planning for a romantic evening, you can book the cabanas facing the swimming pool, which were installed during the Pool Grill's recent renovation.
---
Add me on Facebook, Instagram and Twitter if you want to be kept up to date with the latest happenings in the food and lifestyle scene in Singapore!
Check out reviews of other restaurants at Marriott Hotel
---
Singapore Marriot Tang Plaza Hotel (Pool Grill Restaurant)
320 Orchard Rd, 238865
Tel: 6831 4605
Email mhrs.sindt.fb.reservations@marriotthotels.com
http://www.singaporemarriott.com/restaurant/pool-grill/
All About White Asparagus 25 April to 31 May
À la carte delicacies starting from $20++
Available for lunch (Monday to Saturday) and dinner (Monday to Sunday).
Enjoy 1-for-1 deals at Marriott Hotel with The Entertainer App