For a truly Asian Chinese New Year buffet spread, check out Swissotel Merchant Court's Ellenborough Market Cafe. The restaurant is well known for its Peranakan buffet which offers all-time favourites such as the Ayam Buah Keluak, Kueh Pie Tie and Durian Pengat. Now how about combining that with Chinese New Year must-haves such as Pen Cai, Waxed Duck and Sausage Rice and Teowchew Steamed Cold Crab?
Incidentally, Ellenborough Market Cafe's Executive Chef Louis Tay was also team manager of the Singapore Culinary Team that clinched double gold at the Culinary Olympics held in Germany in 2016. So you know the food has got to have some standard at Ellenborough Market Cafe.
Here are some pictures of the buffet spread that we sampled 2 weeks back. The dishes will be available buffet style from 16 Jan — 12 Feb 2017.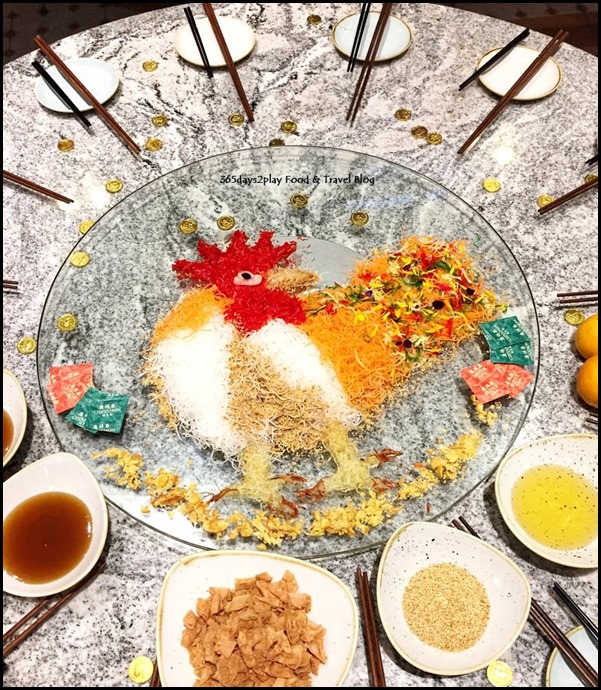 Prosperity Salmon Yu Sheng in the shape of a rooster to celebrate the year of the Fire Rooster!
Poon Choy aka Pen Cai which includes the following ingredients : Baby Abalone, Sea Cucumber, XO Chinese Sausage, Dried Oyster, Roasted Pork Belly, Fatt Choy, Dried Scallop, Dried Chinese Flower Mushroom, Tiger Prawn and Chinese Long Cabbage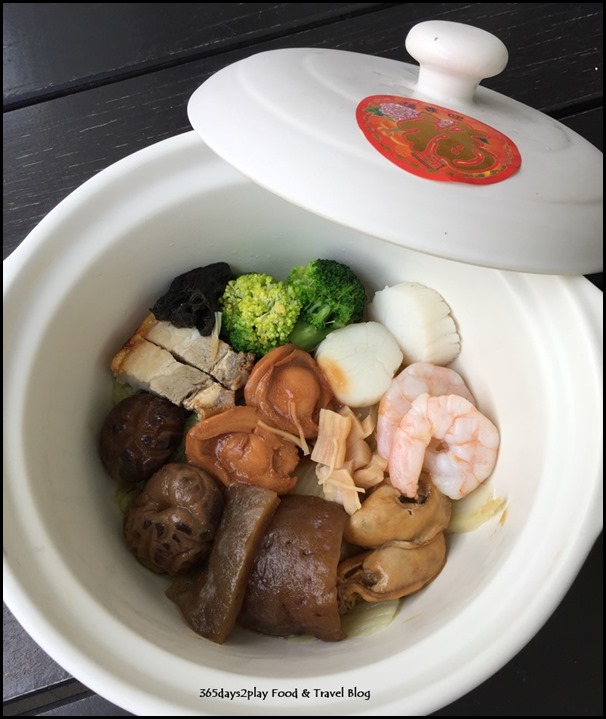 A clearer view of the Poon Choy during the day time minus the savoury sauce. This is just the mini version but isn't it cute! Unfortunately they don't sell this mini poon choy!
Waxed Duck and Chinese Sausage Baked Rice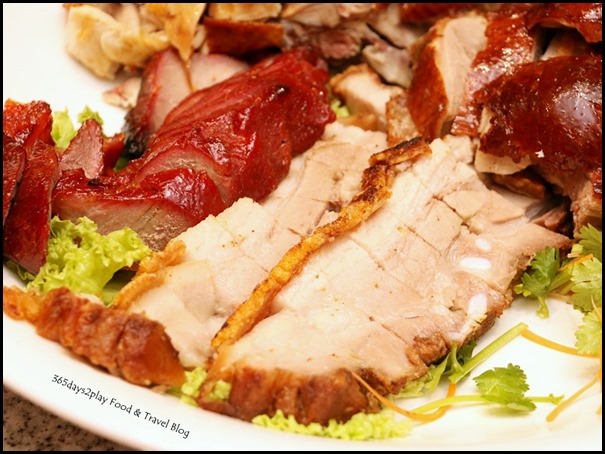 Roast Pork  and Honey Char Siew
Red Grouper with Hong Kong Sauce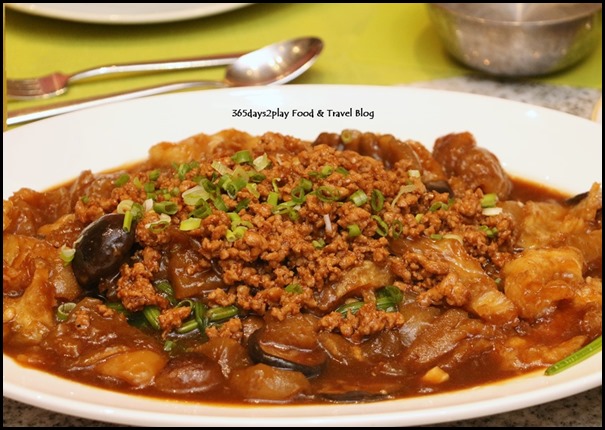 Braised Sea Cucumber with Spinach and Black Mushroom
Soft-shell Crab with Thai Basil Sauce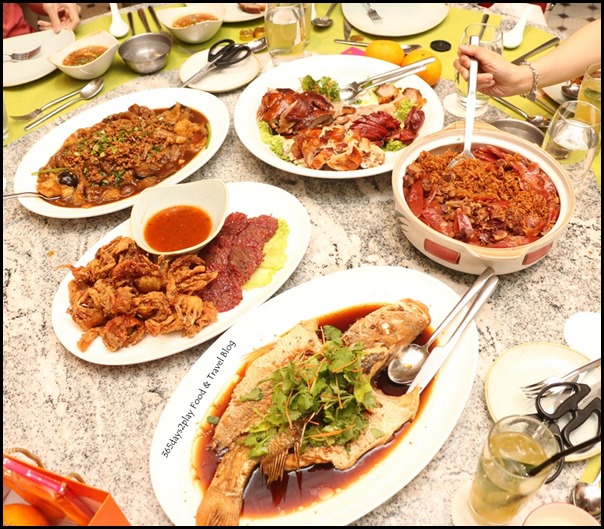 Chinese New Year Feast!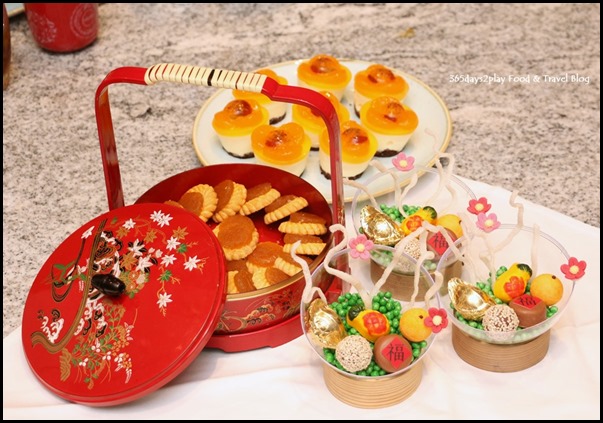 Chinese New Year pineapple tarts and pralines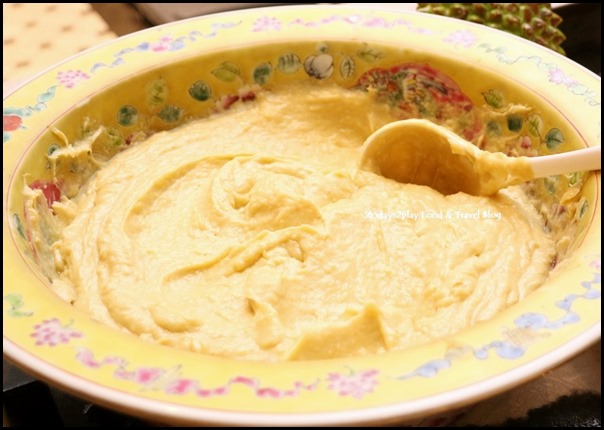 Durian Pengat — Had to at least try the famous durian pengat, so good that several bloggers made a beeline for this prior to the start of dinner!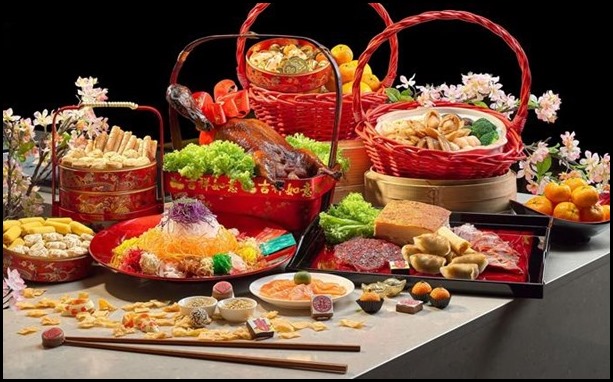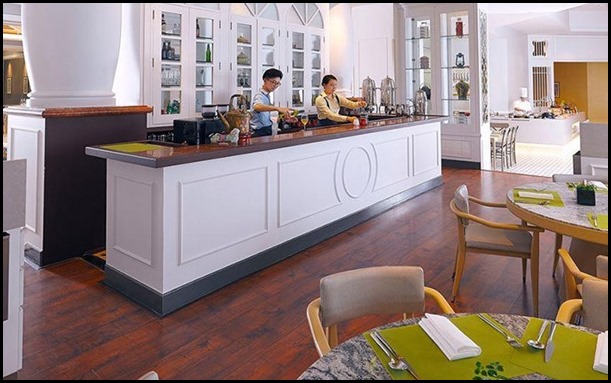 The Ellenborough Market Cafe looks really bright, cheery and spacious during the day time.
---
Add me on Facebook, Instagram and Twitter if you want to be kept up to date with the latest happenings in the food and lifestyle scene in Singapore!
Where to makan for Chinese New Year 2017???
---
Feasts of Prosperity at Ellenborough Market Cafe
Swissotel Merchant Court
20 Merchant Road Singapore 058281
Tel : 6239 1847/1848
Reservations : dining.merchantcourt@swissotel.com
Buffet High Tea $48 per adult (Saturday, Sunday and PH)
Buffet Lunch $62 per adult (Daily)
Buffet Dinner $78 per adult (Daily)
http://www.swissotel.com/hotels/singapore-merchant-court/dining/dining-offers/feasts-of-prosperity/
Map & Directions : http://www.swissotel.com/hotels/singapore-merchant-court/map-directions/