The Chinese New Year 2018 media tastings are coming in fast and furious, and it's not a minute too early because have you heard, some popular restaurants are already fully booked or close to being fully booked. Some hotels have even resorted to opening up their ballrooms to cater for more reunion dinner tables, although those are likely to be buffet style because getting manpower on Chinese New Year Eve is going to be craaaazy!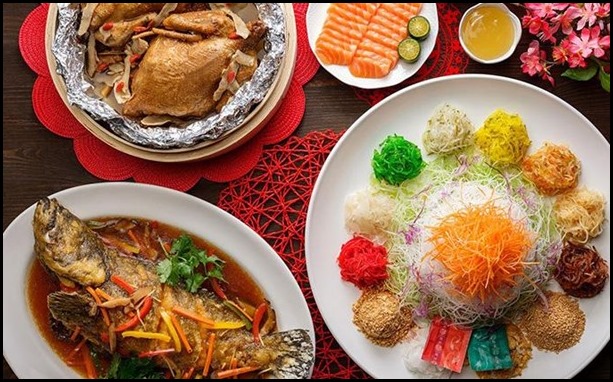 Here are some more pictures from the CNY preview of Swissotel Merchant Court's Ellenborough Market. They will be offering both buffet as well as set menus for Chinese New Year. Prices at the end of this post.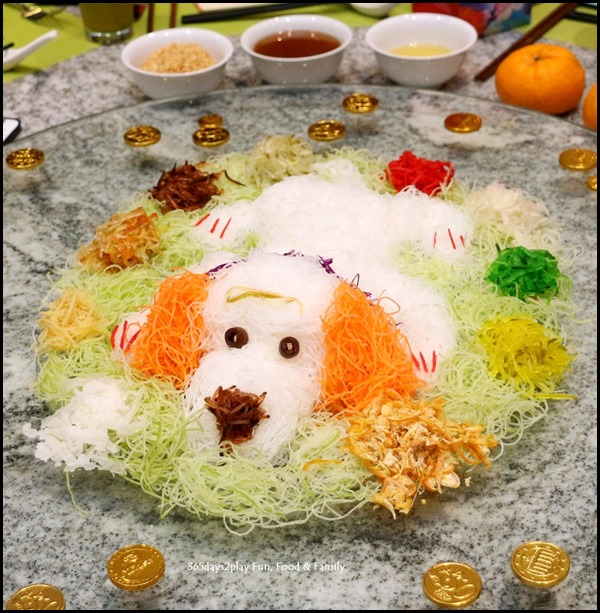 Salmon Yu Sheng
All the hotels trying to one up each other by coming up with cuter and cuter doggies for their Yu Sheng lo hei. If I didn't hear wrongly, Swissotel Merchant Court has come up with more than 7 different doggie designs! Now that's a feat okay because it takes time to assemble the yu sheng into a dog shape!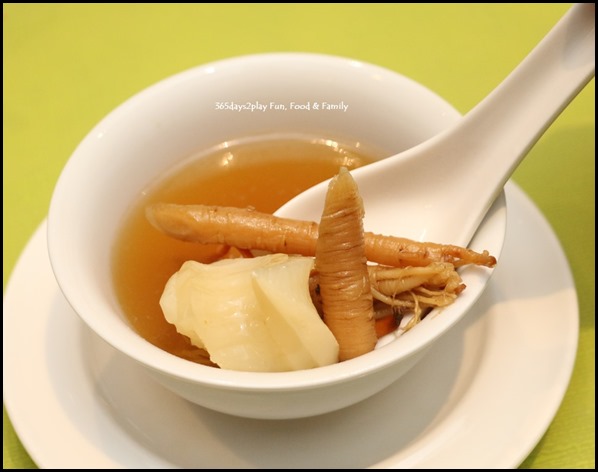 Double-boiled fish maw with dried scallop and cordycep flower
This was more a broth, ie mainly liquid, instead of a soup where you can eat most of the ingredients.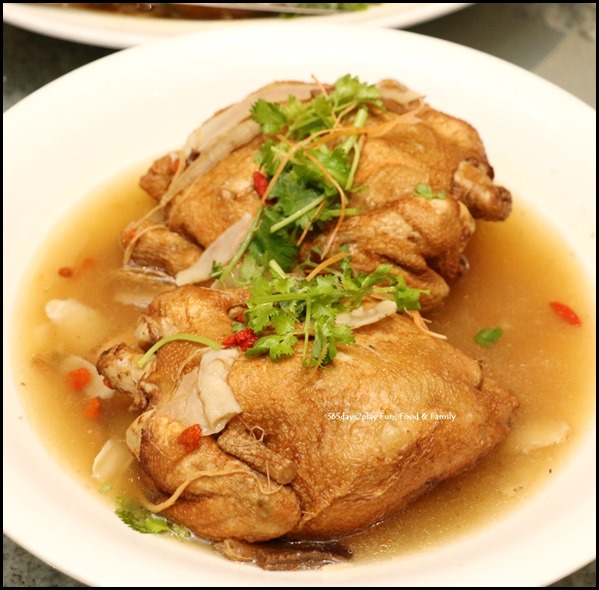 Imperial herbal chicken
This dish looked so appetising when it arrived at our table that I boldly helped myself to an entire chicken thigh. You know sometimes paiseh, we don't want to look greedy taking the best part, but no regrets! It was so good! Love the herbally broth and fork tender chicken!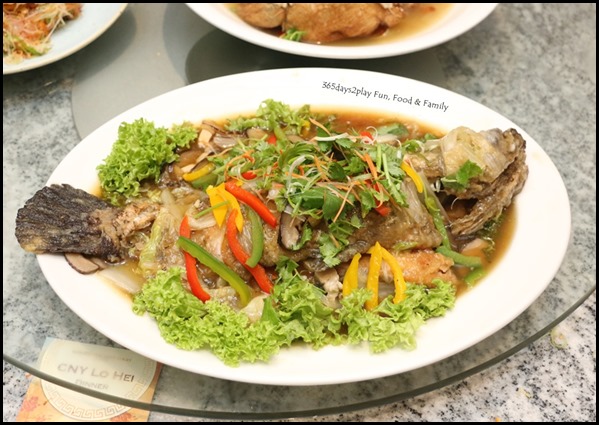 Hong-Kong Style fried garoupa
I've always been fussy about fish, alot of the times I find them too dry, and it was no different here.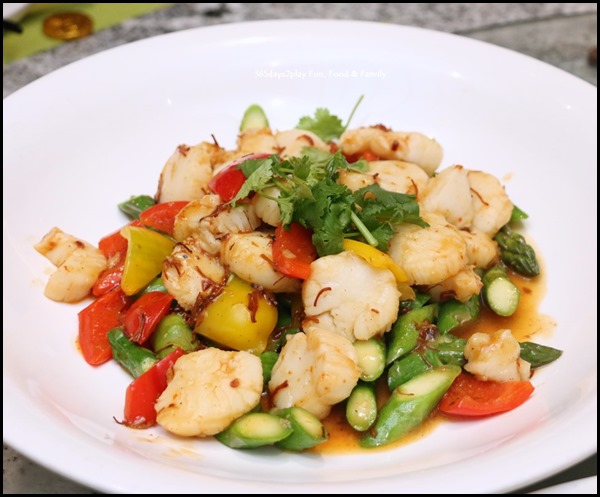 Wok-fried asparagus with pearl scallop in XO sauce
I enjoyed the vegetable dishes very much as compared to the earlier fish dish. Asparagus was nicely crisp, capsicum provided the sweetness, and the scallops provided the textural contrast. Sometimes, I wish XO sauce can be in everything!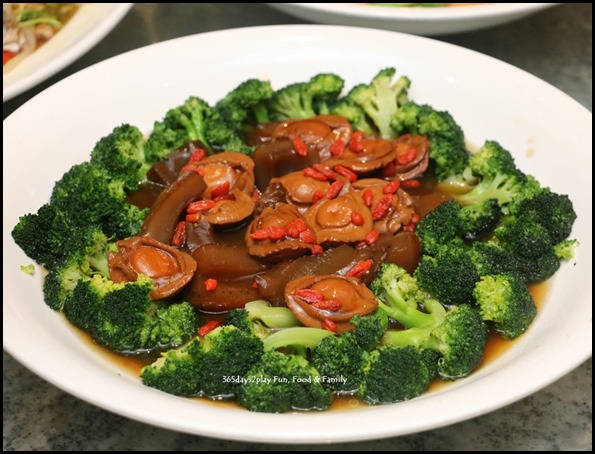 Braised abalone and sea cucumber with Australian Broccoli
Good execution of this dish here. Abalone can some times feel like it has no taste if the gravy is weak. In this case, the gravy was very tasty, so the abalone tasted great. The broccoli also benefitted from the savoury gravy.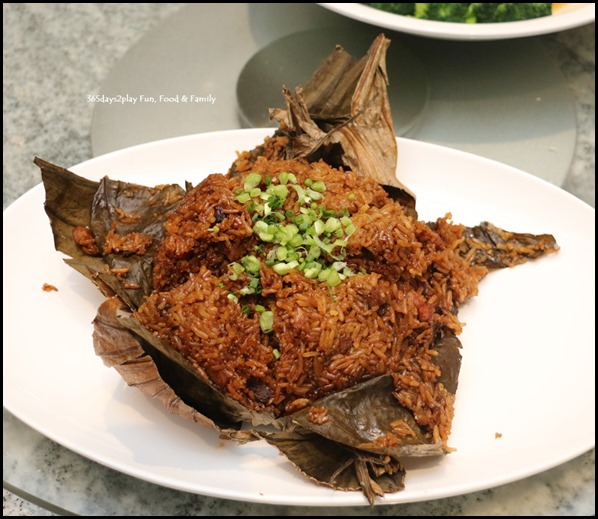 Fried Glutinous Rice wrapped in Lotus Leaf
A bit too much rice and too little ingredients if you ask me.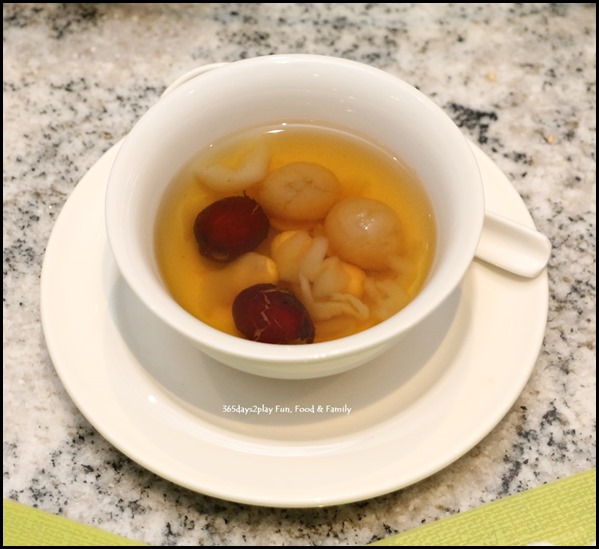 Double-boiled Hasma with Red Dates
Ended off the meal on a sweet note with this nourishing hasma dessert.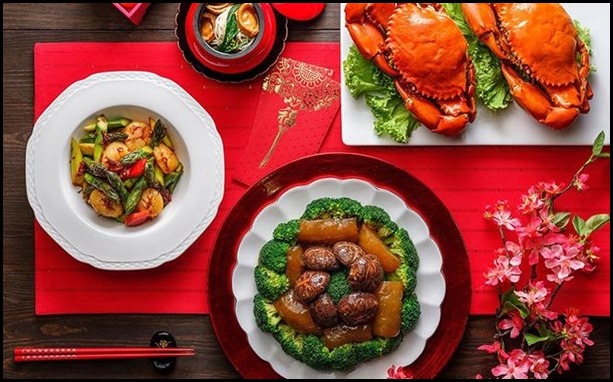 ---
Add me on Facebook, Instagram and Twitter if you want to be kept up to date with the latest happenings in the food and lifestyle scene in Singapore!
Previous reviews of Swissotel Merchant Court
Where to eat during Chinese New Year???
---
Swisshotel Merchant Court Ellenborough Market
20 Merchant Road ▪ Singapore 058281 ▪ Singapore
Tel : 6239 1847/ 1848
Email reservations : dining.merchantcourt@swissotel.com
Prosperity Buffet
Lunch (Mon – Sun, Eve of PH and PH): $68 per adult and $34 per child
Dinner (Mon – Sun, Eve of PH and PH): $80 per adult and $40 per child
Prosperity Set Menus
Menu A — $788 per table of 10
Menu B — $988 per table of 10
CNY Takeaway Treats (things like smoked salmon/abalone yusheng, pencai, roast duck…etc) — Prices start from $32.80
https://www.swissotel.com/hotels/singapore-merchant-court/dining/dining-offers/