At first glance, Izy Dining and Bar might strike you more as a drinking joint than a restaurant that serves proper Japanese food. But do not be thwarted by the long bar counter that takes up practically the entire front section of the restaurant, there's good food to be had if you venture forth. Food that will not only please the taste-buds but also the eyes. And if you venture further in literally, you will reach the table seating area, which in my opinion is more comfortable for consuming lunch and dinner.
On the menu are the usual suspects for any Japanese restaurant such as sashimi, sushi, rolls and cooked dishes. However it's the little touches here and there, and the creative use of ingredients that really set Izy Dining apart from the usual Japanese restaurants you find in malls. Everything just looks so delicious!
The piece de la resistance for Izy Dining and Bar has go to be this.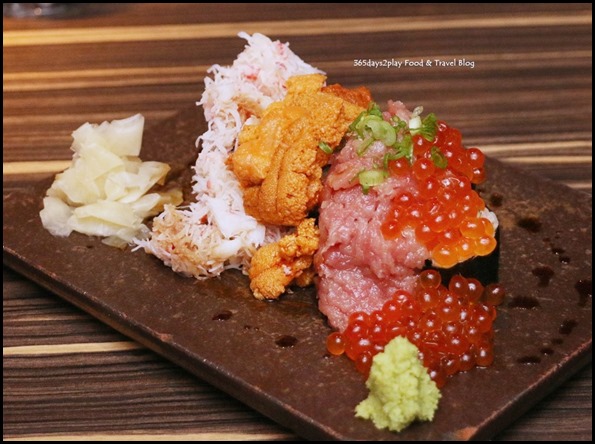 Japanese Nokke Roll (Uni, Ikura, Crab, Negitoro, Veg) $45
If this doesn't catch your eye, I don't know what will. Basically all the Japanese dream ingredients presented on one dish. It will disappear into the stomach all too quickly, so my only advice is to savour it slowly! It's a must order if you love all these ingredients!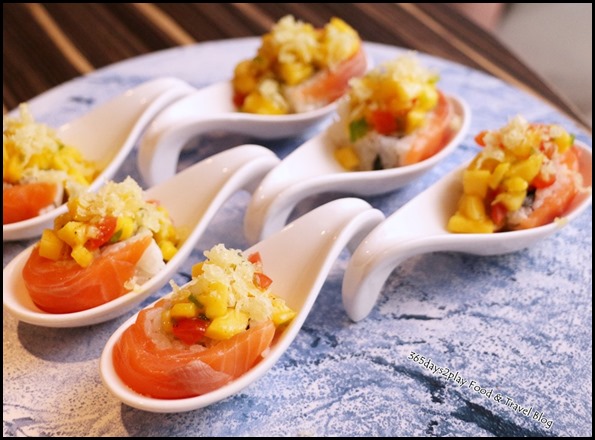 Mango Salsa Roll (Tempura shrimp, raw salmon & avocado topped with mango salsa sauce) $18