At first glance, Izy Dining and Bar might strike you more as a drinking joint than a restaurant that serves proper Japanese food. But do not be thwarted by the long bar counter that takes up practically the entire front section of the restaurant, there's good food to be had if you venture forth. Food that will not only please the taste-buds but also the eyes. And if you venture further in literally, you will reach the table seating area, which in my opinion is more comfortable for consuming lunch and dinner.
On the menu are the usual suspects for any Japanese restaurant such as sashimi, sushi, rolls and cooked dishes. However it's the little touches here and there, and the creative use of ingredients that really set Izy Dining apart from the usual Japanese restaurants you find in malls. Everything just looks so delicious!
The piece de la resistance for Izy Dining and Bar has go to be this.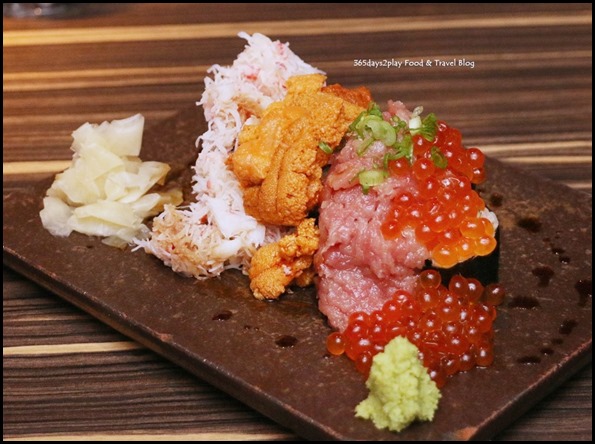 Japanese Nokke Roll (Uni, Ikura, Crab, Negitoro, Veg) $45
If this doesn't catch your eye, I don't know what will. Basically all the Japanese dream ingredients presented on one dish. It will disappear into the stomach all too quickly, so my only advice is to savour it slowly! It's a must order if you love all these ingredients!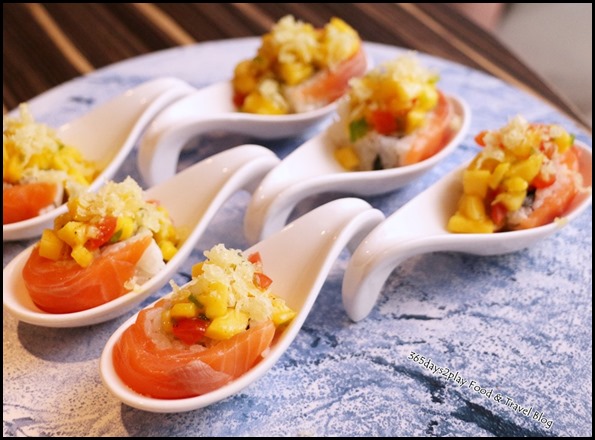 Mango Salsa Roll (Tempura shrimp, raw salmon & avocado topped with mango salsa sauce) $18
This hard to go wrong crowd pleaser was also fabulous. Loved how the sweet and tangy flavours of the mango salsa went so well with the smooth savoury feel of the salmon.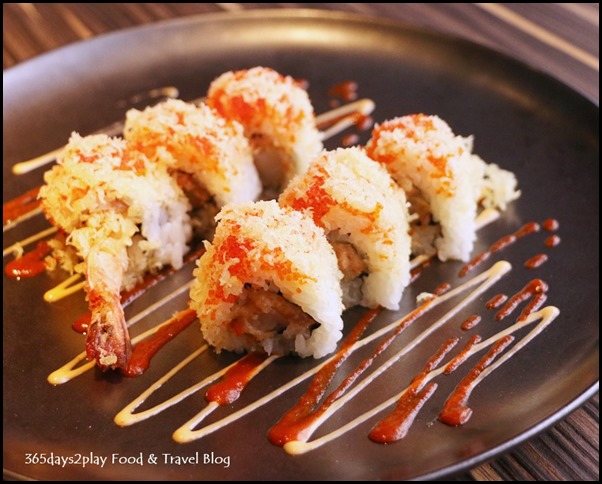 Crunch Roll (Tempura shrimp, flying fish roe, avocado & spicy sauce topped with tempura bits) $15
Ordered by someone else, this was not too bad too, although it wouldn't have been my first choice for ordering as I personally don't like so many fried bits in my rolls. So many other exciting sounding rolls to choose from, I wish I stood my ground!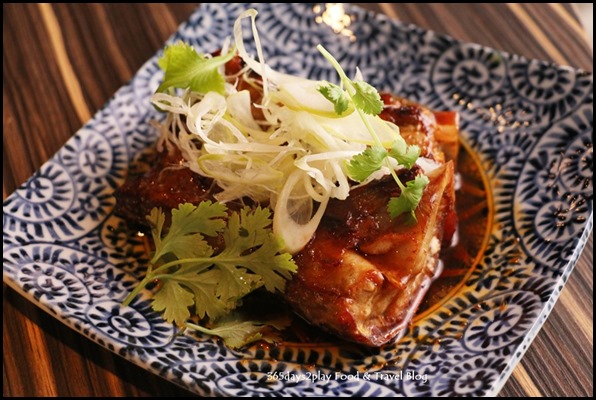 Maguro Kama Yaki (Josper grilled tuna collar with asian sauce) $25
Anything cooked in a Josper grill always gets my attention and this dish did not disappoint. Think nice crisp exterior with gelatinous insides.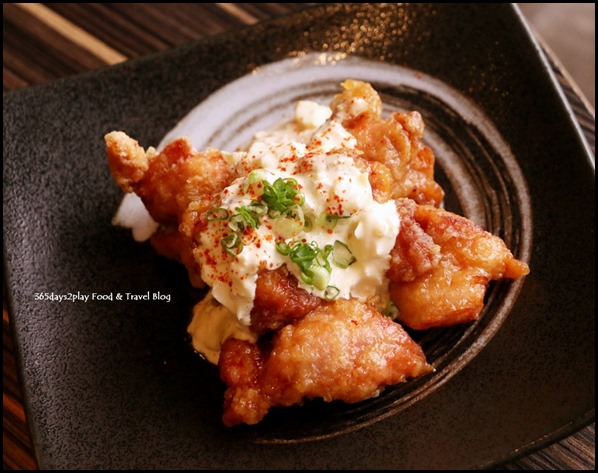 Chicken Nanban (Chicken Karaage coated with sweet vinegar soy sauce served with tartar sauce) $9
Fried chicken heaven….do I really need to explain anymore?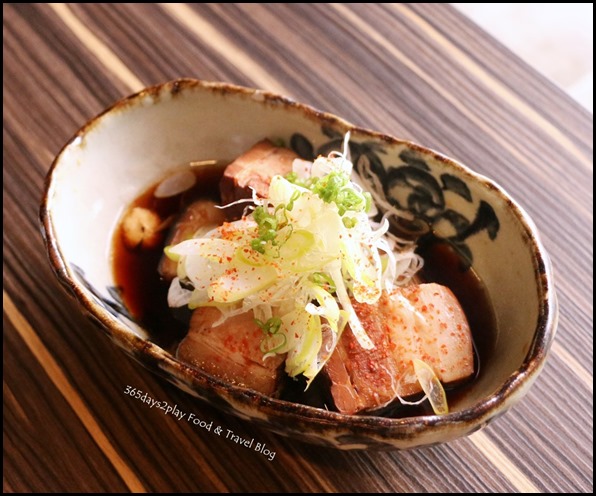 Buta Kakuni (Braised Pork) $12
Strangely, despite being a recommended dish, this was forgettable for me. Wasn't as melt in the mouth as I wanted it to be, or could be that its limelight had been stolen by the many other delicious dishes we tried.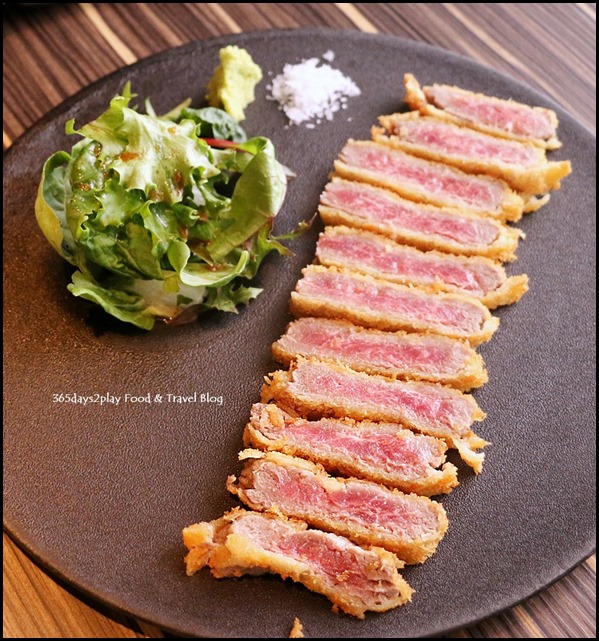 Gyu Katsu (Rare Beef Cutlet served with 3 sauces) $35
This is a must order! Chicken and pork cutlet are common enough, but not so beef cutlet. Amazing dish, loved the crispy exterior and the tender thin slices of beef. I forgot there were 3 accompanying sauces, and just enjoyed the beef as is!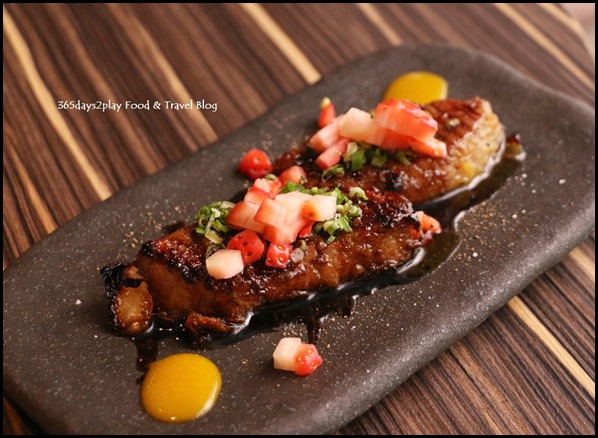 Foie Gras (Foie Gras marinated with saikyo miso served with mango passion) $36
I love foie gras, and all I ask for is a crisp exterior and dreamy insides. This delivered.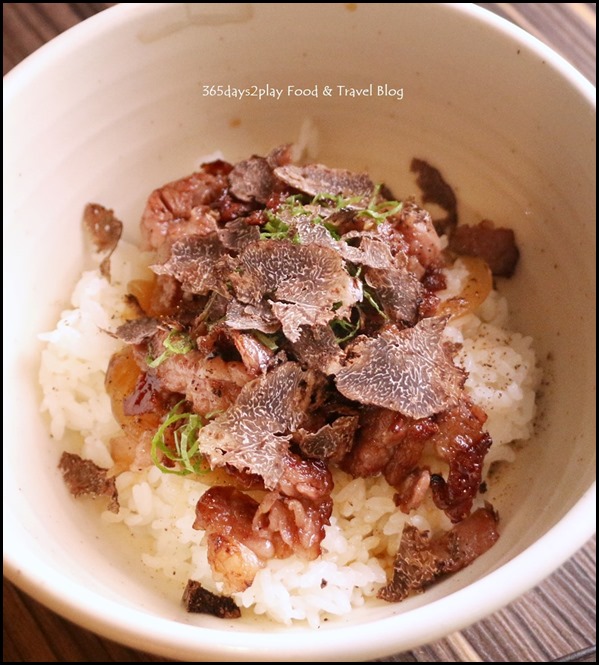 Wagyu Truffle Don (Josper grilled wagyu beef and onsen egg topped with fresh truffle slices) $38
This is another must order dish! You can't quite see the onsen egg here but it's in there somewhere. This was just SO GOOD. Rich, creamy, decadent, flavourful, comforting, it's something you would want to eat on your own, on a rainy day or especially if you need some cheering up. And we always need some cheering up. It was so good, we ordered seconds. A little on the pricey side, but if you can, don't share!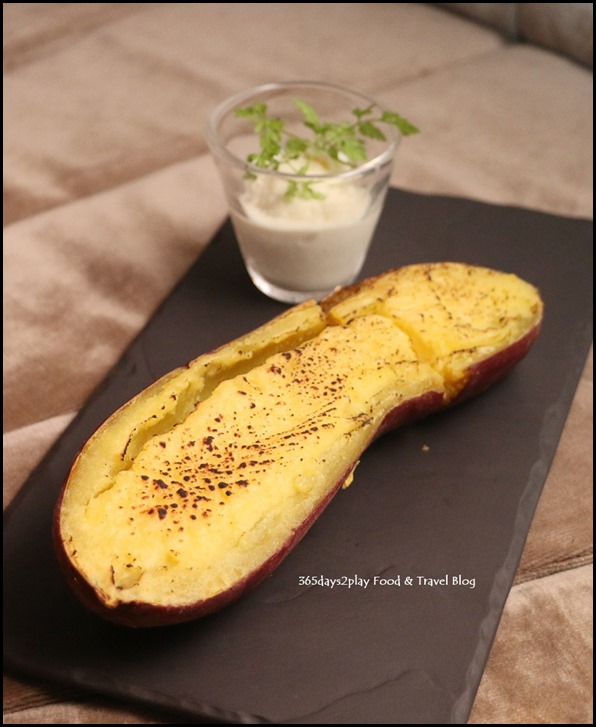 Sweet Potato and Vanilla Ice Cream $15
This is no ordinary sweet potato, but a reconstructed one. The flesh was scooped out and mixed with a cream concoction before being returned to the skin and grilled. Who would have thought that sweet potato could be made into a dessert like this? This was large enough to be shared by 2. Good for people who don't like their desserts too sweet.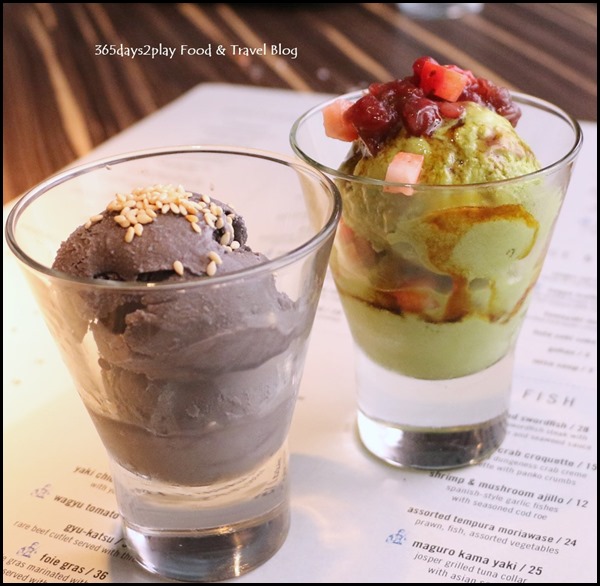 Matcha and Goma Ice Cream $7 each
Or you could end off your meal with a less phallic looking dessert. Since I don't like sesame ice cream, I went straight for the green tea one, and ended my meal on a memorable note.
---
Add me on Facebook, Instagram and Twitter if you want to be kept up to date with the latest happenings in the food and lifestyle scene in Singapore!
---
Izy Dining & Bar (Bar is called Cache)
27 Club Street Singapore 069413
Lunch : 12pm — 2pm      Dinner : 6pm — Late   Open everyday
Reservations : +65 9678 0027
Email : 27@izy.com.sg