I am so smitten by these Man-Cakes that I had to just mention them upfront. Now is this creative or what? Mini pancakes served in beer mugs, with generous dollops of clotted cream. And did I mention bacon, because bacon just makes things taste better. You will laugh when ordering it, and it will be fun to eat too.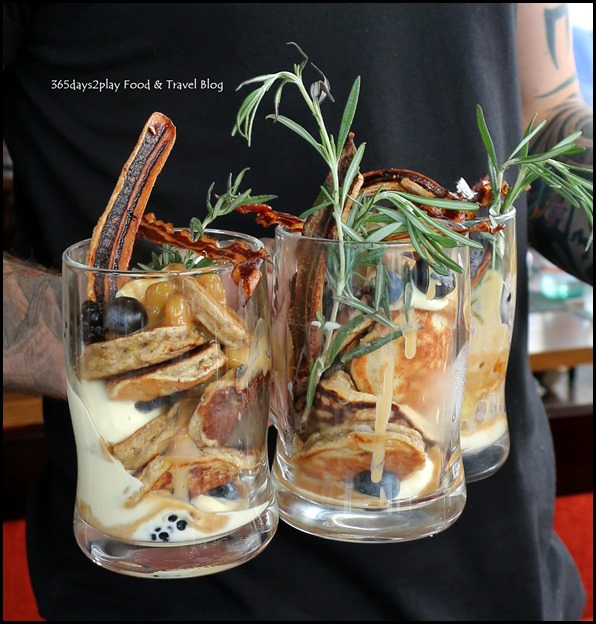 Bacon Man-Cakes (Banana, Maple, Clotted Cream) $15
And I think the Man-Cakes epitomises the philosophy of LeVel33, which is to establish itself as a relaxing and fun place to dine at, especially on the weekends. There are so many items on the menu I want to try just because they sound so interesting! Btw, the person holding the beer mugs is Executive Chef Jimi Tegerdine himself. Chef Jimi has been working in the culinary world since 2001, and has had experience in numerous locations such as The Relais de Coche in South of France, Wagamama and Cho Gao in Australia. At Cho Gao, his role was to give a fresh interpretation of traditional Asian dishes from Thailand, Vietnam, India, China, Indonesia and Japan. And you will see these Asian influences again in the dishes that are served at LeVel33.
Scroll down further for our review of the recently revamped Saturday lunch menu.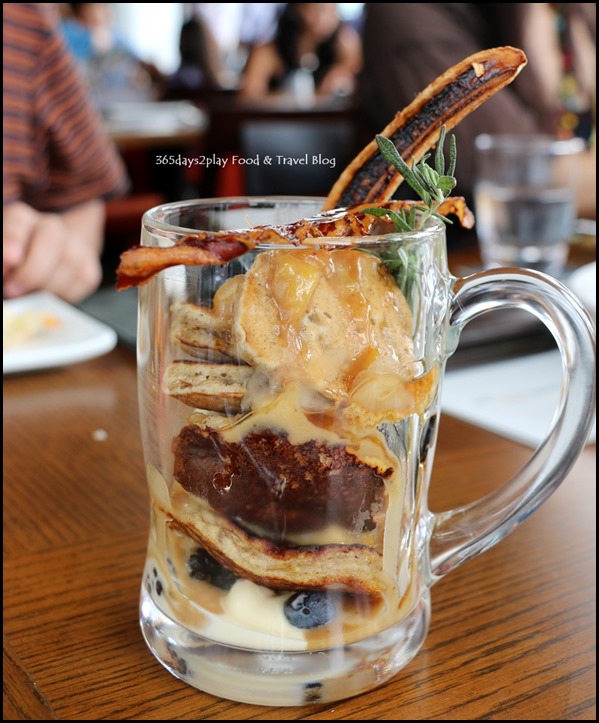 Another picture of the Man-Cakes, which is actually quite filling if you eat it all on your own.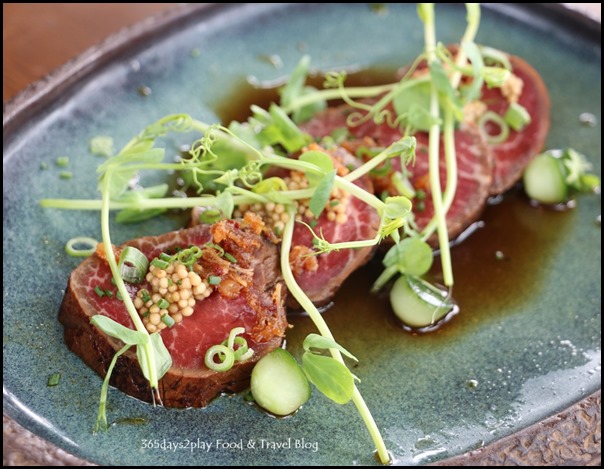 Beef Tataki (Argentinian tenderloin, served rare, pickled mustard seeds, cucumber, Level33 XO sauce) $24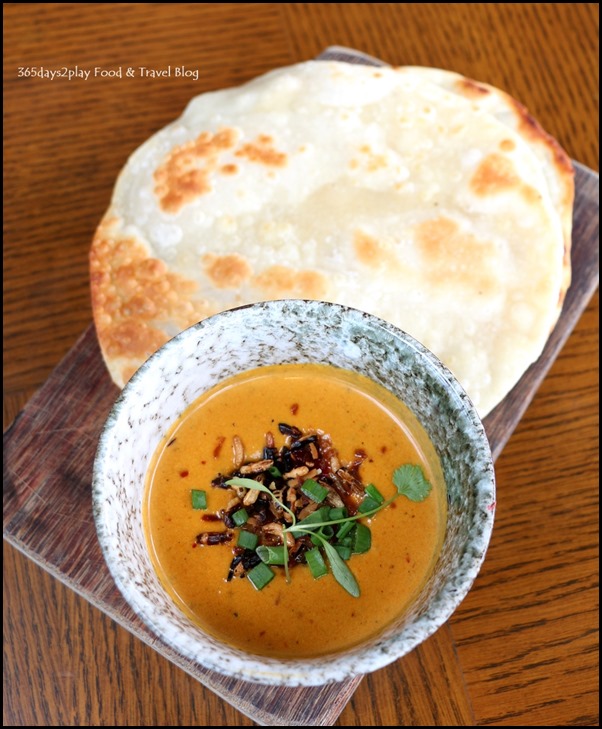 Roti (33.15 India Pale Ale curry, puffed rice, toasted coconut, almond flakes) $12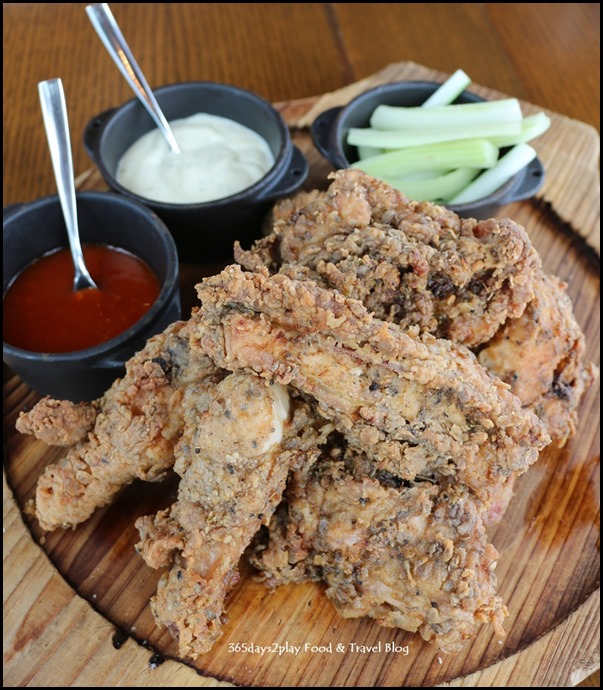 Southern Style Chicken (Level33 hot sauce, ranch, 33.4 house porter bbq sauce) $44
Let's start off with my 3 favourite dishes of the day (apart from the Man-Cakes). If you're lost as to what to order, you must try the Beef Tataki. If I had to pick my favourite dish, that would be it. Raw beef you tend to associate with Western cuisines, so it was a really delightful surprise to have the sweet XO sauce paired with the very tender but substantial pieces of beef.
The Roti may be on the expensive side, if you think of how much a Roti Prata costs, but price aside, I loved this variation of the dish. I loved the extra flakiness of the Roti, and oh my, the curry with beer in it tasted so wonderful. I don't think I've ever had beer in a curry before and I'm now wondering why it isn't more common! You can't tell it's beer, but there is a zing to the curry which just perks the taste buds up.
To borrow the KFC phrase, the Southern Style Chicken was finger licking good! The chicken was served piping hot, nearly burnt my fingers, so the batter was really crispy while the chicken flesh was tender and juicy. You know, I didn't even use any dip because it was already enjoyable as it was.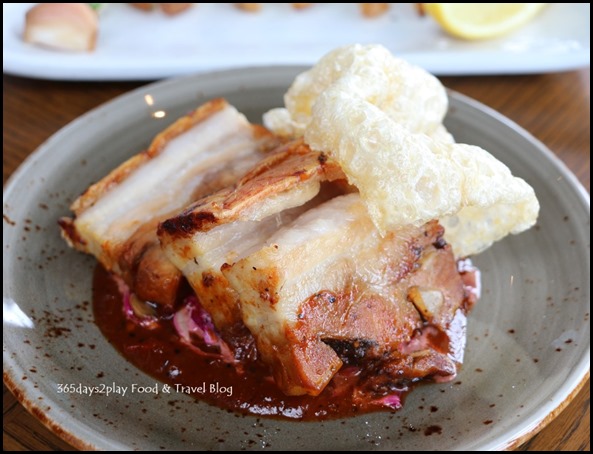 Pork Belly (Chicharron, cabbage slaw, 33.4 House Porter bbq sauce) $13.50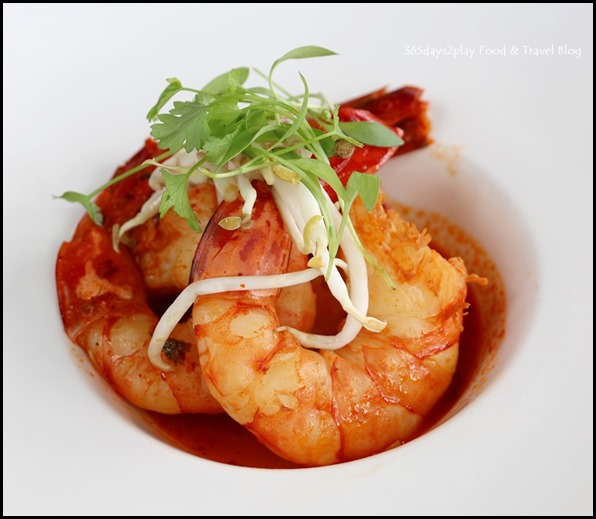 Tiger Prawn (Goan masala paste, pickled bean sprouts, coriander broth) $18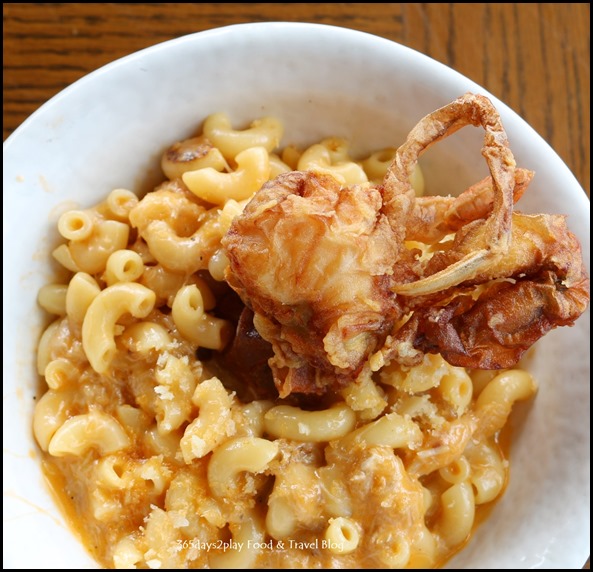 Mac, Crab & Cheese (Monterey Jack, Comte, Pasta,) $16
The Pork Belly, Prawns and Mac, Crab & Cheese were all enjoyable and good dishes to order if you are thinking of them. I know my dining companion's favourite dish for the day was the Pork Belly because it was so tender. And I like it that they are cut in larger chunks so it's easier to savour more at one go!
Cheeseburger Bao (Grilled beef patty, Swiss chese, burger sauce) $8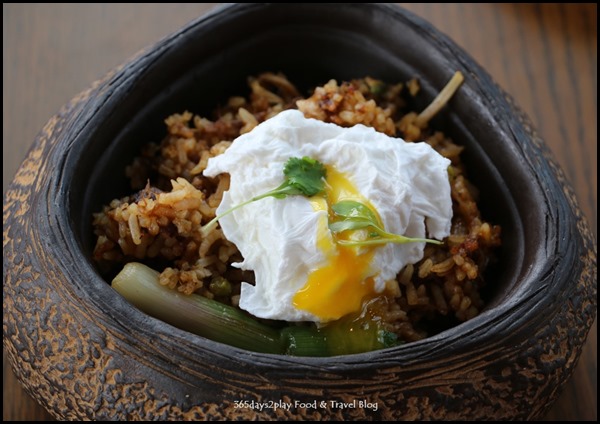 Fried Rice (Braised beef brisket, lightly spiced, fermented greens, poached egg) $14.50
Okay, the Cheeseburger Bao didn't really work for me. I did like the taste of the grilled beef patty, and in fact I had 2 of the balls. But putting them in a mantou was a bad idea because it was so difficult to eat. Do you eat them with your hands or with utensils? It was unwieldy using a fork and knife, but as bad when I used my hands because the beef ball rolled off when I tried to bite into it! Luckily I wasn't dining with the queen!
Sadly, the fried rice was also rather forgettable, despite being adorned with an enticing poached egg. I guess I like my fried rice to be the type you find in Chinese restaurants, you know with wok hei, otherwise it's just rice tossed in an oiled pan.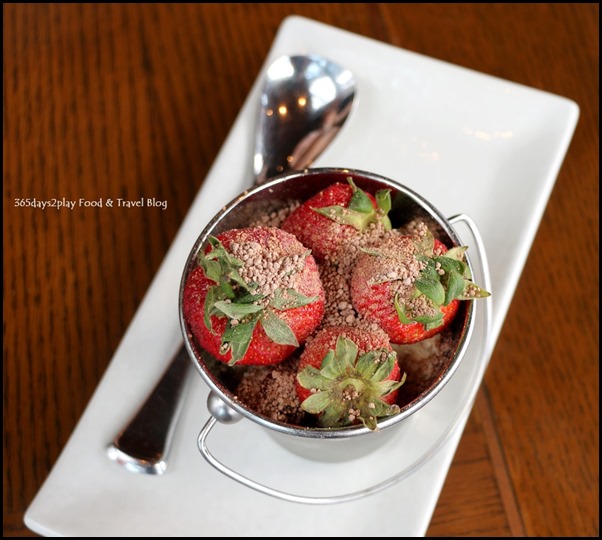 Strawberry Pot (Chocolate brownie, chocolate soil, vanilla mousse) $8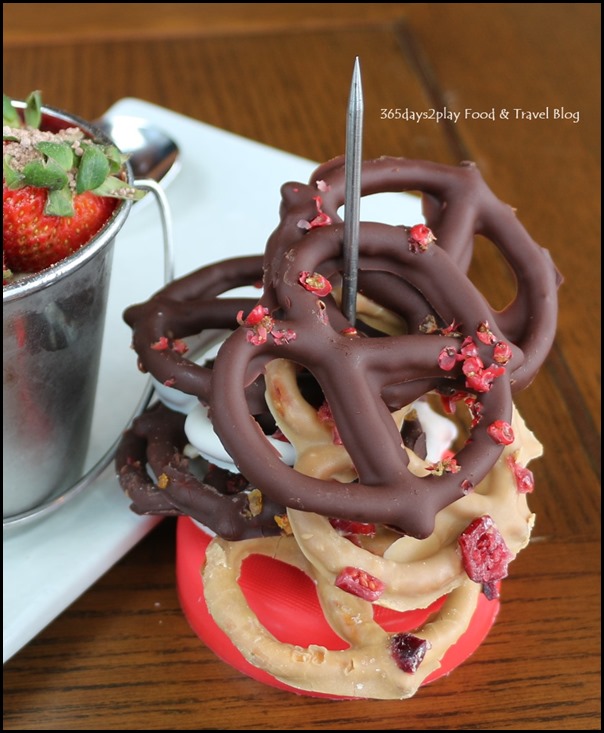 Pretzel Roulette (Mini pretzels covered in a variety of flavours) $8
The desserts were nice. The pretzels were quite moreish, like bar snacks, you don't notice how much you've eaten when the conversation is flowing. The other 2 desserts on the menu sounded more enticing though…. Mirrored Doughnut and Peanut Bacon & Jelly chocolate sponge!!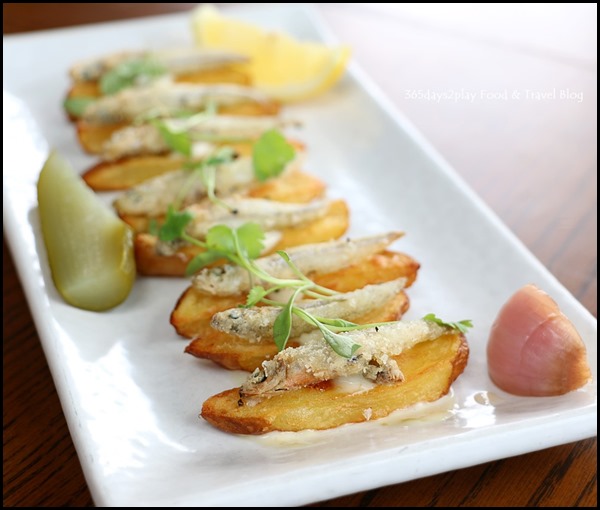 Fish & Chips $13
And if you've heard about the Fish & Chips uproar and wondering if I would be covering that….well here it is! This is actually from the bar snacks menu, and obviously not to be treated as a main course. I have to say, it's pretty good! The crispy fried whitebait goes really well with the potato wedges. I enjoyed it so much I finished half the platter myself even though I was  supposed to share this with other dining companions.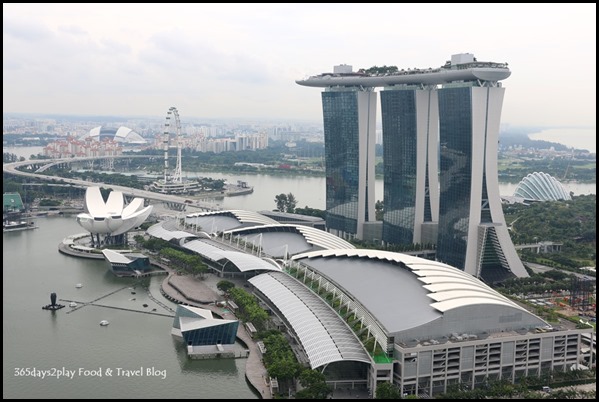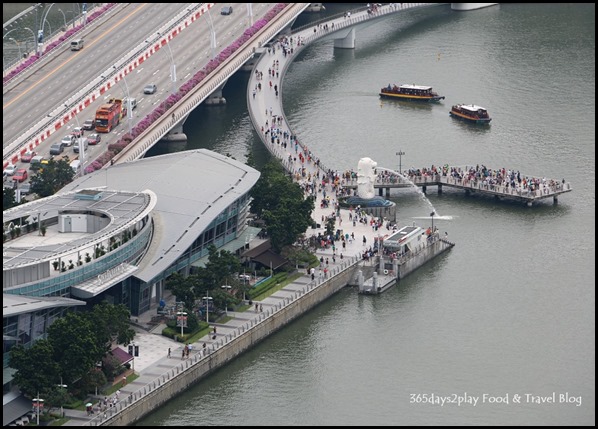 Alas! Not a blue sky day!
I really liked the food and the ambience at LeVel33. And not forgetting the views too.  There are quite a number of rooftop restaurants in Singapore's CBD / Marina Bay area, but not all have unblocked views. LeVel33 is one of those to enjoy a full view of the Marina Bay area and of the iconic Marina Bay Sands, everyone's favourite building to photograph.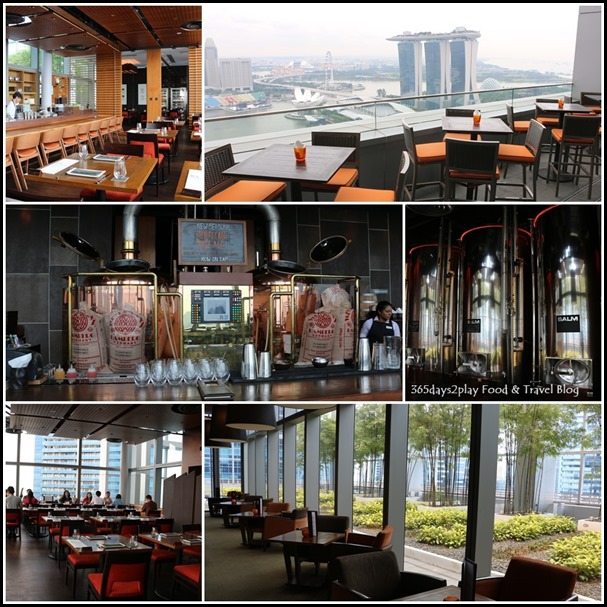 ---
Add me on Facebook, Instagram and Twitter if you want to be kept up to date with the latest happenings in the food and lifestyle scene in Singapore!
Check out my review of LeVeL33 back in 2011 plus the firework views!
---
LeVeL33 Craft-Brewery | Restaurant | Lounge
8 Marina Boulevard #33-01 "¢ Marina Bay Financial Centre Tower 1 "¢ Singapore 018981
Opening Hours :
Mon — Wed: 11.30am — 12.00am
Thu — Sat: 11.30am — 2.00am
Sun: 12.00pm — 12.00am
Eve of PH: Operational hours will extend to 2.00am
PH: Operational hours begin at 12.00pm
Tel: +65 6834 3133
Email: reservations@level33.com.sg
Reservations : Book online via Quandoo or Chope
http://www.level33.com.sg  |   https://www.facebook.com/LeVeL33CraftBrewery