When you think of Swissotel Merchant Court, you will think of the famous Ellenborough Market Cafe, and it's very popular durian pengat. I have been hearing about this durian pengat for more than a decade from people who swear by it. But you won't be faulted for not knowing that the hotel also boasts another great restaurant known as the Blue Potato. I don't think many people know about this restaurant, and it doesn't help that the restaurant is next to the swimming pool, meaning you will only chance upon it if you are going to the pool! And even so, at first glance from the opposite end of the pool where most people are, it looks like just a simple pool bar rather than an al-fresco restaurant serving proper restaurant food.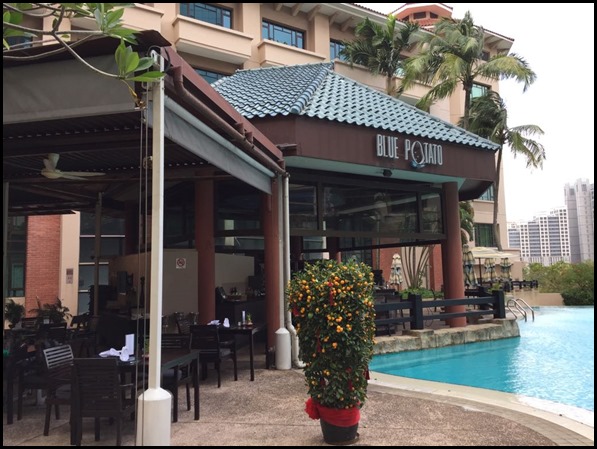 That's a pity because the food we tried at Blue Potato was fabulous. In particular, I was very impressed with the refreshing and generously portioned salad, as well as both the mains. I'm really very pleasantly surprised to discover this restaurant for the first time despite my having been to Swissotel Merchant Court several times.
Scroll down to read my review and see more pictures!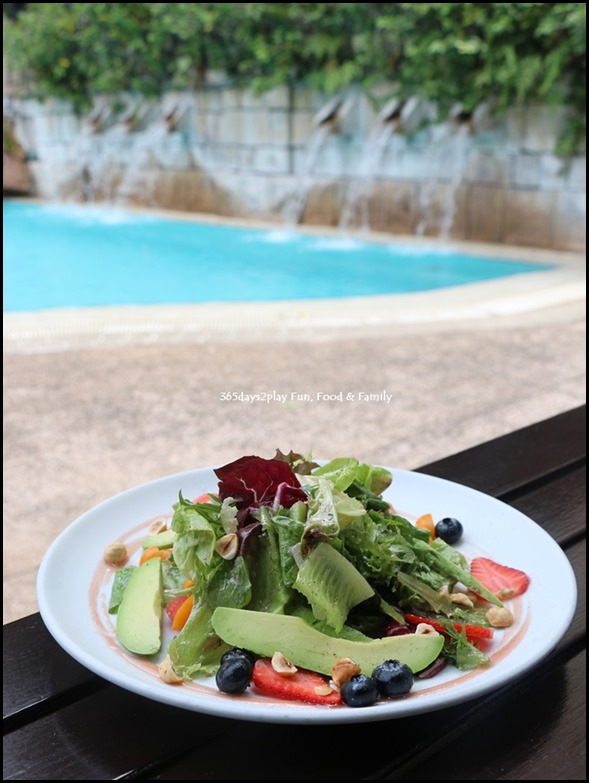 Fresh Berries and Avocado Salad with mixed greens, hazelnuts & raspberry vinaigrette $18
With a salad this nice, you don't need a nice view to help the greens go down! You can find almonds often enough in salads, but not hazelnuts, which in my opinion are even tastier.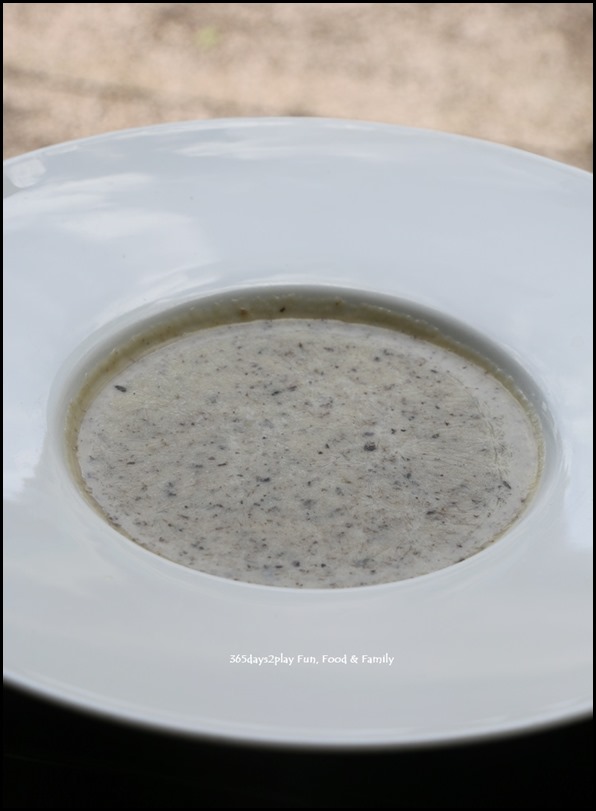 Cream of Blue Potato with Wild Mushrooms drizzled with Truffle Oil $12
I have always liked my mushroom soups to be thick and creamy, with a discernable mushroom flavour, and this pretty much fit the bill, although it was a little on the salty side.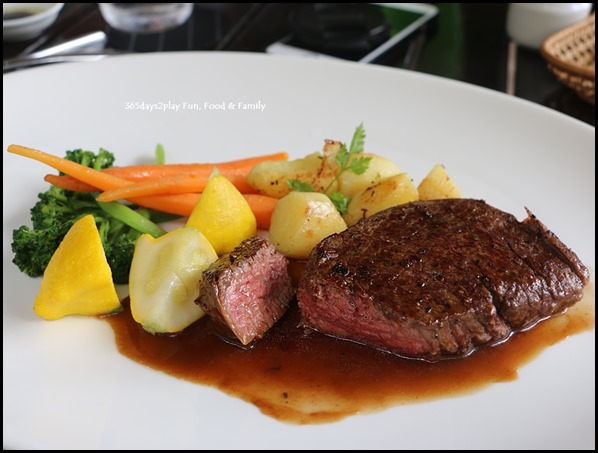 Beef Tenderloin with steamed broccolini $38
Amazing beef tenderloin that was exactly how it should be, tender and perfectly cooked, and still full of flavour. Tenderloin can sometimes be a little flavourless if not properly prepared, but this was really good. I practically finished the entire dish even though the Partner had wanted to swap some of his cod for my beef.
Roasted Cod Fish ($30 plus, forgot how much)
Another excellent dish. Cod fish was buttery and fork tender. If I wasn't so busy with my tenderloin, I would have tried to steal more bites out of this.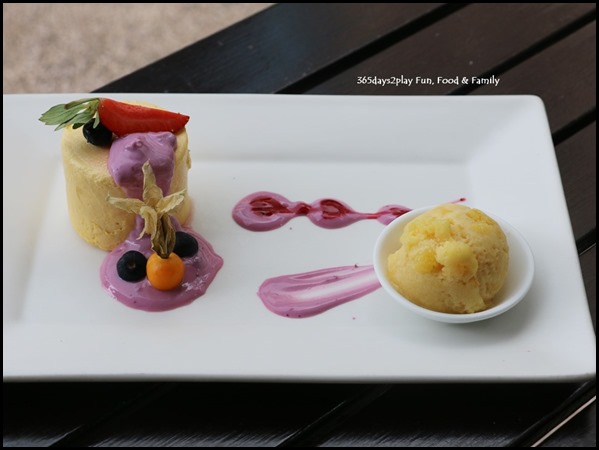 Mango Parfait with yogurt sauce and mango passion fruit sorbet $12
Good for those who like fruity desserts. I'm more of a heavy desserts type of person though.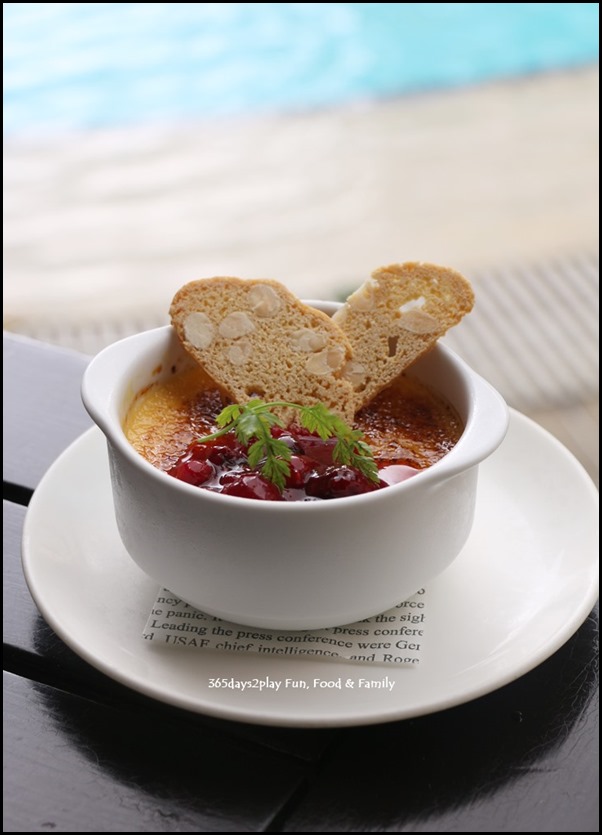 Vanilla Crí¨me Brí»lée with wild berry compote $12
This is more my kind of dessert, although the burnt sugar top was too thick and hence not really edible. Liked the creamy insides though, which paired well with the tangy wild berry compote.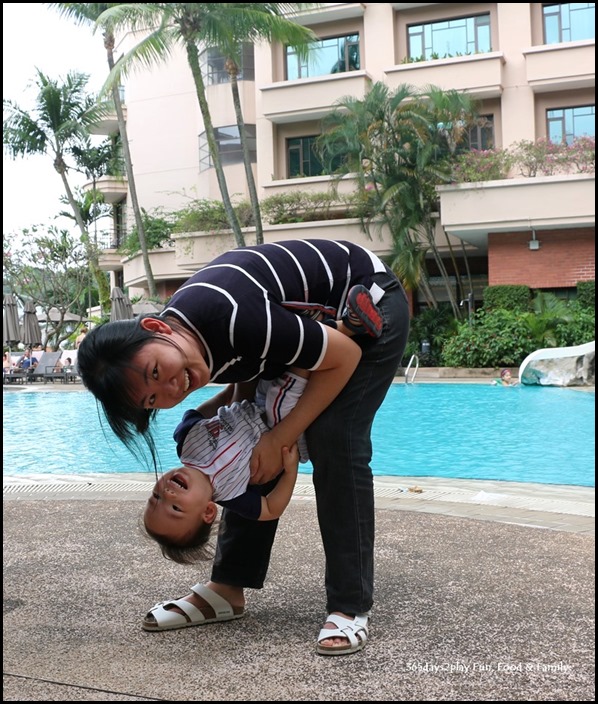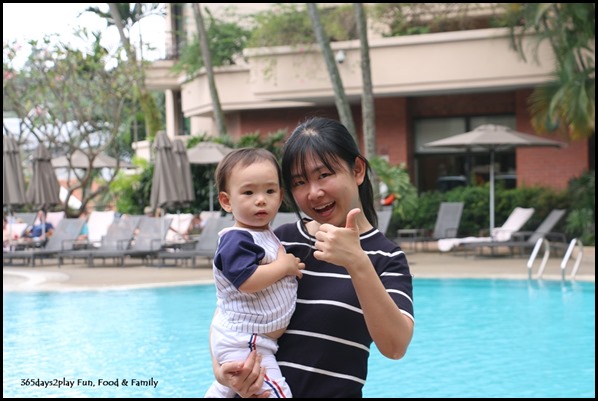 Having some fun with Edward while waiting for the food to arrive. We were actually at Swissotel Merchant Court for a staycation to celebrate his 2nd birthday. We had a blast staying at Swissotel. Edward loved the hotel room and adjoining balcony. It's amazing how much he entertained himself just by being in a different environment. We also had 2 cakes to celebrate, one of which was courtesy of the hotel! And afternoon tea and evening cocktails and a stroll through the lively Clarke Quay. It really was a very enjoyable staycation for both Edward as well as Papa and Mama. More on that to come, stay tuned!
---
Add me on Facebook, Instagram and Twitter if you want to be kept up to date with the latest happenings in the food and lifestyle scene in Singapore!
---
Blue Potato, Swissotel Merchant Court
20 Merchant Road, Singapore 058281, Singapore (By the poolside)
Phone:+65 6239 1899
Email:singapore-merchantcourt@swissotel.com
Breakfast: 7.00 am – 11.00am
All-day dining: 7.00 am – 10.00 pm
https://www.swissotel.com/hotels/singapore-merchant-court/dining/blue-potato/