[Media Invite]
Now here's a new cafe that is all about wholesome and healthy eating that you ought to check out, especially if you're in the Orchard area. I'll be upfront, the prices are on the high end, but because the ingredients used are of high quality (more on that later), and the food tastes great, you do get what you pay for.
The 32-seater Verde Kitchen is tucked away in a corner of the 2nd floor of Hilton Singapore, but it'll be worth your while to go hunt it down. The menu features healthy dishes, including gluten-free, dairy-free, vegetarian and raw food options. 98% of the menu items are made from scratch in-house everyday and 60% of the seafood is sustainably sourced. If you want to get your fill of superfoods such as wakame, kale, pomegranate, avocado and tumeric, you'll find it here.
The following are some of the dishes I tried during the media tasting. Be sure to scroll all the way to the end to see their luscious desserts. Until now I'm still wondering how a chia seed pudding could taste so nice.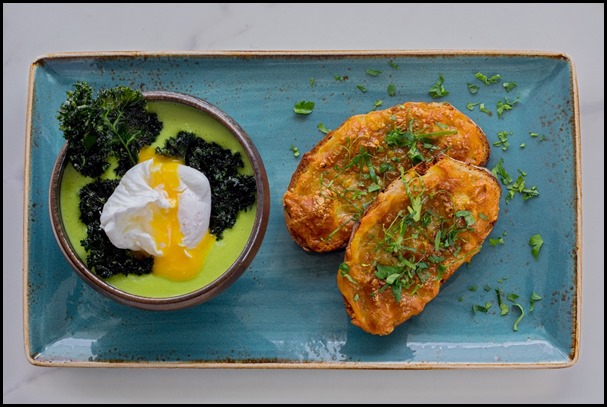 Low-fat Creamy Broccoli & Kale Soup ($16++)
Kale and broccoli are superfoods in their own right. For example, weight for weight, Kale is considered to be very high in folate, calcium and iron amongst other things. When I was pregnant, I desperately tried to eat more Kale, but alas, I developed an aversion for it and became nauseous at the thought of it back then!
I'm glad to report that this version of kale and broccoli soup tasted very good to me. It actually tastes quite savoury, and I didn't even have it with the egg. I went back for seconds! If you're not hankering after a big meal, this soup dish on its own would actually fill you up nicely. I feel inspired to try and replicate this at home.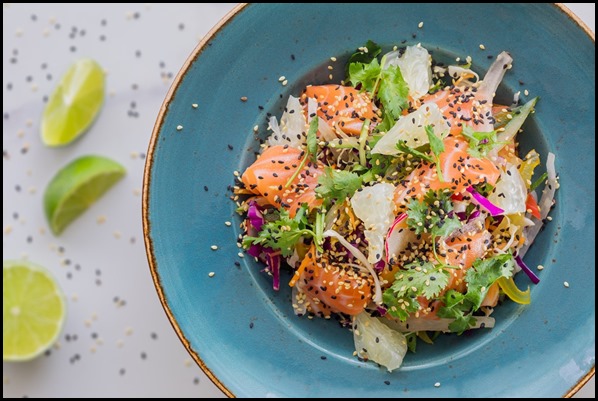 Salmon Sashimi & Pomelo Salad ($27++)
The salads here are a little on the pricey side I feel, ranging from $25 — $29, but the best way to load up on all your greens in raw form. There are 6 salads on the menu including others lie Superfood Grilled Halloumi, Green Mango & Quick-seared Tiger Prawns as well as the above salad which is chock full of omega 3 rich Salmon. And did you know sesame seeds are super high in calcium?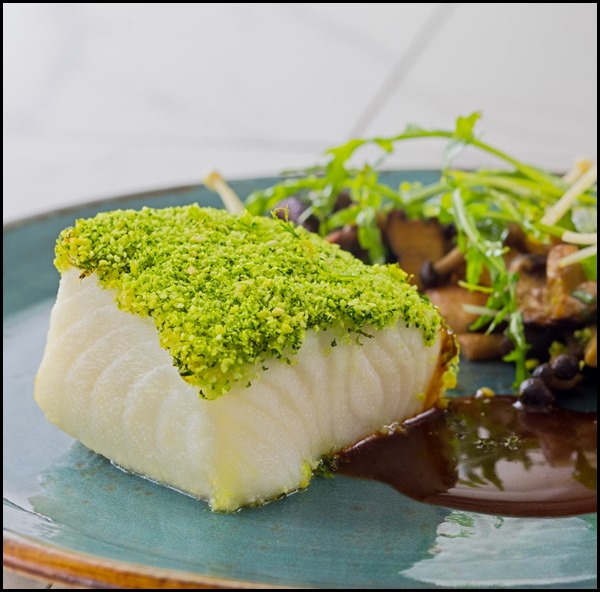 Organic Basil-crusted Glacier 51 Tooth Fish ($38++)
This Glacier 51 Tooth Fish, also known as the Patagonian Toothfish, tasted absolutely divine. It was rich tasting, flaking into melt in the mouth pieces. It quite reminds me of cod actually. I wonder why it is not more commonly found in Singapore or have I just not come across it?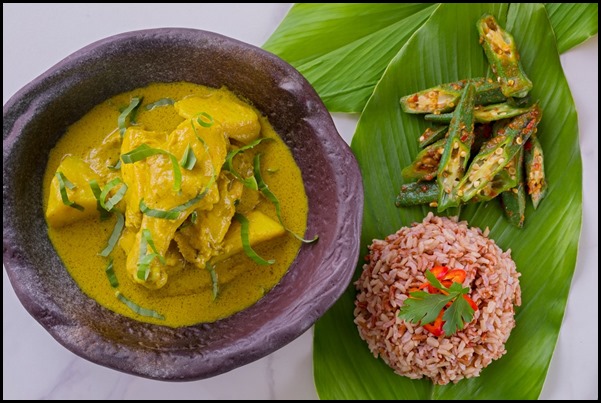 Malay-style Organic Lacto Chicken ($32++)
If you want something warming and comforting to the palate, as opposed to raw greens, this might be the dish for you. The curry has lots of tumeric in it and tumeric is high in antioxidant and anti-inflammatory properties.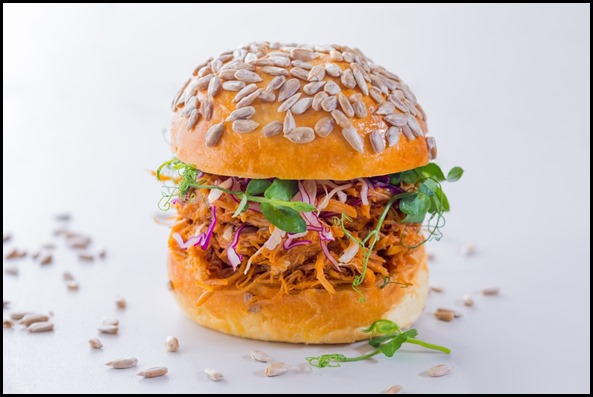 Free-range Pulled Pork Burger ($28++)
Here's a hearty and somewhat more affordable dish from Verde Kitchen. Includes healthy stuff like purple and white cabbage, as well as loads of sunflower seeds on the bun. Loved the pulled pork which came with a generous amount of sauce.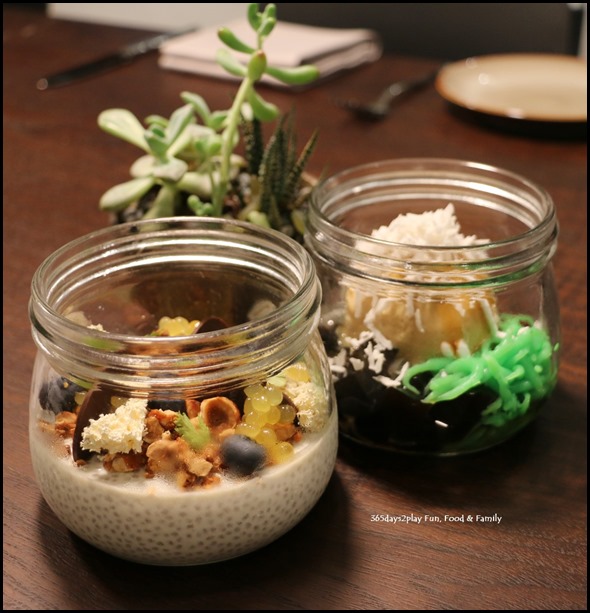 Chia Seed & Caramelized Hazelnut Pudding ($14++) and Homemade Gula Melaka Ice Cream ($14++)
Didn't much fancy the Gula Melaka Ice Cream, which didn't seem to have the kick, but the Chia Seed and Hazelnut Pudding is a must try! I was told the the milky base is simply Chia Seed with milk! Who knew that this simple yet very healthy combination could taste so good! It tasted like a custard with a slightly nutty flavour, and of course those caramelised hazelnut pieces added a toasted and crunchy element to it.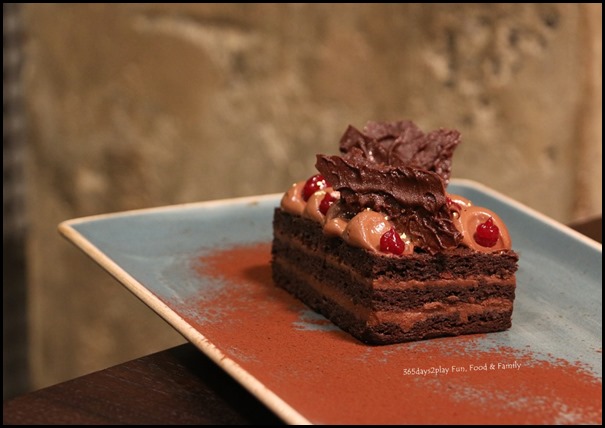 Flourless Chocolate Cake ($14++)
Flourless chocolate cakes tend to be quite rich like brownies, but this one tasted surprisingly light, and had a orangy element to it. Just enough to satisfy any chocolate cravings, without feeling sinful about it.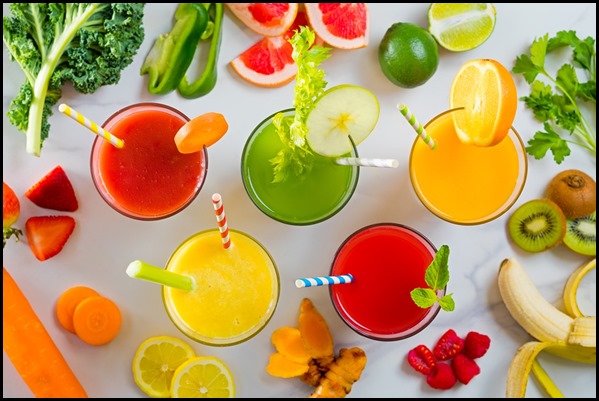 Verde Kitchen also offers 7 fresh vegetable and fruit juices,
as well as 8 probiotic and recovery smoothies.
Some other pointers about Verde Kitchen that you would be happy to know
50% of the menu incorporates locally and sustainably-sourced ingredients, such as local independent organic vegetable farms, floating fish farms and free-range lacto poultry farms
There is a Vertical Garden at Hilton Singapore, where hotel-grown leafy veg  are used at Verde Kitchen. No pesticides or packaging needed.
Ingredients used at Verde Kitchen contain no man-made fertilizers, pesticides such as growth regulators and livestock feed additives, nor GMO products.
60% of seafood served is sustainably sourced and carries the Marine Stewardship Council / Aquaculture Stewardship Council eco-labels
---
Add me on Facebook, Instagram and Twitter if you want to be kept up to date with the latest happenings in the food and lifestyle scene in Singapore!
Check out Kara Cafe, which also serves up wholesome foods like salads and rice bowls.
---
Verde Kitchen
Level 2, Hilton Singapore 581 Orchard Road Singapore 238883
Tel: +65 6730 3397
Email : VerdeKitchen@hilton.com
Opening Hours:
10:30am to 5:30pm (Monday to Saturday)
Verde Kitchen Website
Verde Kitchen Menu
Credit Card Promotions