Who knew that one would be able to find a restaurant focussing on food from Indochina in the heart of Robertson Quay, and a very good one at that? Newly opened River Wok offers flavours from countries like Laos, Indonesia, Thailand and Vietnam. The menu is a reflection of Executive Chef Kantha Chookiat's travels and extensive cooking experience in the region. Chef Chookiat grew up in Chiang Mai, Thailand and has over 30 years of culinary experience.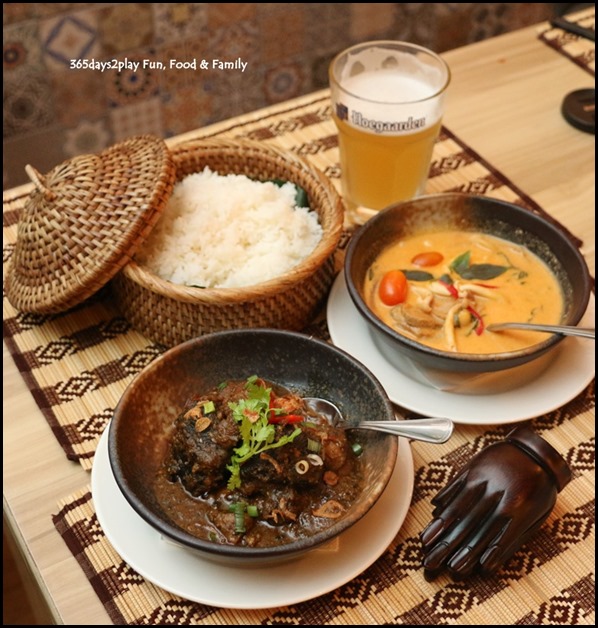 Now I am certainly no expert at IndoChina food, nor am I able to say for sure if the dishes I've tried are authentic, but what I can say is that both the husband and I enjoyed most of the dishes at River Wok very much. We would not hesitate to revisit again for a meal and a lovely stroll along the Singapore River. The only thing is, the pricing is slightly on the high side (Robertson Quay kind of pricing) as compared to if you're used to dining at the more casual chain Thai restaurants for example…But of course the additional touches and the creative inputs in some of the dishes may justify the price.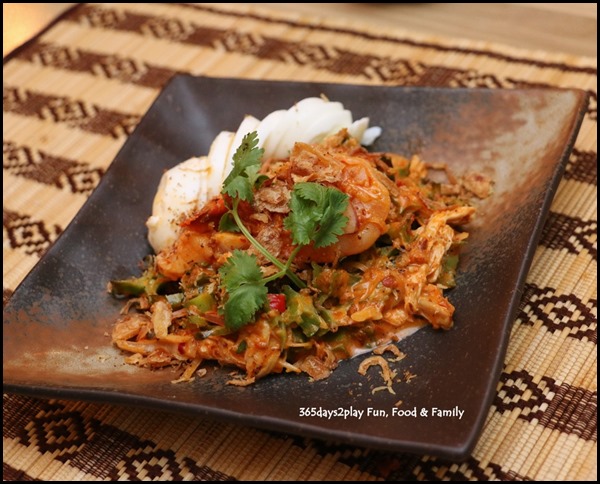 Yam Tuapoo Goong Sod $16
To be frank, we were worried that such a restaurant, being located in Robertson Quay, might want to tweak the dishes to cater to tourists. However our fears were laid to rest from the moment the appetisers arrived. The Thai salad Yam Tuapoo Goong Sod, consisting of wing beans, tiger prawns and shredded chicken was mixed in a tangy and spicy dressing, and topped with crispy shallots and roasted grated coconut. The use of the delightfully crisp wing beans was an excellent idea as its robustness held up to the many contrasting ingredients, while imparting a fresh burst of flavour with each bite.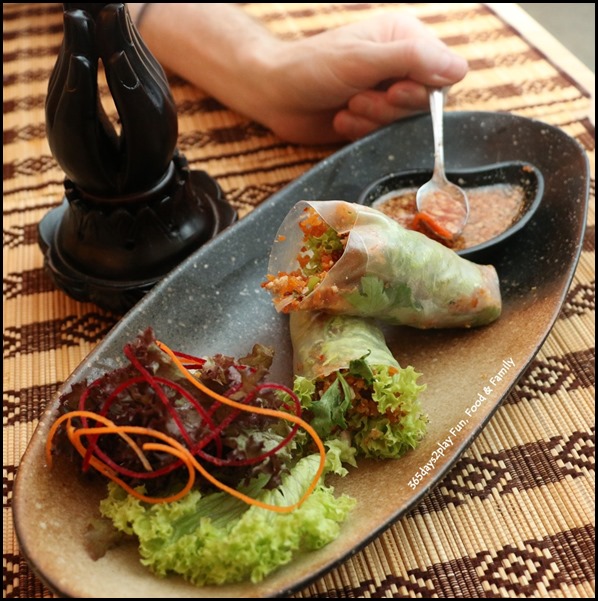 Nam Khao Hor $14
The Nam Khao Hor is no ordinary Vietnamese hand rolled rice paper roll. Somehow the addition of roasted rice crumbles makes it so addictive. I've never had rice rolls with crispy bits like this before in Singapore and I wonder if this is a common thing where Chef Chookiat hails from? Whatever it is, it is an idea that works.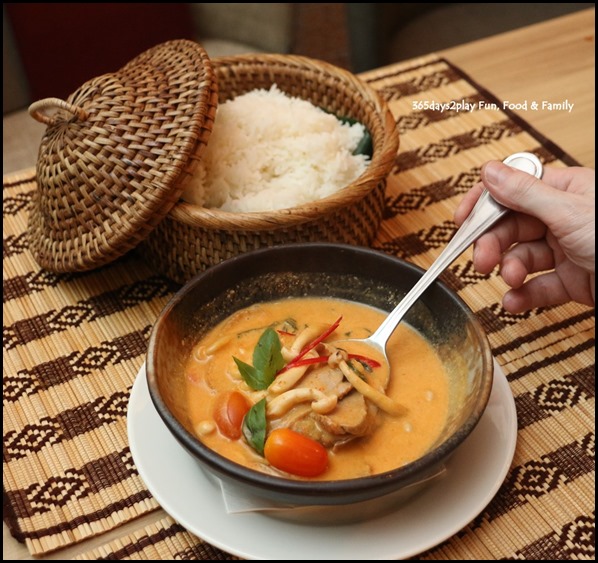 Gaeng Phed Ped Yang $22
Can't leave a restaurant like this without trying a curry and once again, Chef Chookiat has added a creative twist to the roasted duck Thai red curry dish by adding grapes and pineapples to give a hint of sweetness to this spicy dish. Sometimes creative twists are gimmicky and alienates patrons who may prefer a more authentic taste, but I think in this case the risk has paid off. Pair this dish with a Stella Artois Pilsner.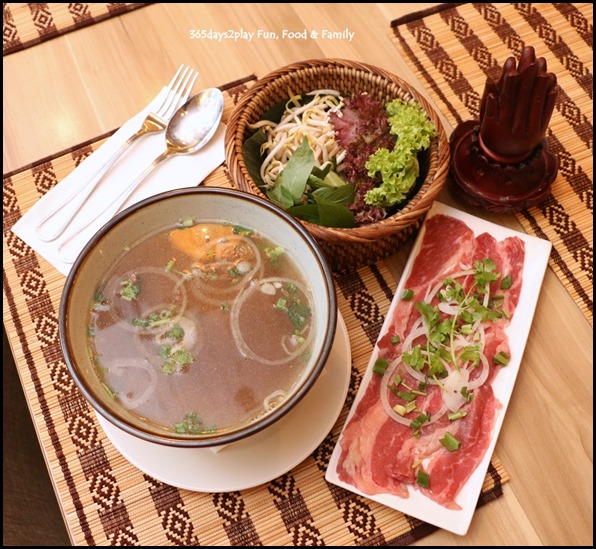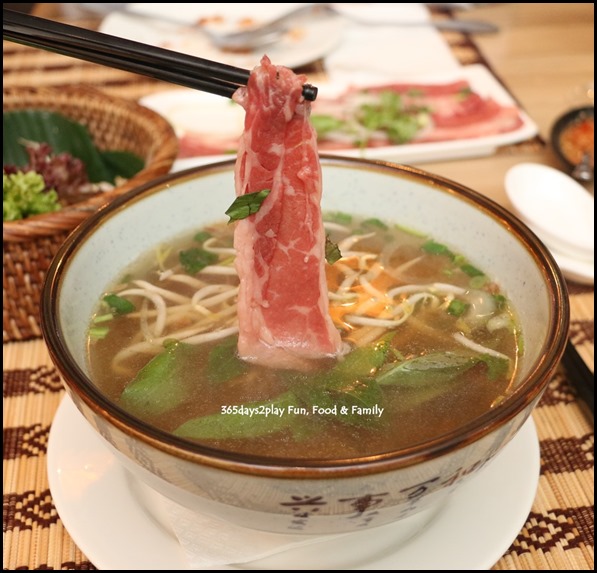 Pho Bo $26
Get the Pho Bo which comprises of a light fragrant beef broth and premium sliced Wagyu beef, to balance out your meal if you're having other heavy dishes. The beef and vegetables are served on a separate plate so you get to choose the doneness of the beef. The beef had a nice flavour which was enjoyable, given that it is wagyu, but for some reason the slices I had seem to have gristle in them.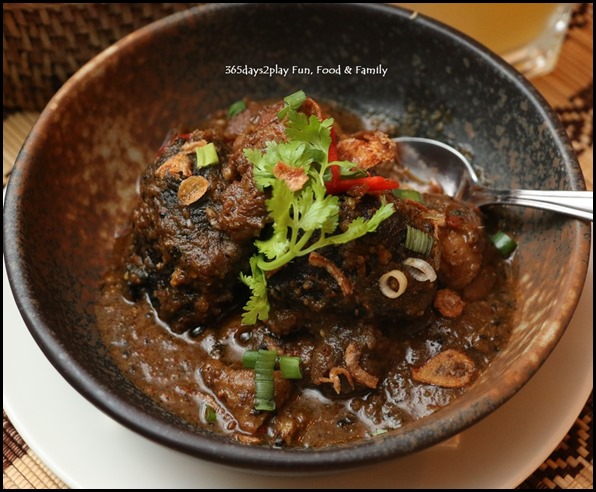 Ayam Buah Keluak $24
Unfortunately, one of the best sellers at River Wok failed to impress me. The Buah Keluak in the Ayam Buah Keluak dish here is stuffed with a mixture of minced chicken and buah keluak. For a person who loves buah keluak very much, I was disappointed that there was very little buah keluak compared to chicken. Perhaps the buah keluak was mixed into the sauce, but I never did get the kick I was hoping to find. Also, for some reason the opening to the buah keluak shells was very small, so it a tedious affair having to dig out the minced meat.
I suppose River Wok cannot be faulted for creating the dish this way. Many people are not accustomed to the strong flavours of Buah Keluak, and would perhaps prefer a more watered down version and I've been to many a restaurant that have presented "mild" Buah Keluak dishes.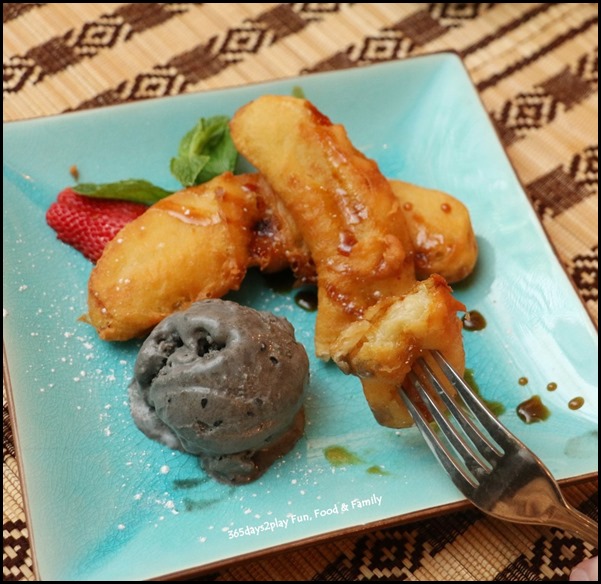 Banh Chuoi $12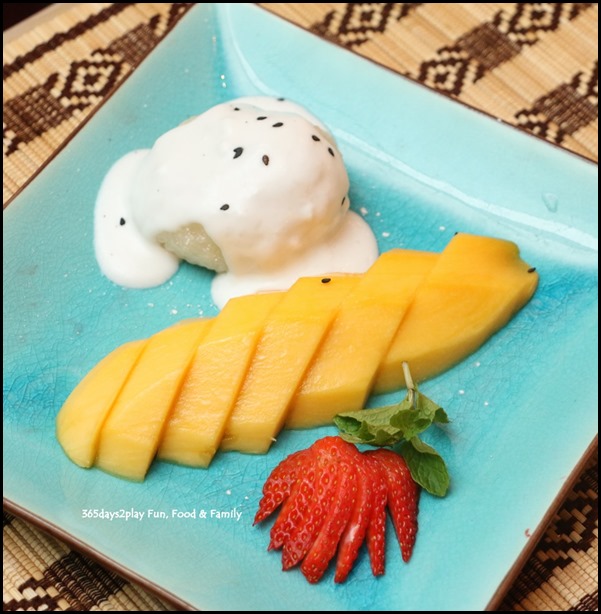 Khao Neow Ma Muang $10
Fruits took a spotlight in the desserts served, and rightly so if the fruits are ripe and sweet. It's hard to go wrong with crowd favourites like banana fritters and sticky rice pudding with sweet mango, so we ended our meal on a memorable note.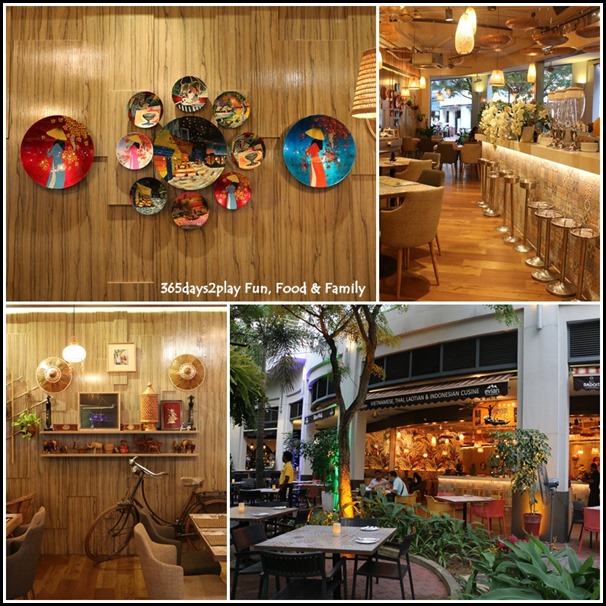 ---
Add me on Facebook, Instagram and Twitter if you want to be kept up to date with the latest happenings in the food and lifestyle scene in Singapore!
---
River Wok
80 Mohamed Sultan Road, The Pier, #01-12, Singapore 239013.
Open Mondays to Sundays from 12pm to 11.00pm,
Tel : (65) 6732-1126
Facebook page : www.facebook.com/RiverWok
Instagram : www.instagram.com/river_wok