The other day, the Partner happened to be having drinks with another ex-colleague at South Coast at Marina Bay Sands. Since I also knew the ex-colleague, I decided to join them at South Coast for dinner. I quite like dining at South Coast because the Aussie grub that they serve here is quite interesting. I think they even had kangaroo on the menu the last time I was here. The view of the Singapore city skyline from MBS is also pretty spectacular, if you manage to come here during the twilight hours. The only downfall is that this place is not air-conditioned.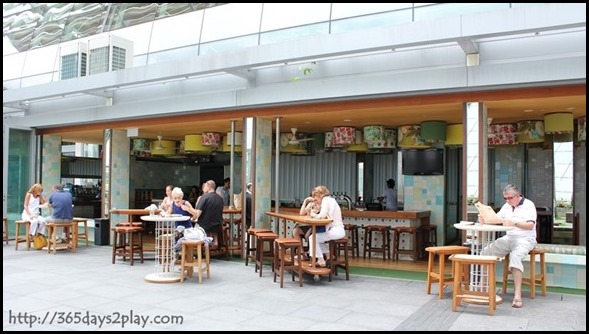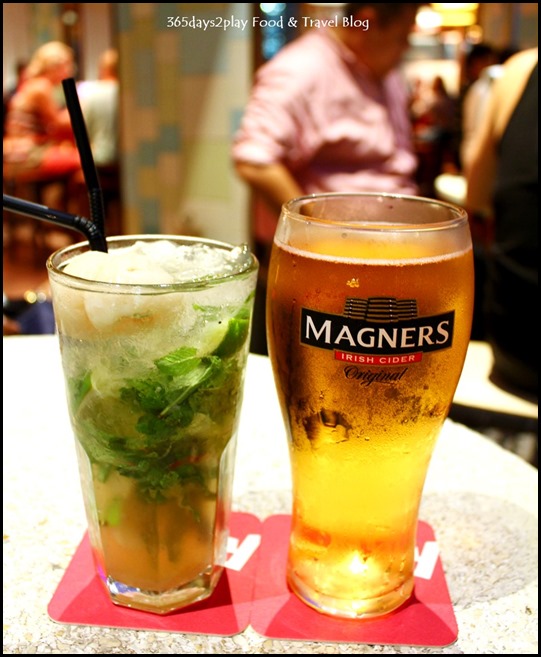 The Partner and our friend ordered alcoholic drinks. I ordered a coke. When I'm very thirsty, there's only ONE thing that can quench my thirst, apart from plain water, and that's coke! Not beer or whatever other alcoholic drink, although I do like those as well but for other occasions.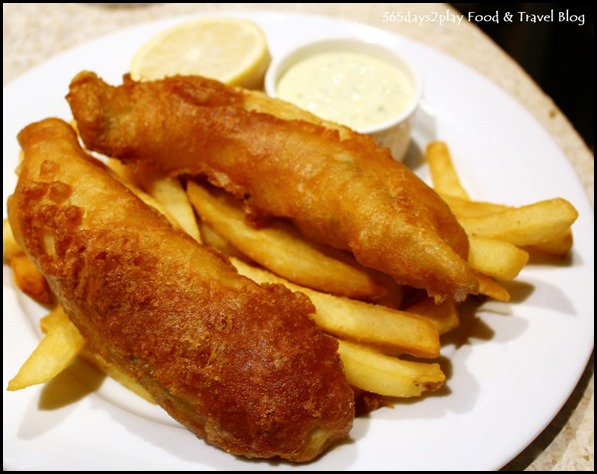 Fish & Chips $24
We ordered Fish & Chips and a Pizza to share. These fish and chips were amazing! The fish was served up tongue burningly hot, the flesh was supremely tender and moist and even the batter coating was delectable. And I don't know what on earth went into the accompanying tartare sauce, but it was so damn addictive. I just could not stop eating more fries so that I could get at the tartare sauce. And because we were sharing this with our friend, I had to be polite and not double dip my fries, I felt so constrained because all I really wanted to do was to get one huge dollop of that tartare sauce into my mouth using the fries as a shovel. It was realllyy good.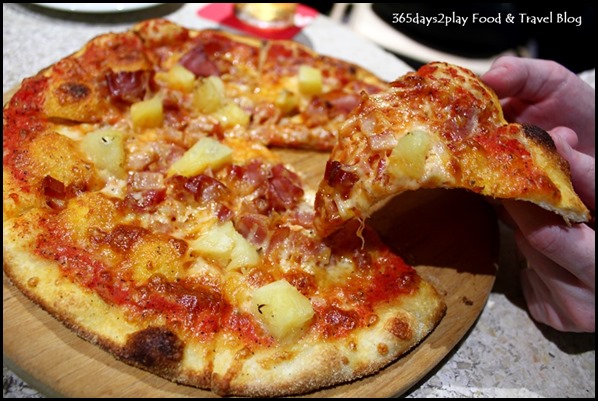 5-0 Pizza with bacon, prosciutto and pineapple $24
The pizza was pretty good too. It had a crisp base, but not cracker thin like Skinny Pizza. For people who like crisp pizza bases, I think this is quite good because it's still substantial enough to hold up the ingredients without cracking into smithereens and also, it is filling and you don't feel like you've just eaten only ingredients. The toppings were also tasty. Prosciutto obviously upped the glam factor of the otherwise more homey "Hawaiian pizza", and pineapple bits added their usual sweetness.
2 main courses shared between 3 people, we were surprisingly quite full! I had originally wanted to order some other finger food, but I was glad I didn't.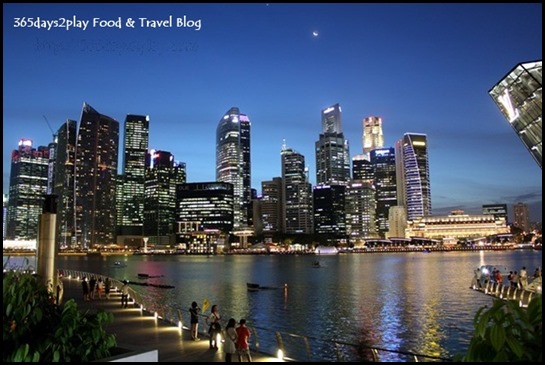 Singapore central business district skyline
---
1 — for —1 with The Entertainer App
Ok for those of you who were wondering where does the 1 for 1 come in, good on you for reading up to this far! We enjoyed a 1 for 1 discount, so in the end, we paid for only 1 main course and received the other main course for free. Good huh, price 1 main course shared between 3 pax in this case.
You can also enjoy this 1 for 1 deal too if you get The Entertainer App. It costs only $19 for one month's worth of usage for you to trial it out. I know everybody doesn't like to pay for apps, but pay $19 and get $24 free main course, I think it's a no brainer right? Plus you'll surely be dining at more than 1 restaurant in the course of the month?
Actually I hadn't known that South Coast is one of the participating restaurants, so I was pleasantly surprised to be able to enjoy the discount, but there are really a lot of restaurants in the list ranging from super atas restaurants to cheaper cafes.
Here's what you have to do
Go to https://www.theentertainerme.com/trysgfor19/ to read more about The Entertainer App and to purchase the app.
Key in promo code : 365days2play
Pay for the Entertainer Singapore One Month Membership of $19
Get access to all the participating merchants!
Click to use vouchers when you are at the restaurant!
Be sure to key in my unique promo code 365days2play to stand a chance to win the full version of the app for FREE!
You can also read my review and instructions on The Entertainer App here.
---
South Coast Bar & Bistro (opposite Louis Vuitton)
L1-85 The Shoppes at Marina Bay Sands, Singapore 018972
Open 7 days a week, serving breakfast, lunch and dinner.
8am — midnight Mon — Thurs
8am — midnight Fri — Sun
Email enquiries@southcoast.com.sg
Phone +65 6688 7600
Read about my previous visit : South Coast Brunch and South Coast Dinner