[Media Invite]
If you love seafood, especially the seafood-in-a bag kind where all dining etiquette goes out the window and everyone gets stuck in with their hands, you'll be glad to know that The Boiler has opened a second outlet in town at the Esplanade Mall. This expansion comes with an al-fresco bar in addition to the air-conditioned main dining area. Their original outlet is in Tai Seng, and this is in fact their 4th year of operations.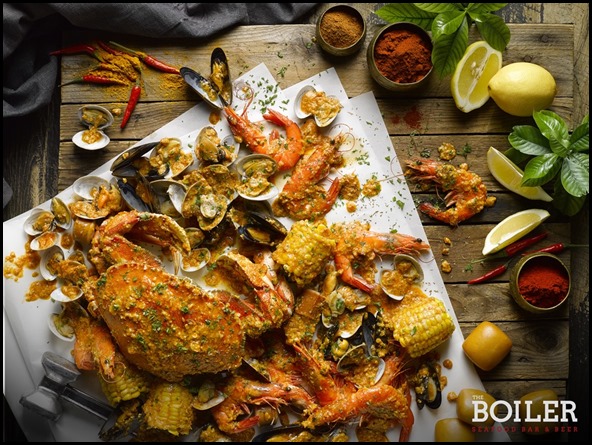 The Boiler takes pride in its sauces to set it apart from similar seafood boil concepts. The seafood boil concept is Louisiana-inspired, but The Boiler has developed seasonal sauces with local twists, such as sambal and laksa which customers may choose to have with their seafood.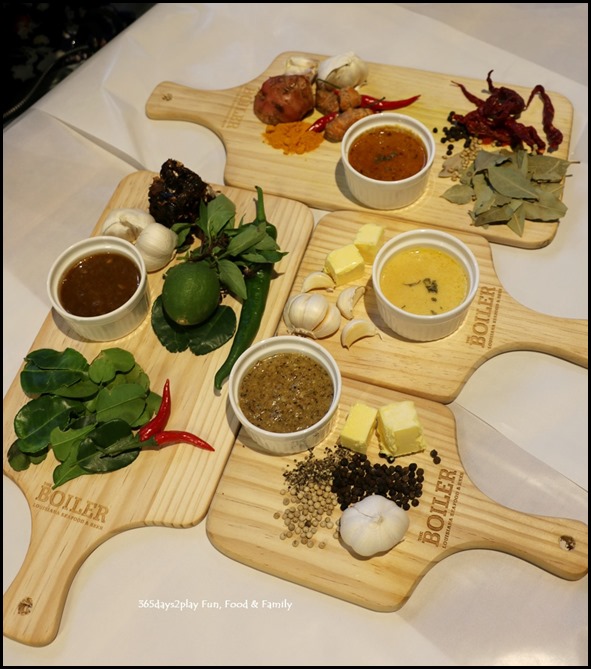 The 4 sauces currently available are Garlic Butter, Tamarind, Pepper Butter and The Works. The Works is The Boiler's signature sauce that is similar to a mixture of laksa and creamy butter. You can opt for mild, medium or raging hot for The Works. My favourite actually is the garlic butter, which is supposedly the mildest and suitable if you're dining with young ones. Garlic and butter are a match made in heaven for me, and that's enough for me to enjoy my seafood.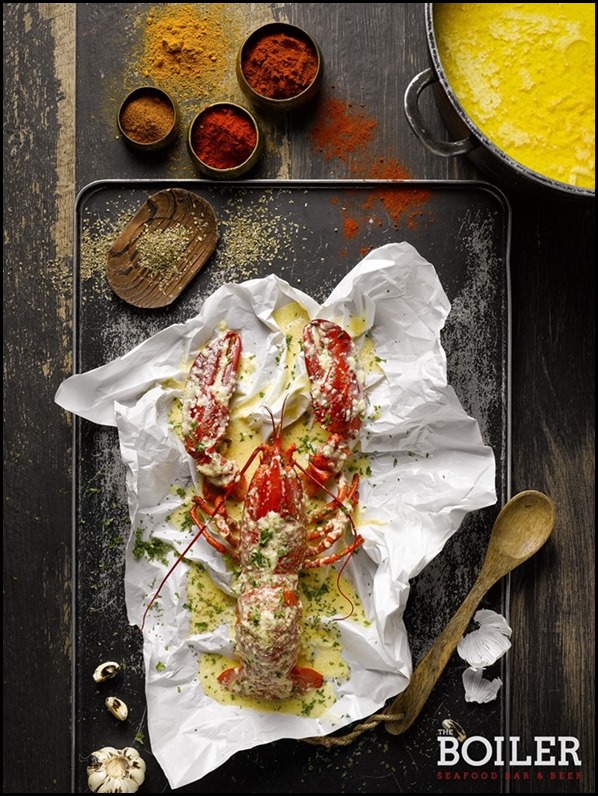 Of the seafood I tried during the media tasting, my favourite has got to be the the lobster seafood boil in garlic butter sauce. It's basically 1 entire live lobster without any side dishes. This was so good. The lobster was tender and sweet, and the garlic butter sauce, you kind of wish you had a spoon to shovel the sauce into the mouth. That is the problem with eating with your hands, how do you attack the excess sauce??? If you want something simple yet memorable, this is it. This costs $75 usually, but the promotional price is $55. Hurry!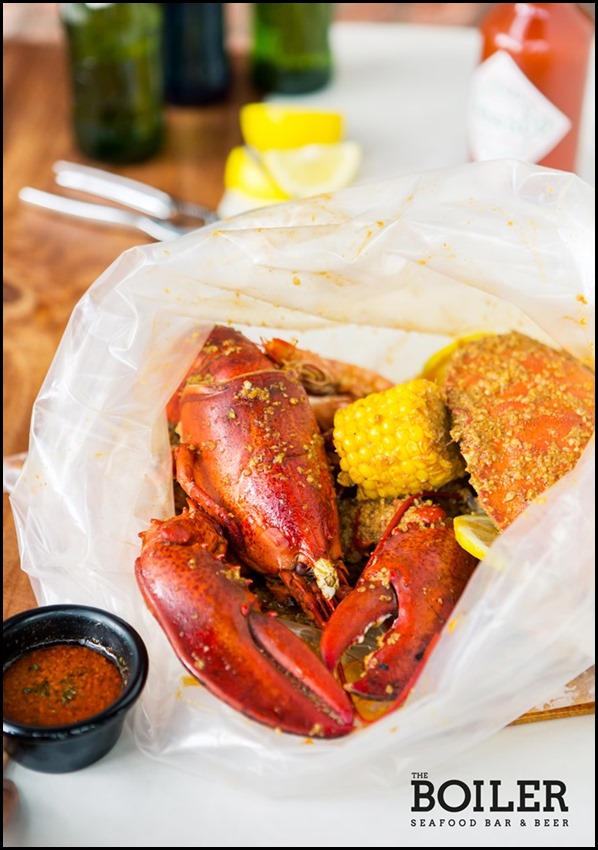 Do remember though that the seafood will be served in a bag, so it ain't going to look like the lobster in the 1st picture. Actually, do forget about taking pictures because once you get stuck in, it's really too difficult and quite messy to be taking pictures, even if gloves and plastic handphone covers are provided. Just enjoy the food for once! If you are OCD about eating off the table covers though, plates and utensils will be provided upon request.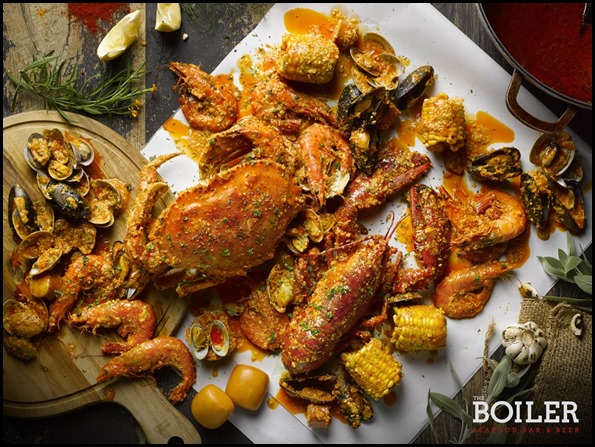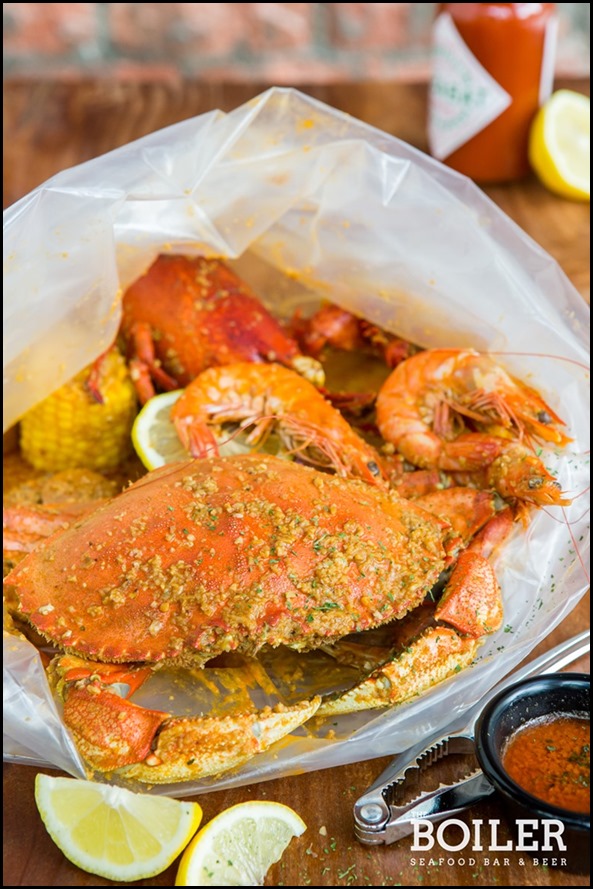 If you're dining with a few others, you can consider the Boiler's Bombdiggity Bag. For $149, it comprises Dungeness/seasonal crab, prawns, mussels, clams, sausages, corn & bun. This is suitable for 4. When the seafood is offloaded onto the table, yes no plates no platters, this always elicits wahhhs and ohhhs from even the most hardcore seafood eaters. Or you could simply customise your own seafood bag ala carte style.
If all this feels too much trouble for you, or if you need a quick dinner before a fine evening at the Esplanade, the Boiler does plated dishes as well, at very affordable prices too. For example the signature fish and chips are $12.90++. If you come during lunch hours, there are also various seafood burgers to choose from for about $15++. The Oyster Po' Boy, which is crispy oysters with coleslaw stuffed into a buttery croissant, is something I've never come across and very keen to try next.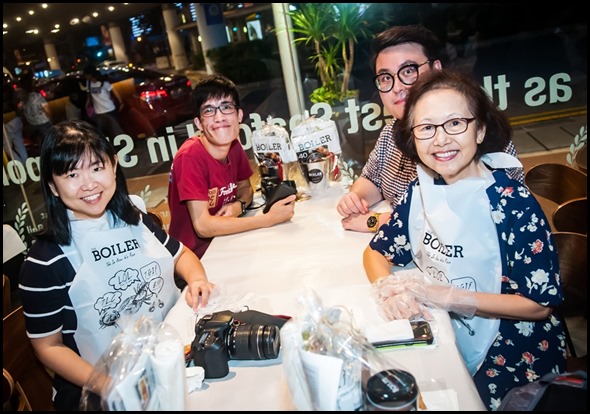 That's us all geared up for our seafood boil! Bibs, gloves, handphone covers. Attack!
*All photos (with the exception of the 2nd photo) are credited to The Boiler.
---
Add me on Facebook, Instagram and Twitter if you want to be kept up to date with the latest happenings in the food and lifestyle scene in Singapore!
---
The BOILER Seafood Bar & Beer
8 Raffles Ave #01-13A Annexe Esplanade Mall Singapore 039802 (next to taxi drop off point)
"‹Reservations: +65 6909 3435
"‹Opening Hours:
Lunch: Closed on Monday for lunch | Tue – Sun: 12pm – 2.30pm | (last order 2.15pm)
Dinner: Sun – Thur: 5.30pm – 11pm (last order 9.45pm) | Fri & Sat: 5.30pm – 12am (last order 10.45pm)
Facebook: www.facebook.com/theboilersg
https://www.theboiler.com.sg/