Experts say that a catchy name for a business is a marketing tool in itself. I've no doubt about this piece of advice and I'm sure many an astute businessman have put it to good use. Just think about all the cafes that have opened recently with names that make you do a double take. SPRMKT, Carpenter & Cook, Henry Congressional, Nylon Coffee Roasters and lots more.
But of all these names, none made me jump off my seat in a bid to rush there, than Nassim Hill Bakery. For those of you who aren't aware, Nassim Hill is one of the most expensive residential areas in Singapore. If you own an apartment there, well you've kind of made it in life already haven't you. So, for a  cafe that chooses to associate itself with such a distinguished address, it surely mustn't be any ole run of the mill establishment right?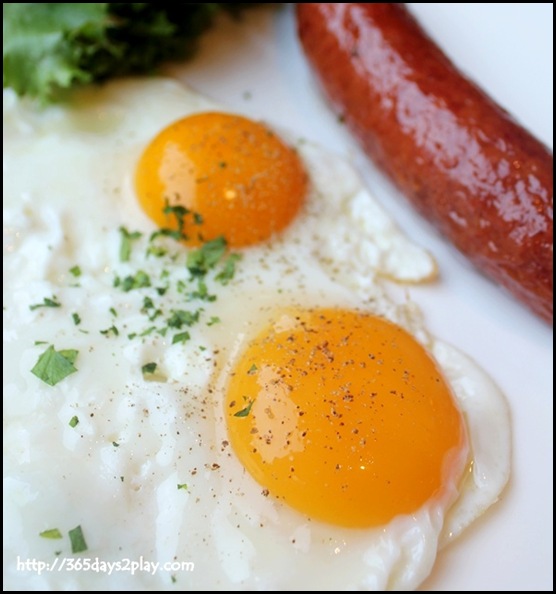 Nassim Hill Bakery Bistro Bar is located at the Tanglin Post Office building, which is opposite Tanglin Mall. It's not visible from the main road. You have to turn into the side road as the main entrance of Nassim Hill Bakery is facing the back! The good news is that if you manage to snag a parking spot in front of the bakery, parking is free. The bad news is that there are very limited slots, say 20? And the lots have to be shared with those visiting the post office too. If you can't find a spot, you will have to use the paid basement parking.
Prior to visiting, I was told that the chief baker at Nassim Hill is the owner of Freshly Baked along Killiney Road. So it was no surprise that baskets of fine smelling artisanal bread greeted us when we entered the spacious bakery bistro. Even the bread ovens are in full view as their kitchen is somewhat of an open-concept. Speaking of space, there is such a vast amount of it compared to other establishments, that you feel you could do a dance amongst the tables and not be an obstruction.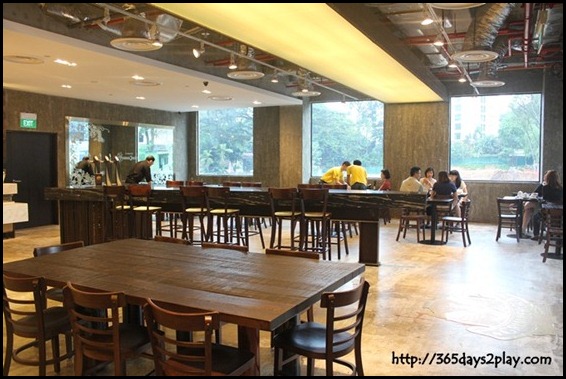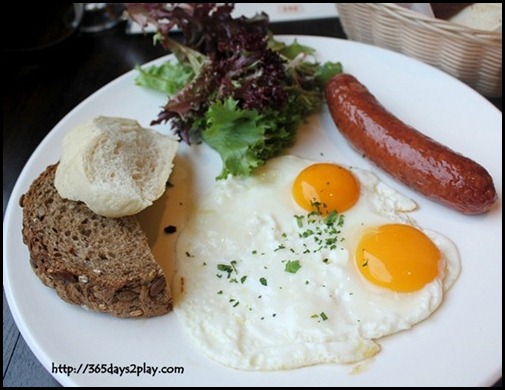 Sunny-side up eggs with choice of beerbeiser sausage, center cut bacon or honey baked ham $15
Nassim Hill serves heavy main course dishes for lunch and dinner but we were there just to try out the brunch menu. We are first served a bread basket with an assortment of breads, plus preserves and butter. The bread was very good and I wish we had been given more. I had the sunny-side up eggs with a beerbeiser sausage. The eggs were cooked to perfection, with their yolks still wobbly. The beerbeiser sausage was a tad oily as you can see from the sheen in the picture, but taste wise it was flavourful and meaty. I did find the dish to be woefully inadequate in satiating my hunger though. Perhaps some mushrooms, tomatoes, baked beans or something should have been included in the dish or else $15 feels exorbitant.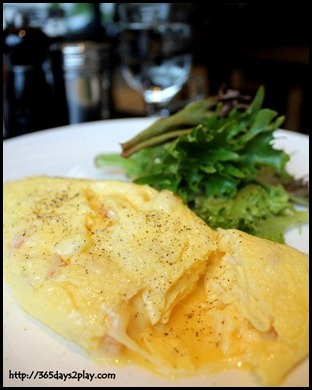 Nassim Hill – Fresh tomato and mozzarella omelette $13
The meat loving Partner ordered this vegetarian omelette surprisingly. He said that he had no complaints about the omelette and it was sizable enough to fill him. Judging by the oozy filling, I think I would have liked this omelette too. I'm often torn as to how I like my eggs done. Because I like my eggs runny, I normally go for the sunny-side-up. But sunny-side-ups can be so one-dimensional and predictable so if an omelette can be somewhat runny as well, I would love that.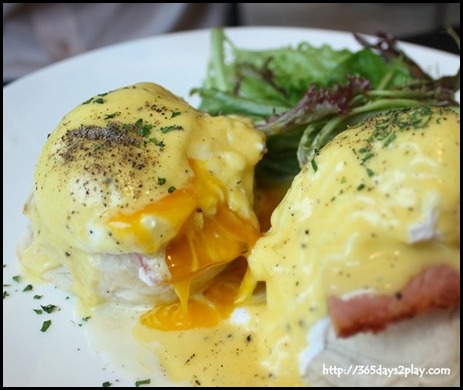 Eggs Benedict with smoked ham on white ciabatta $15
My father had this and said it was fantastic! The secret was in the ciabatta which he felt had a deeper flavour than usual, that complimented the eggs very well.
Crunchy Veggies sandwich with sliced egg, avocado, cucumber, greens and cherry tomato confit on sunflower seed bread $12
My ever healthy mother could not decide on a brunch dish and went for this veggie sandwich. I had a taste of it and didn't quite like it. On my own I would certainly not have chosen this sandwich. I prefer grilled veggie sandwiches, such as the grilled veggie sandwich at Cafe Crema at Gardens by the Bay. I think grilling the veggies bring out the flavours better and doesn't make you feel like you're eating salad between 2 pieces of bread. Conclusion? Too healthy for me.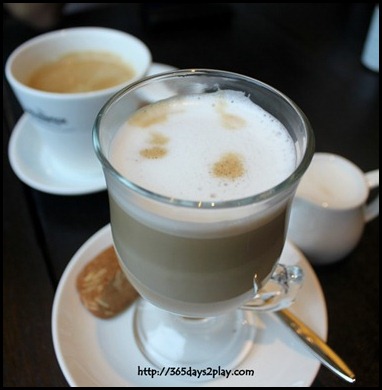 Cafe Latte and Flat White $6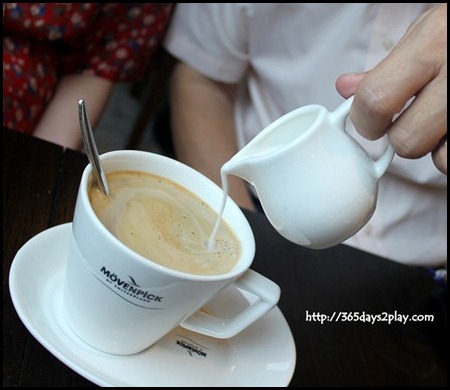 Flat White $6
We ordered 2 coffees before we realised that it came from a machine. Surprisingly, the coffees tasted quite good! Maybe astute coffee drinkers would be able to tell the difference between machine made versus the French Press or Expresso machine etc, but I couldn't this time round. Normally, I abhor machine made coffee and would certainly not pay $6. Let's put it this way, have you ever had a great coffee from your office coffee machine? Well I guess not all machines are made the same obviously.
Nassim Hill is owned by Imaginings, which also owns establishments like KPO, Balaclava and Wala Wala.
Nassim Hill Bakery Bistro Bar
56 Tanglin Road #01-03 Singapore, Singapore 247964
Serving all-day breakfast, Lunch & Dinner menus.
Open 8am till late.
Last orders 1030pm.
Closed on Mondays.
Telephone : 6835 1128
https://www.facebook.com/nassimhill