One of the perks of running this blog and being in the social media scene is that sometimes you get to do fun things that won't actually happen in real life. Like for example, partake in a Chinese New Year feast in the Great Hall of Millenia Walk, while curious shoppers and passers-by wonder what we're up to. Did you know Millenia Walk has a Great Hall? Sounds like some cavernous place in a fairytale castle (okay I'm thinking more of Harry Potter) but actually I'm sure you've been there because it's just the huge space in the center of Millenia Walk. I'll let you in on a secret, I've been looking forward to this Chinese New Year lunch! It's a fun and celebratory affair, and also because it is a reunion of sorts for all those in the media.
While you won't have the chance to toss yu sheng in the Great Hall of Millenia Walk, you can most definitely sample all these Chinese New Year dishes being rolled out by the various F&B establishments in the mall. Scroll down for more photos. Also add me on Instagram so that you can get on the spot 1st hand pictures and videos of all the events that I attend.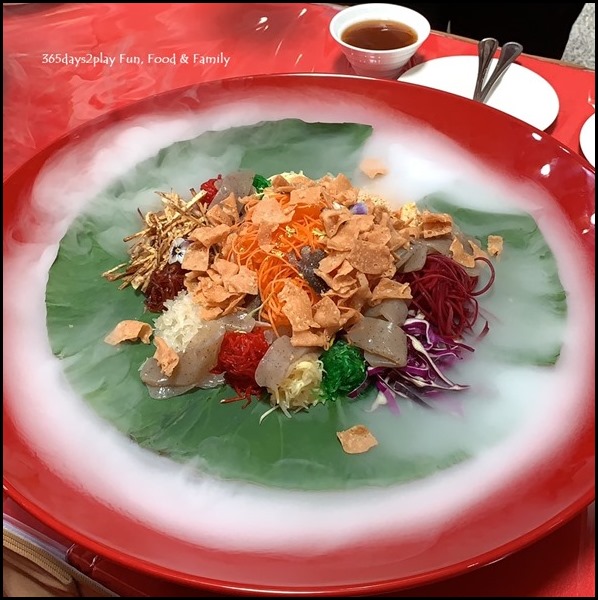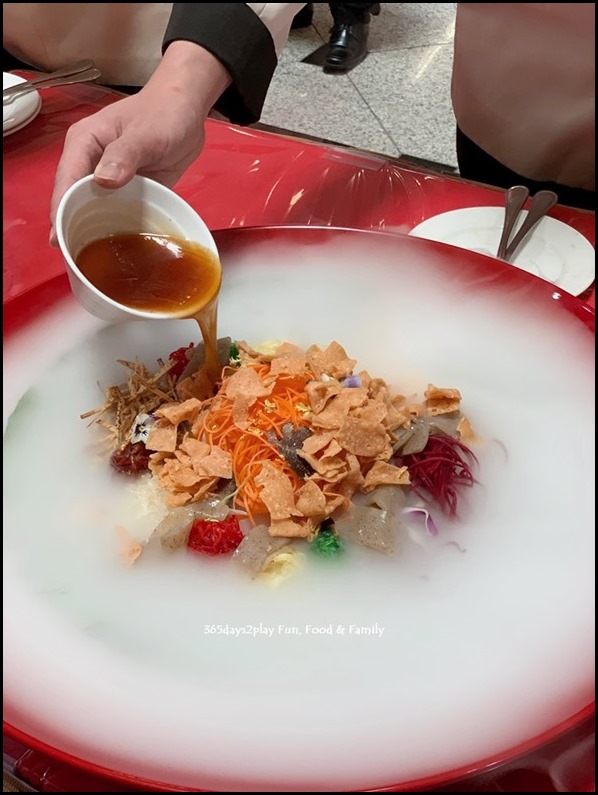 Elemen Prosperity Truffle Yu Sheng
First up, the Yu Sheng from the vegetarian Elemen. Probably one of the most eye-catching Yusheng that you will find on the market thanks to the dry-ice effect! But the best part is that this is a very affordable yu sheng at $38.80 per platter for 3-4 pax, or $48.80 per platter for 8-10 pax. The yu sheng is topped with onnyaku slices and truffle shavings.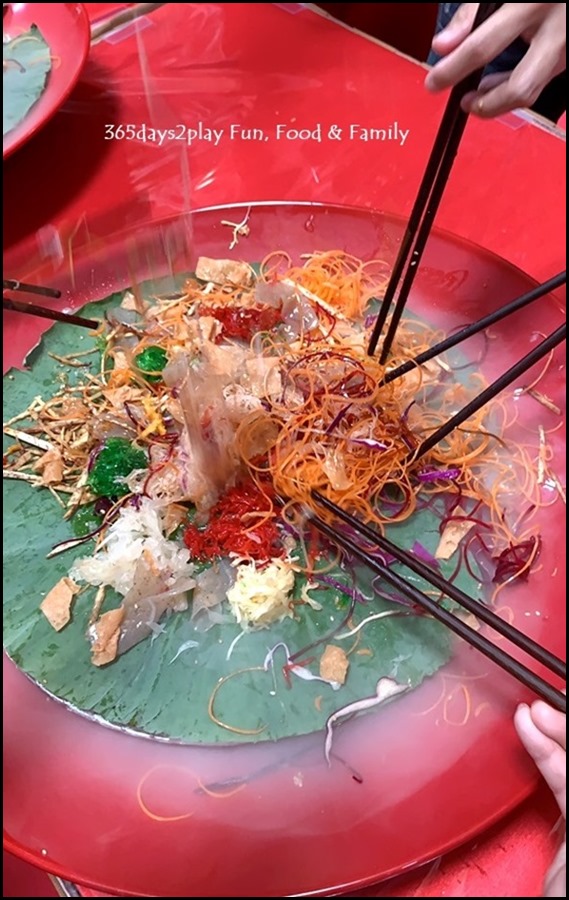 The aftermath!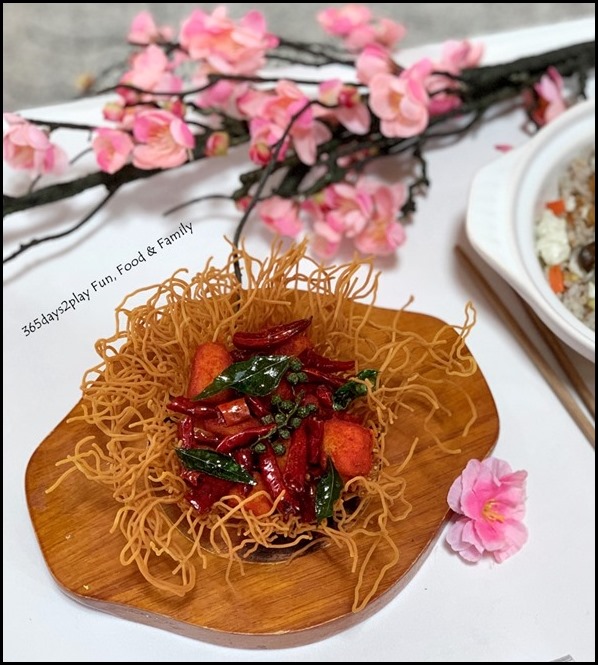 Elemen — Firecracker Nest
To be frank, I am always a little apprehensive over vegetarian restaurants. Even though modern vegetarian restaurants are a far cry from the stodgy, salty and all fried gluten-centric vegetarian restaurants of our parents's era, I'm always worried that the meal may look better than it tastes.
After tying this Firecracker Nest, I am pretty convinced that my fears were for naught. If I didn't know any better, this mock meat mala dish would have passed off for real meat. And whether real or not, this was so addictive I wish I had been given a bigger portion!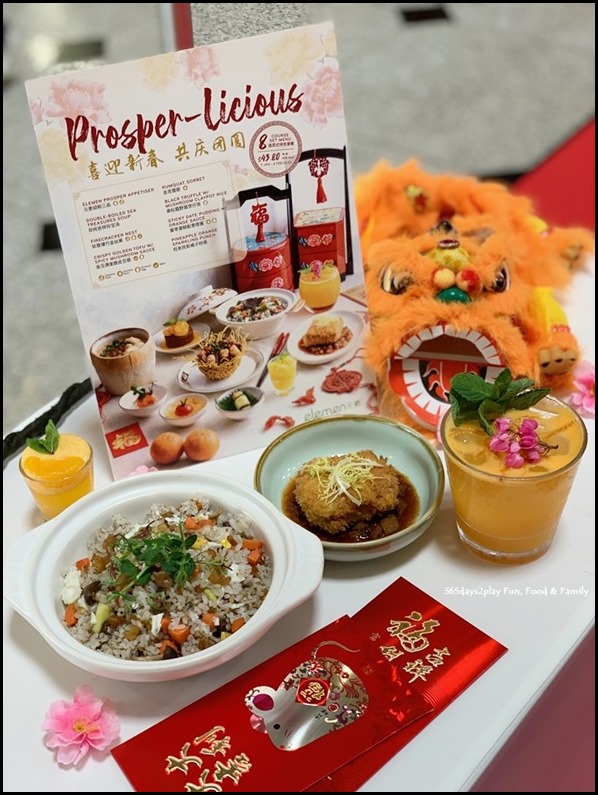 Elemen's Prosper-licious menu with 8 courses is now going for $43.80/pax. Again a very affordable pricing.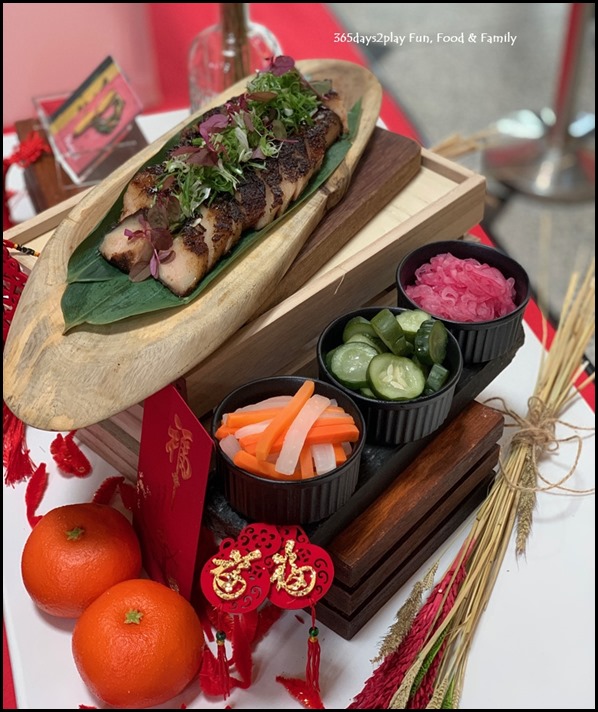 Plentyfull – Abundance Char Siew Pork Jowl with House-Pickle
But if you really must have meat and won't be convinced otherwise, Plentyfull's a good place to load up on that. Check out the Char Siew Pork Jowl, which is literally melt-in-the-mouth tender. Plentyfull is an all-day dining concept featuring honest, hearty food.
If you plan on dining at Plentyfull, make sure you have the Entertainer App which offers you 1-for-1 dishes at many restaurants in Singapore, including Plentyfull. You can get a 10% discount on the app if you use my Entertainer referral code : 365days2play when you purchase online https://www.theentertainerme.com/products2020.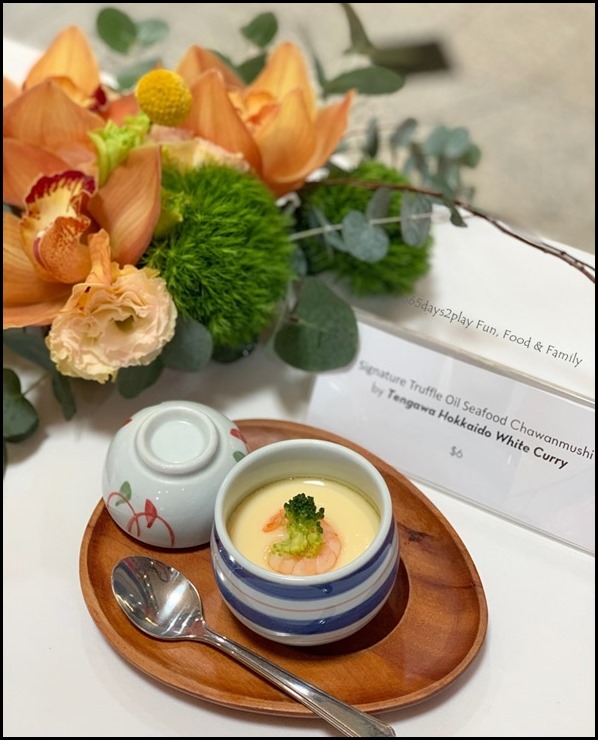 Tengawa Hokkaido White Curry – Truffle Oil Seafood Chawan Mushi $6
And if you're craving for something comforting such as Chawan Mushi, you should check out this version from Tengawa. Their Chawan Mushi uses a bonito base mixed with crab stick and prawn, and finally topped off with truffle oil to create their signature dish.
Tengawa Hokkaido White Curry serves Japanese curry made with Hokkaido milk, resulting ina milder and creamier dish. The curry, Japanese rice and clam soup are all free flow!
https://www.facebook.com/saboten.sg/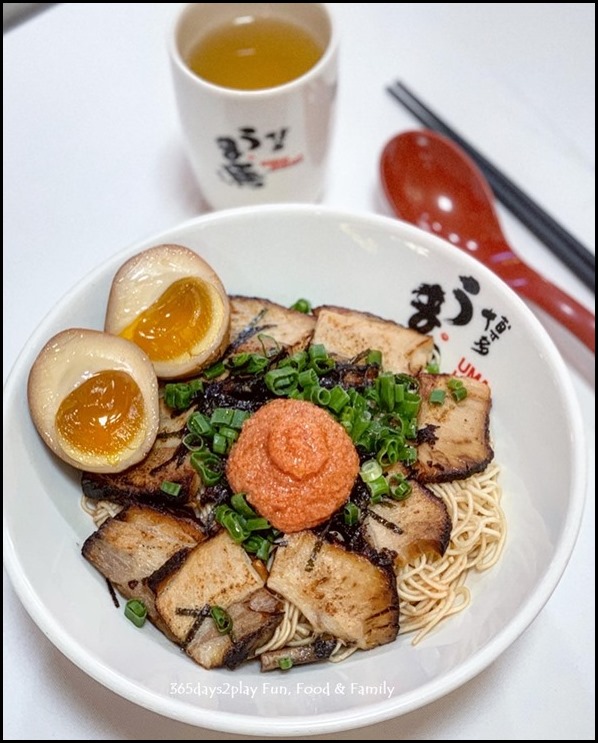 Uma Uma Mentaiko Ramen $17
You don't often find dry ramen around, so when you chance upon one, especially if it is a good one This Mentaiko Ramen was a limited edition dish previously and now brought back just for them month of January 2020. I love the springiness and taste of the noodles as well as the charsiu, which is very much in the forefront without a soup to hide behind.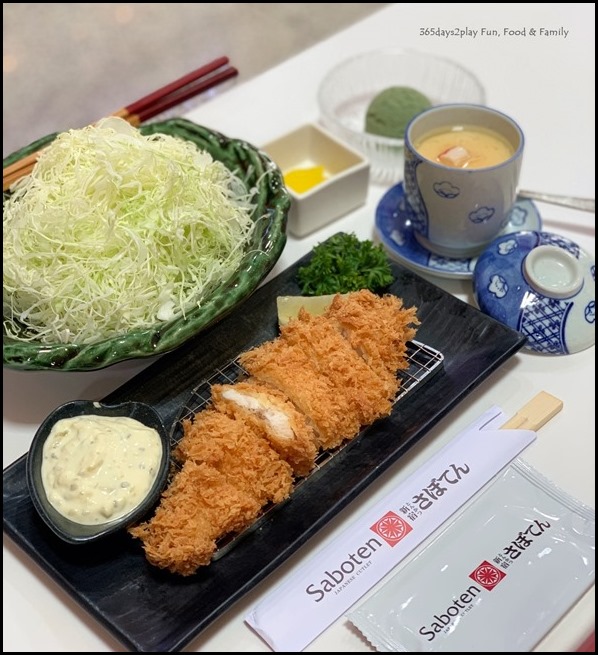 Saboten Garoupa Fillet Katsu with homemade tartar sauce $22.80
Looks like novelty is the name of the game this Chinese New Year because here's another dish you don't find easily at katsu restaurants. Fish katsu, very nicely done too. Crisp non-greasy batter, with flaky fish. The only thing is, watch out for small bones!
https://www.facebook.com/TengawaWhiteCurry/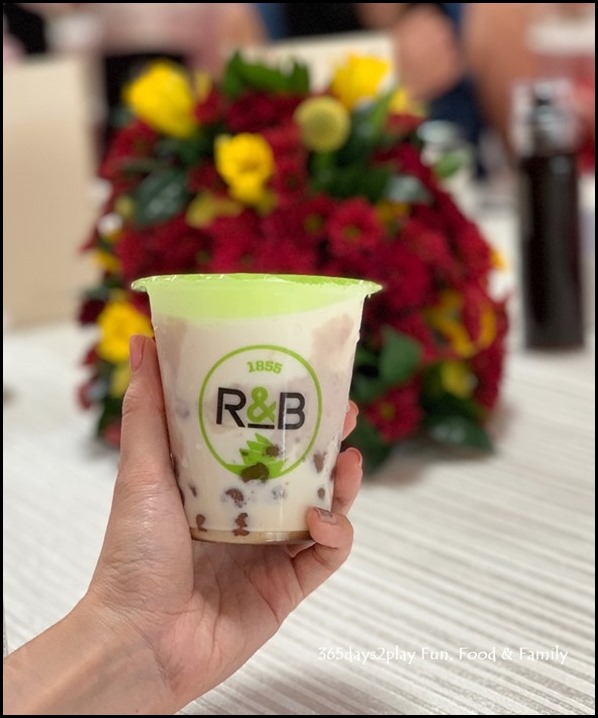 R&B Tea Taro Fresh Milk with Taro Balls $5.90
Too many bubble tea brands in Singapore that I've literally lost count. Being a calorific drink, I stick to my favourite brands, but so glad to find my favourite Taro milk tea being offered by this new brand R&B. Delicious and a must try if you've never tried taro milk tea!
https://www.facebook.com/rbteasg/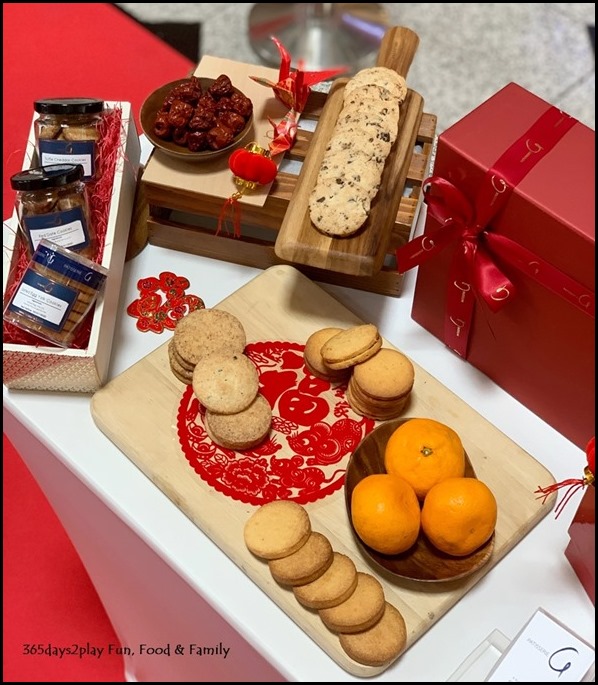 Pattiserie G (Truffle Cheese, Pineapple, Salted Egg Yolk, Red Date Cookies $12)
Alas, I am not able to recommend the cookies as they were all wayyyyyy too salty.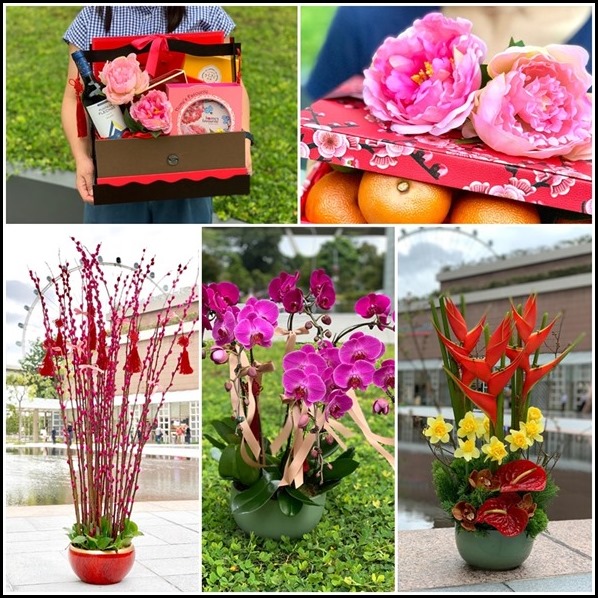 Flower Matters
And last but not least, a shout out to Flower Matters who sponsored all the table flowers at our event.
A big shout out to Millenia Walk and Word of Mouth Communications for hosting this Chinese New Year event.
---
Add me on Facebook, Instagram and Twitter if you want to be kept up to date with the latest happenings in the food and lifestyle scene in Singapore!
---
Millenia Walk
9 Raffles Blvd, Singapore 039596
http://www.milleniawalk.com/