When in Margaret River, it's not just vineyards that you can visit. If you're a teetotaller or just want to see more of what Margaret River has to offer, check out Olio Bello Olive Farm and Cafe. Apparently the hot summers are great conditions for the olives to grow and you will notice olive platters on many a restaurant's menu.
I happen to love olives and had been gorging on them (like an entire platter to myself for 2 consecutive days since the Partner doesn't like olives although he loves olive oil) so it made sense to visit the olive experts and see if I could stock up on olive oils and olives.
Olio Bello employs sustainable, organic food and farming systems, and everything that is grown on the farm is untainted by synthetic chemicals or fertilisers. Commercial olive oil makers use heat and chemicals for faster extraction of the oils from the olives, but not so for Olio Bello. Their extra virgin olive oils are unfiltered and allowed to naturally settle in stainless steel vats over a longer period of time.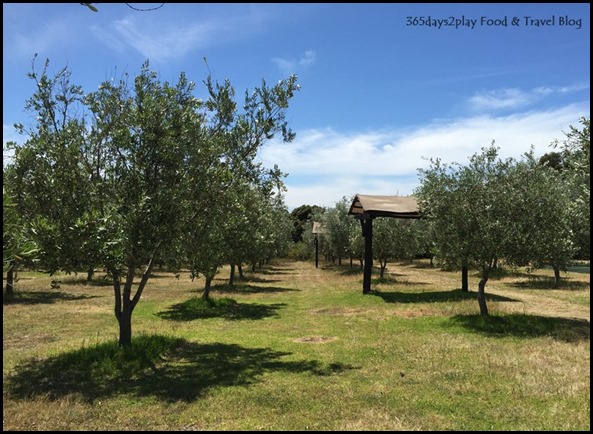 You can visit their 10,000 olive tree grove to roam around on your own. I don't think they do official tours on a regular basis, but if there's a truckload of you arriving, they just might show you around the place.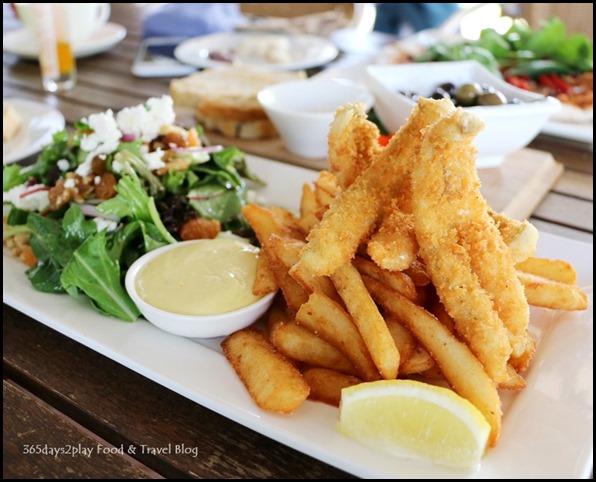 Augusta crumbed whiting, feta salad and beer battered chips $27
I highly recommend that you stop for lunch at the Olio Bello cafe like we did. Their fish & chips use Augusta whiting (a type of fish sourced from Augusta, which is like a 1/2 hr drive from Margaret River town) and it was simply delicious. We tried whiting in a couple of other places, but in my opinion, Olio Bello serves the best version. The fish was tender, piping hot and crispy. Dip that in the olive oil based mayo and you have a match made in heaven!
Venison Chorizo with Italian passata sauce, caramelised onion, roasted red capsicum, mozzarella, basil $20
I was torn between wanting to try an olive oil based pasta to see how good it would be, vs the pizza with venison chorizo. The venison chorizo is also sourced locally from the venison farm down the road. In the end I did go for the pasta but was a little disappointed with the venison chorizo as it was quite tough. Either the slices were too thick or they were fried too long. The pizza on its own was nice and light though. Some guy sitting at the next table was slurping down his huge bowl of pasta. Guess it must have tasted good, oh well next time then.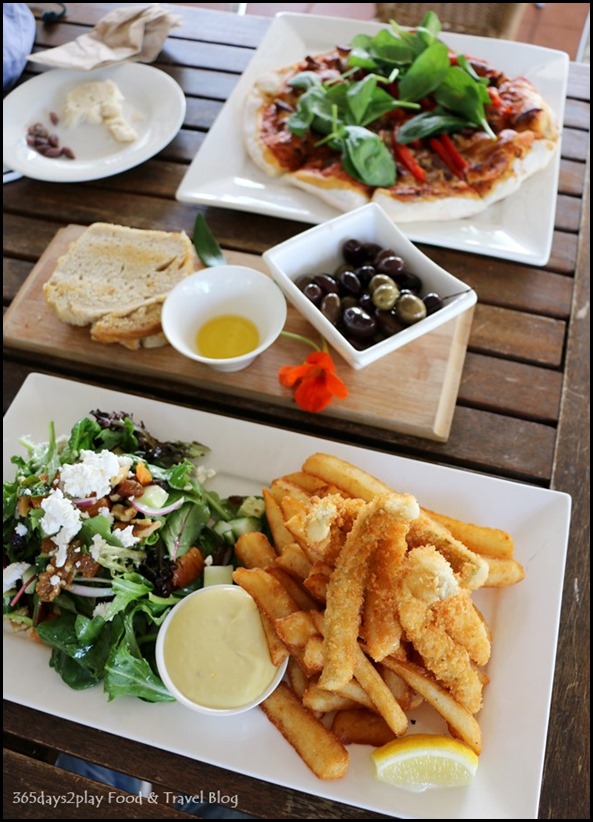 Another shot of the table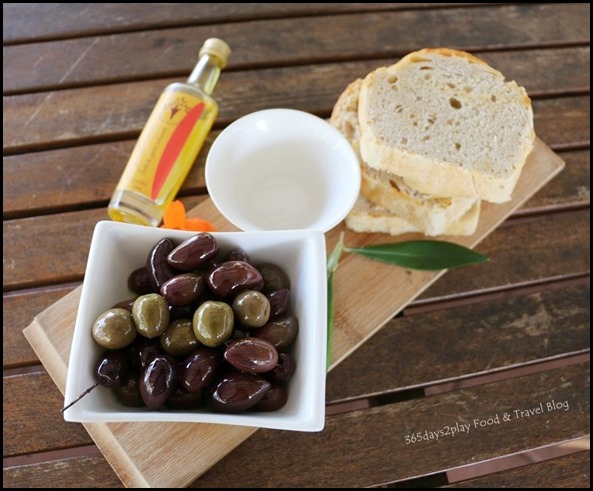 I did try their marinated olives and it's like eating potato chips, just can't stop! There are also bottles of differently flavoured olive oils which you can use as bread dips.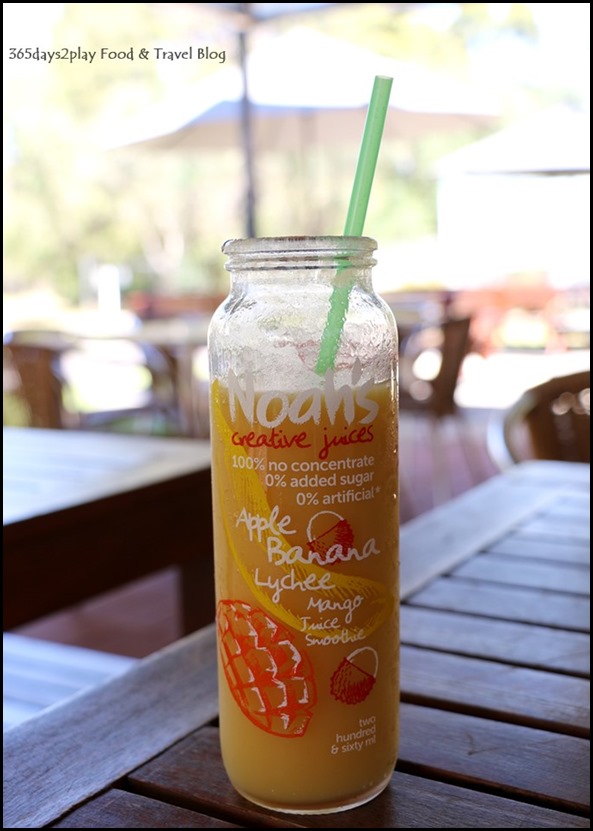 Oh when you are in and around Margaret River, you have to buy a few bottles of this juice. Costs about $5 or $6 but tastes very fresh. I think it would be a great idea to sit at the park or by the beach sipping this.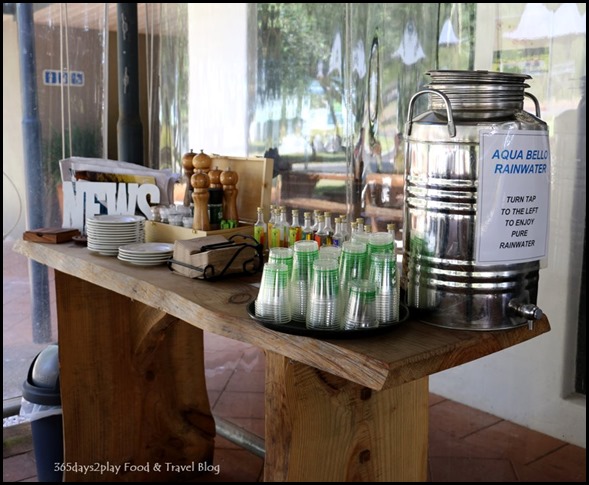 Or you could have rainwater instead.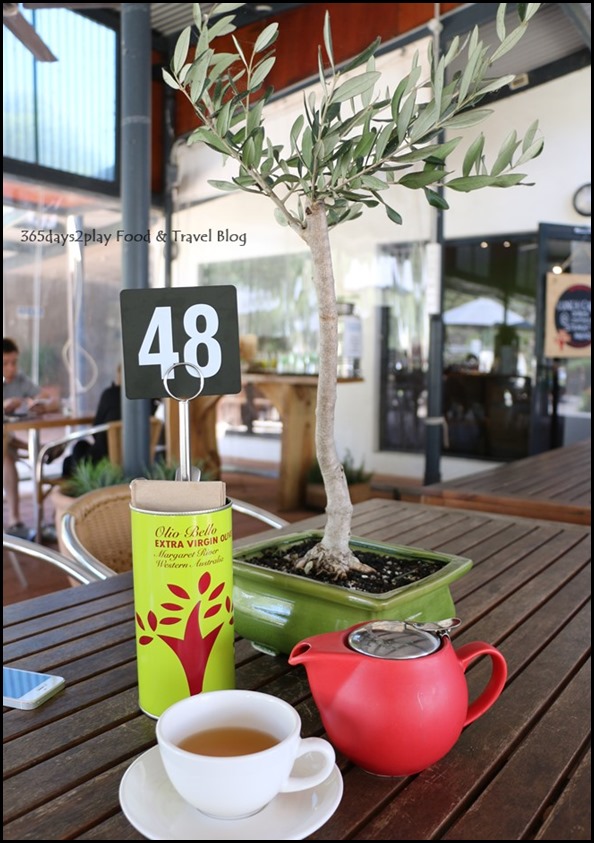 Check out the little olive tree that is available on each table. Just don't break off a branch as a peace offering….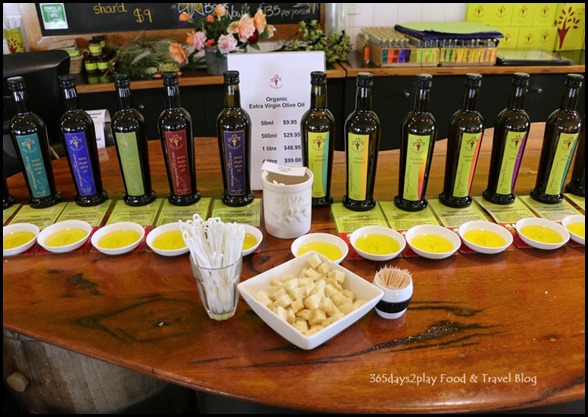 There are more than 10 different flavours of olive oil to choose from! My favourites are the lime infused one and the chilli and garlic infused one. We very nearly bought a 1 litre canister back, but decided on the 500ml bottle in the end so that we wouldn't be carrying a ton of bricks to the airport.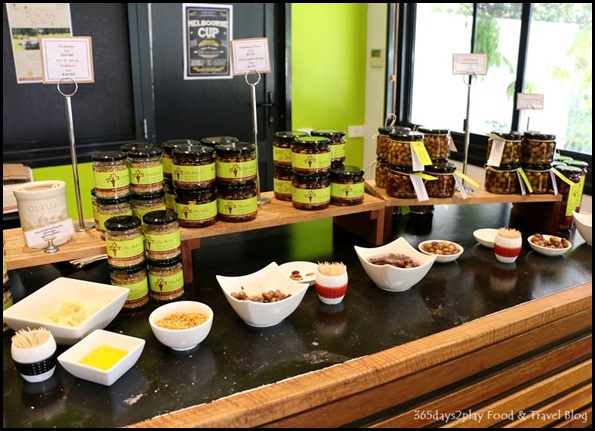 Marinated and non-marinated olives — Each bottle is about $6, which I think make good gifts if you're willing to carry the weight. I bought one, to gift to myself

I don't think you can get olives very easily in Singapore, at least not organic ones, and they don't come cheap.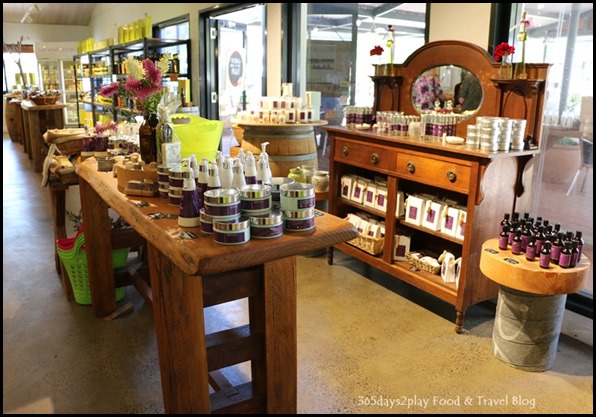 Face and body products made from olive oil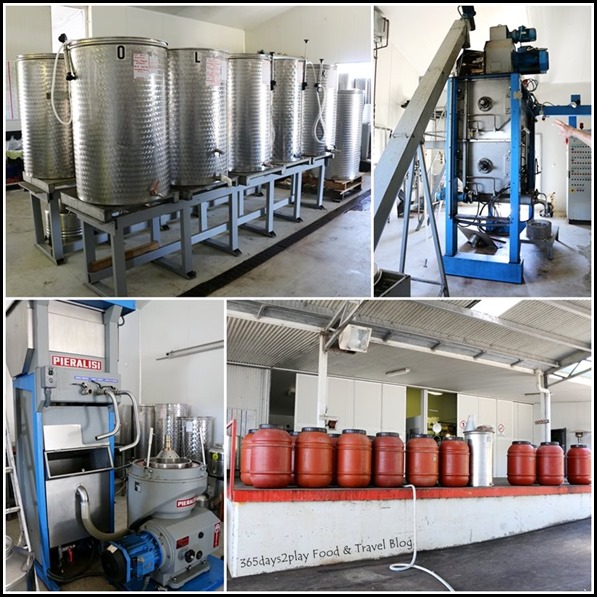 We also had a quick tour of the olive oil processing section of the property.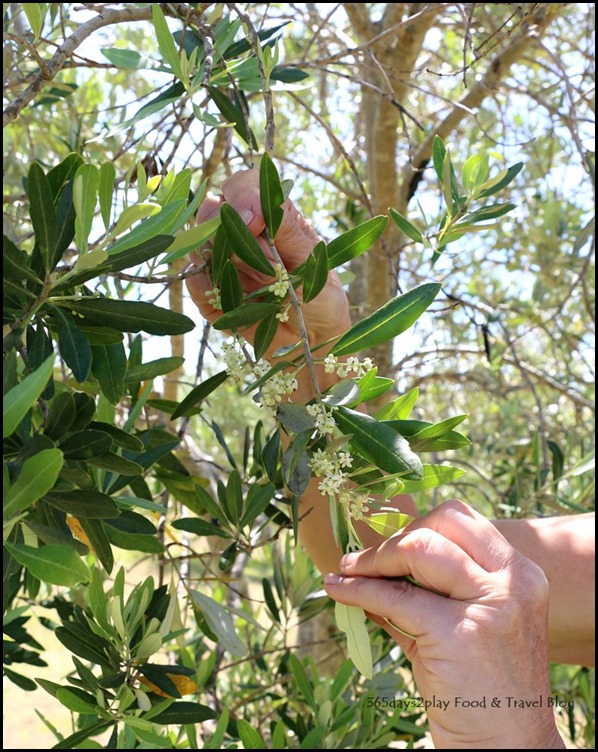 And it all starts here, olive flowers that will soon produce the olive fruits. You can start to get good olives for making olive oil when the trees are about 10 years of age, and I am told they can go on producing even beyond 100 years! Some olive trees in Greece are more than 1000 years of age, although I'm not too sure if they are still fruiting.
---
Add me on Facebook, Instagram and Twitter if you want to be kept up to date with the latest happenings in the food and lifestyle scene in Singapore!
Read more about my 6 day 5 night trip to Margaret River
---
Olio Bello
36 Armstrong Rd Cowaramup
6284 Western Australia
+61 8 9755 9771 or 1800 982 170 (Toll Free)
ACN 115684216
Open 7 days 10am – 4:30pm
Cafe 11:30am – 3.30pm