Every year, I face each impending birthday with mixed feelings. Certainly, birthdays can be joyful occasions, as they are one of the few occasions where people can indulge and celebrate, without feeling too guilty about it (not that I feel very guilty about indulging at any time of the year). But it's the gloom of being yet another year older that I can't seem to shake off. Does everyone feel that way too?
Anyway, as with all my birthday celebrations, I like to make it a prolonged event. Just like there are 12 days of Christmas and 15 days of Chinese New Year, why should a birthday be but a day long! I've ingrained this into the Partner's mind, and made the corresponding input in his calendar as well.

This year, I took leave on Friday so as to spend a quiet time over afternoon tea with the Partner. Being a food blogger, I gave him strict instructions for my birthday venue. It had to be an afternoon tea English style (as opposed to local or Peranakan), and the venue had to have a nice ambience. Most importantly, it had to be some place that I had never tried before. And given that I have tried a good many, it was a pretty tough task actually. But I am quite glad to say that the Partner did well by choosing Anti:Dote Bar at Fairmont Hotel Singapore.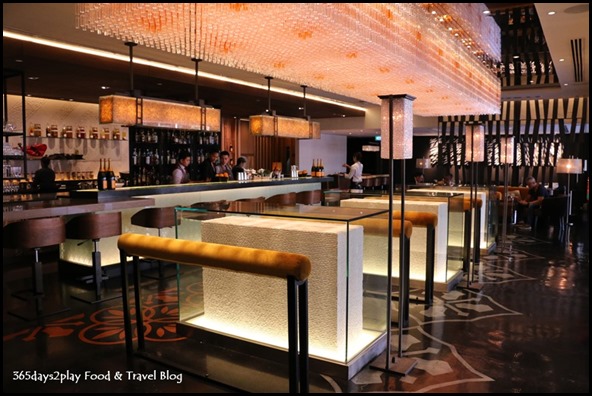 Anti:Dote Bar is situated at Fairmont Hotel's lobby area, facing the driveway. At first glance, the place strikes you as being more bar and business than a place where ladies of leisure would dine at. In fact, the description on Fairmont's website states it to be a stylish and modern cocktail bar serving drinks crafted with premium spirits and house made bitters, liqueurs and sodas. Wouldn't strike you as a place to have good food, but we were pleasantly surprised. In fact, I also perused the dinner menu and I must say it looks promising. I do intend to return to check that out.