Every year, I face each impending birthday with mixed feelings. Certainly, birthdays can be joyful occasions, as they are one of the few occasions where people can indulge and celebrate, without feeling too guilty about it (not that I feel very guilty about indulging at any time of the year). But it's the gloom of being yet another year older that I can't seem to shake off. Does everyone feel that way too?
Anyway, as with all my birthday celebrations, I like to make it a prolonged event. Just like there are 12 days of Christmas and 15 days of Chinese New Year, why should a birthday be but a day long! I've ingrained this into the Partner's mind, and made the corresponding input in his calendar as well.

This year, I took leave on Friday so as to spend a quiet time over afternoon tea with the Partner. Being a food blogger, I gave him strict instructions for my birthday venue. It had to be an afternoon tea English style (as opposed to local or Peranakan), and the venue had to have a nice ambience. Most importantly, it had to be some place that I had never tried before. And given that I have tried a good many, it was a pretty tough task actually. But I am quite glad to say that the Partner did well by choosing Anti:Dote Bar at Fairmont Hotel Singapore.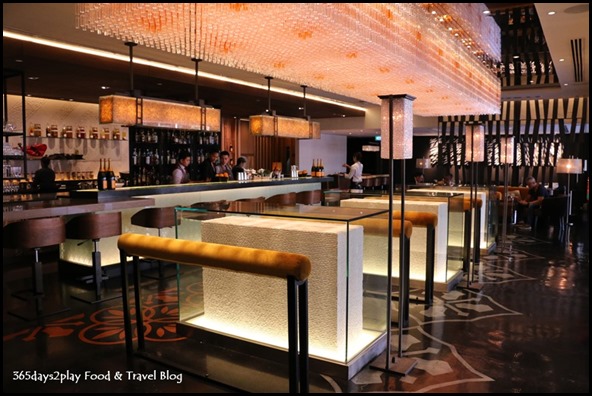 Anti:Dote Bar is situated at Fairmont Hotel's lobby area, facing the driveway. At first glance, the place strikes you as being more bar and business than a place where ladies of leisure would dine at. In fact, the description on Fairmont's website states it to be a stylish and modern cocktail bar serving drinks crafted with premium spirits and house made bitters, liqueurs and sodas. Wouldn't strike you as a place to have good food, but we were pleasantly surprised. In fact, I also perused the dinner menu and I must say it looks promising. I do intend to return to check that out.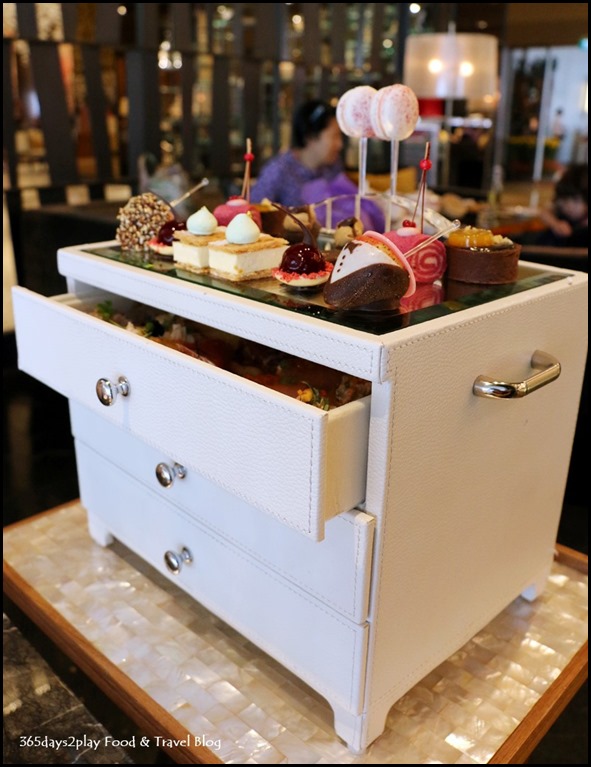 Extra points for creativity, yes this is the cute little contraption that the bulk of the afternoon tea is served in. 5 savouries are hidden in the top drawer, 2 fruit scones in the middle drawer and the lower drawer contains the clotted cream, jam and lemon curd. As you can see, the cabinet top is reserved for the sweets. What you see is portioned for 2 pax and is non-refillable. I do hope they cleaned the little cabinets thoroughly, it must be a pain having to have these washed.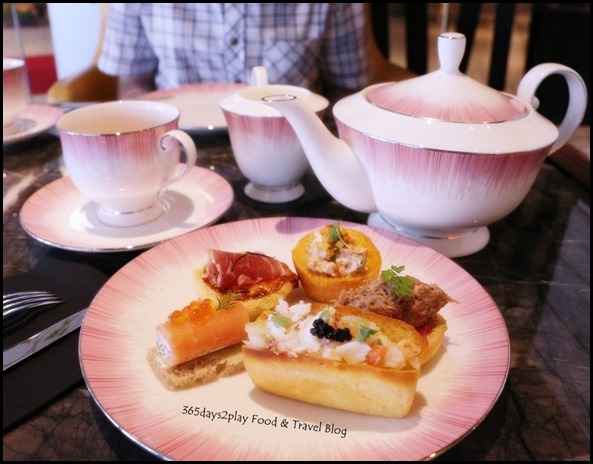 It was a little dark in the drawers so I took all the savouries out for a photo. At first, we were a little disappointed that there were only 5 stingy savoury items. But on second look and after tasting, I realise that these were quality savoury canapes that were being offered, hence the limited quantities I suppose. Clockwise :
Smoked salmon, lemon and dill cream cheese, ikura roe
Iberico ham quiche, mozzarella, black truffle
Coronation curried chicken, apple
Confit duck rillette, foie gras terrine, pickled onion
Boston lobster roll, confit lemon, chervil
The smoked salmon with ikura roe disappeared in a jiffy as I dearly love smoked salmon. The curried chicken with diced apple also tasted very good. The Iberico ham was wasted on the quiche as that's not exactly the best vehicle to showcase the ham. Also, the quiche crust was hard and insipid. Duck rillette was good, juicy and flavourful. Lobster was good, but the roll itself was a little dry.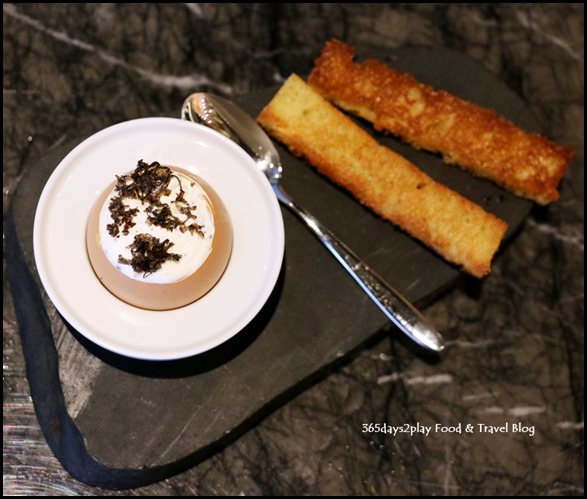 Prior to being served the afternoon tea set, you will be asked if you would like the Anti:Dote Tea set or the Oriental Tea set. I chose the Anti:Dote Tea set so I was served this appetiser of black truffle scrambled eggs with crispy bread soldiers. The truffle cream right at the top of the egg was the most fantastic thing on earth. It was creamy and with an intense taste, I literally was in high heavens, until the cream ran out halfway down the egg to give way to the scrambled bits. Compared to the truffle cream, the scrambled bits were just ordinary and how I wish the entire egg shell comprised of the truffle cream!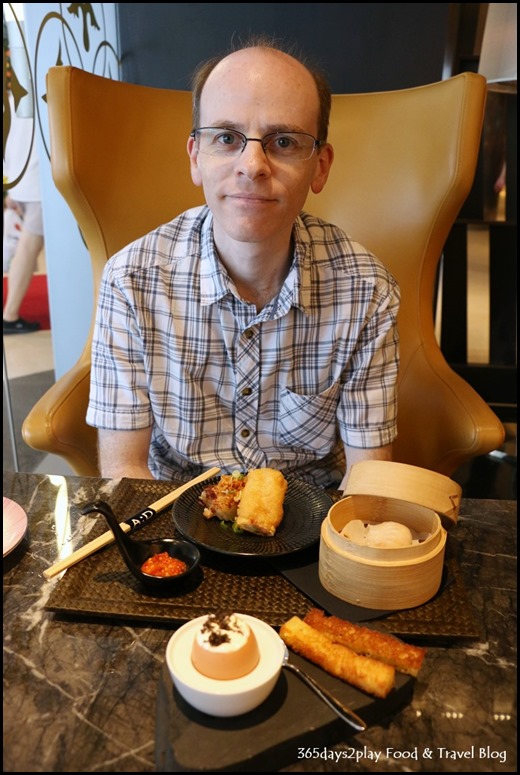 The Partner chose the Oriental tea set so he was served dim sum for his appetiser. He was served a har gow dumpling, some long fritter and a small slice of carrot cake. I tried the carrot cake and it was fabulous. It was so good, it made me want to have dim sum the very next day!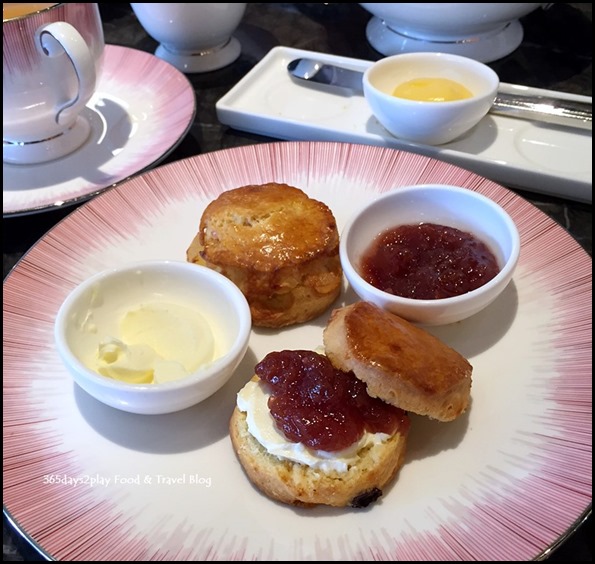 Raisin scone and candied ginger scone paired with Devonshire clotted cream, jam and lemon curd. The scones, although slightly hard on the exterior were a delight to eat. The crisp exterior made it taste a little like a biscuit. I dearly love clotted cream, wish there were more of it to spare. The lemon curd was a nice addition, something you don't normally get for afternoon tea in Singapore. I nearly licked the bowl clean.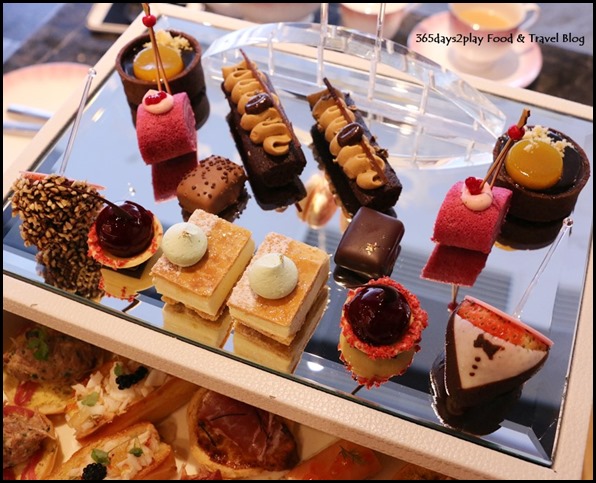 And finally, the desserts! Although we thought the tea set look a little small at the beginning, we were kinda stuffed by the time we reached the desserts. Perhaps it was all the tea we had been drinking. We only managed to finished half the desserts, and requested for the rest to be packed away. Hotels don't like it if you take home the food so the staff took a while before they relented. Health issues they say. Well it's cakes and chocolate, I would be really concerned if we were being served desserts could not last the entire day.
The dessert tray comprised the following :
Strawberry gateau
Limoncino Napoleon
Cappuccino comtessa
Framboise lychee macaron
Red cherry rose ball
Karukera chocolate mirror tart
Chocolate pralines
Chocolate-dipped strawberry
I must say, all the desserts we tried were fantastic. The strawberry gateau was soft and fluffy. The chocolate and nuts coated strawberry. The chocolate tart with lemon round (which I just took out of the fridge to eat because I am salivating as I write this post!) is great! AntiDote or Fairmont would do well to have a counter to sell these desserts and canapes!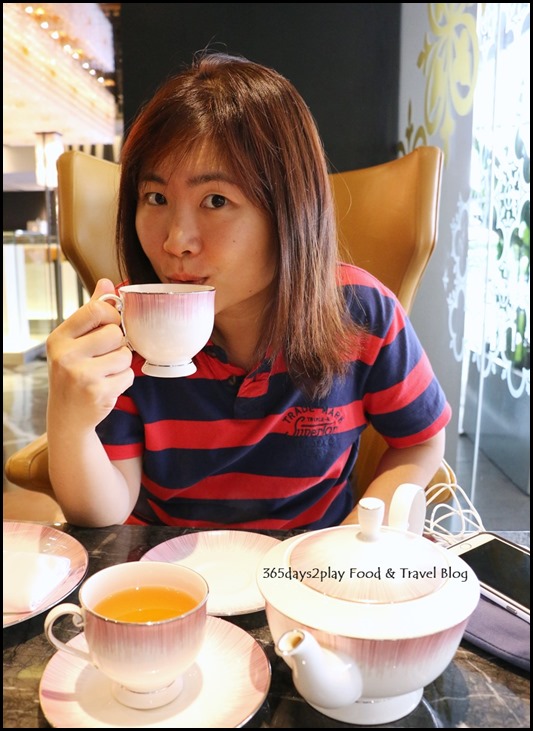 Each person is only allowed one tea choice. So as is our usual tactic, the Partner chose 1 tea for us to share for the 1st hour, and I chose the 2nd tea for the next hour. Tea used here is TWG.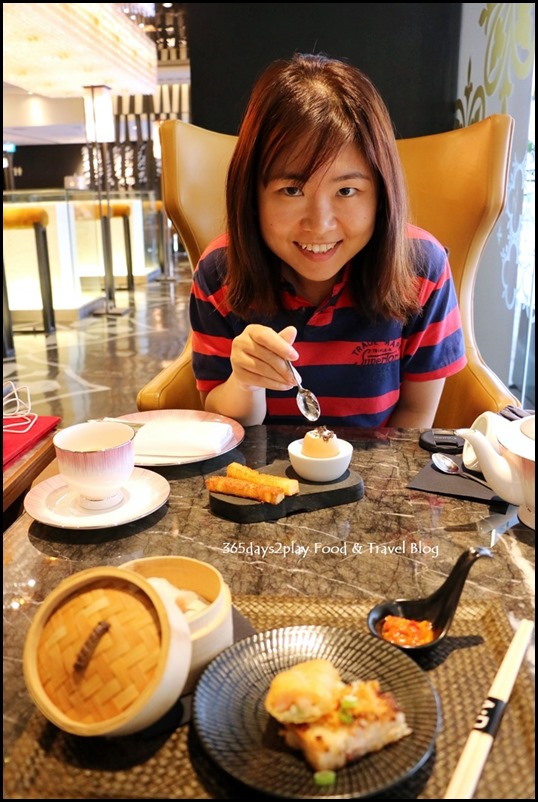 ---
Add me on Facebook, Instagram and Twitter if you want to be kept up to date with the latest happenings in the food and lifestyle scene in Singapore!
Check out my reviews of other Afternoon Tea Places in Singapore. 
---
Anti:Dote Bar
Fairmont Hotel Singapore
80 Bras Basah Road  Singapore 189560
For reservations, please call +65 6431 5315 or email askus@antidotebar.com
http://www.fairmont.com/singapore/dining/antidote/
Those with the Amex Platinum card can enjoy 20% discount.