The other day over a cup of coffee, I was enthusiastically regaling my gardening trials to a friend, when she suggested that I perhaps compile my woes into a blog post for people who are gardening for the first time. It had never occurred to me to do so as I consider myself very new to gardening (less than a year?) as compared to those who have done it for decades, and with a much larger garden.
But on second thoughts, I agree there is still much to share and much to be learnt despite numerous articles out there catered to the newbie gardener.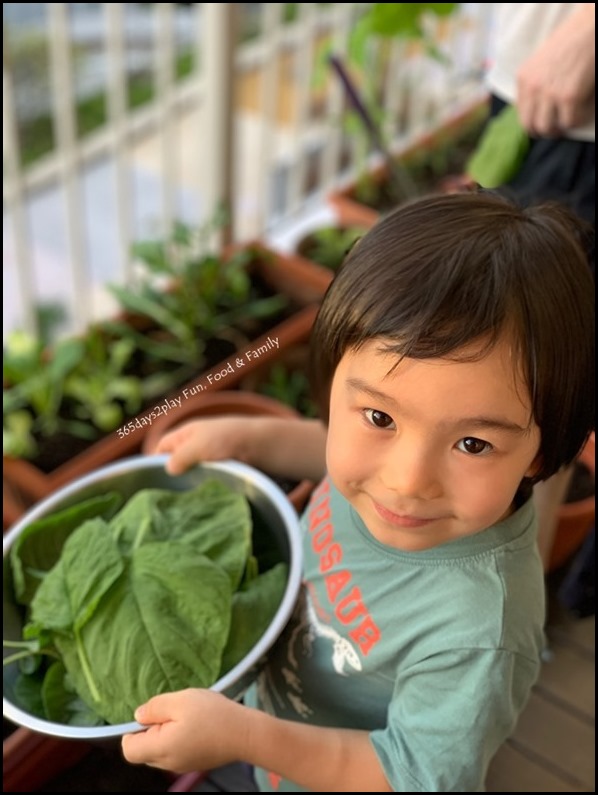 Balcony gardening is fun! Just look at this happy happy little gardener! He did proclaim that he will help to harvest but not to eat the greens!
The whole problem is that when something happens to your plant, such as it having crumpled leaves, or it not flowering, many reasons are offered and you're none the wiser as to which reason was the cause of the problem. Also, a lot of the advice is generic and may not apply to the type of plant you have, whether it be potted or garden grown and very importantly, locality. Worst of all, the effects of whatever wrong doing you might have inflicted on your plant may take days to be visible, if at all.
So here's what I learnt from balcony gardening living in tropical and humid Singapore, where day temperatures are in excess of 30 degress most parts of the year. I've been planting mainly edible plants, with the bulk being green leafy vegetables. You can follow me on Instagram or Facebook to get live updates!