With a name like Big Sake Bar, you'd be forgiven for thinking that they only do alcohol. But in actual fact, Big Sake Bar has a pretty extensive izakaya menu, and interestingly, they also do an 8 course Omakase for $88 nett. $108 nett gets you the omakase set with a Tokkuri (carafe) of sake from your choice of 3 premium sakes.
To enjoy the omakase, you would need to make an advanced reservation, the omakase is only served at the main sushi counter and that area only seats 6. You will be able to watch Head Chef Andy skilfully prepare each dish right in front of you. Speaking of Chef Andy, beneath the young-looking and quiet exterior lies a person with some serious knife skills. Although he does not have formal culinary training, he has worked at Ricciotti and The Sushi Bar before taking on the role of head chef at Big Sake Bar.
The omakase is only available until the end of 2017, so you better be quick about it. Scroll down for pictures of the delicious dishes.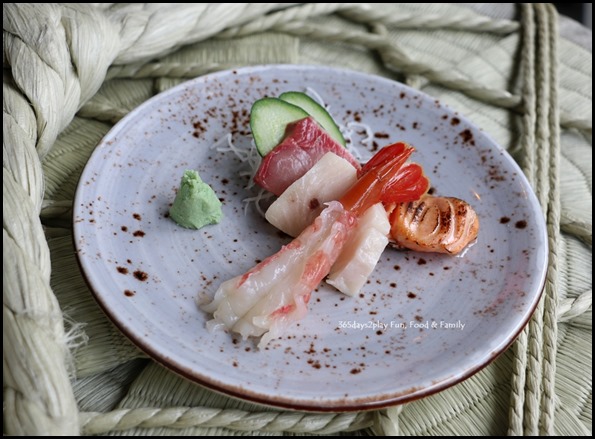 Sashimi Platter
Thick slices of very fresh tasting swordfish, salmon, seared salmon and botan shrimp. Doesn't require much more description than that. Shipments of fish from Japan come in 3 times a week.