You may be familiar with Bread Society as a bakery selling pretty breads and pastries, but did you know that you can also get hot meals at BreadSociety? The latest BreadSociety branch at the newly renovated Suntec City presents a refreshing cafe and boulangerie concept that allows customers to dine in and enjoy the European-inspired freshly baked treats  as well as a menu selection of all-day brunch specials, soups, sandwiches and desserts. I'm not sure about you but for me, the idea of eating a few buns to fill me up as a meal doesn't cut it. I am a traditionalist and if it's not a main meal type of dish, I just feel unsatisfied.
I was invited to sample some of their cafe menu dishes. There were some hits and misses but I would definitely recommend the Katsu Sandwich if you're looking for a filling lunch/dinner option.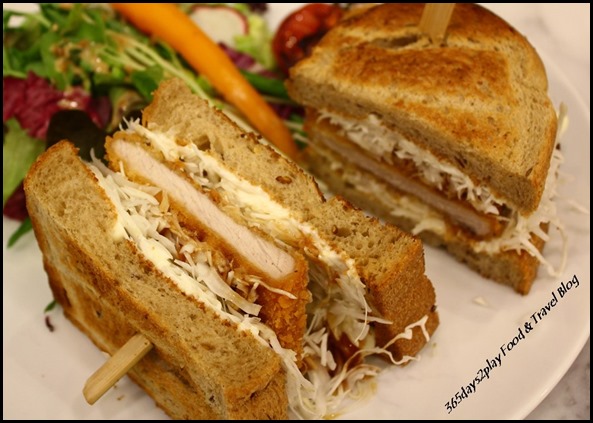 Bread Society – Katsu Sandwich $13.80 (Tonkatsu pork loin, shredded cabbage, tonkatsu sauce between dark rye multi-grain toast)
Everyone agreed that the Katsu sandwich was indeed worth trying out. I love how the whole sandwich tastes so well put together. The lovely tonkatsu sauce with a light mayonnaise base went perfectly with the tonkatsu pork loin, helped along with the nicely crisp thinly shredded  cabbage. I could finish a whole sandwich by myself! There aren't all that many katsu sandwiches available in Singapore. The only other time I've tried some was at Ginza Bairin at JCube. I think I like BreadSociety's Katsu sandwich even more than the Ginza Bairin one! The meat more or less tastes the same, but it's the special tonkatsu mayonnaise sauce and the better tasting bread that makes Bread Society's version a winner.