You may be familiar with Bread Society as a bakery selling pretty breads and pastries, but did you know that you can also get hot meals at BreadSociety? The latest BreadSociety branch at the newly renovated Suntec City presents a refreshing cafe and boulangerie concept that allows customers to dine in and enjoy the European-inspired freshly baked treats  as well as a menu selection of all-day brunch specials, soups, sandwiches and desserts. I'm not sure about you but for me, the idea of eating a few buns to fill me up as a meal doesn't cut it. I am a traditionalist and if it's not a main meal type of dish, I just feel unsatisfied.
I was invited to sample some of their cafe menu dishes. There were some hits and misses but I would definitely recommend the Katsu Sandwich if you're looking for a filling lunch/dinner option.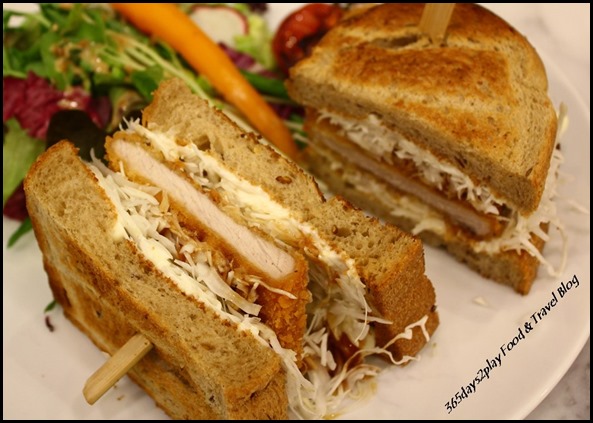 Bread Society – Katsu Sandwich $13.80 (Tonkatsu pork loin, shredded cabbage, tonkatsu sauce between dark rye multi-grain toast)
Everyone agreed that the Katsu sandwich was indeed worth trying out. I love how the whole sandwich tastes so well put together. The lovely tonkatsu sauce with a light mayonnaise base went perfectly with the tonkatsu pork loin, helped along with the nicely crisp thinly shredded  cabbage. I could finish a whole sandwich by myself! There aren't all that many katsu sandwiches available in Singapore. The only other time I've tried some was at Ginza Bairin at JCube. I think I like BreadSociety's Katsu sandwich even more than the Ginza Bairin one! The meat more or less tastes the same, but it's the special tonkatsu mayonnaise sauce and the better tasting bread that makes Bread Society's version a winner.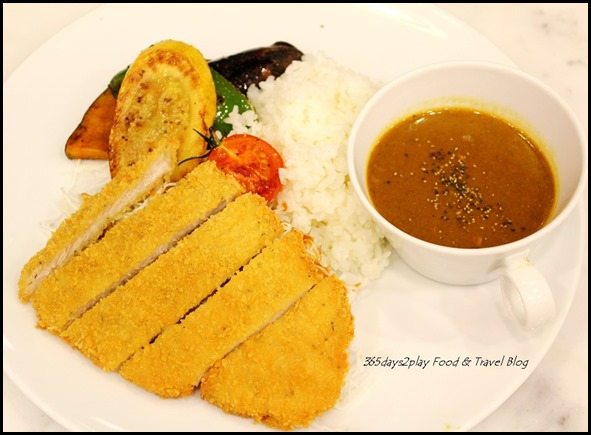 Katsu Curry Rice $13.80 available only from 12pm to 2pm (Golden fried tonkatsu pork loin with rich Japanese potato curry, Japanese rice, shredded cabbage and thick cut grilled vegetables
On the other hand, most of us thought that that the Katsu Curry Rice was just average at best. The curry was not memorable, as it was without the fragrant lingering taste that makes you want to go for seconds. The grilled vegetables also seemed as an afterthought and didn't seem to go very well with the rest of the dish. For the same price, I would rather go for the Katsu Sandwich.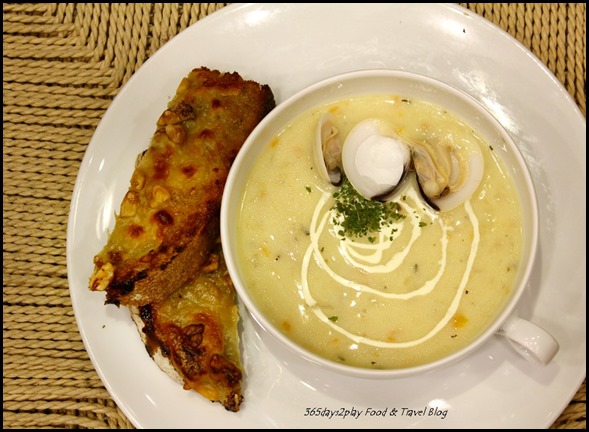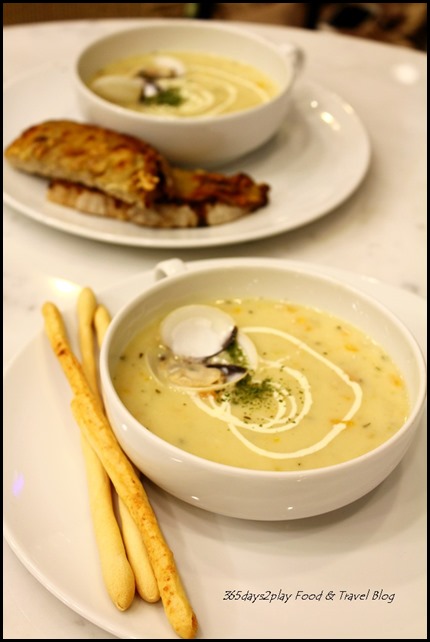 Clam Chowder $6.90 with Grissini or $7.90 with Blue Cheese Toast
The clam chowder was also quite average, no different from those you get at other similar places. They do have an interesting touch to it in the form of the blue cheese toast. The blue cheese taste isn't very strong, but it somehow lent a sour taste to the bread. Not really my cup of tea. The thin sticks of grissini was tasty and I liked the cheesy flavour, but not really the best vehicle to mop up the clam chowder.
The Society $15.80 (Thick baked pancake glazed with creamy butter and maple syrup, crispy back bacon and pork sausage)
This was a feast for the eyes and something that I would be very happy to see if I wanted some brunch. Although they call them pancakes, as you can see from the picture, they are not flat at all. Not sure if this would disappoint some people who are expecting the traditional flat ones. These taste quite cakey, but are good for mopping up the maple syrup. The pork sausage was quite tasty and meaty too. The back bacon was a total failure for me because firstly it wasn't the usual crispy thin type as it was 1 cm thick. Also, it was immensely salty. Only one person in my entire dining group enjoyed this! Btw, I think the syrup is corn syrup and not maple syrup. Who knows, I could be wrong. I think Bread Society should reconsider the description of the ingredients used / food served so that people get what they are expecting to get.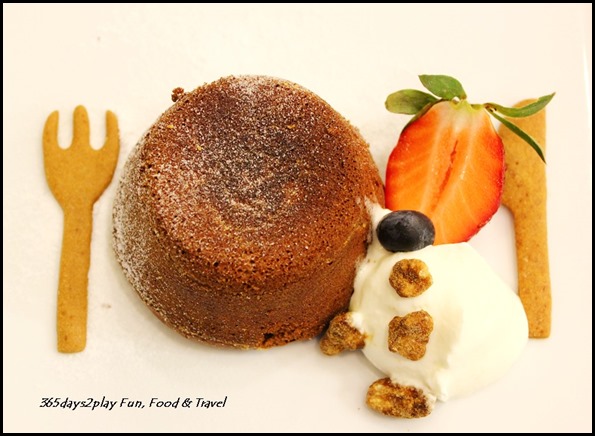 Salted Caramel Lava Chocolate Cake $6
At only $6, this salted caramel lava chocolate cake has great potential. The cake itself was quite delicious but it disappointed in that the lava was not molten and already semi solid.  Love the cutesy fork and knife though, they taste great as biscuits!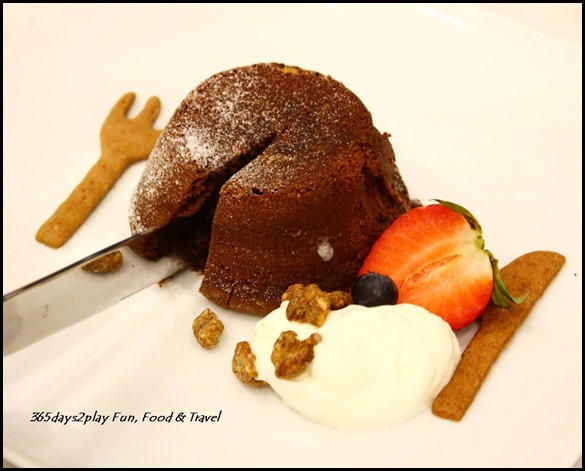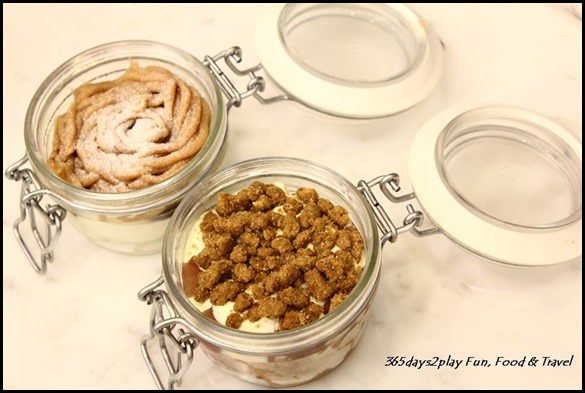 Desserts in a Jar $8.50 including the jar (Mont Blanc – Hazelnut meringue, chestnut, chestnut cream and whipped cream, Apple Crumble – apple compote pain de campagne, cinnamon crumble)
Lastly, the desserts in a jar. To be upfront, I think they are way over priced. I think of Flor Patisserie's Mont Blanc cake when I see the word Mont Blanc, and if Flor Patisserie's cake sells for around $8 and tastes so heavenly, this version pales in comparison. I guess one really is paying for the jar. It was a little difficult scooping out the dessert from the jars, especially when trying to cut through the rock hard hazelnut meringue. Visually, it looks a mess after the spoon goes into the jar a few times. The cream is all mixed up and it didn't look appetising.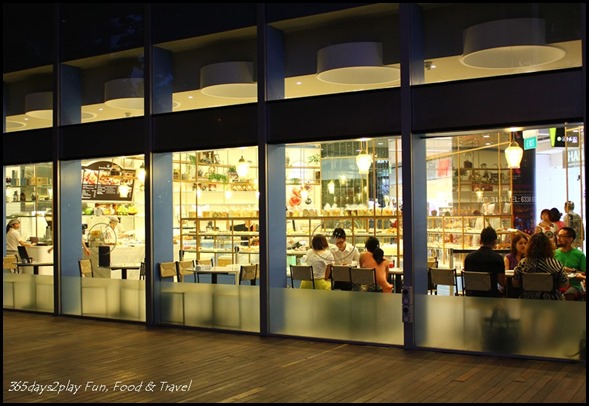 Bread Society's current expertise still lies in it's baked breads. Hopefully they are able to fine tune their cooked meals menu as the cafe concept has much potential, especially with the Suntec towers office blocks and it's prime spot just outside the entrance of the Esplanade station! There is no lack of cafes these days serving stellar brunch dishes, their only downside is they are not located in prime spots.
---
Add me on Facebook, Instagram and Twitter if you want to be kept up to date with the latest happenings in the food and lifestyle scene in Singapore!
---
Bread Society
Suntec City Mall (with cafe)
3 Temasek Boulevard, #01-301/302, Singapore 038983
Operating Hours:
Monday to Thursday 7.30am — 10pm
Friday, Saturday & Public Holiday eve 7.30am — 11pm
Sunday & Public Holiday 9am — 10pm
Tel: 63384344
ION Orchard
2 Orchard Turn, #B2-19, Singapore 238801
Operating Hours:
Monday to Thursday 7.30am — 10.30pm
Friday & Saturday 7.30am — 11pm
Sunday, Public Holiday eve & Public Holiday 8.30am — 11pm
Tel: 65094434
(Please note that ION Orchard outlet is relocating to ION Orchard Basement 4 in October. The last day of operations at #B2-19 is 31 August 2013.)