Drury Lane is one of the most recent cafes to open in Singapore. It's located along Tanjong Pagar Street (next to the Duxton Hill area), but it's easy to miss it as they don't really have a big sign to say that they're there. Many soon to be married couples will be familiar with Tanjong Pagar street as that's where the most number of wedding bridal studios are located. The restaurants and cafes are mostly on the opposite side of the street facing the bridal studios. It's a pity that the brides to be are unlikely to be found gorging themselves on the good food easily available there!
If Drury Lane sounds familiar, that's because it is a famous street in London with much history. You can read more about Drury Lane's history here, such as it being the location of the 1st Sainsbury store. The most notable landmark residing on Drury Lane now is the Theatre Royal, which has been there since the 17th century. For me, Drury Lane is more than just Theatre and stories of rebellion and gin palaces. For me, my 1st thought when I heard about the new Drury Lane cafe in Singapore was, did the owners previously hail from the London School of Economics? This is my most vivid memory of Drury Lane because when I was still a poor student visiting London, I bunked in with my friend at her LSE hostel next to Drury Lane. 2 girls squeezing onto the same single bed in a bid to save money. Ah well, memories of my younger days.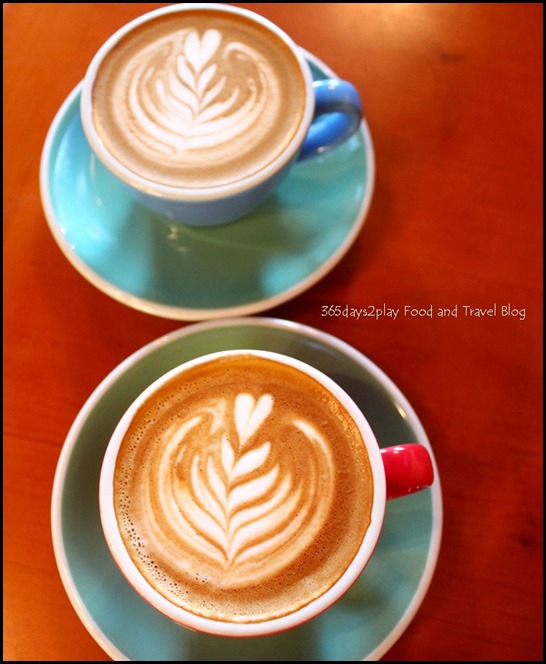 Flat White $4.50
Nowadays I don't expect to be served a bad cup of coffee anymore. Thanks to the intense competition amongst all the new cafes that have opened in Singapore recently, its easy to get a good cup of java. I can almost safely say that most of the new cafes that have opened in recent months do serve good coffees.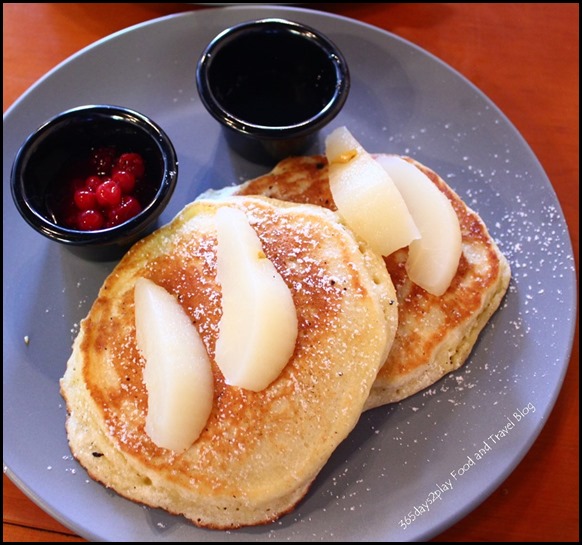 Cloud 9 – Fluffy cream cheese pancakes with daily fruit compote $10
The Partner ordered the fluffy pancakes and proclaimed it to be very good. You know a lot of cafes will have menus listing their pancakes to be fluffy, and the reality is that they are rather flat. I'm glad to report these pancakes from Drury Lane were really fluffy, like at least 1 cm thick! The daily fruit compote and sliced pears were delicious too and the Partner polished the entire dish.