Drury Lane is one of the most recent cafes to open in Singapore. It's located along Tanjong Pagar Street (next to the Duxton Hill area), but it's easy to miss it as they don't really have a big sign to say that they're there. Many soon to be married couples will be familiar with Tanjong Pagar street as that's where the most number of wedding bridal studios are located. The restaurants and cafes are mostly on the opposite side of the street facing the bridal studios. It's a pity that the brides to be are unlikely to be found gorging themselves on the good food easily available there!
If Drury Lane sounds familiar, that's because it is a famous street in London with much history. You can read more about Drury Lane's history here, such as it being the location of the 1st Sainsbury store. The most notable landmark residing on Drury Lane now is the Theatre Royal, which has been there since the 17th century. For me, Drury Lane is more than just Theatre and stories of rebellion and gin palaces. For me, my 1st thought when I heard about the new Drury Lane cafe in Singapore was, did the owners previously hail from the London School of Economics? This is my most vivid memory of Drury Lane because when I was still a poor student visiting London, I bunked in with my friend at her LSE hostel next to Drury Lane. 2 girls squeezing onto the same single bed in a bid to save money. Ah well, memories of my younger days.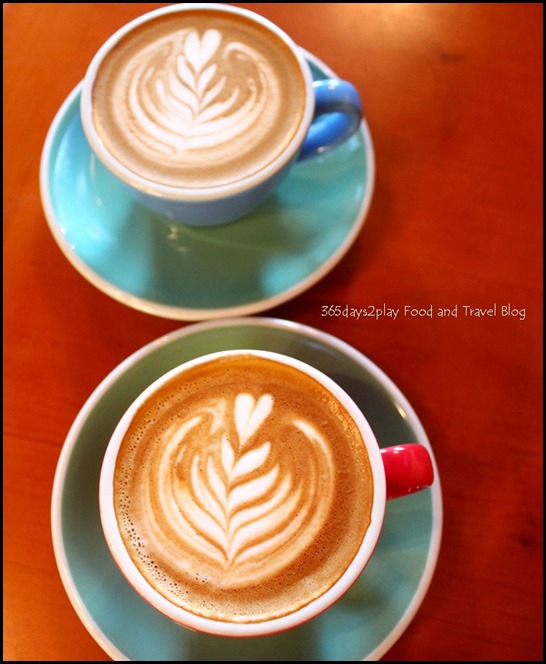 Flat White $4.50
Nowadays I don't expect to be served a bad cup of coffee anymore. Thanks to the intense competition amongst all the new cafes that have opened in Singapore recently, its easy to get a good cup of java. I can almost safely say that most of the new cafes that have opened in recent months do serve good coffees.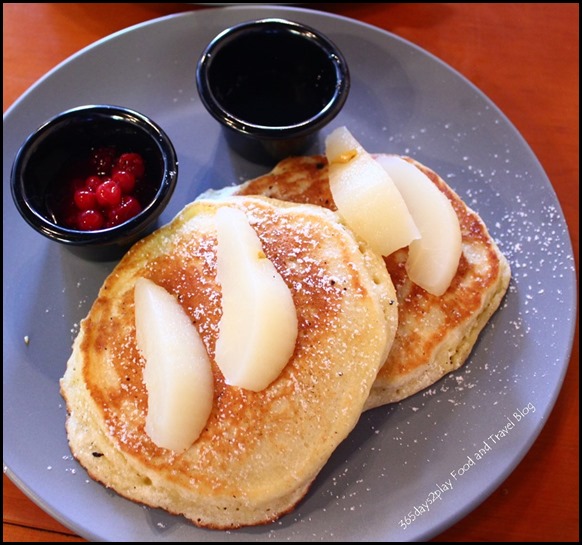 Cloud 9 — Fluffy cream cheese pancakes with daily fruit compote $10
The Partner ordered the fluffy pancakes and proclaimed it to be very good. You know a lot of cafes will have menus listing their pancakes to be fluffy, and the reality is that they are rather flat. I'm glad to report these pancakes from Drury Lane were really fluffy, like at least 1 cm thick! The daily fruit compote and sliced pears were delicious too and the Partner polished the entire dish.
I like the idea of having good pancakes, but to be frank, I almost always never order them. It's not easy to make good pancakes for some reason, and because the dish is predominantly pancake, if it's bad, the whole meal is ruined. I almost always order the big breakfast / breakfast fry-up, so that I'm sure I will be able to have at least a decent meal. As long as my eggs are sunny-side-up and flowing, I'm a happy camper.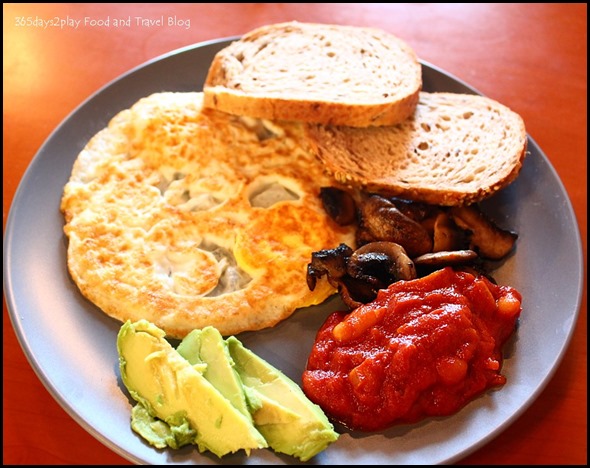 Eggs, homemade baked beans, mushrooms, tomato relish, avocado, toast $13
My mother had this meatless dish, which she said was rather enjoyable. It's basically similar to the dish with meat, with the exception of the homemade sausage and bacon.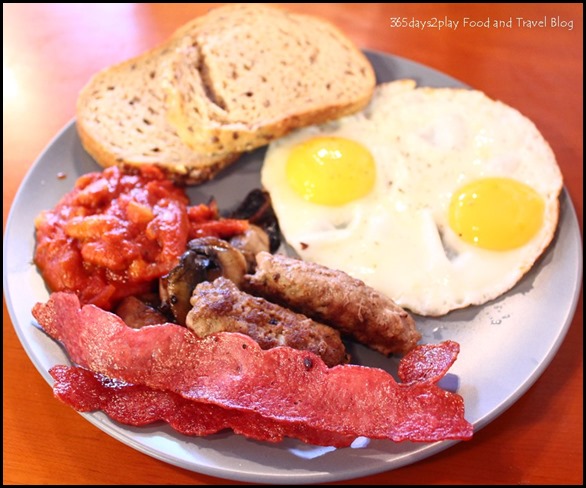 The Big 94 (Eggs, sausage, mushrooms, honey cured turkey bacon, baked beans, toast $14
If you think the bacon looks a bit weird, it's because it's turkey bacon. Not too sure if Drury Lane is trying to go for the "No Pork No Lard" status but I rather have real bacon any day. The homemade baked beans were very nice! If you love baked beans, you'll love these as extra ingredients have been added into the tomato sauce, such that's much more savoury. The sausages appeared to be homemade as well as they didn't look like the usual type of sausages, and instead resembled minced meat packed together. Not bad, but it didn't feel as if I were eating sausages. The mushrooms and eggs were good.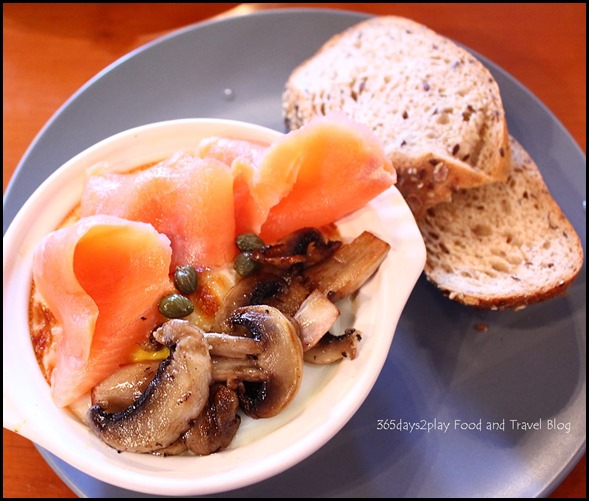 Smoked salmon, capers, rocket, home made baked beans, cheese $12
On 1st sight, this looked a little like some sort of porridge dish, given that the breakfast meal was served in a claypot bowl.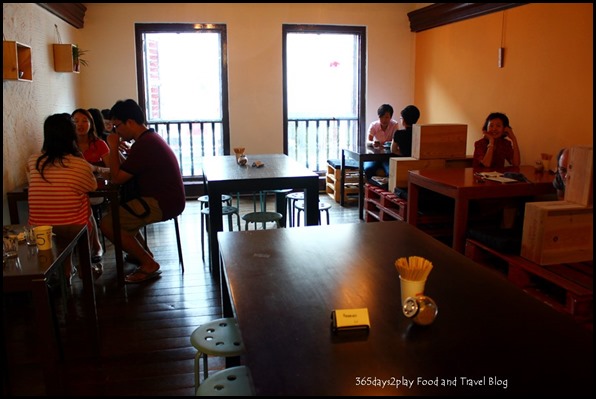 Drury Lane cafe has seating on the 1st floor as well as the 2nd floor. The second floor kind of reminds me of Group Therapy Coffee thanks to the windows, which I suppose is not surprising given that both are situated within conservation shophouses. Be warned that the kitchen on the 1st floor is open-concept, meaning that you are quite likely to feel as if you had your meal standing next to the frying pan. Ventilation is definitely better upstairs.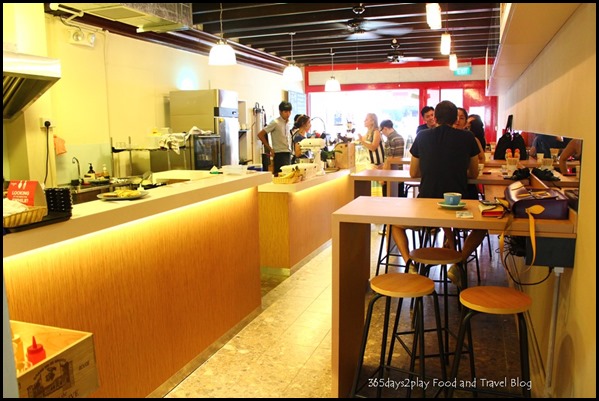 If you like the high stool seating, then you are welcome to sit on the ground floor.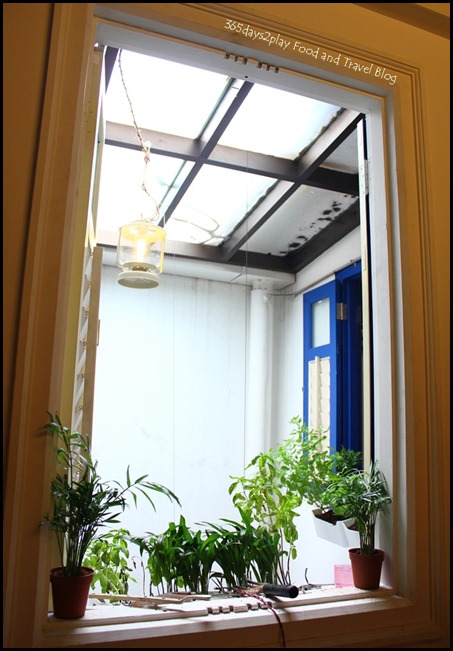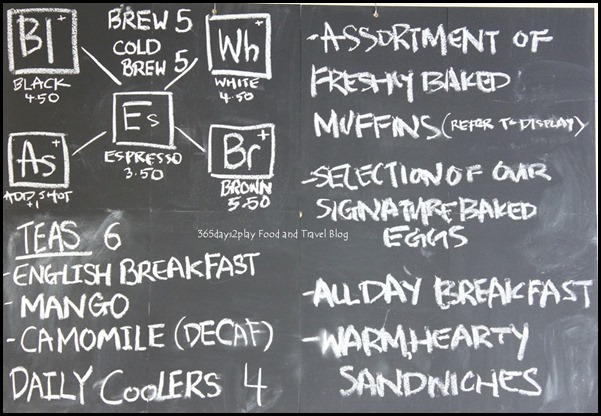 What is served at Drury Lane. Prices seem a tad more affordable than other cafes in the vicinity, which is always welcomed news! Also, it seems that GST and Service Charge are not charged, so all the better! If you want to have more affordable brunch items, Drury Lane might just be your choice.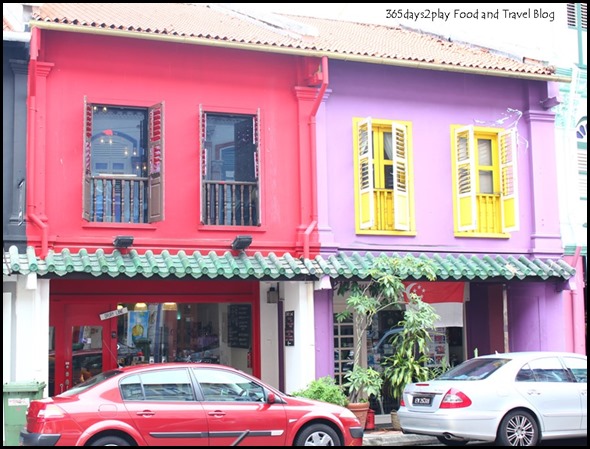 Drury Lane's the red coloured shophouse. Don't miss it!
---
Click here for reviews of the Best Cafes in Singapore
Click here for reviews of Places to eat in the East of Singapore
Other great cafes around Tanjong Pagar.
Add me on
Facebook, Instagram and Twitter if you want to be kept up to date with the latest happenings in the food and lifestyle scene in Singapore!
---
Drury Lane Cafe
94 Tanjong Pagar Rd, Singapore 088515
Phone:+65 6222 6698
Hours:
Monday 9:00 am — 9:00 pm
Tuesday Closed
Wednesday — Friday : 9:00 am — 9:00 pm
Saturday 10:00 am — 6:00 pm
Sunday 10:00 am — 6:00 pm
https://www.facebook.com/drurylane.sg