Me@OUE is the only stand-alone restaurant in Singapore to serve Kumamoto Beef. Kumamoto beef comes from Kyushu, the most southwesterly island of Japan. Kumamoto wagyu is celebrated for its perfect marbling as the meat is from one of the few, if not the only, free-grazing cattle in the whole of Japan. Most wagyu cows feed on grain instead of grass so to be able to gain access to grass-fed wagyu is indeed a rare treat. Gaining access to the prized meat is but half the battle, knowing how to handle it being the other. Me@OUE's chefs have the luxury of having access to the entire animal which means freedom and flexibility to use the various cuts that best suit the various dishes.
Speaking of chefs, Me@OUE's Executive Chef Sam Chin is but 33 years old. He recently rejoined Me@OUE again, previously having worked there in 2014. This young chap speaks with passion in his voice when you ask him about his dishes. Keep a look out for his name because I'm sure we'll be hearing it quite often in the culinary circle going forward.
The dishes I tried during dinner a couple of weeks back were very good, and yes the Kumamoto Beef was fabulous. There are a number of ways to enjoy it, such as in raw form or as a steak (tenderloin, striploin or ribeye) and either cooked Japanese style or French style. I tried the beef in tartare form as well as steak form and sushi style. All were very good in their own ways.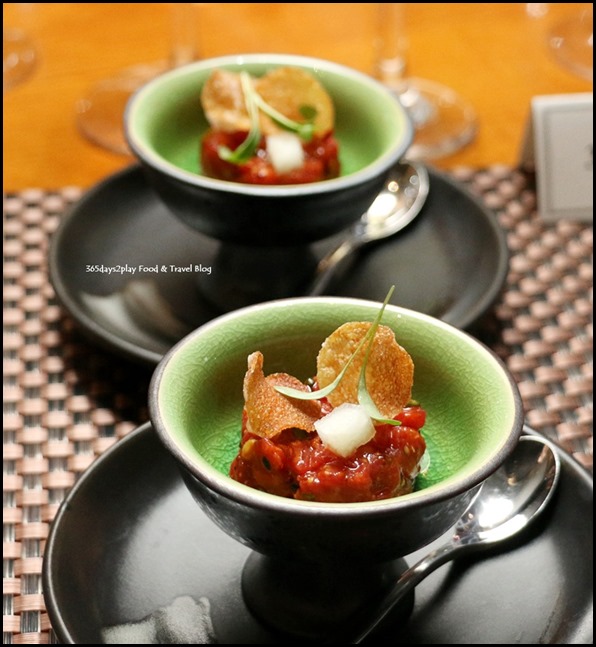 Hand-cut raw wagyu tartare
Nashi Pear, Spicy "Kochujang" Dressing, Egg Yolk, Potato Crisp, Micro Greens
The wagyu tartare in particular was really memorable due to the kochujang dressing. Normally kochujang goes with cooked meat, but in this case the taste of the raw beef is very mild because of the spicy kochujang dressing. But what you do experience in exchange is the luxuriously soft texture of the raw beef. Initially, I thought it would be a shame to mask the natural flavours of the raw beef with such a heavy sauce, but this dish works because the textures become the focal point and because of the sweet and spicy flavours imparted.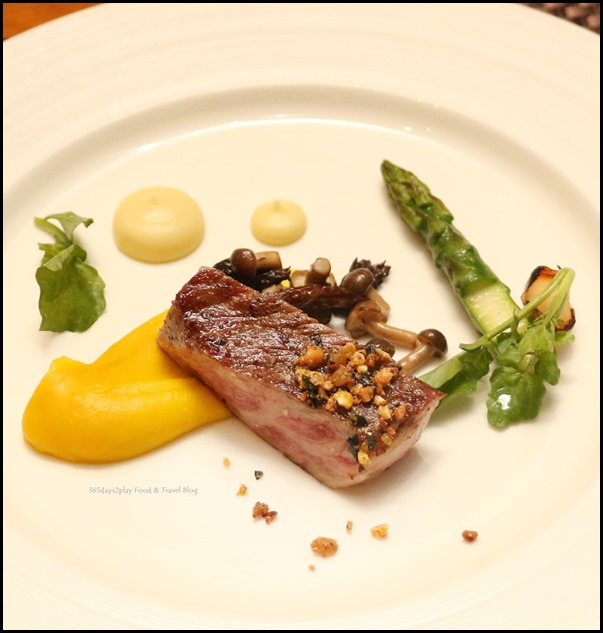 Charcoal Grilled Kumamoto Wagyu A4 Striploin
Pumpkin Purée, Mashed Marble Potatoes, Seasonal Vegetables