Me@OUE is the only stand-alone restaurant in Singapore to serve Kumamoto Beef. Kumamoto beef comes from Kyushu, the most southwesterly island of Japan. Kumamoto wagyu is celebrated for its perfect marbling as the meat is from one of the few, if not the only, free-grazing cattle in the whole of Japan. Most wagyu cows feed on grain instead of grass so to be able to gain access to grass-fed wagyu is indeed a rare treat. Gaining access to the prized meat is but half the battle, knowing how to handle it being the other. Me@OUE's chefs have the luxury of having access to the entire animal which means freedom and flexibility to use the various cuts that best suit the various dishes.
Speaking of chefs, Me@OUE's Executive Chef Sam Chin is but 33 years old. He recently rejoined Me@OUE again, previously having worked there in 2014. This young chap speaks with passion in his voice when you ask him about his dishes. Keep a look out for his name because I'm sure we'll be hearing it quite often in the culinary circle going forward.
The dishes I tried during dinner a couple of weeks back were very good, and yes the Kumamoto Beef was fabulous. There are a number of ways to enjoy it, such as in raw form or as a steak (tenderloin, striploin or ribeye) and either cooked Japanese style or French style. I tried the beef in tartare form as well as steak form and sushi style. All were very good in their own ways.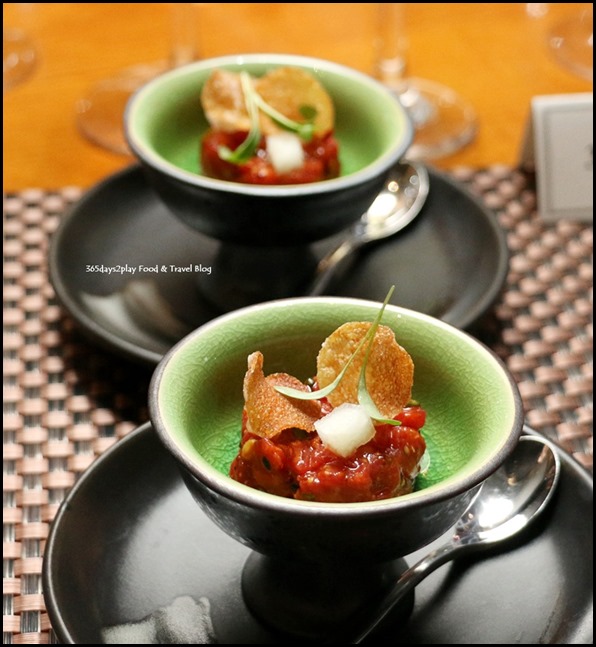 Hand-cut raw wagyu tartare
Nashi Pear, Spicy "Kochujang" Dressing, Egg Yolk, Potato Crisp, Micro Greens
The wagyu tartare in particular was really memorable due to the kochujang dressing. Normally kochujang goes with cooked meat, but in this case the taste of the raw beef is very mild because of the spicy kochujang dressing. But what you do experience in exchange is the luxuriously soft texture of the raw beef. Initially, I thought it would be a shame to mask the natural flavours of the raw beef with such a heavy sauce, but this dish works because the textures become the focal point and because of the sweet and spicy flavours imparted.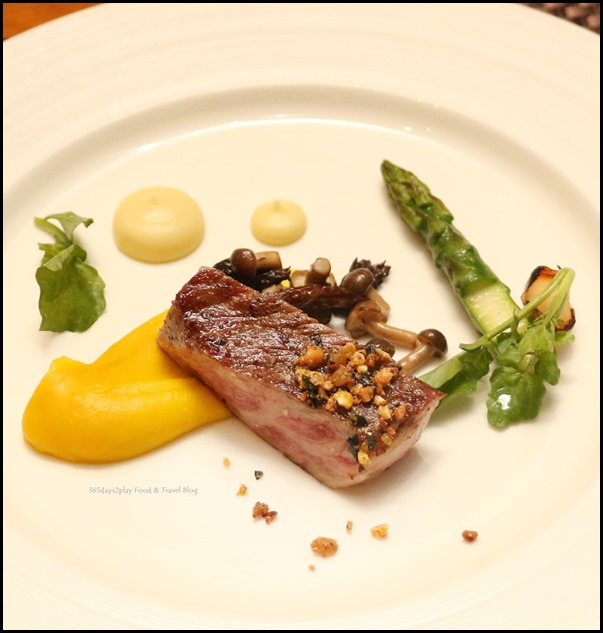 Charcoal Grilled Kumamoto Wagyu A4 Striploin
Pumpkin Purée, Mashed Marble Potatoes, Seasonal Vegetables
The Kumamoto striploin that was charcoal grilled in steak form was also very good. I enjoyed this more than the sushi versions as it was easier to savour the richness of the meat when chomped in bigger pieces. It is a very fatty cut of meat though, so a half cut (150gm) might actually be enough for small eaters or if you have many other dishes to plough through.
Another memorable dish was the Hokkaido Botan Ebi Tartare. Being able to savour raw prawns is already a treat in itself because only the freshest can be served raw. And I have always loved the firm yet soft texture of a raw prawn. But this dish was jazzed up even further with my other favourites like uni and ikura to make it truly memorable. I believe the entire table was silent as we each devoured up this dish.
And where do I even start regarding the Signature Foie Gras chawanmushi. This is not the solidified chawan mushi that is common in other Japanese restaurants. You feel like you are consuming watery tufts of clouds with this one. Although I think I still prefer to enjoy foie gras in a solid slab if given a choice, it does lend a delicate flavour to the chawan mushi. This is also one of the star michelin dishes by Chef Chen Kentaro of Shisen Hanten.
Desserts were pretty and definitely Instagram-worthy, but I'd say the stars of the evening were the savoury dishes.
Scroll down for more pictures of what we had at Me@OUE.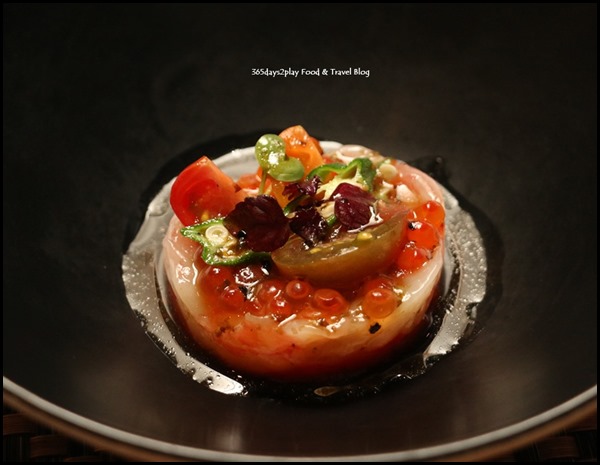 Hokkaido Botan Ebi Tartare
Uni, Ikura, Okra, Kumamoto Cherry Tomato, Nori Dressing
Signature Foie Gras Chawanmushi 蟹黄鹅肝汤
Crab Meat, Superior Broth, Egg Custard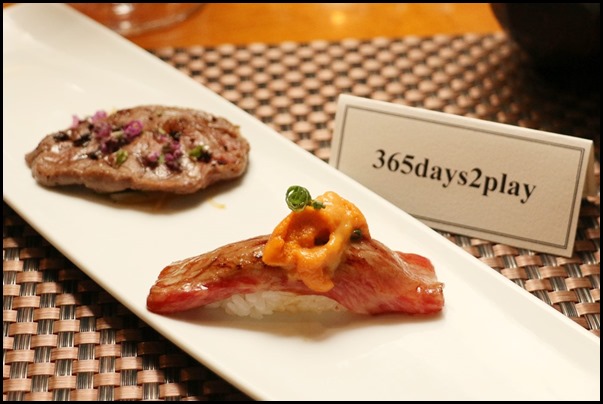 Nigiri Sushi, Uni  and Yakiniku, Shio Kombu, Tamanigi, Ponzu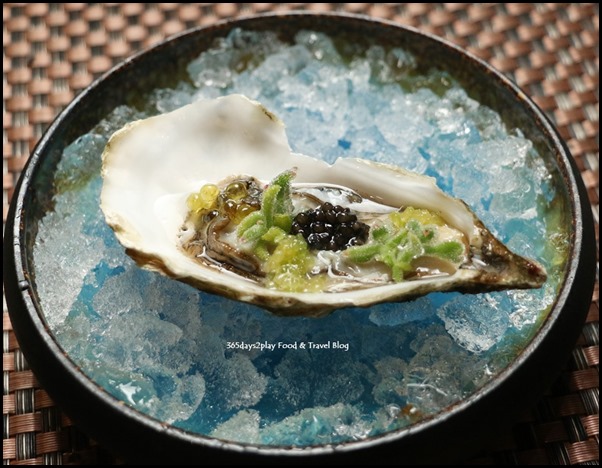 Freshly Shucked St. Vaast Oyster
Caviar D'aquitaine Vintage, Finger Lime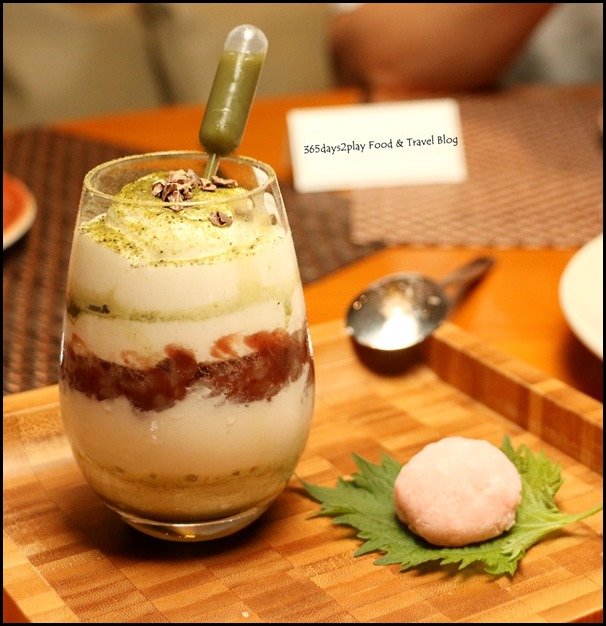 Tokyo Tiramisu
Sponge Fingers, Sake Espuma, Matcha Syrup, Azuki Rice Compote, Mochi-Doki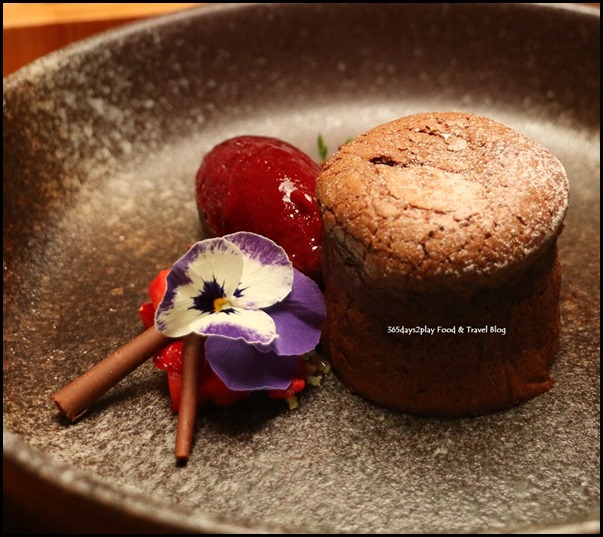 Black Forest Molten Lava Cake
Molten Dark Chocolate Dulcey, Cherry Liqueur Jelly, Forest Berry Sorbet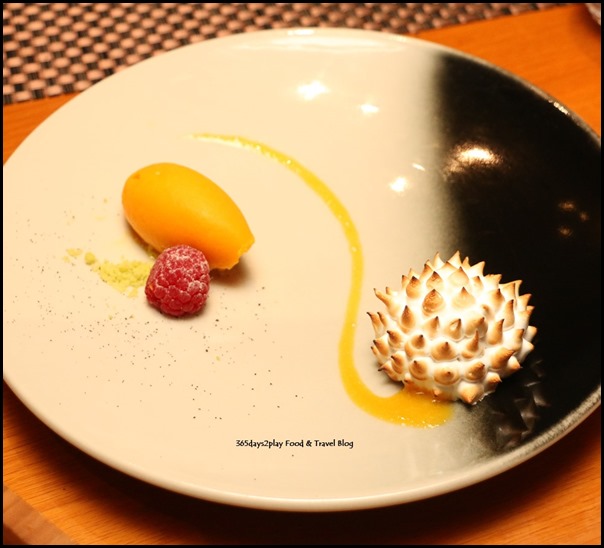 Passionfruit Alaska
Orange Chiffon, Molten Passion Fruit Lava, Diplomat Cream, Mango Sorbet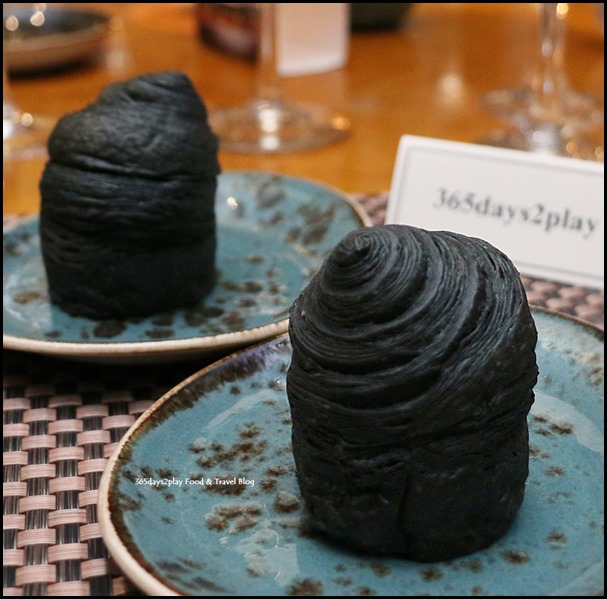 Can never get tired of this squid ink brioche that is served before the meal. If they would just start retailing this!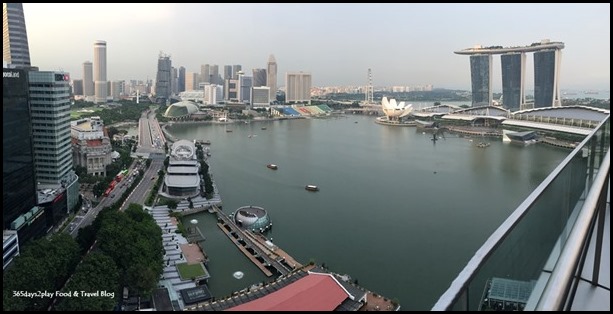 Come early to enjoy the wonderful unblocked views of the Marina Bay area from the rooftop vantage point at Me@OUE. You can see Marina Bay Sands on the right, and the Singapore Flyer, Floating Platform and Esplanade at the top middle of the picture. I've had the opportunity to watch the National Day fireworks from here too and I must say it is one of the rare few places to be so close to the action at this height.
Aerial picture of Me@OUE's outdoor lounge area, taken from LeVel33 at Marina Bay Financial Centre.
Me@OUE provides a 4 course tasting menu for $98++, fish via "omakase" style (flown in from Tsukiji Market every 2 days), or you can simply order via the ala-carte selection.
---
Add me on Facebook, Instagram and Twitter if you want to be kept up to date with the latest happenings in the food and lifestyle scene in Singapore!
Read about my previous experience at ME@OUE.
---
ME@OUE [Japanese | French | Chinese]
Address: OUE Bayfront Rooftop, 50 Collyer Quay, Singapore 049321
Contact: +65 6634 4555
Email: enquiry@me-oue.com
Website: www.me-oue.com
Facebook : www.facebook.com/me.oue
Restaurant Opening Hours
Lunch: Mondays to Fridays — 12.00pm to 2.00pm
Dinner: Mondays to Saturdays — 6.00pm to 10.00pm
Saturday afternoons and Sundays & Public Holidays Closed