*Media Invite*
E!GHT Korean BBQ, makes its debut at The Central at Clarke Quay and offers an array of tantalising premium BBQ meats in a sleek industrial chic setting. E!GHT is named after its eponymous 8 Colours Set, which features scrumptious slices of Berkshire pork belly in an array of flavours. With a well-trained team at this full-service Korean restaurant, diners simply sit back and enjoy their favourite drink and conversation whilst the food is expertly prepared for them at their table.
Pork takes centre-stage here and E!GHT has gone the whole hog in bringing in high quality cuts by importing 100% Berkshire pork from the U.S.A.
E!GHT's signature 8 Colours Set ($98)¸ suitable for three to four diners, is a veritable treatise on the wide-ranging flavours that complement this Berkshire pork. Mouth-watering strips of thick-cut pork belly are flavoured in eight different ways – wine, original, ginseng, garlic, herb, curry, miso, and red pepper paste. Each strip, approximately 70 to 80g each, is elegantly rolled up and presented on a custom-made wooden tray before being ceremoniously brought to the table and laid out next to the stove. The tray not only features the name of the restaurant; each flavour is clearly carved into the wood to ensure the customer knows exactly what is being served.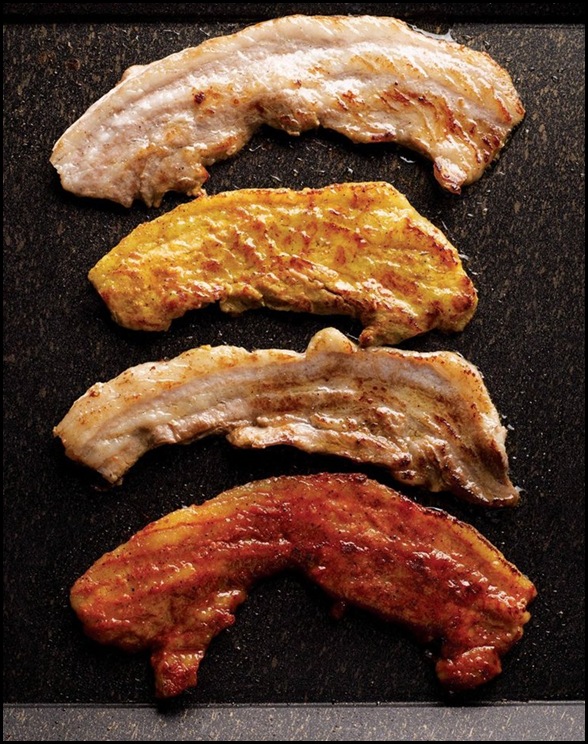 Each additional piece costs $12
I don't know about you, but I find these raw pieces of meat so artistically presented and neatly rolled up too! Makes me feel so carnivorous looking at them. I love looking at raw meat more than cooked meat sometimes, to be frank. Am I weird?