*Media Invite*
E!GHT Korean BBQ, makes its debut at The Central at Clarke Quay and offers an array of tantalising premium BBQ meats in a sleek industrial chic setting. E!GHT is named after its eponymous 8 Colours Set, which features scrumptious slices of Berkshire pork belly in an array of flavours. With a well-trained team at this full-service Korean restaurant, diners simply sit back and enjoy their favourite drink and conversation whilst the food is expertly prepared for them at their table.
Pork takes centre-stage here and E!GHT has gone the whole hog in bringing in high quality cuts by importing 100% Berkshire pork from the U.S.A.
E!GHT's signature 8 Colours Set ($98)¸ suitable for three to four diners, is a veritable treatise on the wide-ranging flavours that complement this Berkshire pork. Mouth-watering strips of thick-cut pork belly are flavoured in eight different ways — wine, original, ginseng, garlic, herb, curry, miso, and red pepper paste. Each strip, approximately 70 to 80g each, is elegantly rolled up and presented on a custom-made wooden tray before being ceremoniously brought to the table and laid out next to the stove. The tray not only features the name of the restaurant; each flavour is clearly carved into the wood to ensure the customer knows exactly what is being served.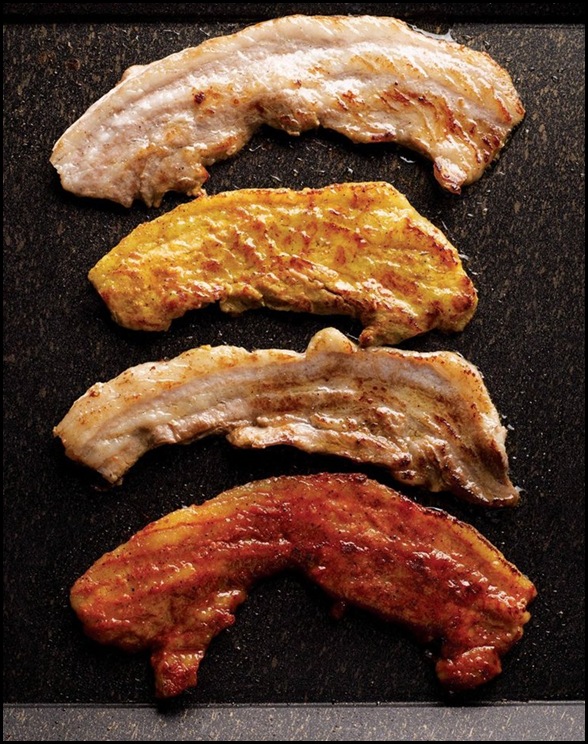 Each additional piece costs $12
I don't know about you, but I find these raw pieces of meat so artistically presented and neatly rolled up too! Makes me feel so carnivorous looking at them. I love looking at raw meat more than cooked meat sometimes, to be frank. Am I weird?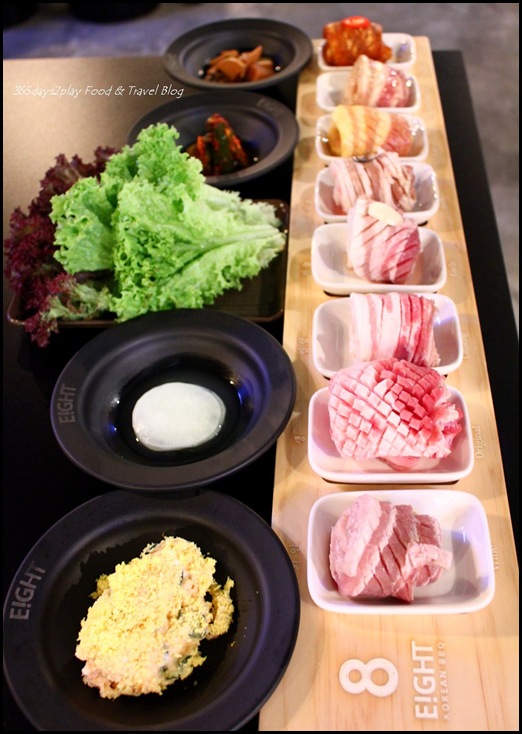 Wine, original, ginseng, garlic, herb, curry, miso, red pepper paste
Before grilling the meat, the server recommends the best order in which to relish these cuts. Starting from the lighter towards bolder flavours, the server prepares the wine and unadulterated original first so the customer is able to savour the natural taste of the Berkshire pork. This is followed by the ginseng, garlic, herb, curry, and miso marinades, leaving the heaviest red pepper paste for last. Besides these eight styles, guests have another option of the Smoked version at only $12. They can also order additional strips of pork belly in their preferred flavours at $12 apiece.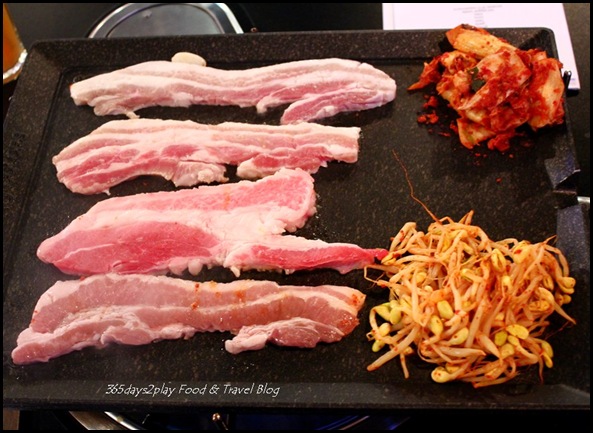 Here's how it looks like on the hot pan just before the sizzling goes full force. You may not notice it here but the pan is slightly tilted to the right, such that any oils that ooze out of the meats will flow downwards and out of the pan via the outlet. I was quite amazed with this feature because then it ensures that you won't be ingesting excess oil for nothing. 
What I did not appreciate though was that the hot pan was way too close to the edge of the table. My iPhone which was lying nearby got the brunt of the sizzling and received numerous droplets of oil! Be warned!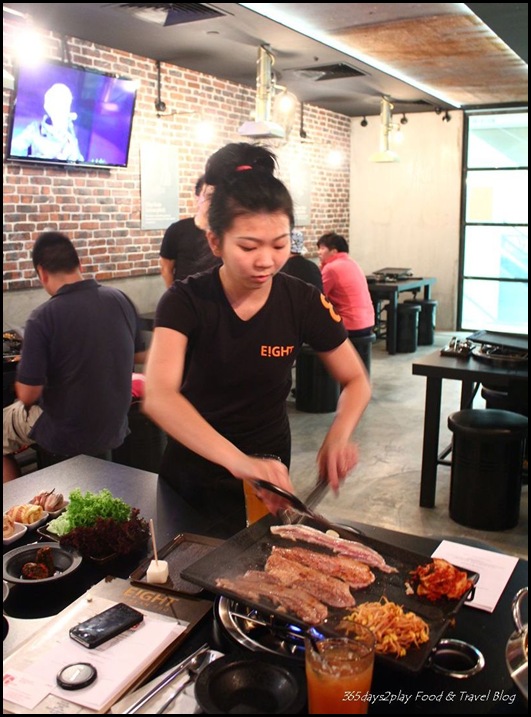 Everything will be prepared for you so you don't have to lift a finger, except to scoop food into your mouth. This is especially good for the lunch crowds so time is not wasted trying to fiddle around.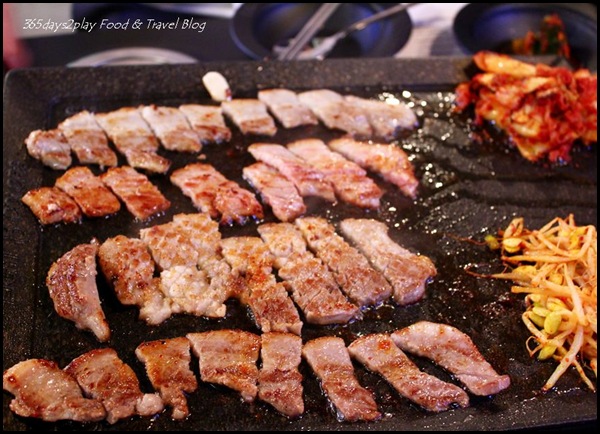 Here's how the meats look like after being cooked.
It was interesting to note that our favourite flavour was different from each other. I liked the stronger flavours / more unique flavours so I quite liked the Wine, Ginseng and Curry ones. I've tried a couple of Korean BBQ restaurants this year, and my take on E!ght Korean BBQ is that their meats are milder tasting than those I've tried previously. So for those of you who like mild tasting meats, you'll love it here.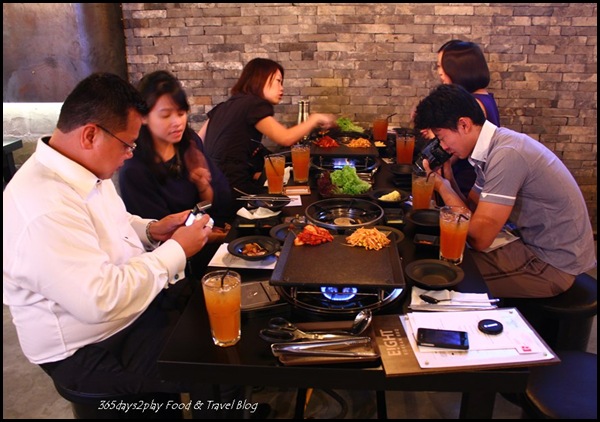 Bloggers' media invite! It's always nice to see old faces again.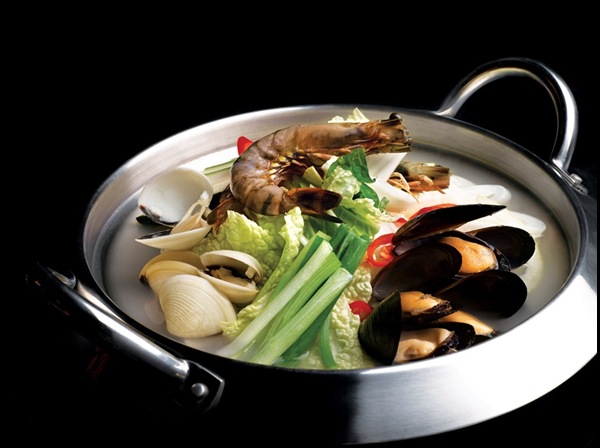 Seafood Bean Paste Stew ($18)
You can consider ordering a hearty stew to go along with the BBQ meats set. I would highly recommend it because the hot soup will help to cut through the greasiness of the meats. We had the opportunity to try the seafood bean paste stew, which was chock full of tasty ingredients. Unfortunately, while it looks big, the pot is actually quite shallow. There are 4 stews to choose from : Beef Brisket Kimchi Stew ($18), Seafood Bean Paste Stew ($18), Pork Belly Kimchi Stew ($18), or Beef Brisket Bean Paste Stew ($18).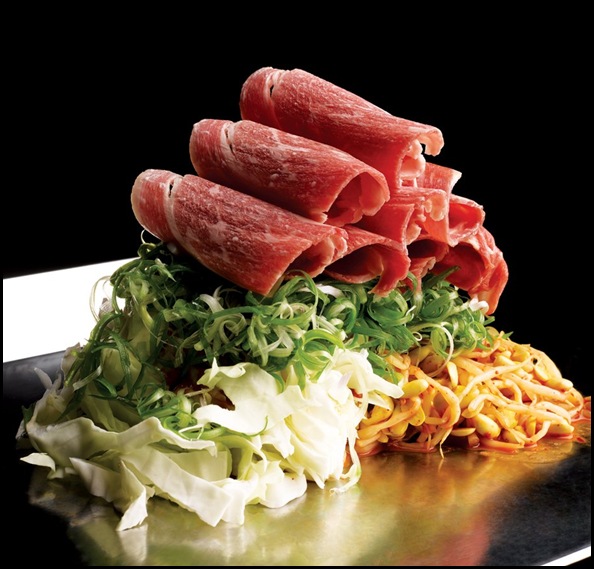 Chul Pan specialty hot grill — beef brisket ($17)
If you come during lunch time, you can order the Chul Pan (Speciality Hot Grill) which is only available during lunch. The Chul Pan — an elegant tower of thinly-sliced meats atop assorted vegetable — is stir-fried on the grill pan with a piquant house-made gochujang (Korean red pepper paste). Steamed rice will be served on the side. This dish requires a minimum order of two portions of meat and choices include: Chicken ($15), Pork Belly ($16) and Beef Brisket ($17).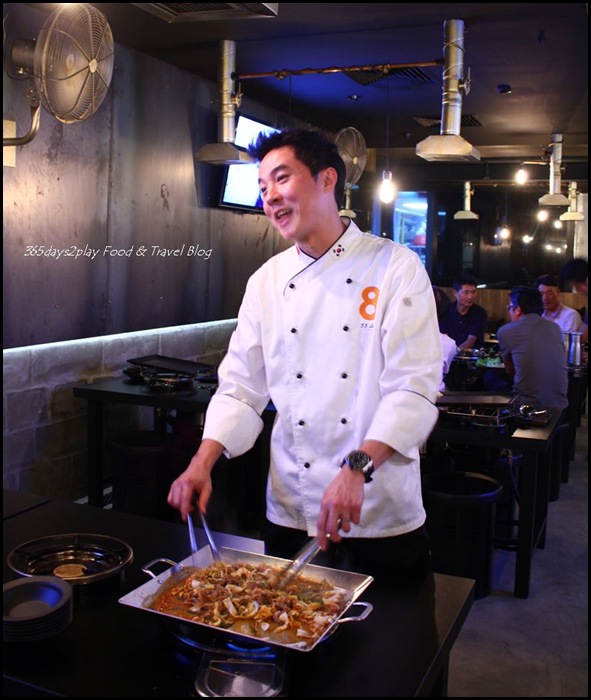 The chef frying the rice in front of us and looking like he's having a whale of a time.
This is definitely an eye-turner so be sure to order it! The meats are frozen, so you have about 2 minutes to take your picture before they start defrosting and going flat on you!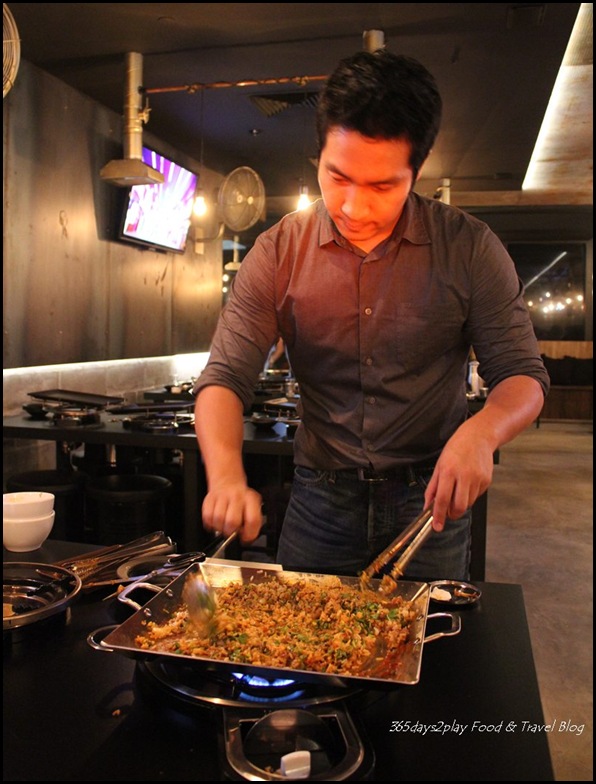 The scorched rice soup being prepared right in front of us. Ours is the fried version so it costs $8 more. The Scorched Rice Soup will be served at the end of the meal to cleanse the palate. For an even more substantial indulgence, diners can request to add Fried Rice ($8) which will be fried on the grill pan with kimchi and a sweetish Korean chilli paste. As ours was fried, I didn't feel as if my palate was being cleansed. It felt like yet another dish being served up. But if you don't want the fried rice, you can just stick to the scorched rice soup which already comes along with the set.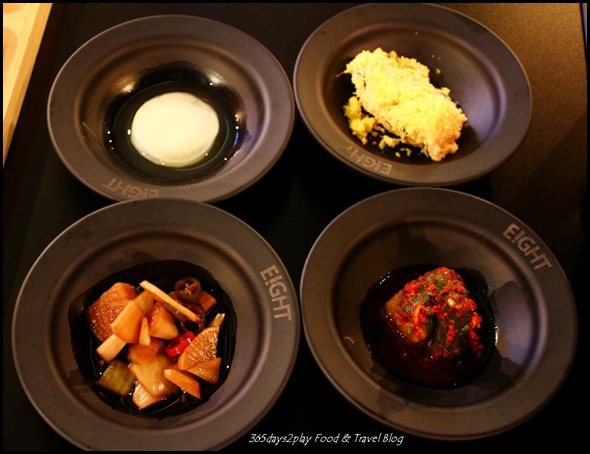 Complimentary banchans, or small Korean appetisers that are the feature of every Korean meal. I heard that Korean housewives pride themselves on the number of banchans they can produce. It's laborious to have to make numerous different types of dishes, and in such small amounts too.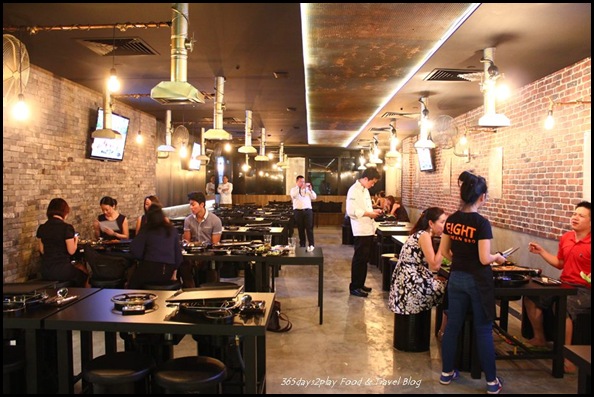 The place smacks of a raw industrial design with a number of TV screens featuring the latest Korean MTV videos. A bit too teenager type if you ask me. Do you see the rounded black things by each table? Those are the seats, and if you lift the cushioned bit off, a bin like bottom will be revealed for you to store your bag. Quite convenient because then you don't have to worry about keeping your bag safe with you while you dine, because someone would have to drag you off your seat before they can steal your bag!
---
Add me on Facebook, Instagram and Twitter if you want to be kept up to date with the latest happenings in the food and lifestyle scene in Singapore! 
---
E!GHT Korean BBQ
Address: 6 Eu Tong Sen Street, #02-79/90 The Central Singapore 059817
Telephone: 6222 2159
Facebook: https://www.facebook.com/8KoreanBbq
Opening Hours: 11.30am — 2.30pm Lunch (Last Order 2pm)
5.30pm — 11pm Dinner (Last Order 10pm)
Floor Space: 2,500 sq ft. including the outdoor dining area
Seating Capacity: 98 indoors, 32 outdoors
Private Rooms: Outdoor balcony area available for private events
Credit Cards: Amex, Visa, Mastercard
Lunch Promotions: Chicken ($15) / Pork Belly ($16) / Beef Brisket ($17) Chul Pan. Minimum 2 orders
Executive Chef: Chef Kim Chang Hyeon
Other Korean BBQ restaurants