Those of you who love Thai food, you may want to sit up and read more because Feast @ East Buffet Restaurant will be welcoming you to the land of smiles. Only for a short period from 18th October to 3rd November, the restaurant will present Thai cuisine favourites on their buffet line. From well-known must-haves of Tom Yum Goong and Pad Thai, to the familiar Spicy Thai Herb Salad and Prawn Spring rolls, you can find it all at Feast @ East.
To end off the buffet with a little something extra, all diners including children will be treated to a can of coconut drink. If it's dinner, adult diners will have a chocie of a complimentary can of coconut drink, a glass of draught beer or a glass of wine! For the pricing, it's quite a good deal!
We were kindly invited down for a tasting at Mercure Hotel last week just before the buffet promotion started. What you see here will be available at the buffet line but not in the exact same presentation.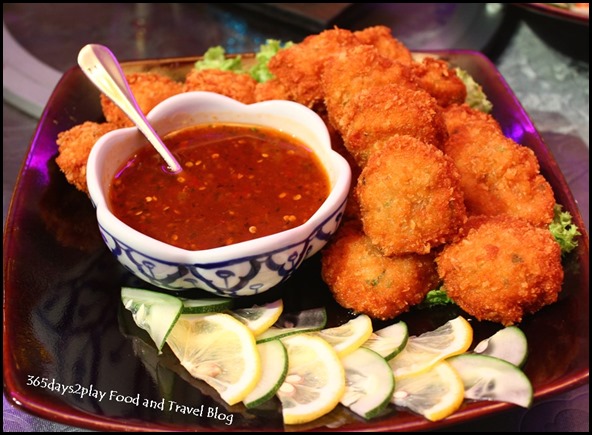 Thai Prawn Cakes
The Thai Prawn cakes were undoubtedly my favourite dish of the evening. They were sizzling hot, crispy and a little bit bouncy. It was fun to eat them. The sweet chilli sauce provided is a must try as well as it really enhances the prawn cakes. I was a little greedy and took 2 pieces!
Red Beef Curry