Those of you who love Thai food, you may want to sit up and read more because Feast @ East Buffet Restaurant will be welcoming you to the land of smiles. Only for a short period from 18th October to 3rd November, the restaurant will present Thai cuisine favourites on their buffet line. From well-known must-haves of Tom Yum Goong and Pad Thai, to the familiar Spicy Thai Herb Salad and Prawn Spring rolls, you can find it all at Feast @ East.
To end off the buffet with a little something extra, all diners including children will be treated to a can of coconut drink. If it's dinner, adult diners will have a chocie of a complimentary can of coconut drink, a glass of draught beer or a glass of wine! For the pricing, it's quite a good deal!
We were kindly invited down for a tasting at Mercure Hotel last week just before the buffet promotion started. What you see here will be available at the buffet line but not in the exact same presentation.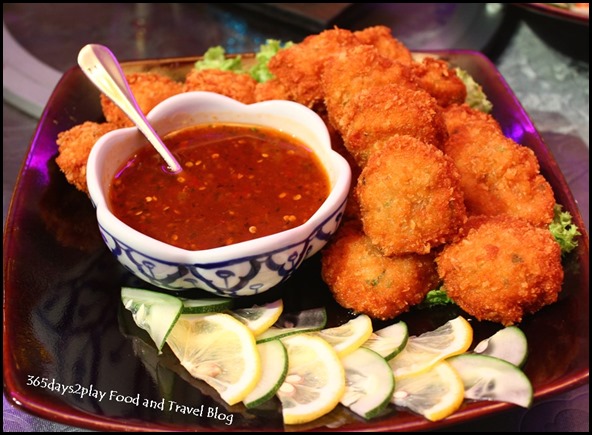 Thai Prawn Cakes
The Thai Prawn cakes were undoubtedly my favourite dish of the evening. They were sizzling hot, crispy and a little bit bouncy. It was fun to eat them. The sweet chilli sauce provided is a must try as well as it really enhances the prawn cakes. I was a little greedy and took 2 pieces!
Red Beef Curry
My next most favourite dish had to be the red curry beef. This was quite a favourite amongst those who attended the tasting session although some did say that the beef taste was a little strong. As for me, I don't find the taste of the meat to be overly strong, and in fact, why eat beef if you don't like the taste of beef? Anyway, the curry wasn't a killer in terms of spiciness, which is good for me. I also found the beef slices to be very tender. This would go really well with lots of steaming hot jasmine rice.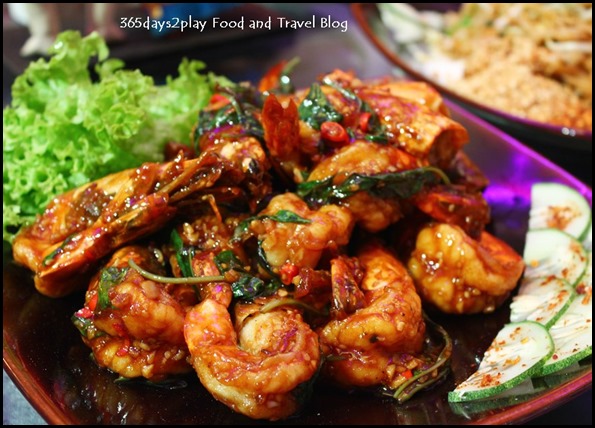 Goong Ka Pao (Stir-fried prawn with Thai Basil)
The prawns were pretty good too. I love basil and how it instantly gives any dish a Thai flaire to it. The prawns were succulent and best of all, they were properly deveined and thus easy to eat. The sticky sweet and spicy sauce lent an appetising flavour to the prawns.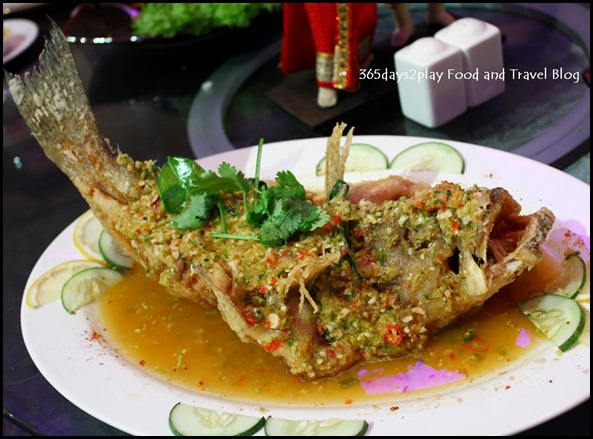 Deep-fried seabass in thai chilli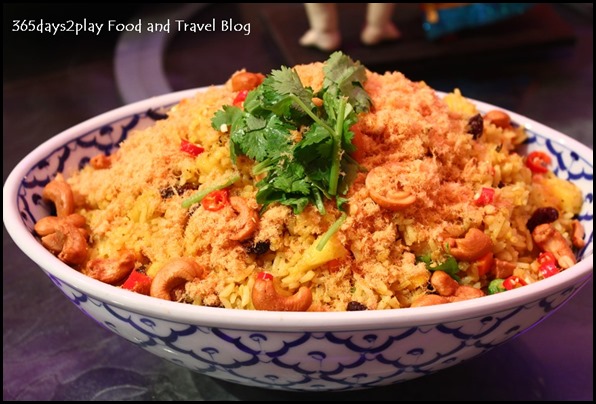 Pineapple Fried Rice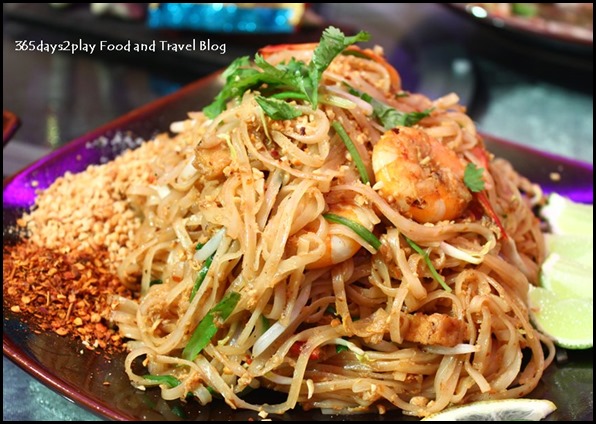 Pad Thai
The Seabass, Pineapple Fried Rice and Pad Thai were pretty ordinary if you ask me. Go for the 1st few dishes if you have limited stomach capacity.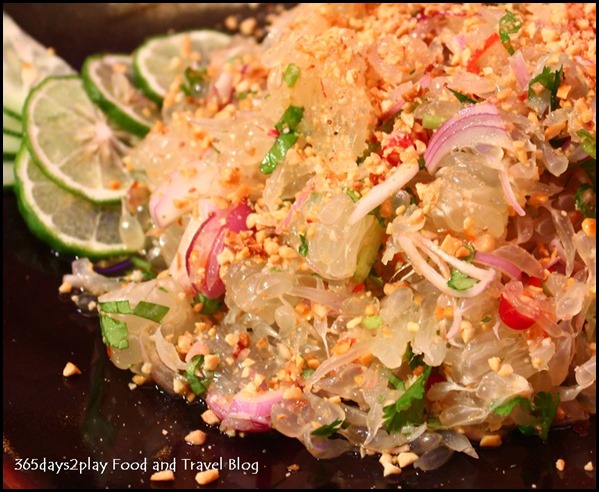 Yam Som Oh (Pomelo Salad)
The Pomelo Salad is also very good as a starter to the entire meal. There is sweetness from the pomelo pieces, yet there is also chilli and lime to kick start your tastebuds and to put some zing into the dish. I would have shovelled more into my mouth if not for the fact that this was surprisingly, very very spicy! A spoonful of this packs a mighty punch, and probably enough to chase away any sore throat or colds virus that you may have.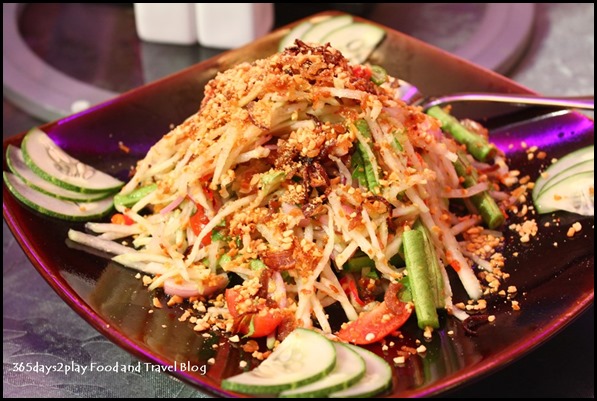 Som Tam (Green Papaya Salad)
The Papaya Salad is also another appetiser option if you so wish. But for me, I find it a tad too raw for my liking what with the raw long beans as well. Never fancied raw long beans, do you?
And last but not least, Thai desserts to end off the meal! We have here Mock Jackfruit, Thai Glutinous Rice with Mango, Tako, Tapioca Caramel with Coconut Milk, and Banana Fritters.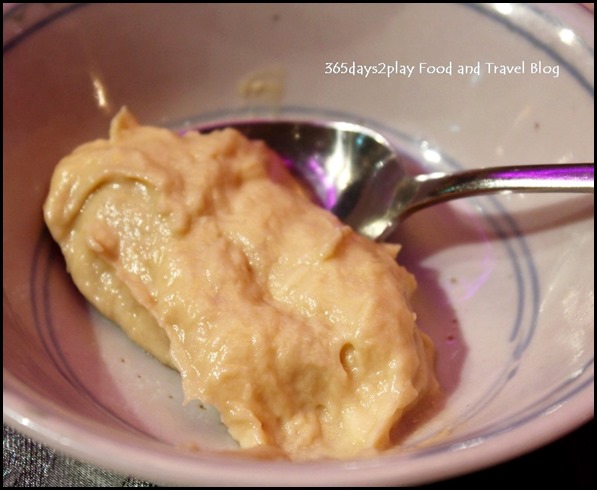 Durian Pengat
But if you ask me, the piece de la resistance in terms of desserts has got to be the perennial favourite, the durian pengat. Feast @ East does a very good version of this durian pengat and it's almost like eating real durians except sweetened and pureed! If you can't make time for the buffet, you can even buy this from the Feast @ East counter on the 1st floor. It's one of the best durian pengats i have ever eaten.
---
Lunch (Monday to Sunday)
Adult : $43 ++  Child : $22 ++  Senior Citizen : $35 Nett
Dinner (Monday to Thursday)
Adult : $46 ++  Child : $23 ++  Senior Citizen : $36 Nett
Dinner (Friday to Sunday, Eve of Public Holiday and Public Holiday)
Adult : $48++  Child : $24 ++  Senior Citizen : $38 Nett
---
Add me on Facebook, Instagram and Twitter if you want to be kept up to date with the latest happenings in the food and lifestyle scene in Singapore!
---
Feast @ East Buffet Restaurant
Grand Mercure Roxy Singapore,
Level 3, 50 East Coast Road, Roxy Square (Opposite Parkway Parade Shopping Centre)
Http://www.feastateast.com.sg  Tel : 6340 5665
Read about my review on Jia Wei Chinese Restaurant at Mercure