[Weekends in the Park Series]
With the cool weather that we have been experiencing these days, it's the best opportunity to enjoy Singapore's great outdoors! And what better way than to explore Fort Canning Park this weekend, 4th March 2017, for a full day of fun and free activities!
Gastronomic Trail
Yoga and Wellness Breakfast – Hotel Fort Canning (8.30am – 9.30am)
Cooking with Spices Demo – Lewin Terrace Restaurant (11.30am – 1.30pm)
Cake Frosting Demo – Fabulous Baker Boy (3pm – 4pm)
Sushi Art & Mixology Demo – Fort @ Maison Ikkoku (4pm – 5pm)
Guided Tours
WWII Bunkers – Battlebox (9.15a – 10am)
Spice Garden Tour – Spice Garden near BattleBox (10am – 11.30am)
Heritage on the Hill Tour – Roundabout near BattleBox (4pm – 5.30pm)
Movie Screening
Watch Forever Fever under the stars at Lawn @ The Foothills (7.30pm – 9.30pm)
Fringe Activities (5.30pm – 7.30pm)
Games and activities for children
Music performances
Bouncy Castles (All Day)
Pottery Exhibition by Yukiharu Fururo at Fabulous Baker Boy (11am – 10pm)
The above activities are FREE! To register or to find out more, visit http://www.nparks.gov.sg/weekends.
A few of us had the privilege of having a preview of the exciting activities lined up. Check out my photos below!
Lewin Terrace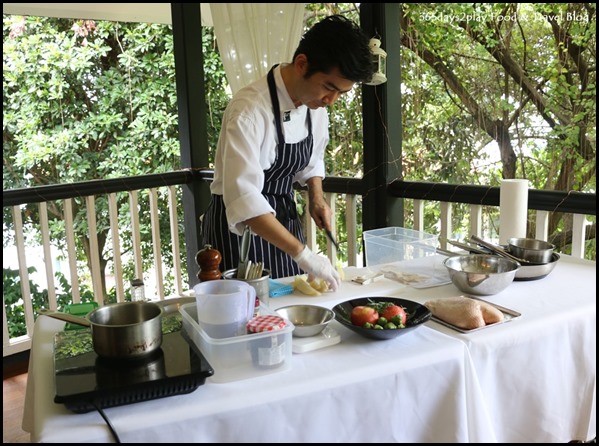 Chef Hiroyuki Shinkai demonstrating how to prepare sauted duck with spices. Did you know that Fort Canning Park boasts a spice garden? It would be really educational for the kids to have a walk around the spice garden, followed by watching a cooking demonstration of how spices are incorporated into the dishes that we consume.