My first day in Taipei was a pretty gloomy one, not because the people were unfriendly, but because the sky was overcast. Thankfully, we got blessed with sunny skies and really good weather the next few days, as compared to the dreary rain we'd heard about the week before.
From Taipei's Taoyuan International Airport to my hotel in Ximending took just over an hour's ride in a taxi. Amba Hotel is located right smack in the middle of Ximending, about a 5 minute brisk walk to the Ximen MRT Station. It was really good to have this hotel on our first night because you don't have to fret over maps or farecards. You just pop downstairs and all the shops, eateries and food pushcarts of Ximending are at your service! Another good reason to choose a hotel in a bustling area is so that you can easily pop back to the hotel to offload your heavy loot before continuing with round 2, or 3 for that matter.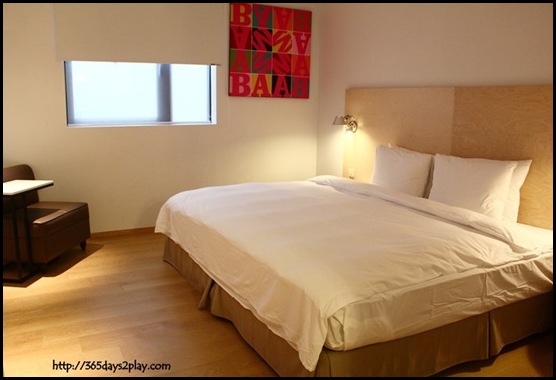 This was the room that I got at Amba Hotel. Huge ass king size bed to roll around in!!