My first day in Taipei was a pretty gloomy one, not because the people were unfriendly, but because the sky was overcast. Thankfully, we got blessed with sunny skies and really good weather the next few days, as compared to the dreary rain we'd heard about the week before.
From Taipei's Taoyuan International Airport to my hotel in Ximending took just over an hour's ride in a taxi. Amba Hotel is located right smack in the middle of Ximending, about a 5 minute brisk walk to the Ximen MRT Station. It was really good to have this hotel on our first night because you don't have to fret over maps or farecards. You just pop downstairs and all the shops, eateries and food pushcarts of Ximending are at your service! Another good reason to choose a hotel in a bustling area is so that you can easily pop back to the hotel to offload your heavy loot before continuing with round 2, or 3 for that matter.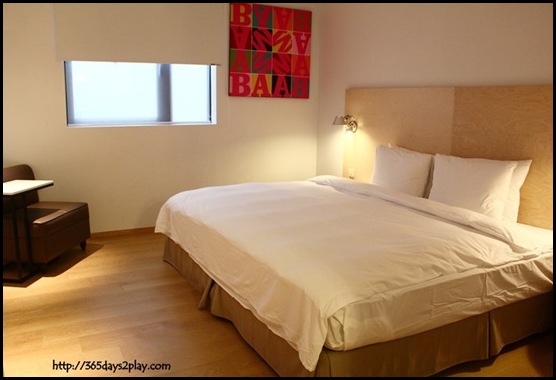 This was the room that I got at Amba Hotel. Huge ass king size bed to roll around in!!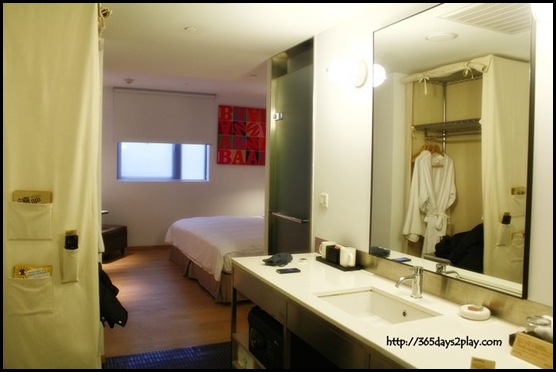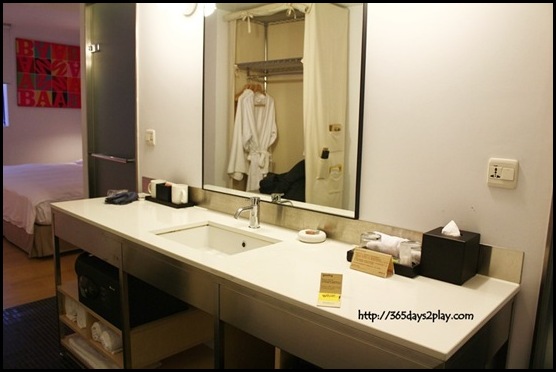 All the stuff is complementary. There is free wifi throughout the entire hotel. It seems that it is normal practice to also provide a small bag of chips, which I think is a thoughtful gesture. Not sure if it is just because it's this particular hotel chain, but all the toiletries were also of better quality. For example, the little piece of soap you see near the tap, it is locally made and has bits of ginger in it to promote vitality (that sort of spa lingo you know). I quite liked using it and wanted to purchase a full size one but it cost NT200 (SGD$10) so I said forget it.
Notice the socket head, it's universal so I didn't have to use my own adaptor. Really, all hotels should provide these as it's really a pain to have to carry extra adaptors around. Do you know how many things I have to charge in 1 night? DSLR Camera Battery 1, DSLR Camera Battery 2, Point & Click Camera Battery, Handphone Battery, Laptop Battery! I made the mistake of bringing only 1 adaptor so I was really thankful for the universal socket. But even then, not all the sockets were universal, the ones at the bedside were normal Taiwanese type.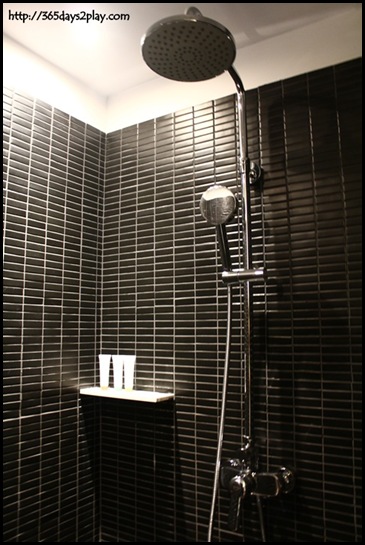 Rain shower head, another common feature it seems…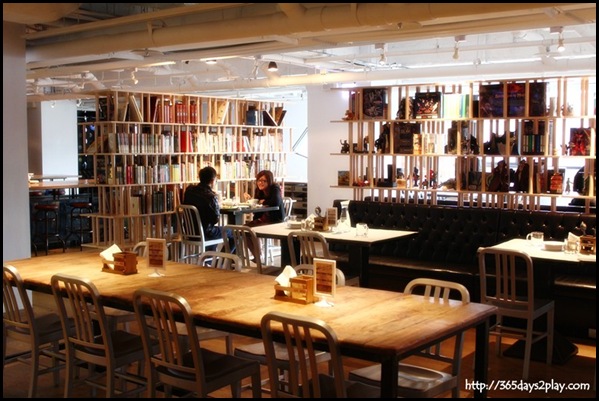 I slept really well the first night. I didn't hear any noise from the roads even though the rooms on my side face one of the shopping streets. I am lucky that I am usually able to sleep pretty okay in hotels. Hard bed, soft bed, air bed, sleeping on mattresses on the floor, sleeping through thunder and lighting and noisy construction sites, I've done it all. The one thing that I've yet to conquer is sleeping (soundly) on-board a plane DAMN IT!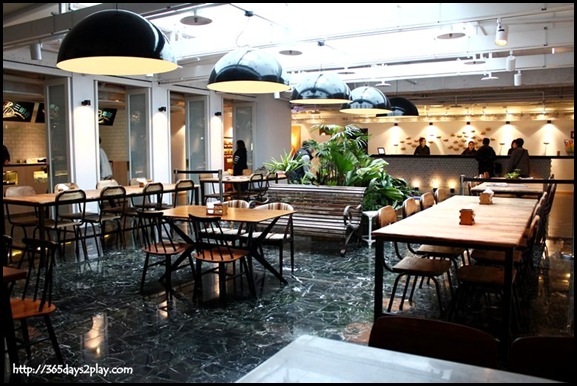 Well, I slept SO WELL, I woke up late for breakfast! Thank god MissTamChiak helped me to get some cereal!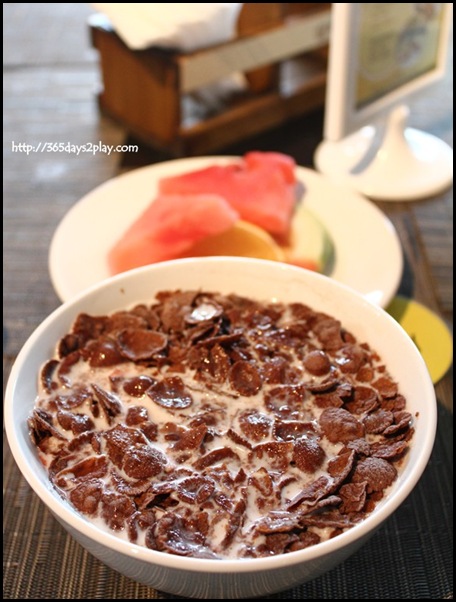 My punishment for not waking up on time. It was okay though, lunch in 2 hours time so I wouldn't have starved anyway.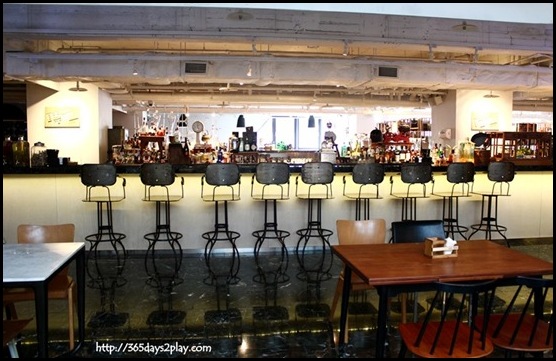 Chiba Restaurant – Very nicely furnished hotel restaurant that Amba Hotel has.
台北西門町意舍飯店(Amba Hotel)
Address 地址:台北市武昌街2段77號(é è¿'昆明街口)
77 wuchang street, section 2, taipei 10843 taiwan
Telephone 電話: +886 2 2375 5111