On the 2nd day of our sponsored whirlwind trip to Taiwan, we were brought to a modern establishment that specialises in Zha Jiang Mian 炸醬麵 / 炸酱面. For some reason, I was expecting a sort of traditional noodle house as I was informed that Shuang Ren Hsu specialises in traditional tasting 炸酱面, Imagine my surprise when we stepped into a small restaurant that looked the exact opposite of traditional. It even had a huge wall mounted projector screen showing some video.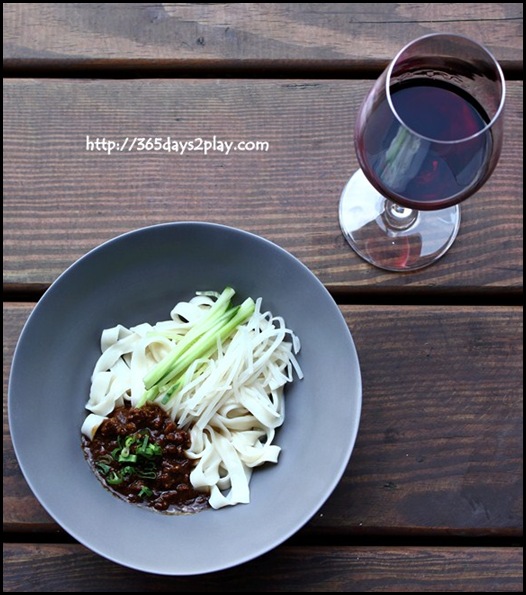 I think this photo above epitomises how avant-garde Shuang Ren Hsu is! Who would have thought of pairing 炸酱面 with red wine?? Why not? In fact, that is the question posed by the owner of Shuang Ren Hsu who joined us for lunch. This is definitely not your 15 minute 炸酱面 stall. The average customer spends more than an hour dining here, replicating the "French" dining experience by pairing the dishes with various wines, luxuriating over the meal as well as conversation. I love this wine pairing concept with Chinese food, and the idea of savouring the meal through several courses!
The average Chinese person eats faster, way faster than the average Westerner. This is partly due to the fact that you have to eat quickly in communal dining or you might just end up with the scraps. I've never really appreciated this and I like to buck the trend by taking my time to savour every morsel. I loath it when people tell me I eat slowly. If I'm in a good mood, I tell them that the French take 3 hours to ENJOY dinner. That instantly puts things in a different perspective doesn't it? If I'm in a bad mood, I ask them why are we eating so fast like dogs?