*Media Invite*
When you think of hotel restaurants, Chinese, Japanese, Italian and French cuisine tends to come to mind. So it was quite refreshing to discover that the newly opened Bay Hotel just opposite Vivocity boasts of an Indonesian restaurant! If you ask me, a tourist searching for local Singaporean food would find more similarity in Indonesian cuisine than say Japanese cuisine, so having an Indonesian restaurant in a hotel sounds like the most logical thing to do.
It was a pretty cosy lunch as there were only 3 other bloggers (Yumyumformytumtum, HoChiak and Oyster Diaries) and Dennis She of Publicist PR Communications who hosted the lunch. OH btw, I discovered after lunch that both Yumyum and Oyster Diaries hail from the same JC as I. Is it a small world or what?!
Anyway, back to the food. Rumah Rasah believes on delivering authentic and ibu-esque flavours. Therefore, short cuts go out the window. The rempah paste is made from scratch. Rempah is the building block of any dish and how good the rempah is will dictate how great the dish is. Also, if you order the belado dishes (belado is a chilli-based sauce), you will notice that the belado is laboriously-prepared using a variety of fresh ingredients like chillies, chilli padi, garlic, red shallots, calamansi and toamtoes.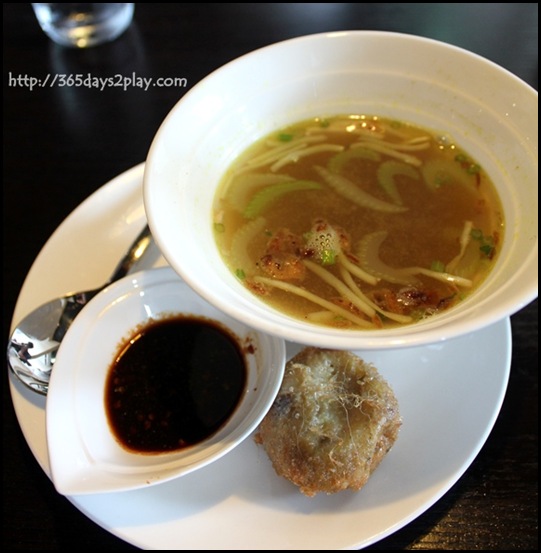 Soto Ayam Madura (A hearty chicken broth with Shredded Chicken, Bean Sprouts and topped with a Potato Croquette) $8
We started the meal with this Soto Ayam Madura. It's a thin broth that packs a punch. Kind of reminded me of French onion soup, where one doesn't find many onions in the soup yet you know it's distinctly onion soup. I find it to be quite different from those you get at the hawker centres, in that this doesn't taste oily or fattening. The begedil/potato croquette was very tasty as the potato was super fluffy.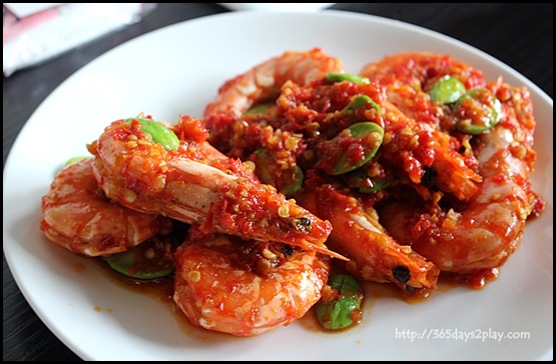 Udang Petai Belado (Prawns Stir-Fried in Chilli gravy with Petai Beans) $18
Here you can see the Belado, which looks very similar to sambal, yet isn't quite. The prawns were fresh tasting and succulent. I personally don't like the Petai Beans aka smelly beans, but I found that the bitter flavours infused into the prawns and complemented the sweet prawns.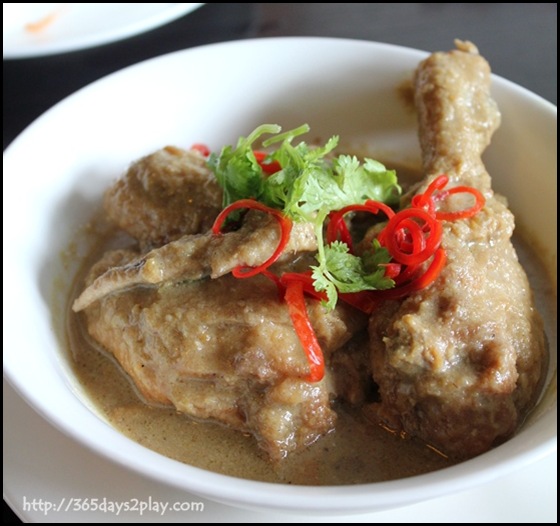 Ayam Korma (Chicken simmered in Mild Yellow Curry) $14
Believe them when they say it's mild, cuz the curry really was very mild to the extent that it tasted more like spiced up gravy. I did like the chicken however, which I found to be very tender.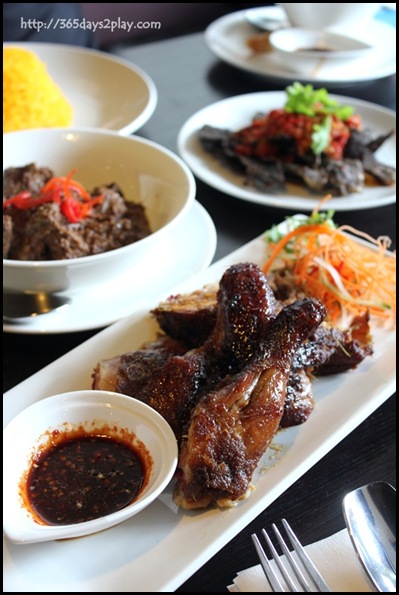 Ayam Panggang Berkakak Jakarta (Grilled Chicken served with Rumah Rasa's Spicy Sauce) $14
Love the grilled chicken! The chicken didn't even need the spicy sauce on the side as it had been marinated in a sticky sweet sauce itself. Very tasty and tender. Finger licking good, if I may borrow the phrase.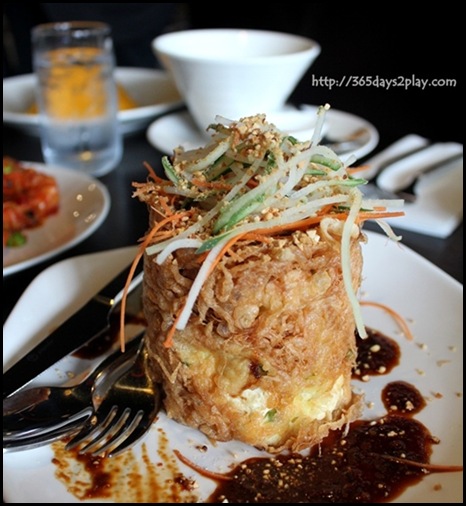 Tahu Telur Surabaya (Fried Beancurd and Egg Combo, topped with Sweet & Spicy Dark Sauce) $8
Looking at this dish, I was afraid that it would be eating a sponge full of oil, but it wasn't oily tasting. There was quite a bit of egg in this tower, more so than bean curd in fact. Good for those who like fluffed up eggs but I personally would prefer a more bean curdy version. Would also be nicer if crispier. The sweet and spicy dark sauce on the side was very good though and went well with the bits of bean curd that I had.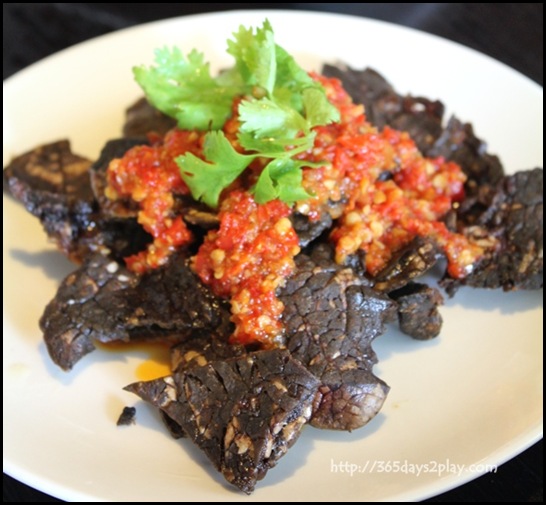 Paru Belado (Crispy Beef Lungs served with chopped chilli and onions) $12
Beef lungs. This might take some getting used to even for people who are used to eating innards. I never have a problem with eating innards so I was very keen to try this out. Anyway I've eaten beef lungs on a previous occasion. The beef lungs were not as crispy as we had expected. I guess we took a while to take the pictures because Dennis said that in a previous tasting, the beef lungs were indeed very crispy. Still, I liked the beef lungs very much. I ate like 6 pieces. For the 1st piece, when it was still rather hot, it kind of had the texture of meat. If I had my eyes closed, I might have thought it to be beef with a slightly altered flavour. As the beef lungs got colder, they got more chewy, and began to taste more like what you would imagine innards to taste like, but still pretty enjoyable. MUST ORDER.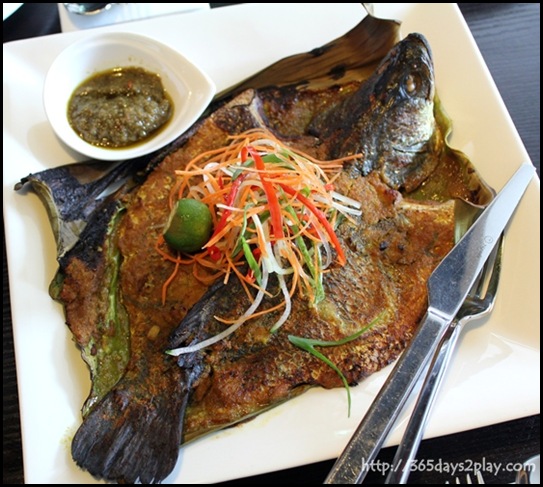 Ikan Bakar Rumah Rasa (Charcoal Grilled Red Snapper topped with Rumah Rasa's Homemade Spicy Sauce) $28
I believe we were served sea bass instead of red snapper for some reason. For someone who is very particular about fish, I found this dish to be excellent! The fish was cooked just right so every morsel I had was supremely tender and moist, yet still retaining a crisp skin. Each fish is marinated for several hours in tumeric, and even though it didn't exactly have a very strong tumeric flavour to me, I did find the fish to be distinctly flavoured. Must order!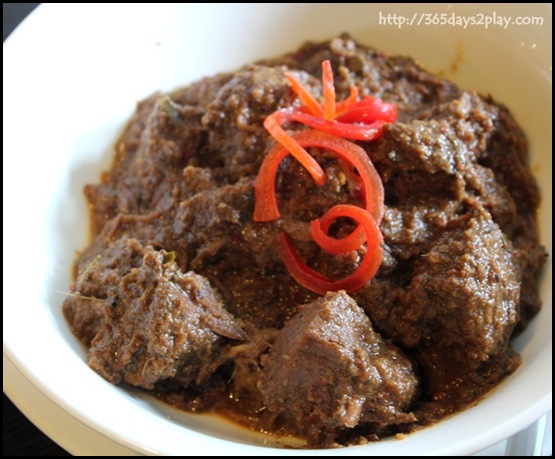 Rendang Sumatra (Beef simmered in spicy coconut gravy) $14
This was also another excellent dish. Having been simmered and stirred for several hours, the beef was extremely tender. Each piece I had broke apart easily and almost had the melt in the mouth texture. The spicy coconut gravy was spicy and rich enough which gave the dish extra oomph. Another must order!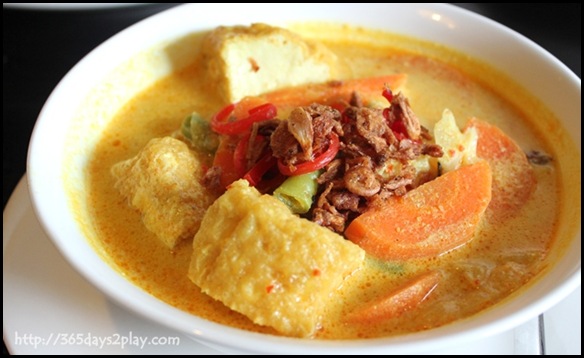 Sayur Lodeh (Mixed vegetable in fragrant coconut gravy) $8
Okay this one, all of us found to be too mild. I would almost say that it tasted diluted! Unfortunately, this is probably the worst tasting sayur lodeh gravy I have ever had. You could probably find a better version in any hawker centre without trying too hard. The ingredients such as the bean curd and mixed vegetables were quite okay though, and the vegetables still retained a bite. Which kind of makes me wonder if this is a special Indonesian Sayur Lodeh that we Singaporeans aren't used to?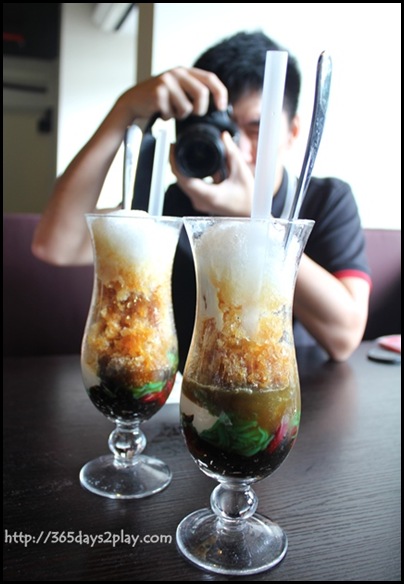 Chendol $6
All of us ordered Chendol as our dessert drink. They were very generous with the ingredients as well as the gula melaka so it was a deliciously sweet end to the meal. As you can see from the photo, there's a lot of empty space in between the ice. I was expecting them to fill up the glass with liquid, but they didn't. So, after stirring all the ice together with the syrup at the bottom, the glass became half full! Weird but luckily it was still nice and not overly sweet.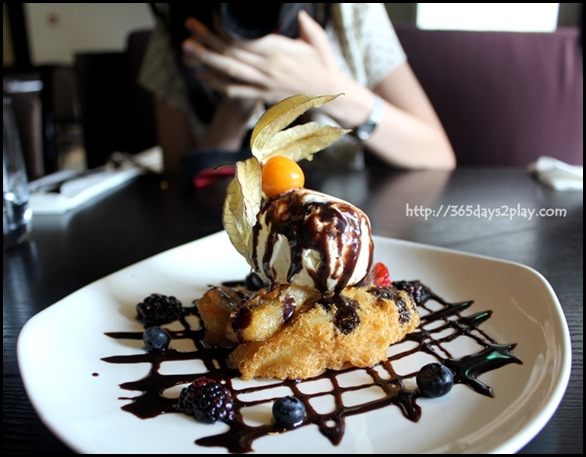 Banana Fritters $8
We also ordered banana fritters to share. An interesting take on this local dessert. I found the bananas to be delicious, soft and sweet, and the fritter parts to be crispy and not too thick/oily. However, I didn't think that the ice cream complemented the banana fritters very well, and on the contrary, were starting to make the crisp coating soggy.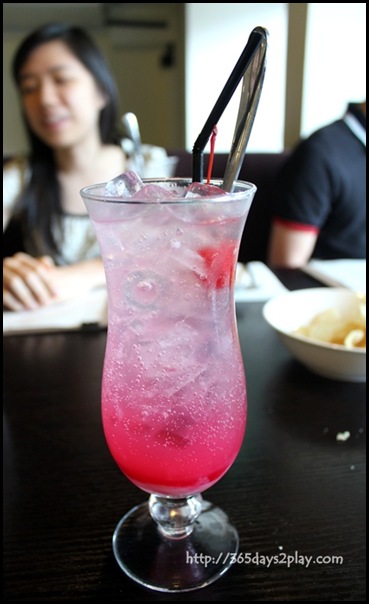 Soda Gembira (Rose Syrup, Evaporated Milk and Soda) $6
Oh this is another drink I had throughout the meal. This is a twist on the Bandung drink that we all grew up with. Instead of full on Bandung, they've added soda water to it, so it's kind of like a Bandung flavoured soda drink. I still prefer the original Bandung as I love mine to be very milky, but I enjoyed this soft drink very much nonetheless.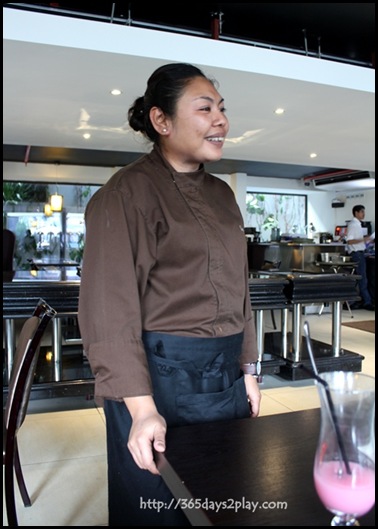 Chef Sharifah came out to say hi. She hails from a family with tradition in preparing Malay and Indonesian fare. And she has also worked in places like SATS, Raffles Hotel and even St Regis! Now, she helms Rumah Rasa.
Cosy booth seats. A whole group of colleagues were sitting in one of these booths and looking like they were having a great time.
Well, what do you think? If you're working in the Harbourfront or Mapletree Business City area, you should check out Rumah Rasa!
*Thanks Dennis for hosting the cosy lunch!
Rumah Rasa
Bay Hotel Singapore
50 Telok Blangah Road
Singapore 098828
(Hotel entrance via Temenggong Road)
Tel : 6818 6681
http://www.bayhotelsingapore.com/