Day 5 of 365days2play's Honeymoon in Luxembourg, Germany & France
As part of our stay at the Chateau D'Isenbourg, we were treated to a sumptuous feast at the hotel's resident restaurant, the Les Tommeries. Les Tommeries is lovely, with numerous grand arched windows to enjoy the view of the vineyards just beyond. In the Summer, you can also partake in your meals on the al-fresco verandah, which must surely be an exciting thing to do. Scroll down to see pictures of the verandah and vineyard.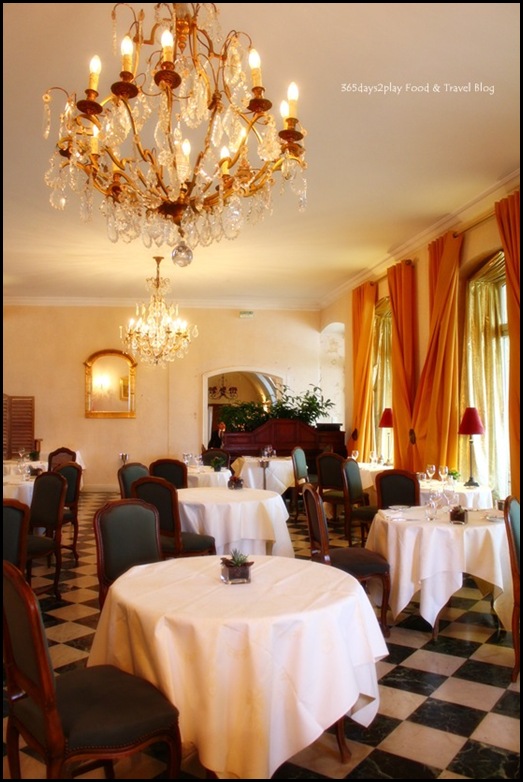 In a Louis XV style, its crystal chandeliers and stone flooring somehow brings me back to a bygone era.
Amuse Bouche
We were treated to a lovely palate pleaser in the form of a foie gras pate. I love pates and a foie gras pate is obviously even more delectable. The little block of pate smooth and rich tasting. I could have eaten the whole thing easily but I decided to limit myself to only half as it is very satiating! Don't want to be too full for my mains!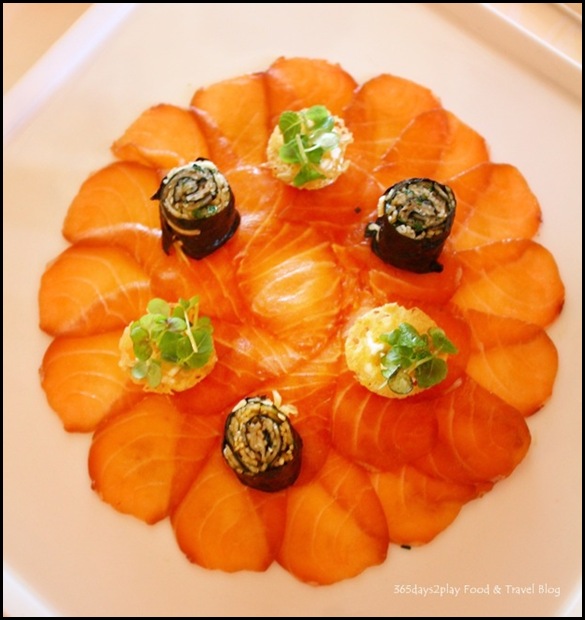 Salmon marinated in soy and sesame, crisp white cabbage wasabi cream 22 Euros
The Partner scored a homerun with this fantastic salmon starter. The chef must have taken pains to lay out each sliver of salmon in this eye-catching geometric shape. The Asian-inspired marinade was a welcome change from European flavours and I think I must have enjoyed this starter more than the Partner!