Day 5 of 365days2play's Honeymoon in Luxembourg, Germany & France
As part of our stay at the Chateau D'Isenbourg, we were treated to a sumptuous feast at the hotel's resident restaurant, the Les Tommeries. Les Tommeries is lovely, with numerous grand arched windows to enjoy the view of the vineyards just beyond. In the Summer, you can also partake in your meals on the al-fresco verandah, which must surely be an exciting thing to do. Scroll down to see pictures of the verandah and vineyard.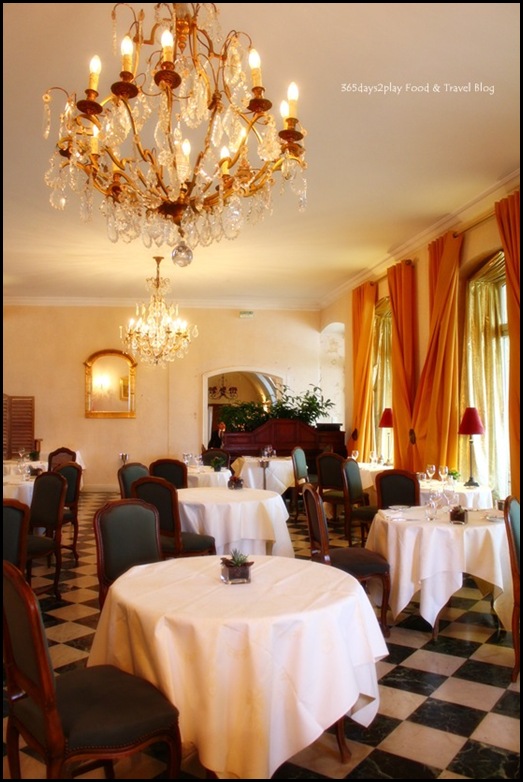 In a Louis XV style, its crystal chandeliers and stone flooring somehow brings me back to a bygone era.
Amuse Bouche
We were treated to a lovely palate pleaser in the form of a foie gras pate. I love pates and a foie gras pate is obviously even more delectable. The little block of pate smooth and rich tasting. I could have eaten the whole thing easily but I decided to limit myself to only half as it is very satiating! Don't want to be too full for my mains!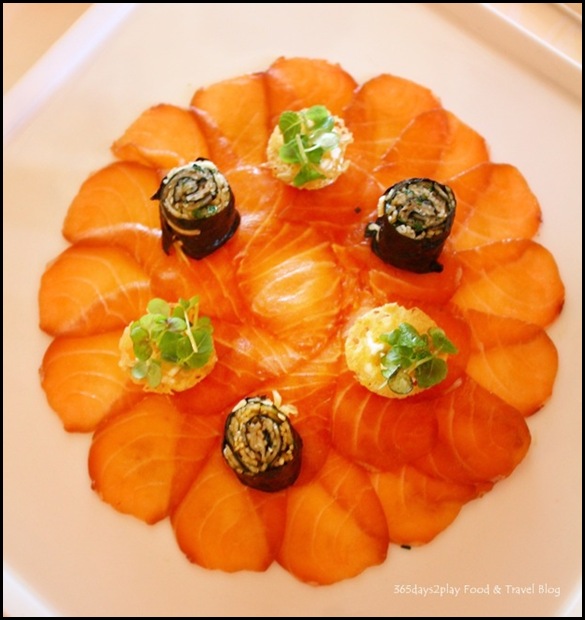 Salmon marinated in soy and sesame, crisp white cabbage wasabi cream 22 Euros
The Partner scored a homerun with this fantastic salmon starter. The chef must have taken pains to lay out each sliver of salmon in this eye-catching geometric shape. The Asian-inspired marinade was a welcome change from European flavours and I think I must have enjoyed this starter more than the Partner!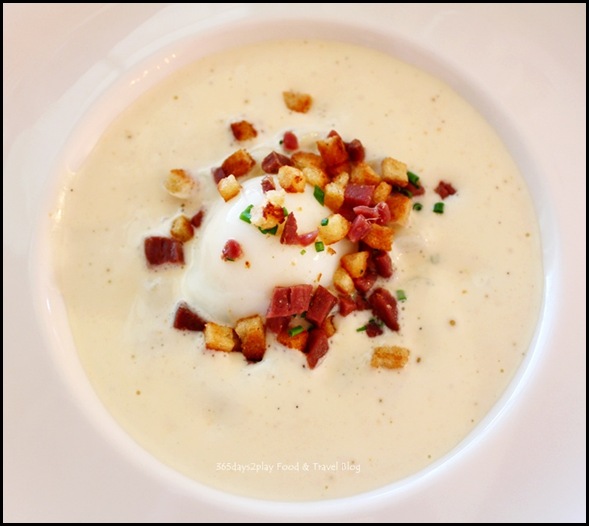 White Asparagus Fricassee, sous-vide cooked egg, parmesan cheese froth and smoked duck breast fillet 21 Euros
I like to be adventurous when it comes to dining out, but I can hardly resist ordering the egg dishes if they happen to be on the menu. Cheese is another weakness of mine, hence the choice to order the parmesan cheese froth with sous-vide egg. It may look like a heavy and creamy dish, it was in fact a rather delicate one. I loved the blend of flavours coming from all the very different types of ingredients, with the asparagus and duck breast providing the bite to the dish.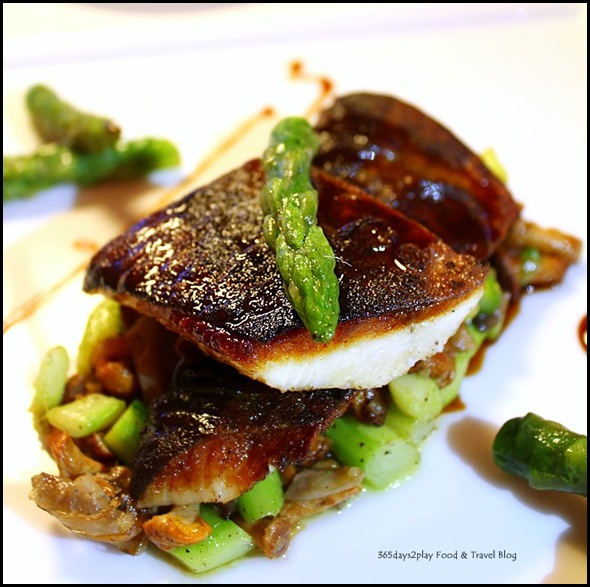 Pike-Perch with morel mushrooms stuffing ballotine, green asparagus and wild garlic pesto 32 Euros
The fish was perfectly grilled, you can see that it has a lovely charred skin yet managing to maintain the tenderness in the flesh. If there was a grouse to this dish, it would be that the fish was a tad too salty. In fact, we would soon realise that all the fish dishes we ordered in France seemed to be too salty for our liking.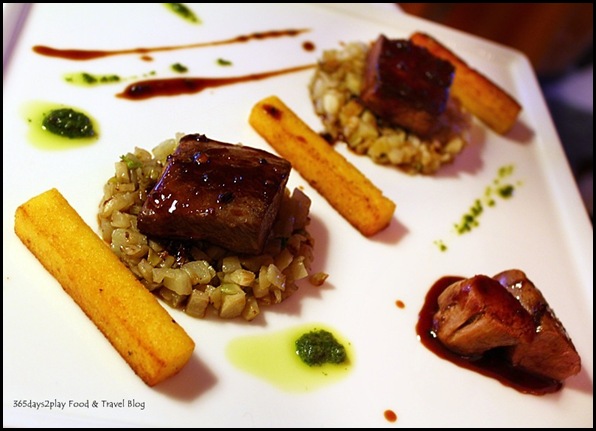 Lamb roasted medallions, crystallized fennel and crisply sauteed polenta 31 Euros
The lamb medallions were to die for! They were as tender as could be, being cooked perfectly medium-rare. The secret sauce added much oomph to the medallions, because lamb on its own is quite mild. It was interesting to serve the fennel root in diced form but it did add a lovely aniseed undertone to the meat. And of course, who can resist fried polenta? It doesn't feel as sinful as eating potato fries, but I guess it must be, because it was so good!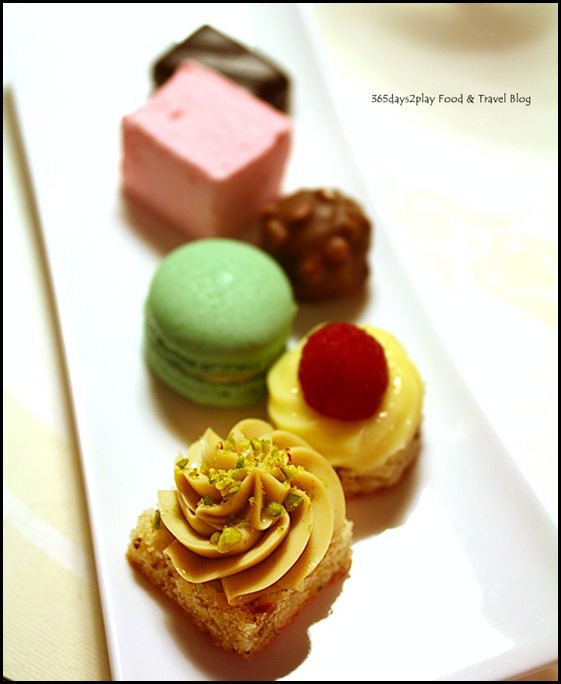 Petit Fours
We were too full after all those dishes to really bother with the pretty petit fours. I tried the macaron, and it was a little too sweet for my liking.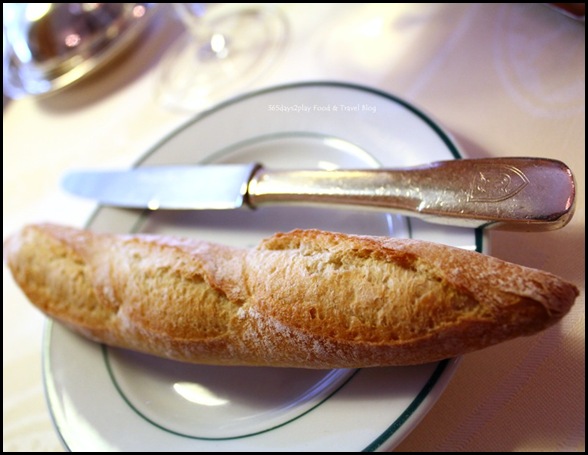 I cannot find a negative word to say about the French breads. They are so darn good! Add on a little bit of AOP butter and it'll be gone in a few seconds! Why can't we have such fragrant and flavourful breads in Singapore? Many fine dining restaurants in Singapore can't even serve up this type of quality bread.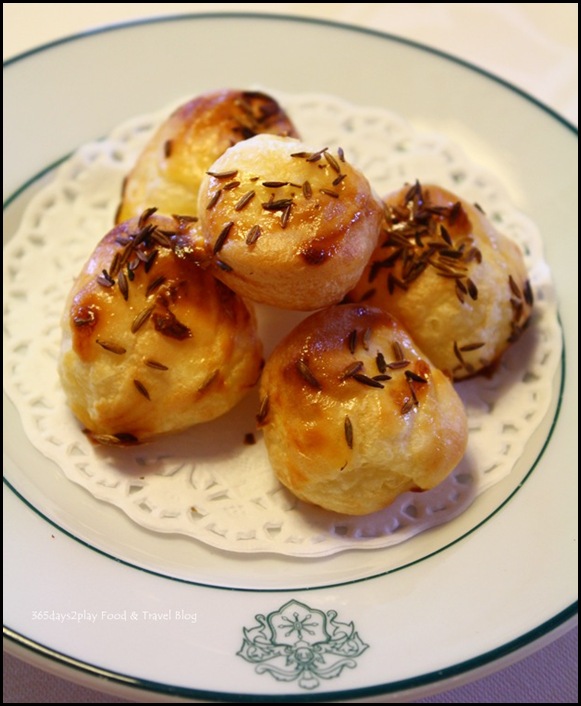 These cheese and cumin puffs were served as nibbles right at the start of the meal. Wish I could have packed a ton of them back to the hotel room…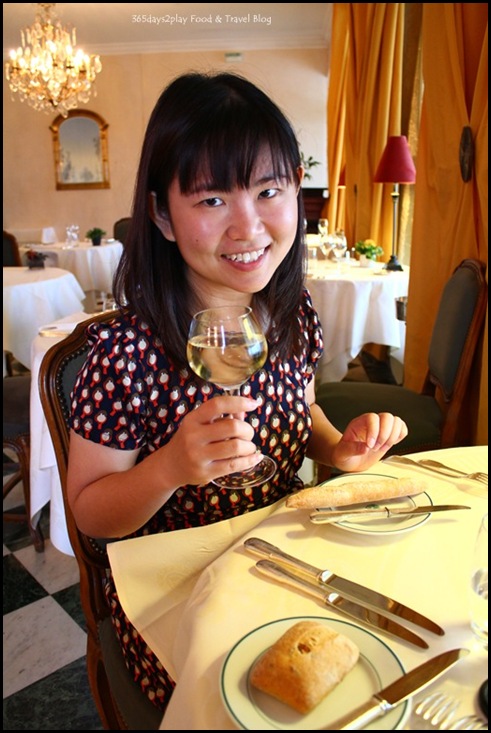 Me drinking copius amounts of wine while in France. You know, it's weird if you don't because its almost as cheap as water?! And of very good quality too. The waiters will look at you sorrowfully if you decide to imbibe tea or water instead, as if you're missing out on one of life's biggest pleasures.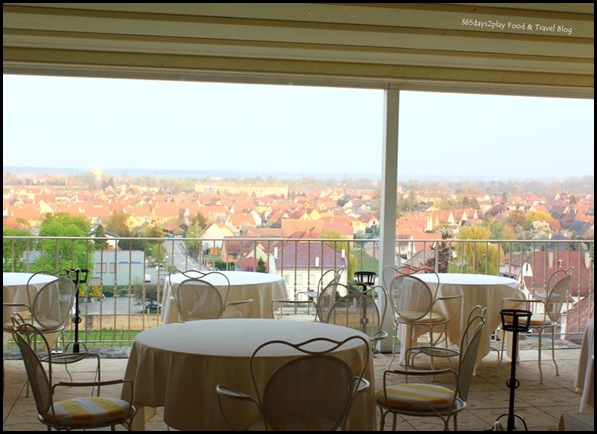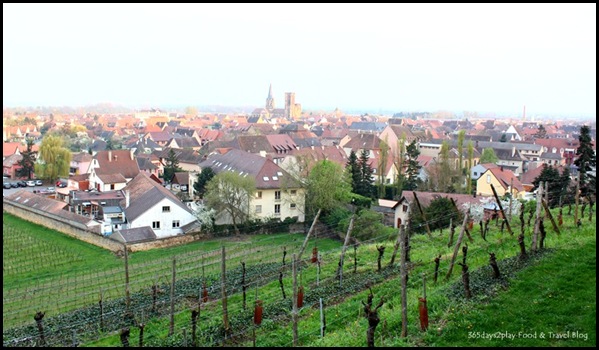 These row of grapevines are on the slopes just below the restaurant. I was told that at one time, the Chateau D'Isenbourg as well as the vineyards were owned by the same person, but he divested the vineyards to concentrate on his core expertise instead. Read about our cycling expedition through the vineyards!
If you are in the Alsace region, or near Colmar / Rouffach, you must try out the Les Tommeries restaurant at Chateau D'Isenbourg! Because it's situated on the hilltop, it probably has the best view in the whole of Rouffach! If you're looking for a romantic restaurant to celebrate a very special occasion, Les Tommeries would be the perfect choice. C'est Magnifique!
~~~~~~~~~
Chateau D'Isenbourg is part of the Small Luxury Hotel of the World group as well as the Grandes Etapes Françaises family owned group. I had the pleasure of staying in 8 SLH properties as well as 3 Grandes Etapes Françaises properties. Thank you very much Chateau D'Isenbourg for the generous hospitality!
~~~~~~~~~
Click here to read more about my honeymoon in France or join me on my travels around the world.
Add me on Facebook, Instagram and Twitter if you want to be kept up to date with the latest happenings in the food and lifestyle scene in Singapore!
~~~~~~~~~
Les Tommeries at CHí'TEAU D'ISENBOURG
Route de Pfaffenheim – 68250 Rouffach
Tél : +33 (0)3 89 78 58 50 — Fax : +33 (0)3 89 78 53 70
isenbourg@grandesetapes.fr
http://www.chateaudisenbourg.com/
http://www.slh.com/hotels/chateau-disenbourg-hotel/