It's Monday today everybody!!! Hope you've had a great start to the week cuz it's bloody hot outside! I'm so glad I can retreat to the confines of an air-conditioned room and I hope you can too. My sympathies to those who work at the open-air road shows, teachers teaching in non-air-conditioned classrooms etc, I hope you have a cool drink with you. Tourists, do yourselves a favour and try not to come to Singapore during the hot months. May, June and July are always killers in terms of heat. If Singaporeans already feel like melting, are melting in this heat, what chance do you stand if you're from a temperate country? Come back again in December, that would be my most sincere advice!
I suppose the companies selling air-cons must be doing a roaring trade. In this heat, even fans are no match! It's a wonder how I even managed to survive primary school and secondary school. I don't recall it to have been that sweltering.
If you can't escape the heat, I guess the next best thing to do would be to arm yourselves with a nice ice cold drink. Here are some suggestions for iced chocolate or iced coffee. Helps to tide you through the Monday Blues too!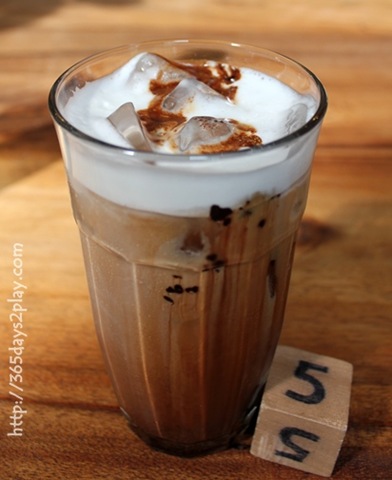 Iced Cafe Mocha $6.50 from Toby's Estate