Who you looking at?
It has been a while since we last visited the Katong area so we decided to walk around to find somewhere interesting to dine for lunch. Quite a number of interesting eateries have sprouted up in the Katong area, so if you're game for something new, you can just walk along East Coast Road and pick something you like. Many of the new restaurants have funky decor or funky names like Rabbit Carrot Gun!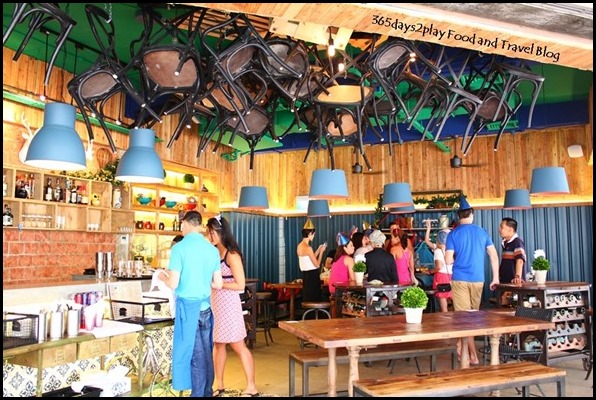 When we went past Lower East Side Taqueria, we just could not resist dining here. Lower East Side is opened by the same people from Spathe. If you recall, this place used to be occupied by the restaurant Kashmir. Love the bright bold colours which instantly makes you feel happy. And there's definitely no lack of chairs I can tell, they can just pluck some from the ceiling if they're running low. It's a non-air-conditioned restaurant btw.
Elote – Grilled Sweet Corn, Paprika, Garlic Butter $6
Lower East Side Taqueria specialises in Mexican cuisine, so you can find Tacos, Burritos and Quesadillas here. I really couldn't resist ordering this corn on the cob. I always prefer to order corn nibblets so that I can shovel the good stuff into my mouth without having to slowly nibble my way through. But still, the taste was worth the effort because the corn had this amazing buttery and grilled flavour it was just mouth watering!