Took the day off on Monday and decided to go cafe hopping with the Partner and my mother. I realise it was a hilariously botched up attempt, definition-wise, because in the entire afternoon that we were out, the combined total of caffeinated drinks we consumed was a grand total of ONE! And it wasn't even a deliberately ordered coffee, it was one that came with the meal that we ordered. But then again, cafe hopping is whatever you want it to be, and we had a swell time (while my colleagues were hard at work in the office).
Our first stop was to My Awesome Cafe. As two out of three of us are very fussy with our food (not going to mention who), I had to make sure that the cafe we were going to had a broad menu. Can't be going to the cafes that only serve mainly cakes and pastries, and My Awesome Cafe fits the bill. Love it when I am in the CBD area on a weekday, it's actually a lovely place to be, if you don't have to be stuck in one of the offices nearby. Many hole in the wall eateries, thanks to the history of the area. Also, many of the cafes and eateries here are closed during the weekend, so your best bet is to come on a weekday.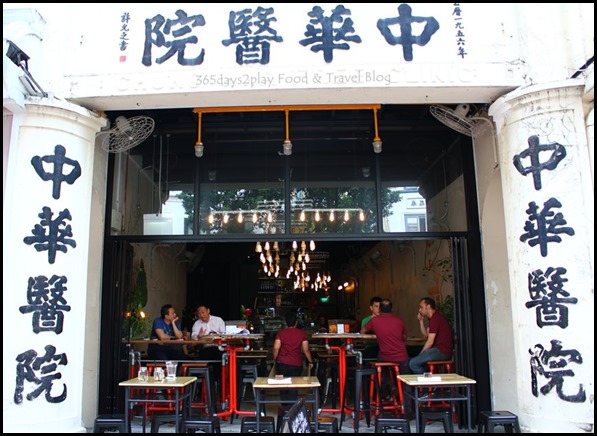 This used to be Chung Hwa Free Clinic. Clinic is long gone but the new owners decided to keep the facade. Wonder if URA has stipulated it to be so?
I partly chose My Awesome Cafe because I wanted to see what the fuss was. You may have heard of horror stories of really bad service here, but when we were there, the service rendered by the cute young waiters was positive. They were friendly and looked happy to be working there. And I suppose since we were there around 2pm which is after the peak period, they didn't look frenzied like what you often see on the weekends.
You can get salads, sandwiches and filled croissants here. The only eggs you'll find are scrambled eggs or boiled eggs, so don't be expecting eggs benedicts here. I hadn't had scrambled eggs in a fairly long time because they are quite often either a hit or a miss for me, so I prefer sunny-side-up or poached. I was almost going to order the duck rillette sandwich but I decided to give the scrambled egg, Parma ham and cheese croissant a try.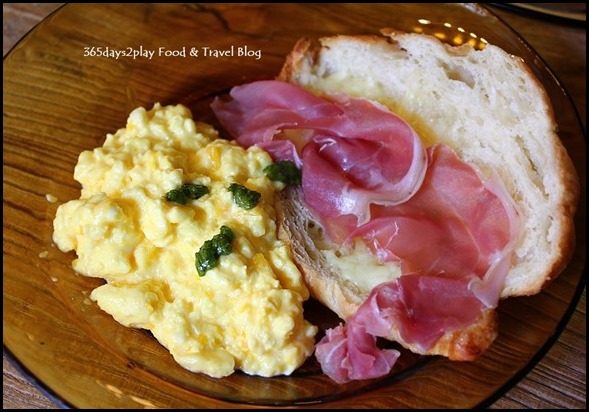 Scrambled Eggs, Parma Ham and Cheese Croissant $9.50