After the whirlwind visit to Gardens by the Bay 2 weeks ago for the Supertrees Dining event, I'd made a mental note to spare no effort in returning to visit Gardens by the Bay properly as soon as possible. That day came earlier than expected when a friend managed to take leave on a weekday to accompany me there.
My plan was to visit the Jewellery Fair at Marina Bay Sands, enjoy a leisurely lunch at Cafe Crema followed by an equally leisurely stroll through the Gardens. In the evening, we would head to Sentosa to enjoy a barbecue by the beach. What a fantastic way to spend the day don't you think? By the way, our leisurely lunch turned out to be even more leisurely than we'd expected so we only managed to cover a third of the Gardens. Which now gives good reason for me to return yet again.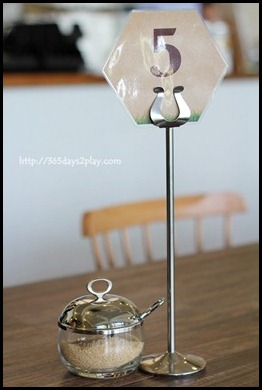 Cafe Crema is one of the eateries at Gardens by the Bay. If you're walking over from Marina Bay Sands/Promenade MRT Station, it is a pretty long walk, at least 20 minutes or more I would say? However, if you're taking the public bus from Marina Bay MRT Station or if you're driving, it would be easy to get to Cafe Crema as it is just after the Visitor's Information Counter.
Cafe Crema, with its whitewashed walls and black-framed windows is pretty hard to miss. In fact, the decor is such that you feel like you just want to go in and buy a croissant or something, just to relax in its environs and people watch. Food here is a little pricey, but not overly so. Unless you're buying a slice of cake or just a drink, do not expect anything under $10.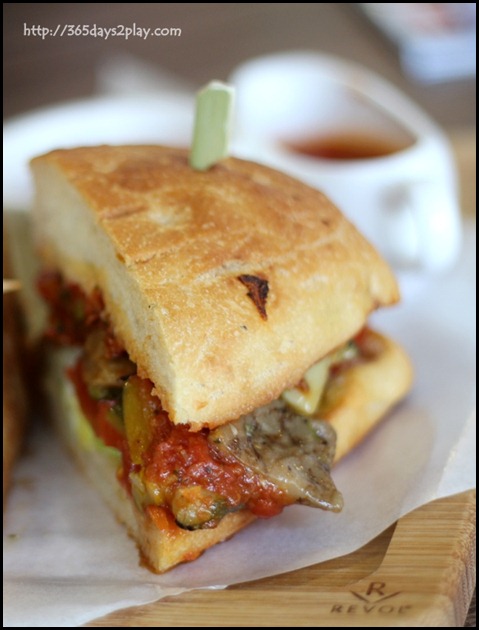 Mediterranean Vegetable Sandwich (Grilled Zucchini, peppers, sun-dried tomatoes, mushrooms, roast tomato salsa and pesto dressing with foccacia) $17