After the whirlwind visit to Gardens by the Bay 2 weeks ago for the Supertrees Dining event, I'd made a mental note to spare no effort in returning to visit Gardens by the Bay properly as soon as possible. That day came earlier than expected when a friend managed to take leave on a weekday to accompany me there.
My plan was to visit the Jewellery Fair at Marina Bay Sands, enjoy a leisurely lunch at Cafe Crema followed by an equally leisurely stroll through the Gardens. In the evening, we would head to Sentosa to enjoy a barbecue by the beach. What a fantastic way to spend the day don't you think? By the way, our leisurely lunch turned out to be even more leisurely than we'd expected so we only managed to cover a third of the Gardens. Which now gives good reason for me to return yet again.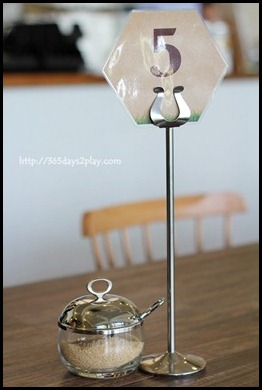 Cafe Crema is one of the eateries at Gardens by the Bay. If you're walking over from Marina Bay Sands/Promenade MRT Station, it is a pretty long walk, at least 20 minutes or more I would say? However, if you're taking the public bus from Marina Bay MRT Station or if you're driving, it would be easy to get to Cafe Crema as it is just after the Visitor's Information Counter.
Cafe Crema, with its whitewashed walls and black-framed windows is pretty hard to miss. In fact, the decor is such that you feel like you just want to go in and buy a croissant or something, just to relax in its environs and people watch. Food here is a little pricey, but not overly so. Unless you're buying a slice of cake or just a drink, do not expect anything under $10.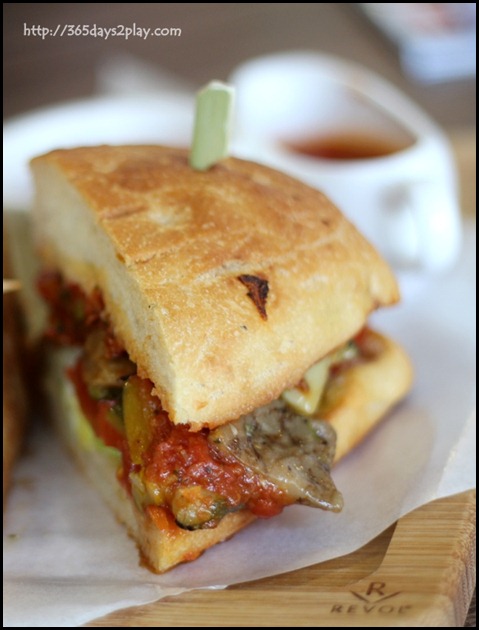 Mediterranean Vegetable Sandwich (Grilled Zucchini, peppers, sun-dried tomatoes, mushrooms, roast tomato salsa and pesto dressing with foccacia) $17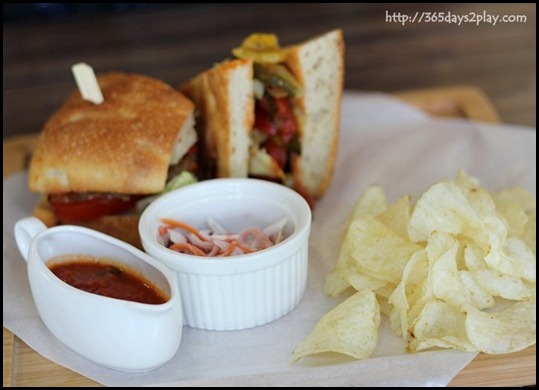 I ordered the Mediterranean Vegetable Sandwich because it sounded like it was chock full of lovely ingredients, and it certainly was. I really loved the taste of all those sweet tasting vegetables that had been cooked to still retain their bite. Love the tomato salsa and pesto dressing that really gelled all the flavours together. There was even more of the tomato salsa for the chips. It would have been even better if the vegetables were hot. A very good version of a vegetarian sandwich.
Oh another issue I had was with the bread. It was hard as a rock at the bottom! The focaccia I know is supposed to be pretty soft due to the large quantities of oil used in making focaccia. I know because I've been taught. I think the making of the bread was okay, but when the bread was reheated, it must have been reheated at such a high heat or for so long that the bread got fried. Yes, the texture was that of hard bread sticks. Interestingly, I actually still enjoyed it. Fried oily bread, oh well. A mistake that turned out to be quite good nevertheless.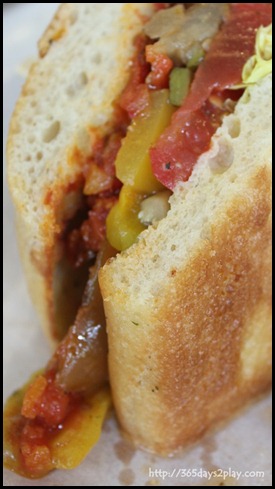 See proof that the bread is hard? You notice how compressed it is as compared to the upper layer, and also the colour of the bread where it has been "fried" to a crisp.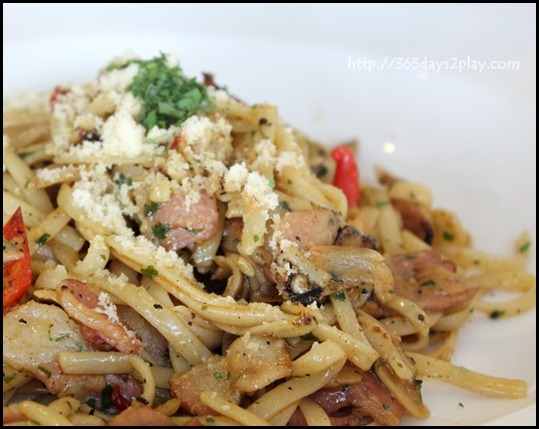 Bacon and Mushroom Aglio Olio (Linguine with sautéed farm fresh mushrooms, bacon, garlic and olive oil) $16
My dining companion ordered this and I got to sample a mouthful. 1 word of advice, when eating something vegetarian, such as perhaps a Mediterranean Vegetable Sandwich, refrain from sampling other diners' non-vegetarian dishes. Suddenly the non-existence of meat in your own dish will be conspicuous when at first it was not a noticeable problem. But I digress.
In that 1 mouthful of pasta, the strong flavour of bacon hit me. I instantly wished I'd ordered this dish instead, but of course I had to crawl back to my sandwich, which eventually became as palatable as I'd described above once the bacon flavour died down in my mouth. My dining companion on the other hand thought that the Aglio Olio was too heavy. It wasn't a problem for me, as I like bacon and strong flavours, but if you too are more used to ham rather than bacon in your pasta, this might be a bit too heavy and too salty. But for me, I love strong flavours. The linguine too could have done with less cooking time as it was a little soggy.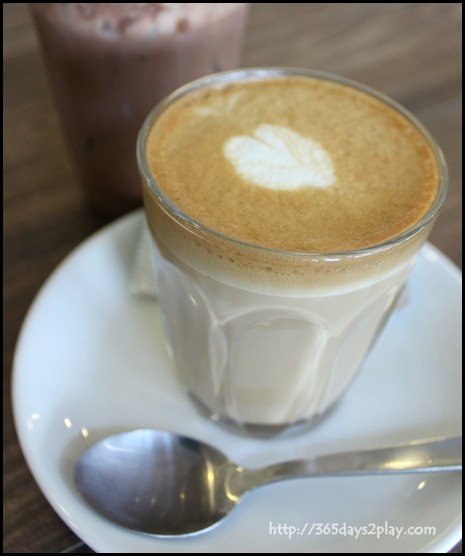 Cafe Latte $5.50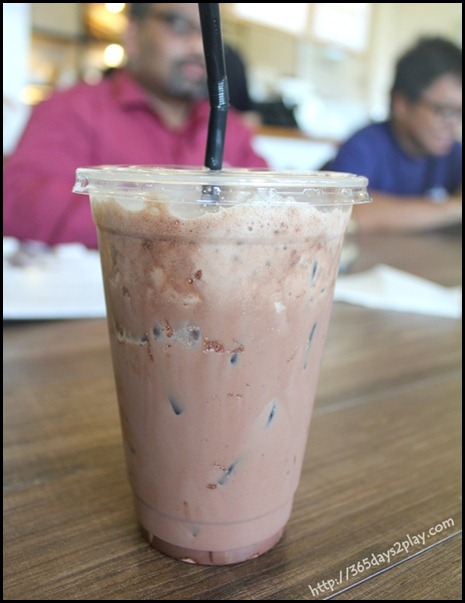 Iced Chocolate $6.50
A very very good version of iced chocolate. Thick, rich, chocolatey, it was good down to the last sip. Order this if you don't know what to order. These days, with so many cafes serving good coffee, you kind of are assured of having at least an average cup of joe. I feel that ordering hot/iced chocolate can be a more precarious affair. When the hot/iced chocolate is good, it can be really good, and when it's bad, it's down right abominable, akin to drinking diluted syrup. This one definitely passed the taste test.
I definitely wouldn't mind coming to Cafe Crema again to try out some of the other stuff, if I'm at Gardens by the Bay again. The sandwiches at above $15 are rather expensive, but the pastas at about $15 are more acceptable, and so are the breakfast items. I do want to try their Blueberry Pancakes at $13. Comes with homemade blueberry coulis, fresh berries and Devonshire cream!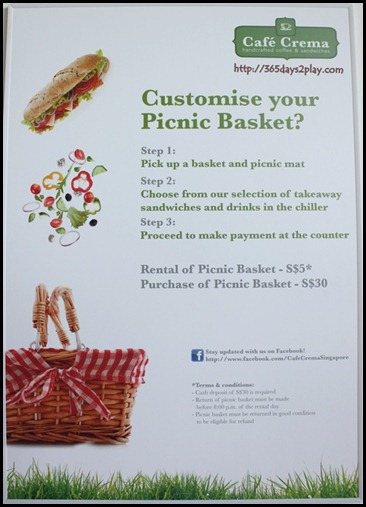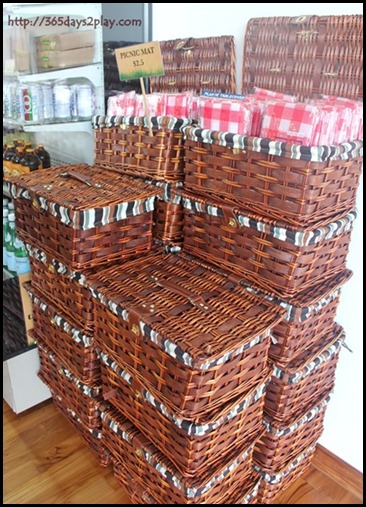 Too lazy but still want to have a picnic? Well you can rent a picnic basket and fill it up with $10 packet sandwiches or breads, cakes and drinks. How British is that?
I read somewhere that the service was lousy. Well I didn't encounter bad service. The staff were eager to please, and if there was anything, it would be that they were overstaffed and milling around!
Read about my experience at Supertrees Dining, another place to find food at Gardens by the Bay.
Cafe Crema at Gardens by the Bay
Hours : 07:30 AM – 09:30 PM daily
Tel : 6604 8826
Email : info@cafecrema.com.sg
http://www.gardensbythebay.com.sg/en/the-gardens/gardenmap/map.html (It's next to the Visitor Centre)
*Cafe Crema is owned by the Shin Group of Restaurants that also own the Shin Kushiya Japanese restaurants