*Media Invite*
airweave, the top-selling premium bedding topper from Japan, is best known for its range of innovative mattress toppers and pillows. This year, airweave also introduces the new airweave futon, especially designed to be laid directly on tatami straw mats or on the floor.
Although airweave futons can be placed directly on tatami straw mats or on the floor, it produces the same unique high-resilience weight dispersing core material as airweave's toppers. The latest airweave futons are 6.5cm thick and even firmer than the standard airweave toppers. Creating the feeling that users are "sleeping on air", the airweave futons employ the latest technology and materials in the industry, weaving together resin fibres for an innovative design that's 90% air. The highly resilient three-dimensional resin fibres also allow users to roll over with ease, maintaining deeper slumber. The technology also provides superior breathability and excellent dispersion of moisture to keep users cool and comfortable in Singapore's tropical climate.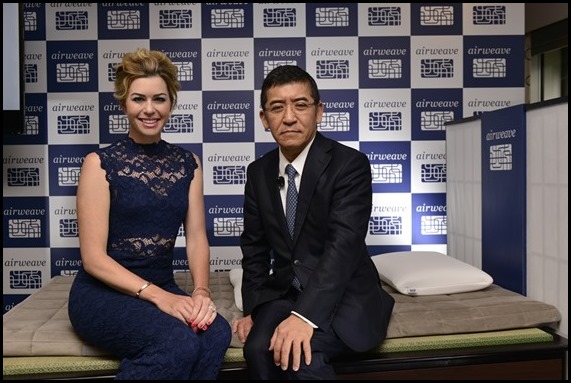 Paula Creamer and CEO and President of airweave, Mr. Motokuni Takaoka sitting on the airweave futon. Hmmm, I wonder if I should get this futon and lay it straight on my parquet floor, instead of buying a bed for my spare room? This might just save me from having to pay for a bed frame!