Ladies and Gentlemen, for the next 14 days you are going to be inundated with kiwi delights (not the bird or the man, but the fruit) as I embark on Zespri's 14 Day Daily Scoop Amazing Challenge.
Everyone knows the benefits of eating fruits, but did you know that Kiwifruits are one of the most nutrient dense fruits around? Kiwifruit has 5 times the nutrition of apples and contain twice the Vitamin C of Oranges! So the next time you fall ill, grab a kiwi instead of an orange! Don't worry, I won't drown you guys with too many facts (for now), although if you want to read up yourself you can definitely do so at http://www.zespri.com.sg/. For now, I'll just share with you the wonderful kick-off dinner I had at The Living Cafe, courtesy of the good people of Zespri.
Oh just a short plug for The Living Cafe, they are into organic as well as raw food, prepared in a way that still makes the food taste great! Check out their menu here. Gotta bring my super healthy parents!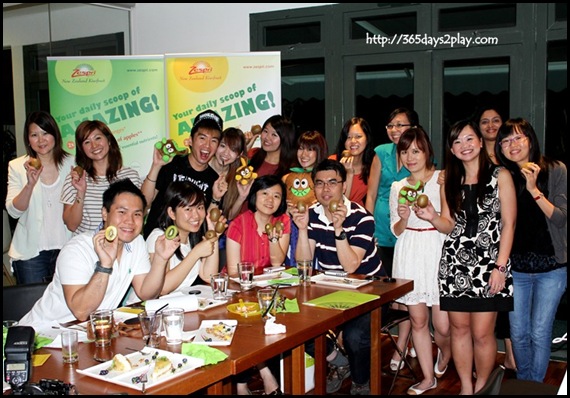 Group photo after the amazing kiwi inspired and laden meal. I have to say, this is the 1st food blogger's meal I have ever eaten where I didn't feel sinful and guilty after gorging on the food! This is really the way to incorporate more healthy fruits into your diet in an interesting and fun way to eat. I mean we all know that we have to eat more fruits, but after our main meal, sometimes there just isn't space for anything else. So the best way may just be to incorporate the fruits themselves into the main dishes!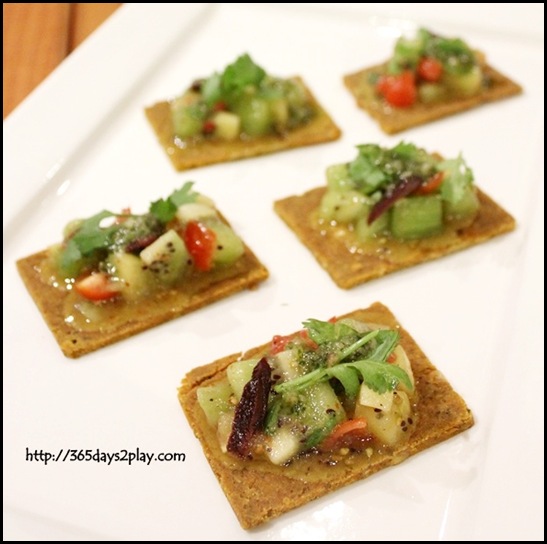 Raw Bruschetta with Pesto and Kiwi Salsa
And you thought that bruschetta can only be made with bread and tomatoes.