*Media Invite*
When you think of hotel restaurants, Chinese, Japanese, Italian and French cuisine tends to come to mind. So it was quite refreshing to discover that the newly opened Bay Hotel just opposite Vivocity boasts of an Indonesian restaurant! If you ask me, a tourist searching for local Singaporean food would find more similarity in Indonesian cuisine than say Japanese cuisine, so having an Indonesian restaurant in a hotel sounds like the most logical thing to do.
It was a pretty cosy lunch as there were only 3 other bloggers (Yumyumformytumtum, HoChiak and Oyster Diaries) and Dennis She of Publicist PR Communications who hosted the lunch. OH btw, I discovered after lunch that both Yumyum and Oyster Diaries hail from the same JC as I. Is it a small world or what?!
Anyway, back to the food. Rumah Rasah believes on delivering authentic and ibu-esque flavours. Therefore, short cuts go out the window. The rempah paste is made from scratch. Rempah is the building block of any dish and how good the rempah is will dictate how great the dish is. Also, if you order the belado dishes (belado is a chilli-based sauce), you will notice that the belado is laboriously-prepared using a variety of fresh ingredients like chillies, chilli padi, garlic, red shallots, calamansi and toamtoes.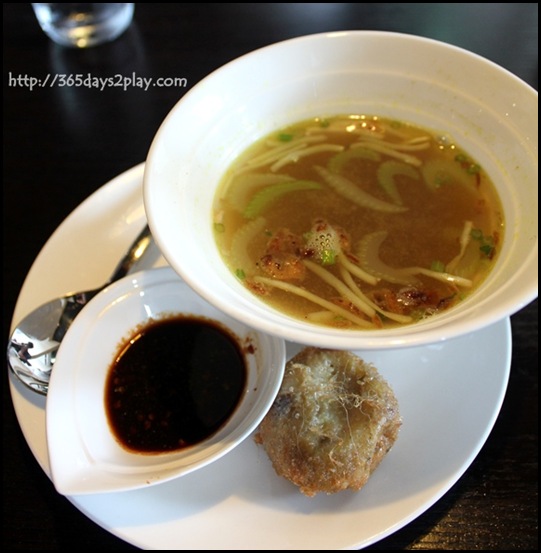 Soto Ayam Madura (A hearty chicken broth with Shredded Chicken, Bean Sprouts and topped with a Potato Croquette) $8
We started the meal with this Soto Ayam Madura. It's a thin broth that packs a punch. Kind of reminded me of French onion soup, where one doesn't find many onions in the soup yet you know it's distinctly onion soup. I find it to be quite different from those you get at the hawker centres, in that this doesn't taste oily or fattening. The begedil/potato croquette was very tasty as the potato was super fluffy.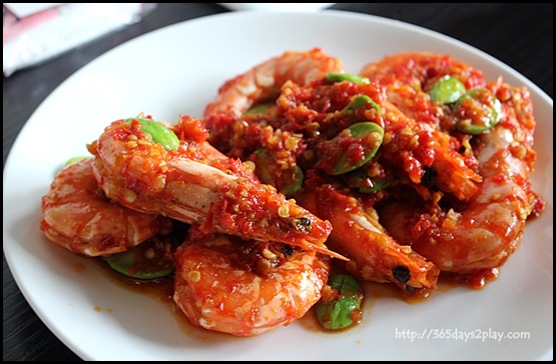 Udang Petai Belado (Prawns Stir-Fried in Chilli gravy with Petai Beans) $18
Here you can see the Belado, which looks very similar to sambal, yet isn't quite. The prawns were fresh tasting and succulent. I personally don't like the Petai Beans aka smelly beans, but I found that the bitter flavours infused into the prawns and complemented the sweet prawns.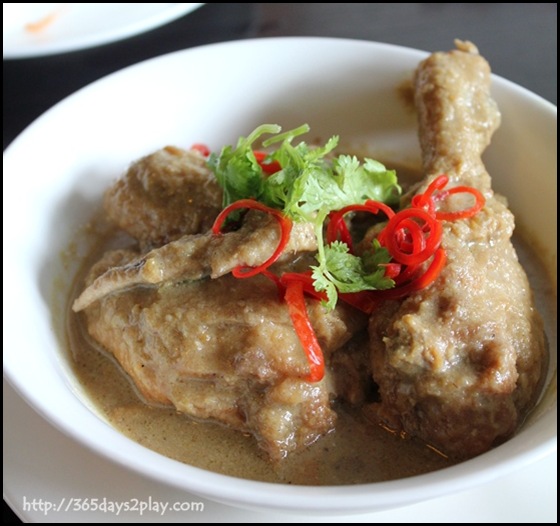 Ayam Korma (Chicken simmered in Mild Yellow Curry) $14
Believe them when they say it's mild, cuz the curry really was very mild to the extent that it tasted more like spiced up gravy. I did like the chicken however, which I found to be very tender.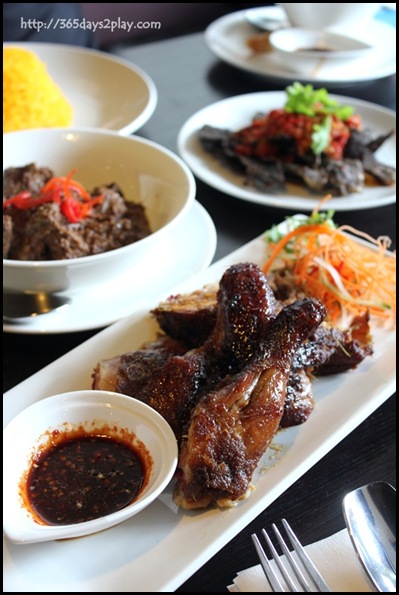 Ayam Panggang Berkakak Jakarta (Grilled Chicken served with Rumah Rasa's Spicy Sauce) $14
Love the grilled chicken! The chicken didn't even need the spicy sauce on the side as it had been marinated in a sticky sweet sauce itself. Very tasty and tender. Finger licking good, if I may borrow the phrase.